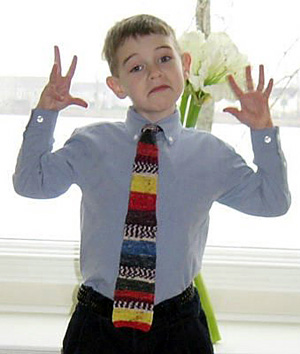 by Tami J Parks

Here's a great accessory for the kid in your life.
With spring celebrations coming up, you can outfit your favorite guy -- or girl -- in this classic knit tie with a twist.
Knit in sock yarn that makes its own design, you can have a one-of-a-kind tie. Don't limit this accessory to boys only; I think it would look wonderful on a girl, paired with a feminine blouse.
Knit in the larger size, this tie is perfect for adults, too!

model: Josh Parks

photo: Jeff Parks
SIZE
S[L]
Small size fits a child approximately 4-12 years of age.
Large size is for a teen or adult.
FINISHED MEASUREMENTS
Width [at widest point]: 2 7/8 inches [3 3/4 inches]
Length: 46 inches [56 inches]
MATERIALS

ZwergerGarn Opal [75% Schurwolle 25% Polyamid; 425 m/100 g skein]; 1[2] skeins.

One set US #2 double-point needles


Tapestry needle [for weaving in ends]
GAUGE
36 sts/44 rows = 4" in stockinette stitch [knit in round]
DIRECTIONS
Decrease round [dec rnd]: K to last 3 sts on first needle; k2tog, k1.
On needle 2, k1 then sl1, k1, and PSSO; k to last 3 sts on needle; k2tog, k1.
On needle 3, k1 then sl1, k1, and PSSO. K to end of rnd.
Tie
CO 44 [52] sts.
Join sts in round with 11[13] sts on needle 1; 22[26] sts on needle 2; 11[13] sts on needle 3.
Work 1 rnd in k1p1 rib.
Then k all rnds until work measures 4[6] inches.
Work 1 Dec Rd. 40[46] sts.
K20[30] rds even; work 1 dec rnd -- 36[42] sts.
K20[30] rds even; work 1 dec rnd -- 32[38] sts.
K40 rds even; work 1 dec rnd -- 28[34] sts.
K10 rds even; work 1 dec rnd -- 24[30] sts.
K10 rds even; work 1 dec rnd -- 20[26] sts.
For larger size ONLY, K 10 rds even; work 1 dec rnd -- 22 sts.
K 5 rds even; k2tog at end of needles 1 and 2.
Put 9[10] sts each on 2 needles.
With 3rd needle, work across each needle, turn and work next needle. [Working the sts this way will give you a nice, flat piece for the tail of the tie.]
Work even until piece is 46[56] inches long.
BO as follows: K 1 st from each needle [2 sts total] together. [You will have 9[10] sts on 1 needle after doing this.]
Now BO these 9[10] sts as usual.
FINISHING
Weave in loose ends.
Block tie as desired.
ABOUT THE DESIGNER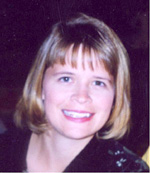 Tami lives in West Michigan with her husband, Jeff and their sons, Joshua [6] and Jonathan [3]. Tami's other hobby, besides knitting, is music. She teaches piano and directs the choirs and orchestra at her church.

Tami loves to knit for her family and friends, and needs to knit more for herself!
Pattern & images © 2003 Tami Parks. Contact Tami.