Score Some Shorts


Find a pair of board shorts. I bought my yarn first, then went to the thrift store and found an appropriate pair of shorts on the first go, but this is San Diego. You may have an appropriate pair of pants or shorts nestled in the back of the closet already, or you may want to hit the thriftstore before you buy your yarn. Choose a pair of shorts that fit well at the waist. You should avoid any zippers, but an elastic waist, drawstring, buttons or a velcro closure will be fine. Remember that you will need to be able to don the shorts with the fly only half open since you will be cutting off the rest!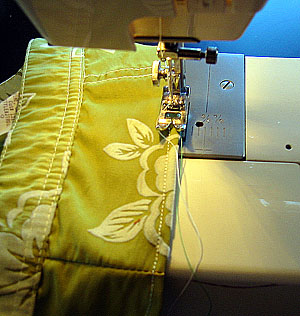 Put the shorts on and make a mark about an inch below your hip on each side. Note this measurement and cut the shorts off to this length. My waistband measured about 4 inches after cutting.
Turn under the bottom 0.5 inch and sew in place. I used white thread and sewed two seams 0.25 inch apart to match the rest of the detailing on my skirt. If there is any sort of a fly, just sew it together at the bottom. Leave any velcro or buttons above the seam in place. Remove any bits that get in the way of sewing your skirt shut.
Knit Some Grass
Measure the circumference of your skirt at the bottom edge. Multiply this measurement by 3.75 -- your gauge per inch.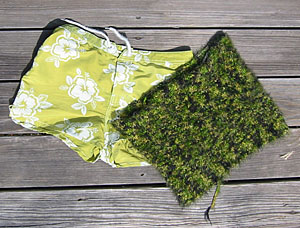 CO the resulting number [in my case 128] stitches on US#5 circular needles [or size needed to obtain gauge]. Join, being careful not to twist, and knit in St st in the round until piece measures desired length. In my case, 10 inches. You can try on the waistband and the grass tube to see if you like the length. You'll only lose a row or two in length when attaching the two pieces.
Switch to a short length of unfurry yarn [it need not match; it won't show] and BO all stitches. I found the contrasting cotton yarn helped me see the stitches when sewing the skirt together, but you can cast off in Vamos if you wish.