Notes From My He Knits, She Knits Household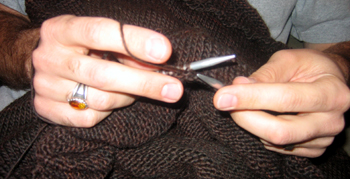 It was just novelty at first. A joke, really. "Hey, Honey, wanna learn to knit?" I teased, fully expecting a flat refusal. "You'll teach me?" is what I got, in a curious and almost imploring tone.
After a couple of false starts, my husband quickly progressed from a voluminous garter stitch "swatch" to designing his own hat. It wasn't perfect; what was supposed to be a beanie ended up more of a beret. It has garter ridges at the bottom stemming from a miscommunication about the differences between knitting flat and in the round, and a few other, um, design elements. Still, I marvel at the success of his vaguely haphazard approach to knitting. He has a somewhat-questionable relationship with gauge, and has yet to sew up a garment, yet he'd completed several near-perfect projects before he had ever looked at a pattern, and designed two different, elaborately cabled hats completely from scratch without even a stitch dictionary.
The transition from one knitter inhabiting the house to two was a little problematic at first. When my husband was first learning the craft, he relied heavily on me to bail him out of the usual beginner mistakes. I picked up several dropped stitches, corrected and explained countless incomplete stitches, gauge issues, decrease methods. I was cheerful about it at first, but soon started cringing at the sound of "Arggh, no! Um, Honey...I sorta need your help." I finally directed him to the large bookcase full of knitting references, pattern books and magazines and told him to have a field day.
Then there was the needle issue. I'd never needed multiples of the same needle size when I was the only knitter, but suddenly we both needed a size 7 and there was only one. I donated my Boye Needlemaster to him, since I never really liked it. This helped, but my beloved Addi Turbos were still getting misplaced because he moved them, looking for a measuring tape, or he'd borrowed one for a side project and never put it back. The final straw was when my lovely, neatly arranged knitting basket where I carefully put specially selected skeins for inspiration was suddenly a hodgepodge filled with a conglomeration of our various projects. It started to collapse from overstuffing.
Some couples need separate bathrooms, some need separate beds; we need separate knitting storage -- a small price to pay for marital bliss.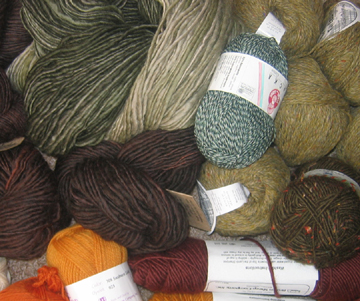 From the bag of various skeins of Wool-Ease and Encore that I gave my husband free rein to when he first picked up the needles, we now have "his" and "hers" stashes. His is filled with rustic wool and wool blends nearly all of which are some shade of brown or green, with a little brownish-green thrown in for balance. Mine is more eclectic, with a tendency toward hand paints and variegation. There is some crossover too: he donated a spare skein of chocolate-colored Manos to my multi-colored ruana project; I gave him a hefty hank of Lorna's Laces Fisherman in shades of teal and purple that happen to be his mom's favorite colors. We go yarn shopping together. He covets the bulky alpaca, I covet the laceweight cashmere. It's nice. He actually listens and understands when I go on and on about some fabulous new yarn or the merits of cotton versus a cotton-acrylic blend. If only he had such an understanding ear for shoes.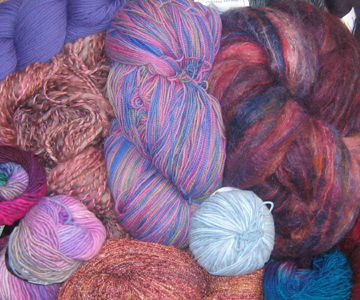 Our individual approaches to knitting are very different. I generally knit from patterns, tweaking them to suit my taste and needs; he prefers to do his own thing. Even when trying a new technique from cables to stranded knitting, he creates his own pattern. In knitting, as in life, he inspires me to be less rigid and I encourage him to pay more attention to the details.
From a simple offhand comment, I now get to share my passion for knitting with the person I am passionate about, and have learned a lot about both in the process.