As a mathematician, I wanted to incorporate some numbers that have personal importance into a project and see what would happen. I simply cast on, stitched repeats of some of my favorite numbers (in this case I used multiples of 11), used simple increases and decreases for shaping, and knit in the round until my eyes and hands were satisfied. Then, I strung simple crochet cords through the eyelets created by the yarn over increases, and this bag was born. I quickly took notes, knowing that I wanted to create another one, this time felted. I also wanted to use a color combination I am fond of, as well as one of my favorite yarns in the world (wool by Manos del Uruguay).
The first version I made (out of Debbie Bliss merino dk that was hand-dyed by my wife and children) was shaped like a slender, delicate vase. The recipient has used it as a purse, an ice pack holder for a non-knitting related neck injury, and as an "unruly yarn ball containment system".
The second attempt, featured here, was knit using the same pattern but with two strands of a bulkier yarn held together. What a surprise to see that this version created a pottery-style vessel more like examples from the American Southwest. Even before it was felted, the shape of the bag was markedly different from the prototype.
The cords, which are optional, can be merely decorative, or they can be used as handles to carry the bag.
Feel free to change the yarn choices and colors, of course. Make it lacy, or stitch it tightly. Incorporate Fair Isle stranded knitting to add color, or add repeats of your favorite textural stitches. Leave it loose or felt it in hot water. Substitute your own favorite (or lucky) numbers for my numbers in the pattern, and see what you get!

photos: Stephen K. Hartley
One
Before Felting:
Base - 16 inches
Mouth - 6.5 inches
Height - 16 inches
Cords - approx. 45 inches
After Felting:
Base - 10 inches
Mouth - 4 inches
Height - 7 inches
Cords - approx. 30 inches
Manos del Uruguay (100% wool; 138 yd/126 m per 100g skein)


[MC] Color: #03 Lavender; 2 skeins*


[CC] Color: G Coffee; 2 skeins *
*I only used a little of the second skein of each color. Some knitters may only need one of each.

1 set US #15/10mm double-point needle


1 16-inch US #15/10mm circular needle (optional)


US K/7mm crochet hook


Tapestry needle


Large stitch marker (Note: If you don't have a stitch marker large enough to fit the large needles used for this project, make one by tying a piece of waste yarn into a ring.)
10.5 sts/14 rows = 4 inches in stockinette stitch before felting.
For once, gauge is not important. If you are not going to felt the bag, you may wish to use a smaller needle and knit at a tighter gauge. For a loose bag, use a larger needle. Swatch and experiment; felt the swatch if you intend to felt the bag.
[Knitty's list of standard abbreviations can be found here]
Note: Bag is worked from top down.
Using one strand each of MC and CC held together, CO 33 sts onto double-point needles. Distribute sts evenly between needles, place marker and join to begin working in the round, being careful not to twist.
K 11 rounds.
Next Round: [K3, yo] to end. 44 sts.
K 3 rounds.
Next Round: [K2, yo] around. 66 sts. (If desired, begin working with circular needle at this point.)
K 7 rounds.
Next Round: [K5, kfb] around. 77 sts.
K 22 rounds.
Next Round: P1, [k2, p2] around.
Repeat this round twice more.
If working on circular needle, switch back to double-point needles on next round.
Next Round: P1, [k2tog] to last st. 39 sts rem.
K 1 round.
Next Round: [K1, k2tog] around. 26 sts rem.
K 1 round.
Next Round: [K2tog] around. 13 sts rem. Remove marker.
Continue to k2tog around until 1 st rem. Break yarn and draw through last st; pull tight.
Cords
Using 2 strands MC and 1 strand CC, work 2 crochet chains, each 111 sts long. Knot ends, leaving 3-inch tails.
[Note: If you have not wound the yarn into a center-pull ball, you may wish to cut pieces of MC before working the cords. Each piece should be 5 yds long.]
Weave in ends.
Weave each cord through one half of the top row of eyelets, so that the cords meet on each side.
Felt the entire piece. I put mine inside of a zippered pillowcase in a small load on the HOT setting with a pair of jeans and two tennis balls for agitation, along with about a teaspoon of gentle liquid soap. Agitate for 5-10 minutes at a time until the bag achieves a size and texture that you like. Rinse all soap out in a sink with cold running water, roll bag in towels to remove excess moisture, and manipulate it into desired shape. Let dry.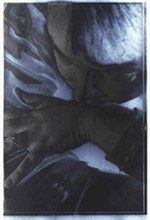 Stephen K. Hartley is a mathematician, a fine art photographer, and an obsessive knitter living in the hot, hot, hot Phoenix desert. He learned to knit in December 2004 with minimal prodding from his young daughters and his wife, who were already voracious knitters. After a quick purling lesson from the seven-year-old, he started designing his own pieces, many of which incorporate photographic images and words written by his wife, writer Catherine J. Hall.
You can see the work of the entire Hall Hartley clan at their on-line studio. You can also read about what they've made today under the site's blog section. Stephen reminds you to be bold and to learn for yourself how knitting can highlight other aspects of your life. That can result in new ways of looking at both.