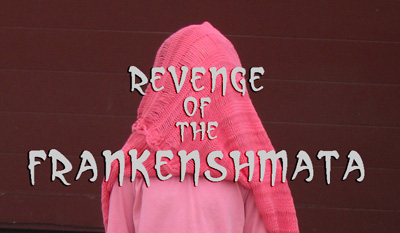 DROPPED STITCHES
Everyone loves Clapotis, Kate Gilbert's runaway smash hit pattern featuring dropped stitches from Knitty's fall 2004 issue. I've been similarly enamored with Jillian Moreno's Bob & Weave. I love the look of dropped stitches, and the idea of weaving them with gorgeous ribbons.
What's held me back from knitting them, I think, is the idea of miles of stockinette stitch -- that and realizing that I'd soon be undoing, what, 20% of my hard work? So it came to me that I could cheat. I could let someone else do the grunt work. Why not find something already knit and then drop the stitches out?
dismantling
I hightailed it down to the local thriftshop and found plenty of options. I chose a poncho made from a single large rectangle of mostly stockinette in a mohairy acrylic that looked fairly easy to dismantle. Since ponchos and such were last year's ubiquitous fashion trend, chances are you'll find plenty to choose from. I was in and out in 15 minutes.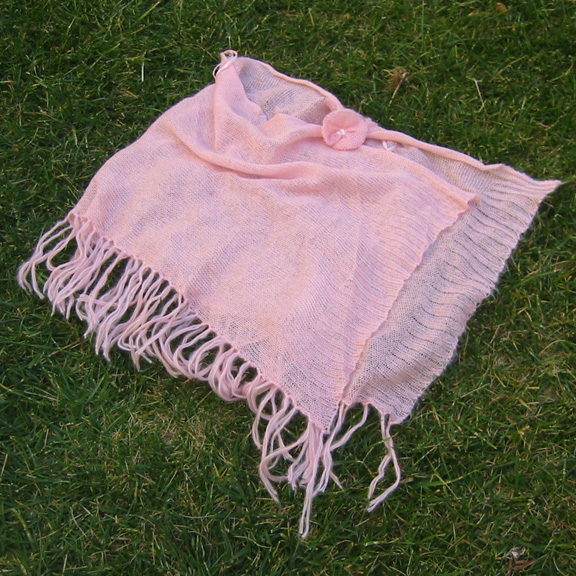 Dismantling the portion where the rectangle was sewn together and removing the tag proved to be the most taxing part of the assignment. In the end, I just cut them out and sewed over the missing chunk with the zigzag on the sewing machine. I used a contrasting thread so you could see it, dear readers, but with matching thread it will be hard to notice.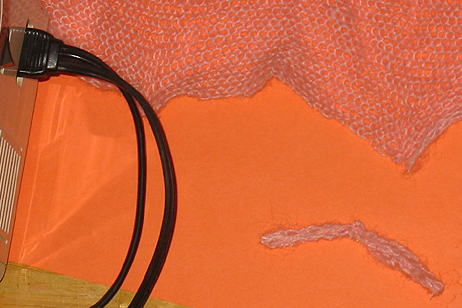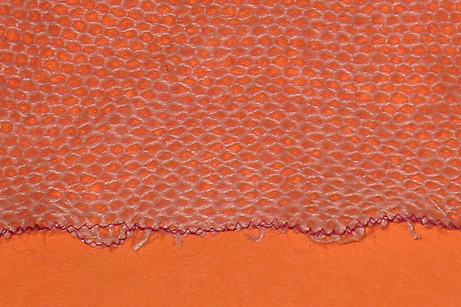 Once the piece was there, nice and flat, I looked at the ends and figured out where the bound off edge was. I was able to pluck it out and just start unknitting, but in some cases you may need to cut the bound off edge open and unravel a couple of rows. They do mysterious things in the sweater factory sometimes! Once you get your stitches freed, place them on a circular needle that seems about right for the gauge of the yarn. Bigger is better than smaller to avoid a too-tight bind off.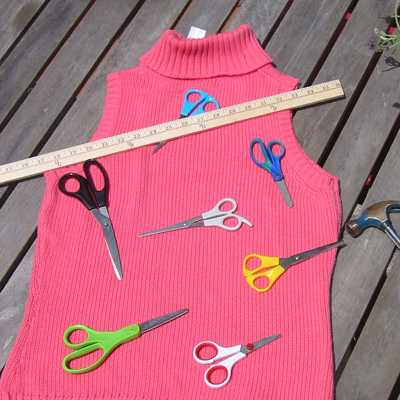 Seized with this inital success, I grabbed a sleeveless turtleneck in cotton and thought it too might have drop stitch possibilities. Chopping it off below the armholes would yield a couple of rectangles. If I dropped stitches they'd get wider. And there are plenty of great poncho/wrap/stole variations to be had from a couple of decent rectangles.
For this, choose a finished sweater or top that has seams that you can rip out. The bigger the sweater, obviously, the more surface area you'll have to work with. Turn the thing inside out, stretch out the seam with your fingers and look carefully at the stitches. If the look like they are sewn together with a sewing machine, pass on it. Look for the telltale "ladder" either in the same yarn the sweater was knit with, or with some sort of thread.
Use your scissors to carefully cut the ladder. You can sometimes pull it out, but that's usually slow and tedious. Use the scissors, but go slowly and be very careful not to cut the knitted stitches on either side.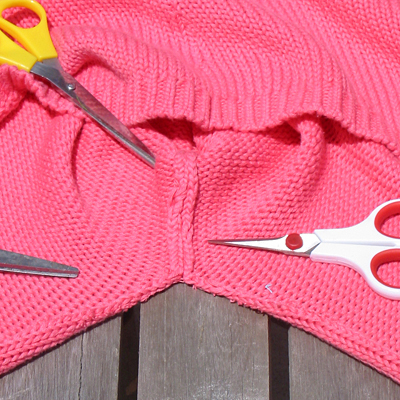 If you do end up cutting stitches, there are two remedies. The first is to essentially patch it with a bit of waste yarn from the project and work duplicate stitch over the cut stitches and a few neighboring stitches, then secure the tails well on either side, weaving them in for several stitches OR to take it to the sewing machine and take a few quick zigzag stitches over it with matching thread. The second is definitely the quick and dirty approach. It will show a little, but depending on where it is, you might not care.
Once you get the pieces apart, cut each piece of the sweater straight across just below the armholes. This should give you a rectangle somewhere between 10 and 16 inches tall and as wide as the sweater. If you are a cautious sort, take a small gauge circular knitting needle and pick up one leg of each stitch across one row. Be sure to pick up the first and last stitches and be careful to not move up or down a row. Then, with your scissors, carefully cut a row or two above the needle. Start plucking out the bits of fluff and pull at any end you find until it starts unravelling. You'll get down to the needle and your stitches will be sitting there obediently, all ready on the needle. Keep the ravelled tail attached to bind off with later.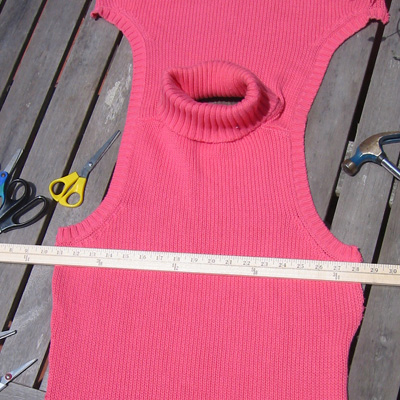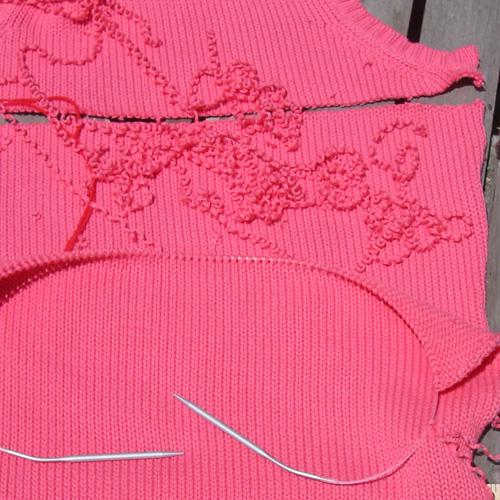 If you are not the cautious sort, then just cut what looks to be a straight line across one row. Then start plucking at the yarns at the top creating a pile of Top-Ramen looking stuff until you get to the yarn that makes it cleanly across a row and hasn't been cut. Paydirt! If you've got a decent tail going, you're in good shape. Otherwise, you'll want to rip back another row to be sure you've got enough to bind off. Then slip the stitches onto a needle.
dropping
Decide how often you want to drop a stitch. Since the light pink wrap had 2 x 2 ribbing on the ends, I decided to work from that and drop 2 of every 8 stitches. Depending on how much of a tail you have going once you get it on the needles, you can work forward or backward. Either work 6 stitches in pattern, drop 2, work 6 stitches in pattern, drop 2, or unknit 6 stitches, drop 2, unknit 6, drop 2... The latter approach will give you plenty to bind off with.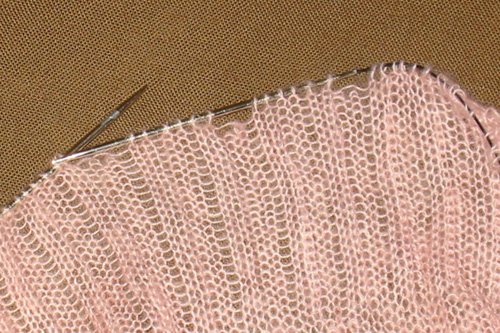 On the top, all in stockinette, I counted the number of stitches on the needle and came up with a pleasing arrangement of dropped stitches. My sweater had 90 stitches across. I decided to drop every 5th stitch, so I figured it'd be a multiple of 5 (knit 4, drop 1), plus 4 more to make it balanced, I wanted a little extra plain knit on either side, so I worked out 80 for my mulitple of 5, plus 4 is 84. The 6 extra stitches I divided into 3 extra stitches at the beginning and end. So knit 7, drop 1, *knit 4, drop 1, repeat from * ending with knit 7.
I toyed with the idea of varying the dropped stitches in this piece to create a different look -- maybe knit 4, drop 1, knit 2, drop 1, or something, but decided to stick to my original, simpler, drop stitch pattern. When I let the stitches loose, however, I discovered that, due to some increasing after the ribbing, or the mysterious cast-on of the piece, extra stitches dropped out on their own, leaving a trebled drop stitch in every other column. Very pleasing, in the end, but unplanned. Be prepared for serendipity to be part of your finished piece too!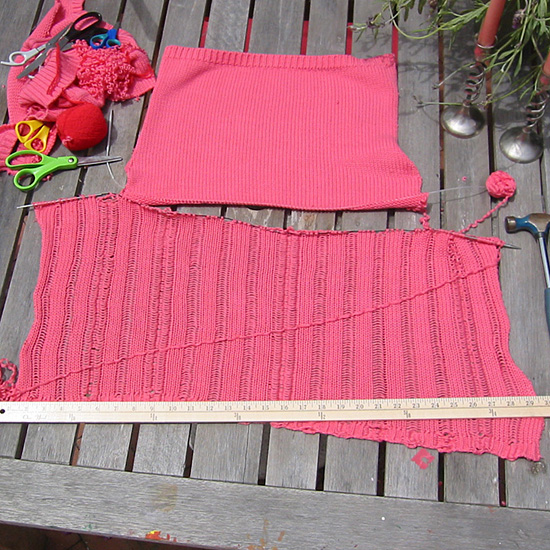 Because you don't know exactly how wide the dropped stitches are going to be, I prefer dropping them and keeping the stitches live rather than binding off at the same time. To do this, unknit a row and simply drop off the stitches as you go. After they are dropped, you'll likely have to encourage them to really drop all the way down to the cast-on edge. The top, in cotton, dropped pretty quickly and smoothly, with only modest tugging needed to get the last stitches to fall out. On the other hand, the mohairy shawl was difficult to work with, and kept sticking to itself. Fortunately both yarns were very sturdy, so they could take a fair amount of abuse.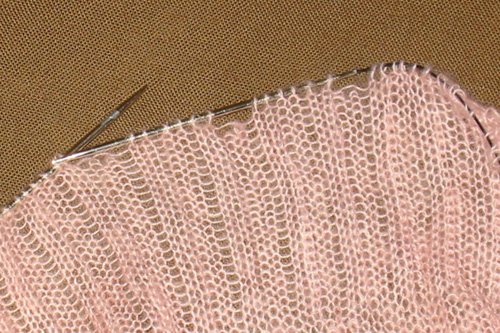 binding off
After the stitches have been dropped out, you'll need to bind off. How to bind off over the much wider dropped stitches though? Make sure that you are using a large enough needle for starters, especially if you tend to bind off tightly. You can simply make the stitches over the dropped stitches wider by making an extra big stitch just before the dropped stitch. You may have to do it a couple of times to get it right though. You can use the technique that Jillian Moreno did for Bob & Weave. I ended up binding off using a crochet hook in my right hand, binding off with it in the usual knit fashion over the knit stitches and chaining 1 extra stitch over the single dropped stitches and chaining 4 extra stitches over the treble dropped stitches.
finishing
Any pattern with dropped stitches benefits from a good wet blocking. Dunk it or spritz it, then pat and tug it into shape and allow to dry flat.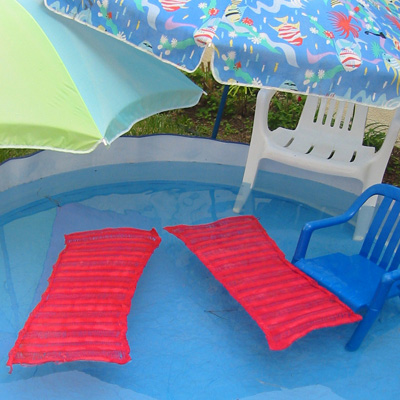 For the two rectangles, you've got a number of possibilities. My rectangles from a 19-inch wide sweater ended up 30-inches wide after dropping and blocking.
option 1: Sew the short ends together to create one long rectangle. Use as is for a dramatic big scarf/small wrap.
option 2: Sew the short ends together. Then begin seaming the two long sides together along one edge starting from the outside and working in. Stop when you are 10 inches from the seam, to create a 20-inch hole for the head. This is a lovely assymetrical poncho with many wearing possibilities. Try adding fringe to just the straight edge.
option 3: Place the two rectangles short side to long side in an L-shape. Seam the two pieces together. Do the same thing on the opposite side to create a poncho with a traditional squared shape, but with the strong vertical lines running in different directions for visual interest.
option 4: place the two rectangles with top sides touching. Seam them up from the outside edges toward the center, leaving the center 10 inches open, sort of like a very short serape.
(Okay, I'm not saying that all these are necessarily good options. But someone out there will make a fabulous one of these, just to prove us all wrong!)
Weave ribbons through the dropped stitches and add long flowing fringe if desired. What kind of ribbon? Try Trendsetter's Segue, Colinette Firecracker or Hana Silk ribbon for dramatic results. You only paid $4.00 for your thriftshop sweater. You can afford to indulge in fabulous ribbon because one skein of any of these has enough yardage for a whole project. You could also weave in multiple pieces of a variety of different yarns from your stash to use up oddballs, or rip strips from fabric of the appropriate width.
You can also rip out more of the remaining body parts of the chopped up sweater, wrap it into a loose skein, wet it and let it dry to work out the kinks (hang it up and put a clothes hanger or two on the bottom end to weigh it down), then use it to create fringe or crocheted detailing for your finished piece.