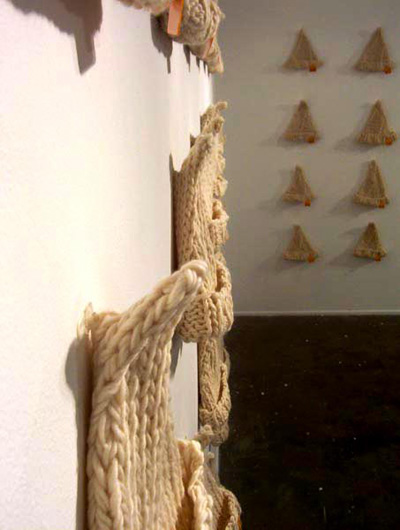 conference (detail), 2004
Larissa Brown (and 100 volunteer knitters)
wool & cattle tags
Extreme Ingredients
Meatheads, Fall 2005
As I hung the last of 100 knitted wool hats on the white expanse of art gallery wall, I wondered what in the world I was doing. There's a moment in art making -- many, many moments actually -- when you doubt yourself and your ideas completely, breathtakingly.
When I made art by myself it was hard enough to face this kind of doubt. But this time I'd involved a hundred innocent volunteer knitters. Each one created a hat for me to use in an installation called conference , for which I adorned each hat with a numbered cattle tag. Like cows in a meadow -- very organized cows -- the hats dotted the gallery wall. I affectionately called them meatheads. And they were worrying me. A little voice was saying things like "What place do hats have in an art gallery? It's not even complex knitting! You didn't even knit them yourself!"
Stepping back from the wall, I let myself be overwhelmed by the grid of hats, and then I felt alright again. Looking at "hats" up close I was nervous. But standing back I saw my original intention come to life. They weren't hats at all. They were ingredients in a larger whole. Each little toque was like a daub of paint, or a scrap of paper in an enormous collage.
Sometimes viewers felt the wave of the whole crash over them. I saw it happen and knew that for brief moments the piece worked just as I'd hoped.
But often viewers felt an immediate connection with the "hatness" of the hats, and they just never did let it go. They asked about the volunteers, where they were from (mostly the US, England, and Australia), whether I knew who had made which hat (no, I didn't), and how I'd recruited them (through my blog). My heart sunk whenever the piece became all about hats. My worst fears were realized when two intrepid art viewers actually took a couple of the pieces off the wall and tried them on their heads. I was aghast. After all, would I take down someone's painting and roll around in the canvas?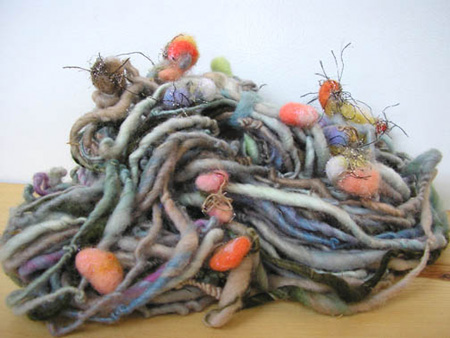 Bedbug
Lexi Boeger
wool and feltie sparkle critters
Yarn as art, yarn as ingredient
Plenty of artists are much more open to interaction with their art -- and some have no anxiety at all about people touching it, using it, and even transforming it with their own hands. One such artist is Lexi Boeger.
"I almost always intend for it to function as both a final form in and of itself as well as the ingredient for another work," she says of her fat and luscious mixed media yarn. A typical art skein from her hands might incorporate doll parts, strips of embroidered fabric from a thrifted muumuu, bits of nylon stockings, or sparkly felt baubles, into a thick and thin handspun wonder.
"I think a yarn should always be able to stand alone. It should be able to hang on the wall just as it is and be a satisfying, interesting, compelling thing. And if that requirement is met, then it will more than lend itself to going a step, or two or ten further and evolving into another creation."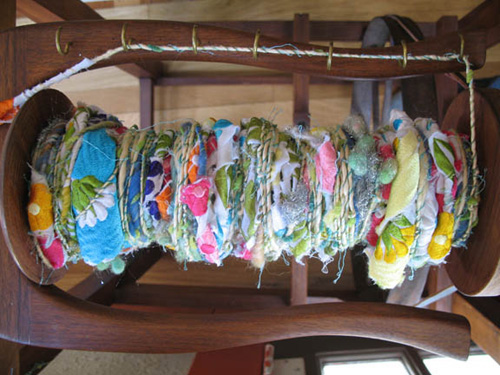 The Emporor Has No Clothes
Lexi Boeger
vintage muumuu, latte silk, iclandic wool, sparkle felt nubbies and french novelty threads

A knitter herself, Lexi isn't surprised when the ball of yarn remains an intact art object. "I really identify with the people who get it and intend to use it, but just can't seem to find a suitable project for it. They really are happy to have it sitting in the yarn basket. This is the phenomenon that drew me into spinning in the first place....that feeling of: 'Oh. It's just so pretty like it is.'" She accepts yarn for what it is, and revels in its natural yum.

Meanwhile, the yarn is imbued with a sometimes subtle -- but always present -- potential energy. It could be something else.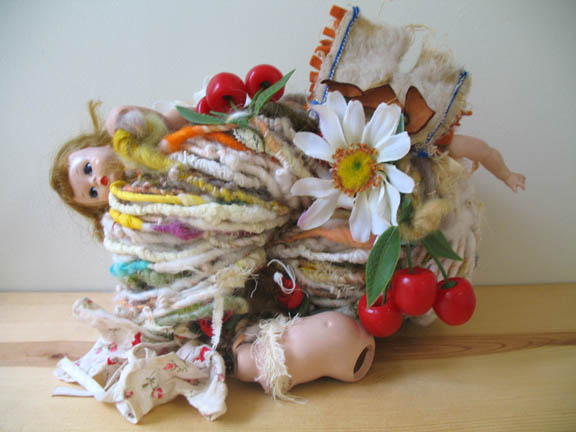 Prairie Dream
Lexi Boeger
white icelandic fleece, hand-dyed fibers, silk waste, fabric, flowers, rubber cherries, and a 1940's vintage doll with her western chaps and prairie blouse

Lexi's joy in embracing what happens naturally, and trusting in the yarn's own beauty, is at the heart of how she got started with art yarn. "I was teaching someone to spin and their first skein came out way over twisted in spots and not twisted at all in others. It had tangles and knots where they got hooked up or had trouble, and it was the most beautiful yarn I had ever seen. I realized that it was those instances where the yarn diverged from 'good' spinning that it became great spinning." Her own great spinning is sometimes planned, but almost always diverges.

Silkworm cocoons, rubber bands, plastic wrap, beads, fake flowers, craft pompoms, Easter chicks, google eyes, silk waste, granny jewelry, wire, bathrobe, tinselŽall are transformed into skeins of yarn that each stand out as stunning portraits in a gallery of otherworldly creatures. But each can also become a hat, a scarf, a pair of fingerless mitts. And that's okay.

"Everyone has a different vision for these yarns. It's a wonderful collaboration: having a vision and creating a yarn then handing it off to someone who looks at it and is inspired to transform it into a whole new form."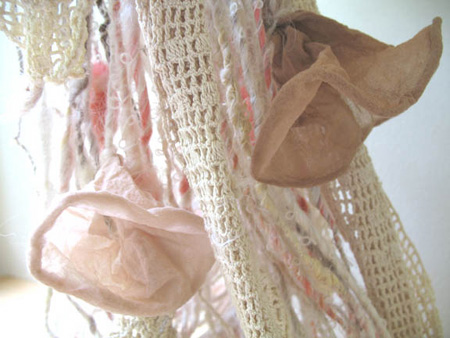 Era
Lexi Boeger
vintage lace crochet, pantyhose & mohair
Meathead no longer
That kind of acceptance. No, that embracing of what others bring to a work of art was a gift I got from the conference installation. And something I've learned for life.
When I first planned the installation, I was going to knit all the hats myself. I was afraid to involve other people in the work, afraid they would have a bad experience or see the doubt in my process. They would learn the truth, that I didn't know what I was doing, and that I'd taken them along for the ride.
But what happened was wonderful. The volunteers felt that I had given them an opportunity. They were thanking me . Envelope after envelope arrived with meathead hats inside, along with gifts. Gifts! Candy, tea, soaps, even a knitted washcloth that matched my bathroom. The generosity of the volunteers was immense and unexpected.
But the biggest surprises were the hats themselves. Even though they were all made from the exact same materials and pattern, each one came alive with its own personality. They were entirely different from one another, in shape, form, size, tightness, twistiness, and character. Some were frighteningly long and strange, others tiny little balls of anxious knitting. A few were so freakishly shaped they became the sweet underdogs of the grid.
Thanks to the knitters who volunteered, an art installation that was going to be about conforming and giving in to the world's pressures actually became about individuality. About the irrepressible personal spirit, and the power of each knitter's hand in her work. I became filled with wonder at the potential for variation within a sea of sameness, and my work as an artist and a crafter has not been the same since.
Lexi Boeger says it well: "The metamorphosis that the yarn goes through connects us, ties us together through a single strand of yarn. It is a chain, from the farmer shearing the wool to the person dyeing it, to the spinner, the knitter, the artist who works it into a shape and on to the person who wears it or holds it or shows it."
I get it. I agree.

Lexi Boeger's web site is pluckyfluff.com. You can buy her art yarn there, as well as her book about spinning, and see works in progress.