This wrap is so easy it makes me want to do a dance.
It's a simple dropped stitch pattern, with wide ribbon woven through the dropped threads. The effect looks much more complex than the reality, and couldn't we use a little more of that in our knitting lives?
And, yes, if you have to, you can seam the edge and make it into a poncho.

model: Isobel Holcomb, Jane Patrick

photos: Jillian Moreno
One
Width: 24 inches
Length: 72 inches (excluding fringe)

[MC] Artfibers Gypsy [100% brushed silk; 121yds/109m per 50g skein]; color:#23 Pomegranate; 4 skeins


[CC] Artfibers Houdini [100% Nylon; 100 yds/90m per g 86skein]; color: #8 Passion; 1 skein

1 set US #10/6mm straight or circular needles


Tapestry needle
[Knitty's list of standard abbreviations can be found here]
12 sts/16 rows = 4" in stockinette stitch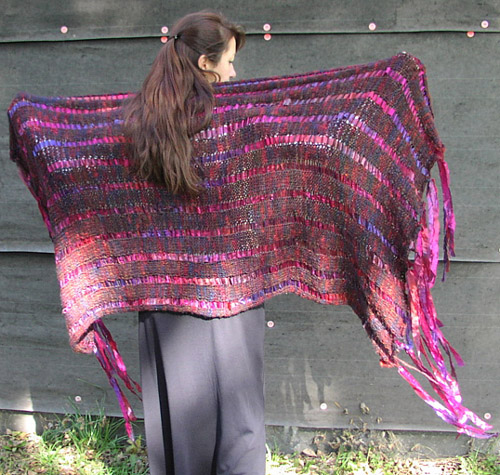 Using a long-tail CO and MC, [CO 5 sts, YO] 11 times, CO 5 sts. [71 sts]
*Row 1 [WS]: K2, p to last 2 sts, k2.
Row 2 [RS]: K all sts.
Cont as set, in St st with 2 st garter st edge, until work measures 4 inches, ending with a WS row.
Drop Stitch Row: [K5, drop next st from needle, YO], rep to last 5 sts, k5.
Allow the dropped sts to unravel back to the previous YO.
Repeat from * until work measures 72", ending with a WS row.

BO Row: Break yarn, leaving a tail at least 2.5-3 yards long.
*BO 4 sts, thread yarn through st rem on right needle, drop next st from left needle and allow st to unravel*, rep to last 5 sts, BO rem sts.
NOTE: When working BO row, be sure to leave enough slack so that the shawl will not pucker at the BO edge.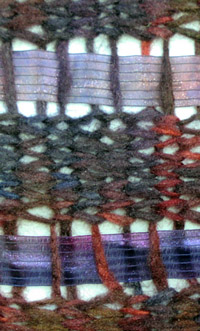 Weave in ends.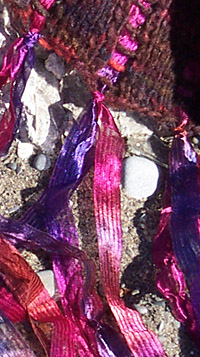 Weave Ribbon
Cut 11 pieces of CC, each 3 yards long.
Leaving a 12" tail, tie one piece to the bottom strand of one dropped-stitch ladder. Thread ribbon onto tapestry needle and, using the photo as a guide, weave it through the strands of the dropped-stitch ladder. The ribbon is likely to twist during this process -- be sure to untwist often so it lies flat. When weaving is completed, tie to last strand of dropped-stitch ladder, leaving a 12" tail.
Repeat this process for each dropped-stitch ladder.
Work Fringe
Cut 22 pieces of CC, each 25 inches long.
Fold each piece in half and, using an overhand knot, tie each to the knot at the base or end of a dropped-stitch ladder.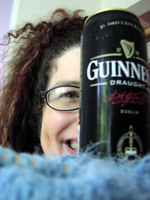 Jillian Moreno obsesses on all things knitterly in Ann Arbor, MI.