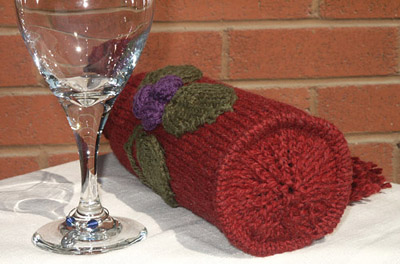 Sew seam.
Work 2 rows crochet along CO edge as follows:
Row 1: Single crochet in each st.
Row 2: Single crochet in first st, [chain 5, slip stitch in 3rd chain from hook, skip next 3 sts, single crochet in next stitch] around.
Break yarn, secure, and weave in ends.
Twisted Cord
Cut a piece of yarn 3 yards in length. Fold it in half, and attach the halfway point to a fixed object (eg. hang it over a hook). Twist the two lengths of yarn together until they begin to twist back on themselves. Fold this twisted length of yarn in half -- the two halves will twist together, and you will have a twisted cord. Remove the end from the fixed object and knot the ends together. Thread the cord through the eyelets, using the photo as a guide. Embellish as desired (Some examples follow).
Leaves and Berries
Embellishments taken from Knitted Embellishments by Nicky Epstein, Interweave Press.
Knit Aspen Leaves (Make 3)
CO 5 sts.
Row 1 [RS]: K2, YO, k1, YO, k2. 7 sts.
Row 2 and All WS Rows: P all sts.
Row 3 [RS]: K3, YO, k1, YO, k3. 9 sts.
Row 5 [RS]: K4, YO, k1, YO, k4. 11 sts.
Row 7 [RS]: K5, YO, k1, YO, k5. 13 sts.
Row 9 [RS]: Ssk, k9, k2tog. 11 sts.
Row 11 [RS]: Ssk, k7, k2tog. 9 sts.
Row 13 [RS]: Ssk, k5, k2tog. 7 sts.
Row 15 [RS]: Ssk, k3, k2tog. 5 sts.
Row 17 [RS]: Ssk, k1, k2tog. 3 sts.
Row 19 [RS]: Sl 1, k2tog, psso. 1 st rem. Bind off.
Bobble (Make 3 or more)
CO 1 st, leaving 6 inch (15cm) tail.
Row 1: ([K1 f & b] 2 times, k1) in same st. 5 sts.
Rows 2, 4 and 6: P all sts.
Rows 3 and 5: K all sts.
Row 7: K2tog, k1, k2tog. 3 sts.
Row 8: P3tog. 1 st rem. Bind off.
Sew on leaves and berries, using photo as guide.
Tip: put a wine bottle in the cozy while sewing them on to ensure the proper fit.
Other embellishment options
Embroider daisies or stars with embroidery floss. Sew on buttons or beads.