As an Australian recently relocated to London, the prospect of my first "real" winter scared me. The thought of a daytime temperature dropping below 15C (around 60F) sends me reaching for thermal underwear. However, central heating (also a new concept) made the experience more of a novelty than a torture. Until a ski trip to the swiss alps was planned. I was introduced to a cold I never new existed.
I needed something to keep my face and ears warm -- and found a pattern for a balaclava in a '70s pattern book. The bank robber look wasn't so hot, but at least the colour matched the trim of my snow jacket.
A week of excellent skiing later, I knew the balaclava needed improving. I wanted to pull it down around my neck when going indoors, or roll it up when not skiing.
When laid flat, the Noa 3-in-1 resembles Beaker from the Muppets! The one-on-one ribbing is the key to its versatility, ensuring that it is contour-hugging without fiddly shaping. Don't be fooled -- the rib does take longer than your average stocking stitch. But then, you get three pieces in one!

model: Pauline Wall

photos: Fred Smith
Tighter with smaller face opening [Looser with larger face opening]
(Looser model shown)
Length: 14.75 inches
Circumference (measured over stockinette stitch section): 22[23] inches

Rowan Calmer [75% cotton/25% acrylic/microfibre; 178 yd/160m per 50gm skein]; color #477 Blush; 2 balls

1 set US size 7/4.5mm double-point needles


16 inch or 24 inch US size 7/4.5mm circular needle


Stitch markers


Tapestry needle
[Knitty's list of standard abbreviations can be found here]
22 sts/30 rows = 4" in stockinette stitch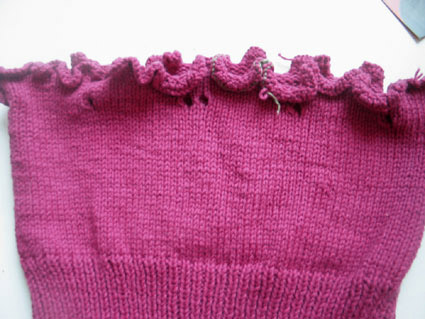 1x1 Rib (Worked in the round OR back and forth over an even number of sts)
Row 1: [K1, p1] to end.
This row forms 1x1 rib.
Seed Stitch
Seed stitch is also worked by alternating k1 and p1, with this difference: if the next st on your needle was a p st on the previous row, knit it on this row. If the next st on your needle was a k st, purl it on this row. Knit and purl sts are alternated both horizontally and vertically.
I-cord
CO required number of sts onto a dpn. K all sts.
Next Row: Instead of turning the work around to work back on the WS, slide all sts to the other end of the needle, switch the needle back to your left hand, bring the yarn around the back of the work, and start knitting the sts again. After the first 2 sts, give the yarn a sharp tug.
Repeat this row to form I-cord.
After a few rows, the work will begin to form a tube.
Using circular needle and cable CO, CO 120 [128] sts. Join to begin working in the round, being careful not to twist. Place marker to indicate beginning of round.
Work in 1x1 rib for 47 rows.
Next Round: Rib 47[44], place marker, work 26[40] sts in Seed Stitch, place marker, rib to end of round.
Work 2 more rounds in patts as set.
Form Face Opening
Next Round: Work 50[47] sts in patts as set, BO 20[34] sts, work across all sts rem on needle. 100[94] sts rem.
Work back and forth for 25 rows, maintaining 3 st Seed Stitch border, ending with a WS row.
Turn work so RS is facing and, using cable CO, CO 20[34] sts at beg of next row. 120[128] sts.
Work across all sts (working sts just CO in Seed Stitch), then join to resume working in the round.
Work 6 more rounds in patts as set.
Switch to stockinette st (k every round), and work 30 rounds more.


Eyelet Round: K4[5], yo, k2tog, [k10(11), yo, k2tog] to last 6[4] sts, k6[4].
Work 6 more rounds in stockinette stitch.
Frilled Edging
Next Round: K into front and back of each st (1 st increased in ea st). 240[256] sts.
Repeat this round once more. 480[512] sts.
BO all sts.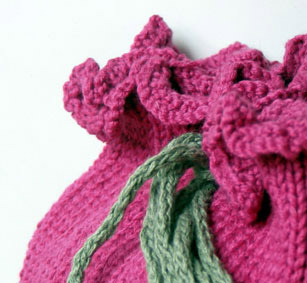 Sew in ends.
There will probably be a small gap at one corner of the top of the face opening; cut a small piece of yarn and use it to sew this gap closed.
I-Cord
Cut a 3 meter (10 foot) length of yarn. SPLIT the yarn in half lengthwise (this is quite easy as you may have accidentally found!) -- using the resulting thinner yarn will give you a less bulky cord.
Using dpns, work a 3 st I-cord until only 3 or 4 inch tail of yarn remains. Thread yarn through sts and pull tight. Sew in ends.
Tip: Try working the cord in a contrasting color. The cord in the photographed model was worked in color #480 Peacock.
Starting at front, weave i-cord through eyelets. Put on head, venture into the cold!


Pauline organises Knitflicks: knitting in the cinema, a knitters'
screening of currently showing films on the third saturday of the month
at the Ritzy in London.
Her website contains listings of events for knitters in the UK and Ireland.