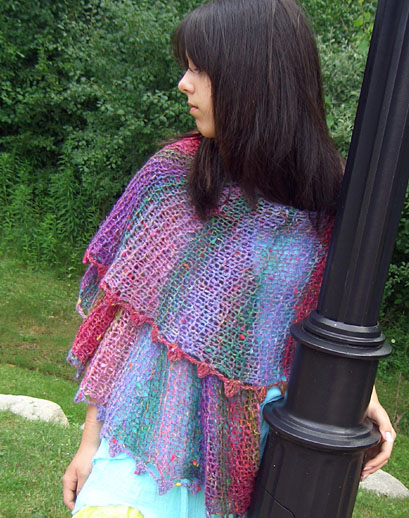 Crochet Edging (Optional)
Crochet edging is worked into the strands that lie between the garter bumps at the lower edge of the shawl; in the directions that follow, the strand in each of these spaces will be denoted as "space".
Beg at corner with yarn attached and work along lower edge as follows:
Into first space, [sc, dc, tc, dc, sc, ch3].
*Skip 2 spaces, [sc, dc, tc, dc, sc, ch3] into third space.
Repeat from * until last space has been worked.
Weave in ends.
Blocking
Fill a tub or sink with cool water and a little squirt of wool wash, or baby shampoo. Place shawl in the water and let it soak a few minutes. Drain the water and gently squeeze out excess water from shawl. Repeat using clean water and rinse gently. Place in a towel and gently squeeze again. If you don't have a blocking board, you will want to fold the shawl in half (front edges matching) so that you get a symmetrical shape when blocking. Lay the shawl out onto the surface that you are going to block it on. I usually pin my shawls to the spare bed in the guest room, or to the carpet, using T-pins. Place a towel or sheet down first if you want. You can play around with the shape of the shawl a bit while it is damp. I like to really stretch mine as far as it can safely be stretched, making a very open, lacy look. The first time I did this I was amazed how garter stitch could look so lacy. I pin through the middle of each scallop along the edge, and this gives each one a little point as it dries.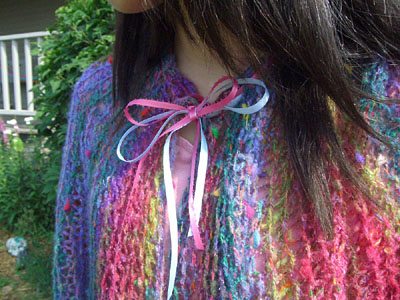 Finishing Touches
Make this shawl your own! Try one of these embellishments to personalize it a bit more:
- Hang a couple of beads from each of the spaces between the scallops.
- Knit or crochet some flowers to place randomly on the shawl. Maybe felt the flowers. Put them on pin backs so they can be removed or placed differently each time you wear it.
- Place a vintage brooch at the neckline and let the shawl hang like a cape.
- Throw one end over your shoulder and pin with a piece of great fused glass.
- Use fringe instead of the scalloped border. (If doing so, weave in tail after binding off LOOSELY after your last wedge, then add fringe.) If you are unfamiliar with how to make fringe, directions can be found here.
- Run a satiny ribbon through the neckline and tie at the neck.