Taking your knitting to the next level
With so many new knitters coming into the fold, it goes to reason that there are many 1-2 year knitters out there who are reaching the breaking point -- the day when they find that they are no longer challenged by plain stockinette socks or garter stitch scarves that originally engaged their interest in knitting. For me, it was an afghan of a feather and fan pattern that I fell in love with and vowed to create as a Christmas gift for my parents. I bought the yarn and needles at Wal-Mart along with a "Learn to knit" book. With the confidence of youth, I dove right in and ultimately learned to knit. After I finished the afghan, I didn't know what to do with my newfound skill. The afghan was such a lengthy and boring project that I never wanted to make another! I tried making a sock, but knowing nothing about gauge or yarn, made a total disaster of it. The sock ended up in the garbage and I had had enough. Lack of instructional resources and boredom caused me to reach my breaking point. I didn't knit again for another decade.
My mother-in-law decided to knit a sweater for her husband over 20 years ago. The sweater was beautiful, but the arm lengths were uneven. Not knowing how to fix the problem and having no one to ask, the sweater went into a box in the back of her closet and lives there still. She reached her breaking point and never knit again.
This breaking point is the reason that many quit knitting altogether. If you have a similar story and are at the end of your rope [or i-cord], why not "break away" instead of "breaking down"? By breaking away, I mean becoming the master of your own knitting destiny -- charting your own creative course. The minute you can take charge of your craft, the boredom is banished forever. This is a step that some of the finest knitters in the world have taken, those that you may know personally and the designers whose work you admire. But this is not a right limited to those with natural skills and decades of experience. It is available to you and me and everyone else who has picked up a pair of knitting needles and fallen in love, no matter how recently.
Nothing jumpstarts a flagging interest like a generous dose of creativity. My purpose is to offer up kernels of creative knitting thoughts in the hope that one will produce a spark that becomes a flame. This "creativity palette" is divided into the 3 areas that define the best of our projects: color, texture, and shape. These are the new roads we'll travel. Each area's skills are in the order from the easiest to the most difficult. While I used a natural progression of skill level, please feel free to investigate any particular area that strikes your fancy. After all you're charting your own course, so no rules apply! Later, we will discuss the resources for your education.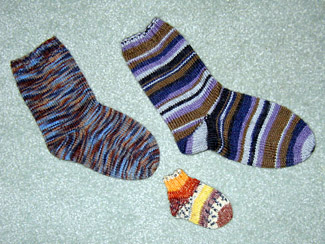 Beginner: self patterning yarns. These are so many self-patterning yarns available today. There are sock yarns that magically knit up into stripes, jacquards [fair isle], and variations in between. There are worsted weights that knit up in camouflage. Others make more random color patterns. These yarns are available at all different price levels, and the added bonus is that there are no special skills needed beyond basic knit and purl knowledge.
Intermediate: stripes and slip-stitch patterns. Stripes are about the easiest color additions one can make to knitting, but they add so much to a plain Jane project. Start small with a contrasting stripe on the edge of a waistband or sweater cuff and then work your way up to completely striped designs.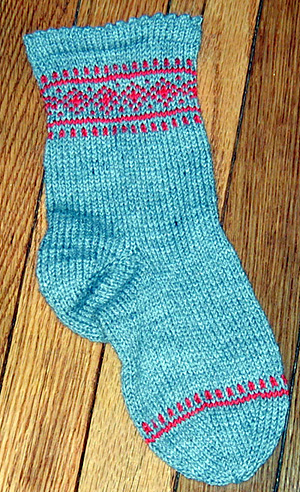 Slip-stitch patterns are another cool way to add color to your projects with a minimum of skill. Slip stitch involves two colors used together that create a pattern by holding the yarn of one color to the front or back of the work and slipping stitches of another color. This is a good technique to try especially if you eventually want to learn fair isle knitting since it will help you become accustomed to using two strands of yarn without having to learn color-stranding.
Advanced: Intarsia and Fair isle. Intarsia is the technique of knitting solid blocks of color within a garment; some examples of intarsia are a desert panorama on the back of a cardigan or a large dinosaur on the front of a child's sweater. Intarsia can be worked back-and-forth or in the round.
Fair isle is the color-loaded knitting technique made popular by the Scots, but usually only two to three colors are used in the same row to create various patterns. The unused colors are stranded in "floats" that are caught up on the wrong side of the work until you are ready to use them. It makes a colorful and thick fabric, perfect for sweaters, hats, mittens and socks. There are a variety of techniques for knitting fair isle which include one- and two-handed knitting.
Beginner: Simple stitch repeats and ribbings. Texture is the heartbeat of a design and affects the drape and look of your garment. It's recommended that your first foray into texture are with simple pattern repeats that are easy to remember such as garter stitch, seed stitch or ribbing.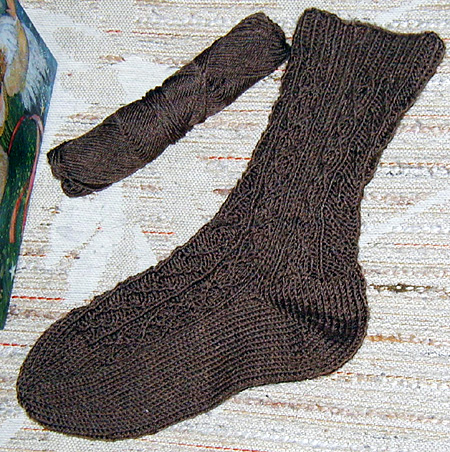 Intermediate: charted stitch patterns. There is no limit to the variety of stitch patterns available: from chevrons, to herringbones, to openwork [lace]. These stitch patterns have a large number of stitch repeats and are created over several rows of knitting. These stitch patterns are usually charted to allow the knitter to visualize the knitting process and finished product.
Advanced: Cables, bobbles, and twisted stitches. Cabling involves knitting stitches out of order by holding the stitches you would normally knit to the front or back of the work [on a cable needle]. The neighboring stitches are knit, and then the held stitches are knit. After several rows, a pattern develops that looks like twisted rope. Bobbles are stitches that are created in several ways, but usually involves knitting into stitches repeatedly, the end result is a bubble of fabric that is used as a design accent or as a functional object like a button. Twisted stitches are sometimes called Bavarian or Austrian stitches. The technique involves knitting and purling into the back of stitches to create a design in relief. This technique also can involve cabling with or without the aid of a cable needle to make a textured pattern which really "pops" against a purled background.

Beginner: Circular knitting. Shaping is what makes knitting both sculpture and clothing. Most of us learned to knit on straight needles to create a flat finished product, which in itself holds a variety of possibilities when seamed in different ways. But what if you could knit tubes of fabric which would make a seamless fabric and could be applied to something as big as a sweater body, or as small as the finger of a glove? Circular knitting provides just that thing, and the added bonus is that it is [usually] faster and easier than flat knitting since it eliminates the need for purling or seaming. Circular knitting is accomplished on 4-5 double pointed needles or 1-2 circular needles. Many top knitters of the past and present [including the prolific Elizabeth Zimmermann] consider circular knitting to be the ultimate in knitting nirvana.
Intermediate: Short rows. Knit-in shaping is what we're talking about. Short row knitting is simply the technique of turning the knitting to work the wrong [other] side before reaching the end of the row. The technique of knitting and turning is done back and forth to achieve different types of shaping. When done according to directions, short row knitting will create triangles, curves, darts and cups. Common uses of short rows: sock heels, bust shaping on sweaters, curves on doilies and dishcloths.
Advanced: Steeks. The first time steeks were described to me, I commented, "Knitting stitches only to C-U-T them later?" The idea seemed blasphemous, but that's exactly what steeks are. They are usually executed in sweaters to allow the sweater body to be knit circularly. The steeks are then cut and the sleeves are attached. I'm cheating a bit by calling this an advanced technique as steeks are not nearly as difficult as they seem. Although, I do believe that you might have to get to an advanced level to have the GUTS to try steeking.


Clearly all the creative techniques available for exploration have not been mentioned here. There's still double knitting, knitting with wire, felting, free form and the list goes on. But hopefully one of the techniques mentioned has piqued your interest. In conclusion, the most important thing to do when an interest develops is to indulge it. Like the commercial says, "Just do it." But before you drop a huge wad of cash on all the yarn needed for a fair isle sweater, pick up some scrap yarn and knit a swatch full of colorful stripes or crazy cables. Or make your swatch big enough to be a dishcloth. Not only will you build confidence along with your skills, you will have made something useful as well. Below are some resources for advancing your skills:
Your local library: I always head here first. A well-stocked library will have an array of books on different techniques. This is also a great way to preview books you may want to purchase later and it's all for free. Most libraries also offer internet access which is helpful if you don't have a computer at home.
Your local yarn store: You get double value here: experience and product. The salesperson will be able to advise you on yarn, patterns and videos/literature that will help you. Don't be afraid to ask specific questions about a project or pattern. Take advantage of any classes that are offered. If you don't have a local yarn store, find an online yarn store you like. Many online store owners don't mind answering customer questions.
Knitting guilds: Formal and informal knitting groups invariably have members with different skill levels. There is bound to be someone who can show you how to turn a heel or make a cable.
Internet: The resources available via the internet are almost infinite─from online magazines to personal weblogs. There are websites that offer instructions on techniques from kitchener to fair isle. Some even have videos. Try googling around for your interest ─for example: enter a search for "short row heels". You are bound to have several hits that lead to great instructional information.
One of the most valuable resources I've found are online knitting groups and message boards. Most are available for free and offer instant access to other knitters who are only too pleased to answer any questions you might have. It's also nice to live vicariously through a knitter who's neck deep into a Kaffe Fassett pattern. You may not be ready for such a difficult pattern, but pay attention and you may be closer than you think. A couple of sources for such groups would be Yahoo Groups and MSN Groups. Also, be sure to check out any links listed on your favorite websites. They're sure to lead to new pleasures.