You've packed your yarn and your non-metal needles. You have your plane tickets, and you're ready to go. Right?
Not just yet. To maximize space and minimize security problems, consider creating a travel-sized tool kit.


Photocopying patterns without prior permission from the copyright holder is a big copyright violation, with one exception. Most copyright owners will accept that, as the purchaser of a pattern, you may make one photocopy for your personal use only while you're working on the project, as long as the copy is not shared or given away at any time, and the copy is destroyed when it is no longer needed. Working from a copy makes it easier to take notes or highlight numbers without marking up the original. I especially like to make an enlargement of any charts, as the lighting on evening flights can be dim. But mostly, toting around one piece of paper is much easier than carrying an entire magazine or book.

Although it might be tempting to give the copy to your friend when you're finished, this would be a violation of copyright law. Remember, it's for your use only.


How to snip

Most cutting tools are still banned on all flights in all countries. While some carriers allow blunt scissors, don't risk confiscation of your good Fiskars. Instead, consider buying an inexpensive tool.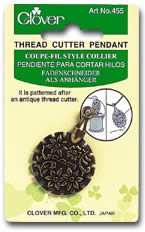 The Clover Thread Cutter Pendant has generated a lot of interest in the knitting community. Billed as a "safe for flying" cutting tool, the pendant has a secured inner blade that is accessible only through small notches in the metal casing. The original Thread Cutter Pendant was designed primarily for sewing thread, but it works equally well for DK and worsted weight yarns. Clover has also released a Yarn Cutter Pendant, designed more for heavier weight yarns. Although both pendants work well for lighter yarns, you might have to separate plies on yarns heavier than Aran weight.

While Clover advertises that the pendant is allowed by security, some readers have reported problems in the past. You should be fine, but beware that if airport security questions the item, you may have to give it up, check it, or ship it home. [See my previous article for advice on how to handle such sticky situations.]

Expect to spend between $5 - $10US for the Clover pendant. Some yarn stores are selling the pendant as an actual necklace with a beaded cord, for which you'll pay more.

Some readers have also suggested carrying a box of dental floss simply for cutting purposes. The little tab that cuts floss also cuts yarn! Nail clippers are another good suggestion, but be sure to check the rules for the specific countries on your itinerary. In some places, nail clippers are still prohibited in carry-on bags. When all else fails, separate the plies and tug. It won't be a clean break, but you can use your scissors back home for cleaning up the ends.


Those pesky details

Metal and sharp notions like stitch holders and metal darning needles may also cause a problem. Make your knitting kit safer by packing only plastic darning needles. I recommend carrying 1-2 foot lengths of strong yarn for use as stitch holders. It's lighter and more flexible than conventional holders, and yarn won't stretch your knitting out of shape!
Measuring tapes should be fine. I like a good retractable plastic tape, as it takes up less room and is easier to use in a small space. Don't forget a few empty ziplock bags of various sizes. They're great for organizing yarn and holding work in progress.


I'm leaving for Boise this afternoon, and I'm travelling with two projects: a shawl in Koigu, and a raglan pullover in Rowanspun DK. I'm taking the photocopied patterns (with notes), a darning needle, a pen, and a Clover Thread Cutter and enough yarn to allow me to work uninterrupted. That's it. I'm early enough in the project to be fine without a measuring tape or any finishing notions. Each project is zipped in its own clear acrylic bag, the kind that comes with pillow shams. The tools are in a small ziplock. I'm all ready to go!

What tips do you have for the knitter on the go? E-mail Amy. with your tips and feedback.