by Rebecca Hatcher
When I was a toddler, my parents called me the Squiress of Squirmerdom for my inability to sit still under any circumstances. It turns out that I haven't changed that much, and I'm unable to wear anything wrap-y without it slipping off as I fidget.
A wrap I made last summer out of linen yarn is particularly bad, since the fibers don't cling to each other at all. As I adjusted it for the jillionth time, it occurred to me that what it needed was snaps, buttons, hooks -- something -- all around the edge, so it would stick to itself. I rejected snaps and hooks, then added buttonholes along the long edges to produce Convertible. A knitting friend suggested cufflinks, rather than sewing buttons to the fabric. I don't have any cufflinks, but made some, using shank buttons and jump rings.
Wrap it around yourself, with the ends overlapping at one shoulder, and use the cufflinks to hold the overlapping ends in place. Button the long sides together to make a long-sleeved shrug -- use fewer buttons on each end and make a short-sleeved shrug, with cowl (my current favorite). Make a sleeve on one end and wrap the free end around your neck for some asymmetry. Take out all the links and wrap it as a traditional scarf or stole.
If you plan to wear Convertible as a long-sleeved shrug, be sure it's only as long as your "wingspan" (wrist to wrist, or as long as you like to wear your sleeves). I steam blocked periodically as I worked, to gauge the length more accurately, since -- like all lace -- this stitch pattern grows dramatically when blocked.

model: Rebecca Hatcher

photos: Kevin Glick, Annie Driscoll, Julie Carlson
One
Width: 16 inches
Length: 56 inches

Blue Moon Fiber Arts Bambu [100 % bamboo; 400 yds/370 m per 85g skein]; color: Banded Agate; 2 skeins
[Note: Blue Moon's new website goes live in May. ¾Until then, you can order Bambu directly from them at orders@bluemoonfiberarts.com. A 400-yd skein retails at $25.50US.]

1 set US #6/4mm needles


36 small shank buttons


18 large jump rings (can be found at any craft or bead store)


Tapestry needle


Stitch markers (optional; used for marking repeats of lace pattern)


Small pliers
20 sts/24 rows = 4 inches in stockinette stitch
[Knitty's list of standard abbreviations and techniques can be found here]
Skp: Slip one knitwise, knit one, pass slipped stitch over. One stitch decreased.

Lace Pattern (Worked over a multiple of 13 sts):
Row 1 [RS]: [K2, skp, k4, k2tog, k2, yo, k1, yo] to end.
Even-numbered Rows 2-12 [WS]: P all sts.
Row 3 [RS]: [Yo, k2, skp, k2, k2tog, k2, yo, k3] to end.
Row 5 [RS]: [K1, yo, k2, skp, k2tog, k2, yo, k4] to end.
Row 7 [RS]: [Yo, k1, yo, k2, skp, k4, k2tog, k2] to end.
Row 9 [RS]: [K3, yo, k2, skp, k2, k2tog, k2, yo] to end.
Row 11 [RS]: [K4, yo, k2, skp, k2tog, k2, yo, k1] to end.
Repeat these 12 rows for Lace Pattern.
(from Vogue Knitting, 1989 edition)
K 6 rows.

*Buttonhole Row [RS]: K3, yo, k2tog, k1, place marker, work Row 1 of Lace Pattern 7 times, place marker, k2, yo, k2tog, k2.

Work 23 rows in patt as set, working 6 sts at each edge in garter stitch, and working sts between markers in Lace Pattern.

Repeat from * 16 times more, or until wrap is desired length.

Next Row [RS]: K3, yo, k2tog, k to last 4 sts, yo, k2tog, k2.

K 5 rows.

BO all sts loosely.

Loosely CO 103 sts.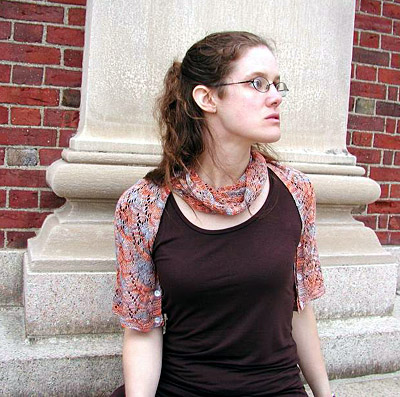 Weave in ends. Block lace, using preferred method. I steam-blocked, which was enough to flatten the fabric and open the holes nicely.
Make double-sided buttons by hooking pairs of buttons together, through the shanks, using jump rings. Try to be sure the ends of the rings are hidden inside the button shanks, so they won't catch on the yarn.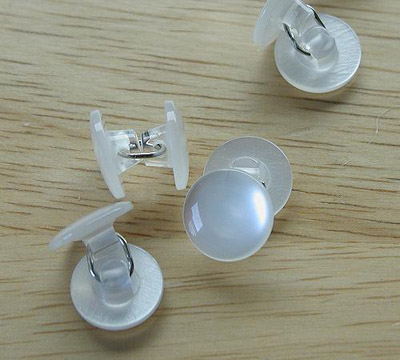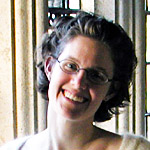 Rebecca knits, thinks about knitting when she should be working, and tries to sit still, outside of Boston.