Back when I was on my spindle road trip in 2003, one of the many wise spinners I met taught me this handy plying method, and I have since called on it in many situations. I call it "handy plying" and, punny as it may sound, you too may soon find it handy.

But wait: why would I handy ply? Why not just Andean ply if I want to quickly create a two-ply yarn with one singles?

A few reasons:
When the "bracelet" is slid onto the wrist, it can't fall apart because it is actually a continuous loop (unlike Andean plying -- it took me a hundred goes at it to realize that Andean plying is just a series of loops resting on top of one another, first from one side, then from the other). This is especially important for lengths under 8 yards that are too short to wrap more than a couple times around.

Some find the more commonly used Andean plying confusing, are intimidated by it, or have to relearn it every time they attempt it. Handy plying by comparison is very simple.

When plying a fine, high twist singles (such as a fine silk) or a fibre that is apt to snarl and tangle (such as mohair), this method means the singles can be tensioned by sliding the "bracelet" only as far as the widest part of the hand, and using the hand-span to keep tension on the singles as it is plied off. Even right up to the very last length, this tension will hold the yarn in place until it enters the plying process.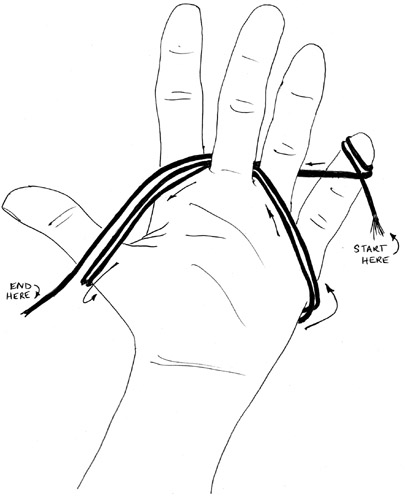 The "handy plying" method, illustrated in the diagram above, is especially practical in a workshop setting where lots of small singles are being spun up.
Instructions
So how does one handy ply? See the diagram at right, and follow these steps:

1. With the palm of your non-preferred hand facing you, anchor one end of your singles onto your baby finger (a couple snug -- not tight -- wraps should do it).

2. Thread the yarn behind your middle finger, in front of your index finger and thumb, around the back of your hand, trailing in front of your pinky and ring finger, and returning behind your middle finger.

3. Follow the trail of the loop you just made, until you run out of singles.

4. Angle your middle finger down enough to let you slide the yarn out from in between your fingers, down over your middle finger so the loops are around your whole hand. This creates a "bracelet" or a set of loops of yarn that you can then slide onto your wrist or, in the case of a tangle-prone yarn, onto your stretched hand-span.

5. Unwrap the anchored end from your pinky and pinch it together with the other end.
Ply away!
The singles will thread off your wrist much like with Andean plying, and you'll find that with very short lengths, you will soon be holding the folded mid-point of the singles and recalling that "ply" really means "fold" and this is an easy way to fold your yarn in two.

This article was originally printed in Spinners' Quarterly.
For more information or to subscribe, visit spinnersquarterly.com
Toronto-based spinner, Lorraine Smith, is the Publisher and Editor of Spinners' Quarterly,
a printed newsletter discussing handspinning in the modern world. She has also written for Spin Off Magazine and Fibre Focus.
Find the source of more articles like this one and other delights at spinnersquarterly.com.