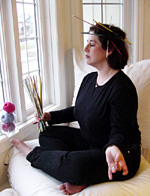 photo:
Lisanne & Bryce Thomas



Big.
This is, without doubt, the biggest Knitty issue ever. More patterns, more good stuff. I love the variety we've got this time, and I hope you do, too. Look at all those names over there on the right!

After an issue this big, I don't have too many words left.
But I'll think of something.

Knittyspin, launched last issue, expands from a single column into a fledgling sub-mag. More on spinning without wool and spindles and a different kind of plying you might want to try. And a whole lot on my new favorite thing: spinning silk hankies.
We welcome the contribution of Lorraine Smith, editor of Spinners' Quarterly, who has been spinning for more than 10 years and has a lot to share with us. She's also great fun.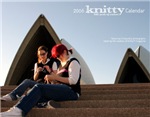 By now, I hope you've seen the 2006 Knitty calendar -- the product of our first-ever calendar contest.
The submissions were amazing and people have been loving the calendar big. Big!
If you'd like to get a copy for you or your Knitty friends, you can find them, and lots of other great last-minute gifts that require no knitting whatsoever, right here. Check out our holiday cards! They make us giggle.

Don't forget -- you haven't already, sign up for the Knitty reader list to stay in the know about Knitty. The list is never shared with anyone and we only send out a few messages a year.

At this time of year, lots of people celebrate lots of different things. Even people who celebrate the same holiday don't necessarily celebrate it the same way.

So I wish each of you the very happiest of holiday seasons, warmth, comfort, safety, family and lots of good knitting time. Be well, everyone.