The answer: presentation. Quite simply, presentation is essential to any gifting experience. I missed the process of wrapping the box, smoothing and folding the tissue paper and tying a big, beautiful bow. I never saw the anticipation on my mother's face, heard the satisfying tear of the paper, nor witnessed the slow and measured opening of the box.
With that cautionary tale in mind, I have since been wrapping special gifts with extra-special care. Here are a few tips and tricks from the simple to the complicated.
Fresh-off-the-needles
It's a race to the finish line. The birthday party is in half an hour. That's 30 minutes. Deep breath. Time is such a silly existential notion.
Repeat this thought over and over. You've almost finished the sweater you've been laboring over for months -- in fact, you are 98 per cent finished. You just need time to join the arm seams. And sew in a few loose bits. And do a quick block.
In this instance, I defer to Joelle Hoverson's Last-Minute Knitted Gifts. Hoverson has dedicated a complete chapter on the art of gift-wrapping. From tasseled I-cords to crochet chains to knitted bags, Hoverson has a range of sweet and simple projects. Among Hoverson's quick and easy suggestions: wrap your gifts in tissue paper and use remnant pieces of yarn from the project in place of ribbon. Simple, tidy, understated, and truly pretty as a picture.
With just a bit more time, you can make a few fluffy pom-poms or tassels to embellish your tissue-paper wrapped gift.

Whimsical and retro, these trimmings can later be used as bookmarks, cat toys or lamp pulls.




Consider, for a moment, the scarf. Straight edges span forward into a long, pleasing, geometrical rectangle. Decorative fringes punctuate each end. Scarves are among the most functional and practical of accessories. But sometimes, a scarf can be more than just a scarf.

Make the gift of your scarf an essential part of the presentation itself - use it as an alternative to wrapping paper. This works best if the scarf has been knitted from laceweight yarn. Chunkier yarns are okay too but they tend to make the package bulky -- see yarn-o-licious below.

Roll your scarf loosely around a companion gift -- a small, boxed bracelet or a precious novella - end over end.

Once you reach the middle of the scarf, fold it diagonally to change direction. Use a contrasting piece of yarn to tie the bundle together.




You have sixteen gorgeous scarves to give away as holiday presents. Some are brightly colored others are gracefully muted. But which scarf should you give to your cousin, aunt, uncle, best friend, or sister-in-law?

Buy a roll of clear cellophane and roll forth a generous square. Roll the scarf in the cellophane, leaving room at the ends to cinch and tie with a curled ribbon. When you're done it will look like a yummy, giant bonbon. Delicious! Let your lucky gift-giving recipients choose which scarf they fancy.

If you prefer a bit of mystery but like the look, buy tinted cellophane that hides a bit of the texture and color of your knitted garment, or wrap the item first in translucent tissue paper and then finish up with cellophane.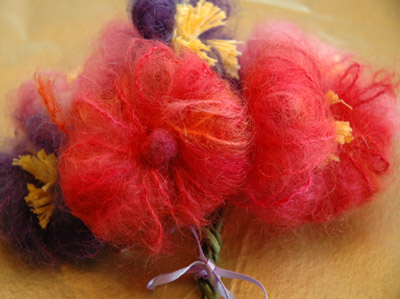 Fresh as a flower
You've selected the just-right card and written some terribly clever sentiments inside. Your felted purse is perfect and fuzzy and tucked inside a beautifully-wrapped box. But, it's missing a little special something.
My grandmother could make flowers out of any material and some floral wire. Nylon was her specialty. It sounds hideous, but they were stunning. I prefer using fluffy mohair to fashion my petals. Wrap a length of mohair around your hand five or six times at cut the end. Fold a piece of floral wire in half. Take a dry felted ball in a different color and push the ball up the floral wire to the folded half. Place the circle of mohair in the fold of the wire with the felted ball in the center. Twist the wire in place and fan out the mohair in a circle. Like the tassels and the pom-poms, these can be used as bookmarks. Or, if you attach a pin to the back and trim the stem, they can be worn as broaches.
Felted flowers can also nicely dress up a humdrum box.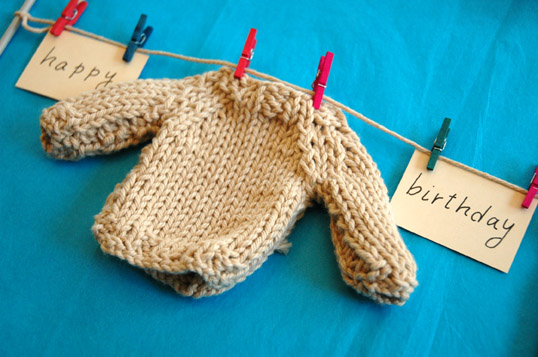 Laundry line
You've wrapped up a darling sweater but your fingers are itching to keep on knitting. Your heart leaps with ideas and you optimistically think, "Why not start a big shiny new project to supplement your already wonderful gift?" Ahh the devil on your shoulder is always egging you on to do more. But you have time restrictions not to mention budget realities.
If you've read Hoverson's Last-Minute Knitted Gifts or Melanie Falick's Weekend Knitting, you've no doubt knitted up many mini sweaters. Who can resist? The instant gratification is thrilling. If you have some spare time and spare ends in your stash, knit up a laundry line of clothes. Lay flat two popsicle sticks or small double pointed needles at either side of the box and run a thick piece of yarn between them to form the line (glue or tape these down as you see fit). Use mini-clothes pins to hang your knitted goods. Embroider a simple motif - a flower, a snowflake or an initial - on the sweater. Knit up a pair of jeans and a pretty mini-skirt to add to the line. For a child's gift, use finger puppets as an embellishment. The recipient can later add the line to a shadow box or hang them from a bulletin board as decoration.
You laugh in the face of deadlines. You've had that baby blanket ready for months. And the shower is still a month away! What will you do with all of your spare time? I bow humbly and reverently before you.
Knit up a bag to present your gift in. Felt a knapsack, a carrier bag, or a diaper bag and tuck your present inside. Monogram the recipient's initials on the outside. Be kind to the other shower guests whose jaws will hit the floor at your artful expertise.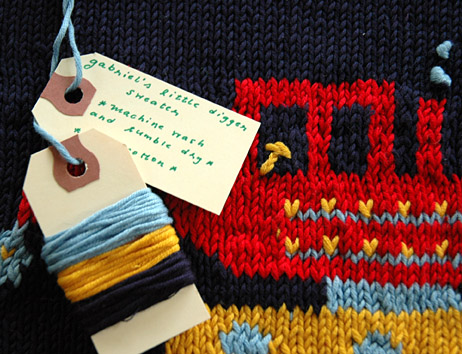 The finishing touches
If time permits, include a laundry tag with detailed instructions. Use a shipping tag or a piece of cardstock.
It's also a thoughtful idea to include a few pieces of yarn wound around a card for mending. Throw in some cedar blocks to preserve the garment.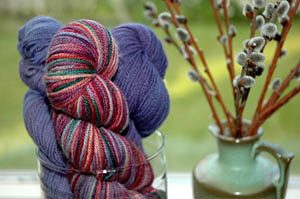 The ultimate gift
Could there be anything better than receiving a bouquet of yarn? Answer: No. If the lucky recipient of your gift-giving goodness is a knitter, place a few different skeins of yarn in a tall vase. Throw in a few needles for height and stability and wrap the mouth of the vase with some pretty fabric ribbon.
This idea can be used in several different ways. Buy a pretty planting pot and shape a skein within to create a yarn-shaped plant. Fill a fruit bowl with different balls of yarn. Baskets weren't only meant to be filled with jams and cookies and boxes of tea. Pack a large basket with different yarns, stitch markers, patterns and needles.
Advice columnist Ann Landers always offered wonderful passive-aggressive gems like this: Print out this article and highlight this section. Tape it to the fridge. Point friends and family to the highlighted article and suggest they read the really interesting last section titled The Ultimate Gift.
When you receive an ever-original and considerate gift, be sure to hand the generous giver an oversized key to the city and a carefully written haiku in thanks for being so very thoughtful.