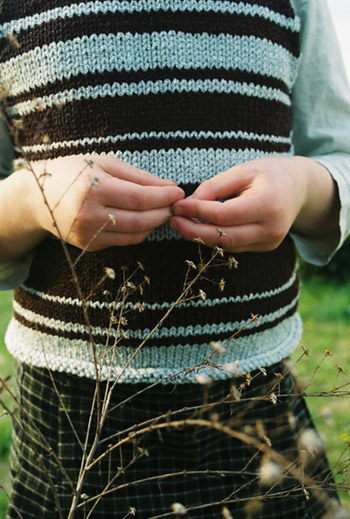 Yikes. There it is. An equation. Just like the old days, when you were squirming in your seat in math class. Or maybe you loved figuring out formulas and numerical sequences, and never understood what the groaning coming from the back row was all about.
I am a mathematician by trade, but numbers mean much more to me than just a job. Numbers, and the way that they relate to one another, are beautiful to me. They create order and patterns, but they can also be random and chaotic. I have always been fascinated by how math is represented in art, and I am perpetually seeking ways to express my love for numbers in my own artistic endeavors.
I fell in love with knitting, the way many, many people do. It may have been an unexpected move in my life, but I have found it to be the most direct way to incorporate numbers into my art.
For my wife, knitting was a way to pass the time and feel productive after being diagnosed with a debilitating disease. I saw how quickly therapy turned to obsession, but I didn't mind at all. In fact, I loved it. After all, the kids and I received many cool knitted objects: hats, sweaters, wristbands, and even socks.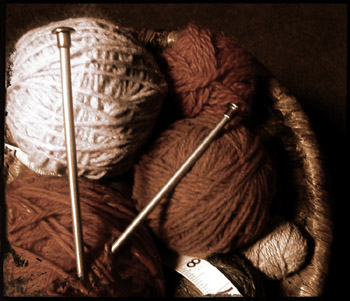 I also may have been the only husband for hundreds of miles who did not mind spending the better part of every weekend in knitting stores. Being surrounded by all of that color and texture was inspiring, and yarn has always been one of my favorite photographic subjects.
Our daughters have been knitting since they were six and eight years old. For them, using sticks and string continues to be a way to spend time with their mom, as well as a form of relaxation, and a source of constant and surprising invention
After two and a half years of watching and being the official Hall Hartley yarn color selector, I finally took up the needles as a defense mechanism. I did not want to become the ball winder by default. My wife showed me the basics (she says I was a know-it-all; it was a short lesson) in December of 2004. With the support of the three knitting women in my family, and a quick purling lesson from the seven-year-old, I was on my way to knitting bliss.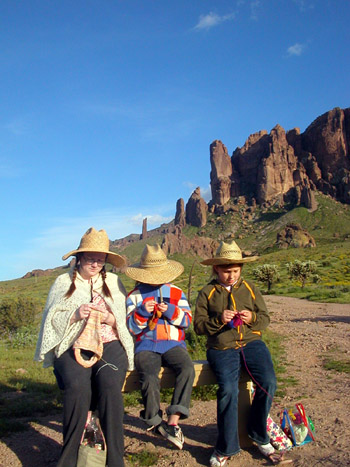 Now knitting is a family affair, a way to bond with each other and socialize with other knitters. We have also found that a shared interest makes gift giving easy. Yarn is always the perfect present for any occasion.
I had always appreciated the possibilities of knitting as art, but after learning to knit, the world changed for me. I read through our copy of Unexpected Knitting by Debbie New (Schoolhouse Press, 2003). This book, and Debbie's work in general, opened my eyes to just how much mathematics can contribute to the art of knitting. Although there are patterns in the book, the author stresses technique. Like Elizabeth Zimmermann, Debbie New encourages knitters to come up with their own answers to knitting equations in order to create something unique and meaningful.
With my background in actuarial science and a job compiling and reporting statistics for the health insurance industry, people are often surprised to hear that I am also a fine art photographer. I hear many comments about using both sides of my brain. Of course, math is imperative in photography, but I have found that knitting is what truly brings my love for both numbers and creativity into one concentrated practice.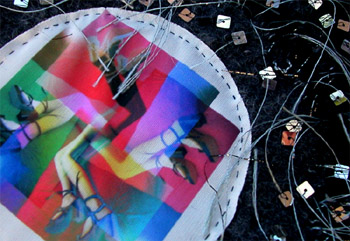 I often add photographic images to knitted pieces, especially those that have been felted into a more tightly woven fabric. I print my photos on silk and then stitch them to bags, vases, accessories, and framed lengths of knitted fabric.
Unexpected Knitting may not be most knitters' idea of a book for a beginner, but Debbie New encourages knitters to approach their work from a daring standpoint. And daring runs in my family. My nine-year-old, tired of hearing, "Just one more row" when she asked her mother to teach her certain techniques, took matters into her own hands. One Saturday morning, when the rest of us were sleeping in, she learned to turn cables, knit Fair Isle, and make her own socks, all from her favorite book, Kids Knitting by Melanie Falick (Artisan, 1998). No one told her that she couldn't, so the kid did it on her own.
As a man writing this article, I want to make something clear. There is a view of gender inequality regarding so-called natural mathematical ability that is just not true. The simple fact that so many women have been, and continue to be, successful and innovative knitters is proof that math is part of every day life for everyone, regardless of gender. I am a knitter, an artist, a math nerd, and a father. I feel it is important to share this love of numbers, to spread my view that math is not only a necessary evil, but an integral part of the natural world. As such, we can all employ numbers in infinite ways.
Nowhere is this more true than in knitting. Even when we follow a pattern exactly, we must still measure, count, and make decisions regarding size.
The Numbers Bag is made of some of my favorite numbers, ones that are important to me. By doing this, I created a vessel full of personal meaning.
Now it is time for YOU to be bold as well. There is nothing wrong with using the pattern provided (after all, this is a pattern resource). But you must not be afraid to change things; either completely or just a bit. If you decide to use my pattern, substitute your own numbers for mine (which are multiples of eleven). See what shape your bag (or vase, or hat) becomes.
It is such an easy thing to just change the numbers. By doing so, you are taking control of math. You are using it for your own expression, and that is a good feeling.
If you are not at the point in your knitting life where you are ready for such a leap, change something. Use the pattern as a starting point, a formula. Learn the techniques, and then apply what you have learned to make the pattern your own. Start with a different yarn, throw in some random (or carefully planned) purls for texture. Change the gauge by using different needles. Felt it. Dye it. Embellish it with beads or bottle caps or treasures mined from the junk drawer. Make the piece truly worth the effort. Make it yours. Enjoy it.
There are so many variables in knitting, and that is what keeps knitters interested. Many are related to basic math (size, proportion, drape), and all are part of creating art. Of course, there is color, the first thing we usually notice. Then there is contrast, texture, and even negative space (think of an intricate lace pattern). And, as in any art form, the materials and tools you employ make a difference, too. When you look at it this way, you can turn any pattern into a choose-your-own-adventure project.
When we recognize all of the aspects of knitting, we are all on our way to becoming artists, as well as mathematicians. And as educated (and daring) knitters, we can change any combination of variables, or even just rearrange them a bit. In doing so, we can use any idea or pattern as a basic formula to create a very personal work of art.
That is why
2 Needles + Yarn
Math = Art