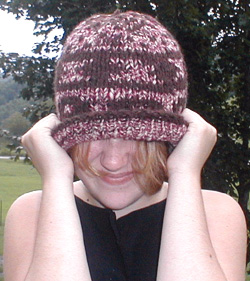 Not-your-grandma's-double-knit Hat
by Jenanne Hassler

Double knit fabrics were something I grew up dreading - 100% polyester pants with the seams stitched on - nothing I'd ever wear. Certainly not something I'd actually knit on purpose.

However on moving to the mountains I also found my ears get cold. Very cold. Impossibly cold. And a little knitting research soon led me to take a second look at double knit fabrics. Combine this with two yarns I loved but had not-nearly-enough of and memories of a second honeymoon in Canada and a hat was born.

You can turn the brim up on this hat or leave it down as a stocking cap. One thing's sure though...your ears will be warm!

model: Elspeth Hassler

photo: Jenanne Hassler
SIZES
S (L)
19" (22") around
MATERIALS

MC: 1 skein Wool-Ease Chunky in Walnut


CC: 2 skeins Katia Norton in a pink/cream/brown mix [worked together as one yarn]


2 sets US#10/6mm circular needles
Editor's note: Katia Norton is out of production. Jenanne suggests substituting a second colour of Wool-Ease Chunky. Available at Wal-Mart or online through Lion Brand yarns.
GAUGE
14 sts/18 rows = 4 inches
DIRECTIONS
GENERAL INSTRUCTIONS
Double knitting yields a reversible fabric with two different sides. On this hat, the colors on the inside and outside are precisely reversed. When knitting a double-knit fabric, finding your rhythm is particularly important. Here are tips for getting it right the first time:


Remember that any time you knit in your main color, you'll purl in your contrasting color.


Carry both colors together from front to back. In other words, if you are knitting, both yarns are behind your work; if you are purling, both yarns are in front. You only actually knit or purl one yarn at a time. It's just that both are there hanging out together, as it were.


Firm, even stitches matter. Really.
Now, about the chart [see below]: double-knit fabric is wonderfully fun but a touch confusing if you haven't knit it before. Each block on the chart represents TWO stitches: one knit and one purl. You are, after all, knitting up both sides of the fabric at once. So the pattern repeat is 8 stitches on each side of the fabric [in other words, you are knitting/purling 16 stitches for each 8-stitch repeat].
I find it easiest to keep track of this by simply looking at the chart as a pattern for the right side of my fabric and remembering to purl in the other color each time I knit.
HAT
With MC, using long-tail cast-on, co 96 (112) stitches evenly over two needles. Begin chart. The pattern repeats 6 (7) times around the hat.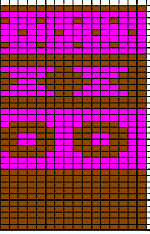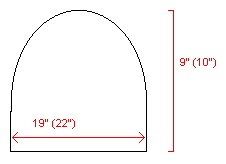 brown = k1 MC, p1 CC


pink = k1 CC, p1 MC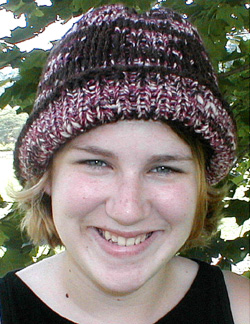 Continue knitting *k1 MC, p1 CC* until the hat measures 9 [10] inches long.
Next row: *k2tog MC, p2tog CC* around. You should have 48 [56] stitches remaining.
Next row: *k1 MC, p1 CC* around.
Next row: *k2tog MC, p2tog CC* around. You should have 24 [28] stitches remaining.
Next row: *k1 MC, p1 CC* around.
Cut yarn leaving a 16 inch tail. Thread MC yarn through MC stitches, and at the same time thread CC yarn through CC stitches, while removing the stitches from the needle.
Pull yarn tight [MC on one side of the hat, CC on the other] and weave in ends.

ABOUT THE DESIGNER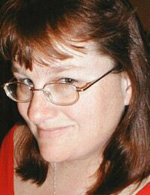 Jenanne Hassler is a knitter, a mother, a wife, a home educator, a quilter, a blogger and self employed. She still manages to find time each day to be bored out of her skull. From this, designing was born.
Pattern & images © Jenanne Hassler. Contact Jenanne.