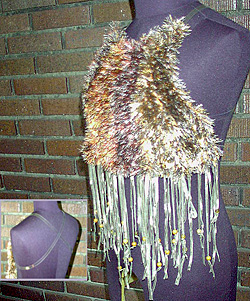 Faux-fur Halter
by Annie Modesitt

Wilma Flintstone meets Rodeo Drive. This is exactly the useless type of garment that makes one memorable, happy and silly enough to find true wisdom. You pull this on, and once it's on, it's ON! The clear lingerie straps will give the illusion that either 1] You have a very furry chest or 2] You're magical.
Trimmed with ribbons and semi precious stones, this would be exotic on its own, exquisite with a leather shrug.
This is an amazing introduction to the concept of short row shaping [don't let it scare you!] because - let's be honest - if you make a mistake, NO ONE WILL BE ABLE TO SEE IT IN ALL THIS FUR!
No animals were harmed in the kting of this garment.

model: sassy purple mannequin

photo: Annie Modesitt
SIZES
S (M, L, XL)
36" (40", 44", 48")
MATERIALS

1 50 gram ball each of Sandesgarn Funny in the following colors:
Orange 3525, Gold 2337


1 50 gram ball of Sandesgarn Funny Luxury in dark grey / charcoal 4793
[available online at http://www.beaelliskwear.com/swedishyarns.html]


Ribbon yarn for trim [Berrocco Zen was used in the sample]


Semi precious stones or beads for trim


US#10.5/6.5mm needles


2.5 yards of 3/8" polyethylene-clear elastic
[available online at http://www.homesew.com/elastic.html]
GAUGE
14 sts/16 rows = 4 inches in stockinette stitch on #10.5/6.5mm needles
ABBREVIATIONS
W&T /wrap & turn:
Slip next stitch to right hand needle and move yarn to front of work.
Slip same stitch back to left hand needle and turn work.
Begin kting in last k stitch.
DIRECTIONS
FRONT
Using three strands of yarn [a single strand each of Funny Luxury Dark Grey/Charcoal, Funny Orange and Funny Gold] co 30 (32, 34, 36) sts.
Work in garter st for 2 rows.
Switch to 2 strands of gold/1 strand of orange.
SHORT ROW SHAPING
Row 1: k all sts
Rows 2: p 22 sts. w&t next st
Rows 3, 5 & 7: k all sts to end of row
Rows 4 : p 16 sts, w&t next stitch
Rows 6: p 10 sts, w&t next stitch
Rows 8, 9 & 10: k all sts [garter st]

Repeat the above 10 rows 8 (8, 10, 10) times in the following color combinations:
2 strands of dark grey/charcoal and 1 of gold
3 strands of gold
2 strands of dark grey/charcoal and 1 of orange
2 strands of orange and 1 of dark grey/charcoal
2 strands of dark grey/charcoal and 1 of orange
3 strands of gold
2 strands of dark grey/charcoal and 1 of gold

End by working 2 rows of garter st by using 1 strand of each color.
Bind off all sts loosely [use a larger sized needle for binding off]
FINISHING
Fringe:
Cut ribbon yarn into 12-18 inch lengths.
Fold 1 strand in half and pull the loop through the last stitch at the bottom edge [longest edge] of the piece.
Pull the ends of the ribbon through the loop to secure the fringe in place.
String beads onto the loose fringe ends and knot securely in place.
Place as many fringes across the bottom as desired.
Straps:
Hold knittted piece up to your chest to determine desired placement.
Have a [close] friend measure the distance from the left-side edge [by the breast] around and across the back, over the shoulder to the right top corner of the knitted piece; this measurement will probably be between 25 - 36Ó depending on size.
Cut two lengths of clear elastic to this measurement.
Stitch these elastic straps to the knitted piece as marked below.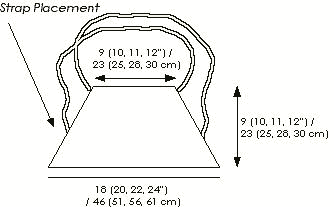 ABOUT THE DESIGNER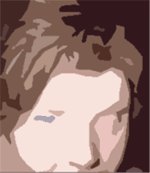 Annie Modesitt lives in South Orange, NJ, with her incredibly patient husband and kids, who rarely see mommy when she's not knitting. Her designs have appeared in Interweave Knits, Vogue Knitting, and Knitters Magazine as well as Family Circle Easy Knitting, KnitNet & McCalls – but they pale in comparison to KNITTY!

Least Favorite Quote: "You're knitting wrong."
Favorite Snappy Comeback: "No, I'm not!" [so there]
Pattern & images © Annie Modesitt for personal, non-commercial use only. Contact Annie.