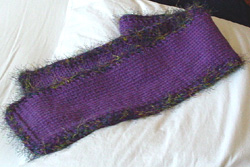 Just a Little Fizz
by Ivete Tecedor

For those of us who tend to be more on the conservative side, this scarf has "just a little fizz" around the outside.
And with all the colors in Nature Spun, there are tons of possible combinations to match your style!

model: a lovely, fluffy duvet

photo: Ivete Tecedor
FINISHED MEASUREMENTS
About 6" x 55"
MATERIALS

[MC] 2 skeins Brown Sheep Nature Spun Sport [100% wool] Color N60 "Purple Spendor"
1.76oz [50g]; 184yd [168m]


[CC] 1 skein Crystal Palace Fizz [100% soft poly eyelash] Color 7123 "Cool Jazz"
1.76oz [50g]; 120yd [109m]


US#10.5/6.5mm needles


Size N/10 mm crochet hook
DIRECTIONS
With two strands of [MC] held together, co 21 sts.
Rows 1-3, and all following odd rows: slp1, k to last st, k1tbl.
Row 4, and all following even rows: slp1, k1, p to last 2 sts, k1, k1tbl.
Continue in established pattern until scarf measures 53", ending after an odd row.
Repeat rows 1-3.
BO all sts.
Block scarf by wetting and laying flat to dry.
BORDER
Using crochet hook, with 2 strand of [CC] and 1 strands of [MC] held together, attach at a corner with sc.
Sc evenly around, placing 3 sc in each corner.
Join with crocheted slip stitch at end; BO.
ABOUT THE DESIGNER
Ivete Tecedor has been knitting seriously for the last two years. She runs the Knitting Bloggers webring and mailing list and is getting ready to launch an online yarn shop. Her new knitting interest is lace and colorwork, especially in socks and shawls.
Pattern & images © Ivete Tecedor. Contact Ivete.