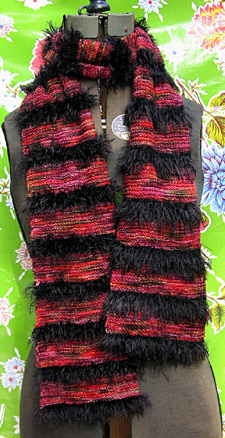 Rockstar Scarf
by Jillian Moreno,
Acme Knitting Company

Take two parts lucious colored Koigu. One part silky fur Apart. Combine, shake with a little garter stitch and a couple of episodes of Six Feet Under and you've got a slinky scarf.
Warning (or not): strangers will pet you when you wear this scarf, but f**k 'em; you're a rock star.

model: kicky grey mannequin

photo: Jillian Moreno
MATERIALS

[MC] 2 Skeins Koigu [176 yds per skein]


[CC] 1 Skein GGH Apart [120 yds per skein]


US#3/3.25mm straight needles
Editor's note: Jillian says you can substitute Berocco Zap (3 skeins) for the Apart, but it's not as slinky and sexy.
SIZE
Finished Size: 6" x 66"
GAUGE
24 stitches = 4" in garter stitch
INSTRUCTIONS
Using CC, co 35 sts.
K in garter st for 6 rows [3 ridges].
Switch to MC and k in garter st for 18 rows [9 ridges].
Continue knitting, following pattern as established until 1 yd of CC remains.
Cast off loosely.
Weave in ends.

Tip: If you drop a stitch while knitting with Apart, it's easier to rip back and start that section of yarn again than to try to find the dropped stitch!
ABOUT THE DESIGNER
Jillian Moreno started designing patterns for Acme Knitting Company to stay sane while she stays home with her preschool daughter in Austin, Texas.
Pattern & images © Jillian Moreno. Contact Jillian.