My husband, though an all-around swell guy, is very particular and thus not easy to knit for. After a series of intensive negotiations -- and swatches -- we came up with this vest.
Classic and understated enough for him; interesting enough for me to knit, and at a gauge of 4 stitches to the inch, a project I was actually able to finish in this lifetime. For truly conservative tastes, omit the contrast color stripe; wilder guys can have fun picking from the 90-odd shades that Manos del Uruguay yarn comes in.
The vest is knitted in the round from bottom to armholes, then the front and back are worked back and forth separately.

model: Tom Speranza

photos: Carol Sulcoski
Men's S [M, L, XL, XXL]
Chest: 43.75 [45.5, 47.25, 49, 52.5] inches
Length 23 [24, 25, 26, 27] inches


(MC) Manos del Uruguay [100% wool; 137 yd/approx. 125 m per 100g skein]; color: 27 petrol;
5 [5, 6, 6, 7] hanks


(CC) Manos del Uruguay [100% wool; 137 yd/approx. 125 m per 100g skein]; color: 64 pewter; 1 hank


small amount of worsted or DK weight yarn in a color similar to MC, for joining shoulders [optional]

1 24-inch US #9/ 5.5mm circular needle, or size needed to get gauge


1 16-inch US#8/ 5 mm circular needle, or one size smaller than above


Stitch marker


Spare needle or length of waste yarn


Safety pin


Tapestry needle
16 sts/24 rows = 4" in stockinette stitch
[Knitty's list of standard abbreviations can be found here]
Main Body Pattern (worked in the round over a multiple of 7 sts)
Rnd 1: K all sts.
Rnd 2: [K5, p2] to end.
NOTE: When this pattern is worked back and forth after dividing for the armholes, Round 1 will become:
Row 1 [WS]: P all sts.
2x2 Rib (worked in the round over a multiple of 4 sts):
Rnd 1 [RS]: [K2, p2] to end.
Every row is the same.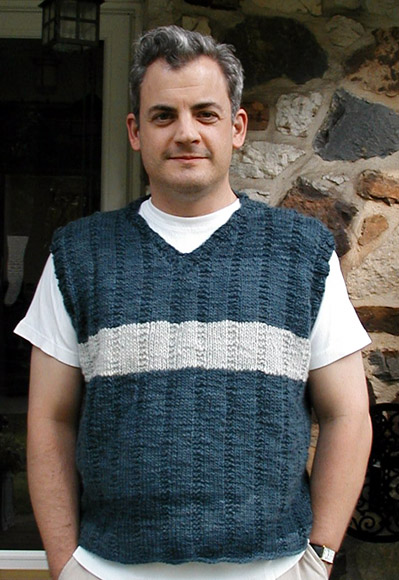 Body
Using larger circular needle, CO 175 [182, 189, 196, 210] sts in MC.
Being careful not to twist, place marker and join work to begin working in the round.
Work in Main Body Pattern until work measures 11.25 [12.25, 12.75, 13.25, 14.25] inches, ending with Rnd 2.
Join CC and cont in patt for an additional 2.75 inches, ending with Rnd 2. Break CC and rejoin MC.
Divide for Upper Back & Front
K 1 rnd.
Place last 87 [91, 95, 97, 105] sts just worked on spare needle or piece of waste yarn for front. You will now begin working back and forth on the rem 88 [91, 94, 99, 105] sts to create the back.
Beg with Row 2, work 2 rows in stitch pattern as set.
NOTE: As the piece is now being knit back and forth, Row 1 will be a purl row instead of a knit round.
Shape Armholes
Cont in patt as set, BO 4 [4, 4, 5, 6] sts at beginning of next 2 rows. 80 [83, 86, 89, 93] sts
Dec 1 st at each end of every RS row a total of 7 [8, 8, 8, 9] times. 66[67, 70, 73, 75] sts
Cont without further shaping until back measures 23 [24, 25, 26, 27] inches from beg.
BO all sts.
Front
Transfer 87 [91, 95, 97, 105] sts for front onto working needle.
Work 2 rows in pattern as set.
NOTE: Read through the next sections before continuing.
Shape Armholes and Neckband
Cont in patt as set, work armhole shaping as for back.
AT THE SAME TIME, when front measures 16 [17, 17.5, 18, 19] inches from beg, prepare to begin neck shaping on next WS row as follows:
Work in pattern to center st, place next st on safety pin, attach a new ball of yarn, work in patt to end.
Working each side separately, work neck shaping as follows:
Next row [RS] First half: Work to last 3 sts, ssk, k1. Second half: K1, k2tog, work to end.
Next row [WS] Work each half without shaping, in patt as set.
Work these 2 rows a total of 13 [14, 14, 15, 16] times. 19 [19, 21, 20, 21]sts remain for each half.
Cont without further shaping until front measures same as back.
BO all sts.
Use tapestry needle to weave in ends.
Block [see Note 1 below].
Sew shoulder seams, using thinner yarn [see Note 2 below].

Armhole bands
Using smaller circular needle and with RS facing, pick up and knit 80 [84, 88, 92, 100] sts around armhole using MC. [See Note 3 below.]
Work for 1 inch in 2x2 rib, then BO all sts in rib patt.

Neckband
Using smaller circ needle, with RS facing and beg at one shoulder, pick up and knit 33 [36, 40, 44, 50] down left neck edge; place marker to mark center st, k center st from safety pin; pick up and knit 33 [36, 40, 44, 50] up right neck edge; and pick up and knit 30 (32, 36, 40, 44) sts across back. 97[105, 117, 129, 145] sts
Place marker to show beg of rnd.
Next Round: Work neckband in (k2, p2) rib until 2 sts before center front marker, SSK, k1, k2tog, work to end in rib patt.
Rep this round until neckband is 1 inch wide.
BO all sts in rib pattern.

Weave in remaining ends.
Blocking a garment knit in the round presents its own challenges; just do your best. I know many of you will be tempted to skip this step but blocking is especially helpful to give a professional-looking result. Try sliding the vest onto your ironing board and blocking a section at a time. Alternately, this piece may be wet blocked.
Because Manos is unevenly and loosely spun, as well as relatively chunky, I prefer to use a thinner, plied yarn to sew seams with. (For the terminally curious, in the sample garment, I used a piece of Jaeger Matchmaker Merino in DK weight.)
When picking up stitches for the neck and armhole bands, use your judgment in deciding whether you need to pick up a few more or less than the specified number. Make sure that the sweater body doesn't pucker where you've picked up stitches (if it does, you need to pick up more) or, conversely, that the band itself isn't rippling (if it does, you need to pick up less). This will make a tremendous difference in the look of the finished garment. After picking up sts, increase or decrease evenly around to get a number of sts that is divisible by 4 (for 2x2 rib to fit evenly).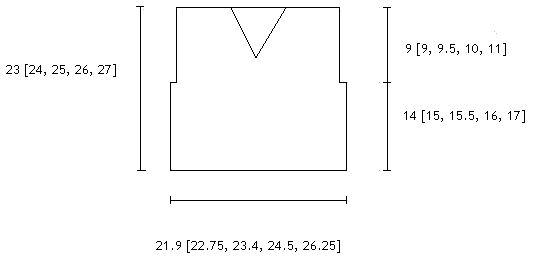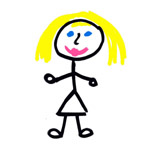 Carol Sulcoski is a former attorney who now is a stay-at-home mom to three, count 'em, three children. She is also a staff member at Rosie's Yarn Cellar in Philadelphia and regularly designs for the shop.
Carol lives with her long-suffering husband and adorable children in Villanova, Pennsylvania. This is her second pattern for Knitty. Contact email: