Inspired by the sexy, ultra-feminine undergarments of the 1920s, this little nightie is just the thing to slip on after a fun evening of dancing, or before a fun evening at home!
Don't let the small gauge scare you off! The light and slinky feel of the Cotton Pearl is a dream to wear while lounging or sipping martinis with your favorite sugar daddy. The top lace section is stretchy, so select your size according to your hip measurement to ensure proper swing while doing the Charleston.
The extra bold will wear this in public with dungarees or just bare powdered knees.

photos: Libby Baker
S[M, L]
Chest: 34[39, 44] inches
Hip: 40[45, 50]
Length: 31[32, 33] inches

Halcyon Yarn Inc [3/2 Pearl Cotton; 180 yd per mini cone]; color: 175; 6[7, 8] skeins



US # 2/2.75mm 36-inch circular needle


US # 3/3.25mm 36-inch circular needle


13 feet of .5-inch Satin Ribbon or desired length


Thread and needle
31 sts/ 39 rows = 4" in stockinette stitch
Ribbing Pattern [Worked over 10 stitches]
P2, k2, p2, k2, p2.
Eyelet Ribbing [Worked over 10 stitches]
P2, ssk, yo, p2, yo, k2tog, p2.
Feather and Fan (FF) [20 st rep]
*K1, [k2tog] 3 times, [yo, k1] 6 times, [k2tog] 3 times, k1* rep from * to *.
Note: Throughout garment, all ribbing stitches will be worked as they appear unless otherwise indicated.
With larger needles, CO 320[360, 400] sts.
Join, being careful to not twist work.
Rnd 1: Work *10 stitches in rib patt, beg with p2, k80[80,100], work 10 sts in rib patt, k60[80, 80], repeat from * to end of row.
Rnd 2: Work all stitches as they appear
Rnd 3: *Work ribbing, then work FF patt 4[4, 5] times, work ribbing, rep FF patt 3[4, 4] times, rep from * to end of row.
Rnd 4: P across row, working all rib stitches as they appear.
Rep these 4 rnds until work measures 5 inches (measure on the ribbing) from beg, ending with a rnd 4.
Change to smaller needles and work 3 rnds in St st, working all ribbing as it appears.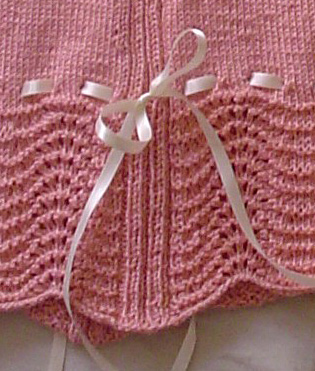 Ribbon Row
Work all ribbing stitches in this row in the ribbing eyelet patt. Work all other stitches as follows: *k1, k2tog, yo, k2, rep from * to end of rnd.
Work 9 rnds in st st, working ribbing in original rib patt.
Next (dec) row: *Work ribbing, k80, work ribbing, k1, skp, knit to 3 sts before ribbing, k2tog, k1, rep from * to end of rnd.
Maintaining continuity of st patt as est, rep this dec rnd every 10th rnd 9 times more. (280[320, 360] sts)
Work even in patt as est until work measures 21[22, 23] inches from beg (measure at the ribbing).
Top Lace Section
Rnd 1: P across, working ribbing as est.
Rnd 2: Rep FF patt, working ribbing as est.
Rnds 3 and 4: Work ribbing as est and k all other sts.
Rep these four rnds until top lace section measures 5 inches on the ribbing, ending with a rnd 4.
Next rnd: BO 1 st, work 8 sts in rib, BO 82[82, 102] sts pwise, work 8 sts in ribbing, BO rem sts pwise.
Straps
Work both straps as follows: K3, p2, k3 until straps measure 10 ?Ó inches.
BO in rib patt.
Sew Straps to back ribbing.
Weave in loose yarn ends and block.
Cut ribbon into two 3 foot segments and two 3 foot 4 inch segments (or longer if desired). Begin by threading longer length ribbon from front to back through the left eyelet in front right ribbing. Leave a good length of ribbon and thread ribbon through eyelets across front section and pull tail out on right eyelet of left front ribbing. With the shorter length ribbon, thread from front to back through left eyelet in ribbing, through side eyelets and out through back ribbing, leaving tails. Repeat with the remaining lengths of ribbon on back and right side. Being careful not to pull ribbon, tie bows where tails meet in the ribbing.
Secure bows with thread.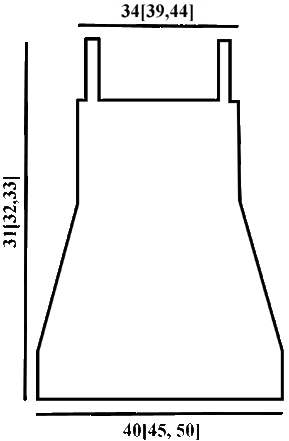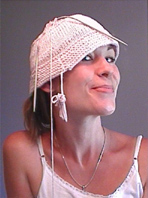 Libby Baker wears many hats, but those she prefers are hand knit. She lives with her husband and two children in Englewood, CO.
You can keep track of her on her blog, Creazativity.