Give the boys a little support while daring to bare!
This sexy men's thong brief covers just the essentials while lounging, sunning, or under clothes while running around.
Cool cotton/elastic yarn, proves it's no longer just for socks with just enough stretch to keep everything together while looking great.
Short rows create the bubble which becomes the pouch of the thong, while keeping the sides close to the body.
For a refresher in the execution of short rows, see the excellent tutorial in the Summer 2003 issue of Knitty.

photos: Joan McGowan-Michael
Large[Extra Large, Fetch the Smelling Salts]
Waist Circumference: 34[36, 38]"

Cascade Fixation [98.3% cotton, 1.7% spandex; 100 yds per 50g ball]; color: # 9862 Deep Blue Sea; 1 ball

1 US #5 (3.75mm) 24" circular needle


1 US H/#8 (5mm) crochet hook


Waste yarn


Stitch marker


1 yard 1" elastic


Tapestry needle


Sewing needle and thread
22 sts/ 40 rows = 4" in stockinette stitch
With waste yarn, CO 18 sts.
Pick up main yarn and, beg with a k row, work in st st for 2 rows.
Dec 1 st at each end of next then every 4th row 4 times. [8sts]
Work even in st st for 5[5.5, 6] inches, end with RS facing.
Inc 6 sts evenly across next and then EOR 1 time. [20 sts]
Next row: P10, pm, work to end.

Beg short rows as follows:
*K to last 2 sts, wrap next st and turn.
P to last 2 sts, wrap next st and turn.
K to last 3 sts, wrap next st and turn.
P to last 3 sts, wrap next st and turn.
Cont as est until 3 sts are wrapped at each end of row and 1 st at each end remains unworked.
Work across 2 rows picking up wrapped sts at both sides of work and unworked sts.
Rep from * 16(18, 20) times while AT THE SAME TIME , M1 on each side of st marker every 4th row (counting rows up center of pouch) to 52[56, 60]sts.
Next RS row: K across, CO 50[53, 56]sts, remove waste yarn at back strap and K across those 18 sts, CO 50[53, 56]sts. 170[180, 190]sts
Join and work in the round until band measures 1.5" from CO sts.
BO.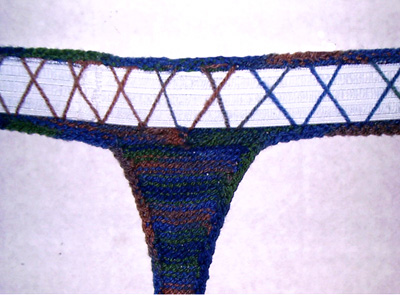 With crochet hook, work 1 row of single crochet around all edges.

Weave in ends.

Steam lightly with steam iron.

With tapestry needle, work a row of X-shaped stitches around inside of waistband 1.5" high for elastic casing.

Run elastic through casing and cut to size.

Secure ends with needle and thread.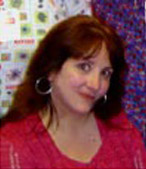 Joan McGowan-Michael is the owner of and designer for White Lies Designs.
See more of her knitted undies at White Lies Designs.