This cabled angora-blend headband will keep your ears toasty for a day on the slopes or an evening of snowman-building in the back yard.
To ensure a snug fit, measure the circumference of the head and subtract 3-5". This will be your targeted finished size,
When in doubt, knit a smaller size, as the headband will stretch with wear.

model: Amy Swenson
Kids S/M[ Kids M/L, Adult S/M, Adult M/L]
Circumference: 11[14,17,20] inches unstretched
Width: 3[3,3.25,3.25] inches unstretched

[MC] Classic Elite Lush [50% Wool, 50% Angora; 124 yd per skein]; color: 4420; 1 skein

1 US #5/3.75mm circular needle, 12"


Tapestry needle
24 sts/32 rows = 4" in stockinette stitch
With MC and circular needle, c/o 60[75,90,105] sts. Place marker to note beginning of round and join.
Work 3 rounds in seed st.
Work next round as follows: [k4, p2, k2, m1, k3, m1, k2, p2 ] 4[5,6 7]times. (68[85,102,119] sts).
Work rows 1-8 of chart A 2 times.
For Adult sizes only, work rows 1-4 once.
For all sizes, work next round as follows: [k4, p2, k2, k2tog, k1, k2tog, k2, p2] 4[5, 6, 7] times. (60[75,90,105] sts).
Work 3 rounds in seed st.
Bind off all sts.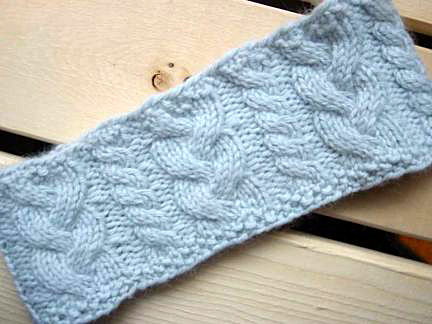 Sew in ends, lightly steam block, and enjoy!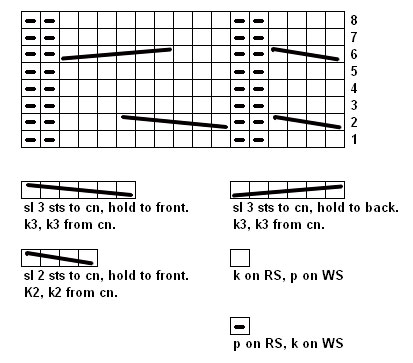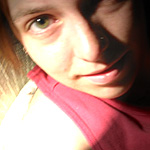 Amy Swenson lives in Calgary, Alberta, with her partner Jenn, their yorkie, Basil, and their cats, Cleo and Maddy.
Her overwhelming addiction to yarn is mostly paid for by her work as a website developer and functional analyst.

She documents her quest for dropped stitches, cheap airfares and Canadian permanent residency at Indigirl.

More information on her knitwear designs can be found at IndiKnits.