This is a handsome little scarf for the wee sophisticate in your life.
My Granny gave me James Norbury's Traditional Knitting Patterns and I love flipping through it and wistfully imagining all the chunky Aran sweaters and lacy mohair shawls I'll knit someday. This toddler's scarf is the perfect way to get a little bit of cable knitting gratification without the lengthy commitment of a bigger project.
It's knit in the Lattice Pattern from Norbury's book, which requires a multiple of 8 stitches +2.
Because toddlers are seldom as enchanted by accessories as their mommies are, I wanted to make the scarf more difficult for little fingers to yank off and toss out of the stroller. My solution was to work a little slit on one end of the scarf so that the other end could be pulled through [and - if you wish - tied, but never too tightly, for extra security).
I chose Cashmerino because it's super soft against tender little necks and the deep red adds drama to any toddler's wardrobe.

Debbie Bliss Cashmerino Aran [55% Merino Wool, 33% Microfiber, 12% Cashmere, 90m per 50 g ball]; color 611 Dark Red; 1 ball

1 pair Size U.S. #8/5mm needles


Cable Needle


Tapestry Needle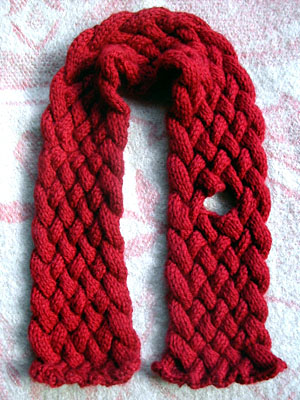 The Lattice Pattern is knit in any multiple of 8 stitches + 2.
CO 34.
Row 1: K1, * C4F, rep. from *, K1
Row 2: Purl.
Row 3: Knit.
Row 4: Purl.
Row 5: K5, *C4B, rep from *, K5
Rows 6, 7 & 8: Repeat Rows 2, 3 & 4.
Rep these 8 rows until your piece measures approx 20 inches from beg, ending with Row 4 above.
Slit
Next row: K5, C4B, BO next 8 sts, C4B, k5.
Next row: P13, use backward loop method to CO 8 sts over gap made by previous row, p13.
Cont in patt until piece measures approx 27 inches from beg, ending with Row 8. BO all sts.


Molly lives in Seattle with her husband Josh and her wee sophisticate,
Luke.
As you read this, she is packing up her belongings and moving to
Albuquerque, New Mexico. Goodbye soggy woollen hats. Hello knitted
t-shirts.