Because it's nice to know what other spinners think about a fiber you haven't yet tried, welcome to the Knittyspin Fiber Fiesta feature! Each type of fiber is tested by 2-4 average spinners, each with a different background and level of experience. Each spinner is provided with the same amount of fiber, and each spinner spins, plies, finishes and knits each fiber as it speaks to them. Their feedback is collected on a standardized form and summarized below. To help understand each spinner's feedback, we've given each a letter label [A, B, C, D], so you can follow their comments down the page.
Fiber that did not receive good feedback will not be featured in Knitty, in accordance with our review policy, so if a fiber is featured here, it means the majority of spinners liked it!
Items are rated on scale of 1-5. Retail prices are in USD.
| | |
| --- | --- |
| dislike/disagree/bad | deep love/total agreement/great |
Name
BFL top

Brand
Frabjous Fibers
Fiber
content
100% blue-faced leicester
Put up
top
Color
Cottage Garden, Stained Glass
Sugg. Retail Price
$28 for 8 oz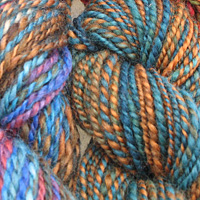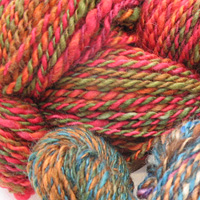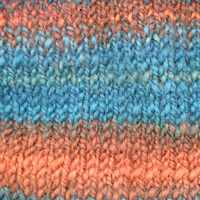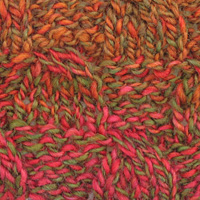 how does it feel?
1= pot scrubber;
5= baby's bum
how much predrafting was needed?
1= a ton – it was basically felt;
5= none – just sat & spun

how did it spin?
how did it knit?
dye leak?
1= lots; 5=none
did the fiber behave as you expected it would?
1= not at all; 5= precisely


A: I loved spinning it, wasn't crazy about the yarn once cabled. However, once I knit it, I fell back in love. It really was a lovely swatch.
B: I pulled the roving in half lengthwise and widthwise and spun end to end trying to get two singled that would mix the color when plied. It didn't work – the colors were too close. I wasn't happy. When I knit my swatch I couldn't stop because I couldn't wait to see what gorgeous color would come next.
C: --
D: --


describe it in one word

A: soft
B: --
C: poof
D: --

how did you...

spin it

A: worsted
B: worsted
C: long draw
D: semi-woollen [draw back with smoothing]

ply it

A: cabled [4 plies]
B: 2 ply
C: 2 ply
D: 2 ply

WPI

A: 8
B: 9
C: 11
D: 9

finish it

A: Rinse and slight whack. I didn't want it to be fuzzy
B: none
C: Hot, cold. Thwackity thwack
D: Soak hot and hang

what would you make with it?

A: Anything for next to the skin, a scarf a work-a-day sweater, anything.
B: Anything that takes advantage of the beautiful color changes
C: mittens
D: cardigan

Name
merino top

Brand
Frabjous Fibers
Fiber
content
100% merino
Put up
top roving
Color

Surf&Seaweed,
Chromataphobia

Sugg. Retail Price

$28 for 8 oz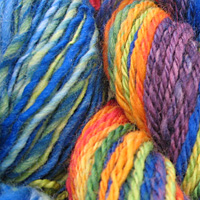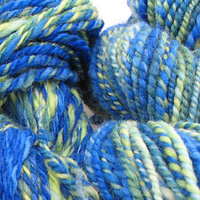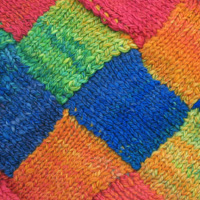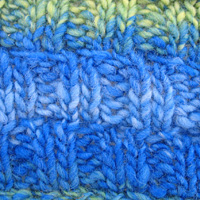 how does it feel?
1= pot scrubber;
5= baby's bum
how much predrafting was needed?
1= a ton – it was basically felt;
5= none – just sat & spun

how did it spin?
how did it knit?
dye leak?
1= lots; 5=none
did the fiber behave as you expected it would?
1= not at all; 5= precisely


A:easier than I expected given merino's 'difficult reputation'
B: wasn't sure I was happy with the colors while I was spinning, but when I started knitting I was captivated – beautiful!
C: colors smoothed out, blended down to softer
D: had to focus and slow down to control the thick and thin

describe it in one word

A: yum
B: rainbow
C: cruiseship
D: toffee soft

how did you...

spin it

A: worsted
B: worsted
C: short draw
D: woolen

ply it

A: 3 ply
B: Navajo ply
C: 2 ply
D: single

WPI

A: 9
B: 10
C: 10
D: 8

finish it

A: rinse & light whack
B: none
C: hot, cold, thwackity, thwack
D: hot soak & whack

what would you make with it?

A: anything for next to the skin, but it would take colr planning for me to make the yarn less marled.
B: anything next to the skin
C: socks
D: lace shawl from singles

Name
batt

Brand
Terra Bella Spun
Fiber
content

merino/tussah/glitz

Put up
batt
Color

Moonlit snow

Sugg. Retail Price
$16.50 for 3 oz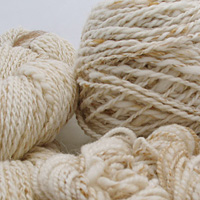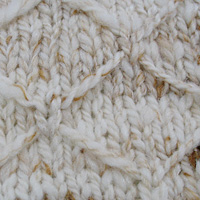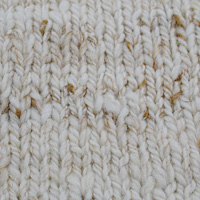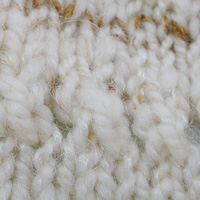 how does it feel?
1= pot scrubber;
5= baby's bum
how much predrafting was needed?
1= a ton – it was basically felt;
5= none – just sat & spun

how did it spin?
how did it knit?
dye leak?
1= lots; 5=none
n/a
did the fiber behave as you expected it would?
1= not at all; 5= precisely


A: easier than I thought, though tussah and glitz gave me some issues. I was surprised at how springy this yarn was after finishing
B: --
C: like the extra texture after spun and knit
D: this one took me by surprise. I thought I was spinning fine, forgot the bloom of merino. I wanted lace weight but got dk at least. It's so soft and springy, I want more.

describe it in one word

A: divine
B: snow
C: squeeky
D: baby bird

how did you...

spin it

A: semi-worsted
B: worsted thick & thin
C: med long draw
D: woolen with a little smoothing

ply it

A: 2 ply
B: 2 ply
C: 2 ply
D: 2 ply

WPI

A: 9
B: 7
C: 11
D: 12

finish it

A: rinse and pretty thorough whacking
B: none
C: hot, cold, thwackity thwack
D: hot soak, snap and hang

what would you make with it?

A: something floaty, cuffs, a smoke ring
B: beautiful winter accessory
C: cowl
D: long lacy fingerless mitts

Name
hand dyed fiber

Brand
Vines
Fiber
content

100% targee

Put up
combed-top roving
Color

Blossom

Sugg. Retail Price
$14 for 4oz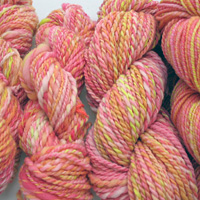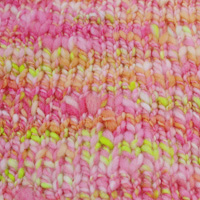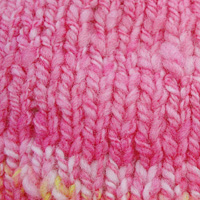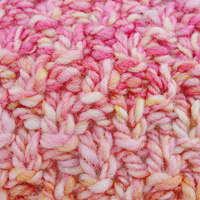 how does it feel?
1= pot scrubber;
5= baby's bum
how much predrafting was needed?
1= a ton – it was basically felt;
5= none – just sat & spun

how did it spin?
how did it knit?
dye leak?
1= lots; 5=none
did the fiber behave as you expected it would?
1= not at all; 5= precisely


A: --
B: My bad puppy shredded half of the fiber, so I shredded the other half and spun bits pulled randomly from a bag. Wasn't sure how it would come out, but it's beautiful. It's also my first time spinning this fiber and it is a delight.
C: --
D: --

describe it in one word

A: springy
B: spongy
C: lofty
D: delicious

how did you...

spin it

A: woollen
B: worsted - thick & thin
C: med long draw
D: semi woollen

ply it

A: 2 ply
B: 2 ply
C: 2 ply
D: 2 ply

WPI

A: 9
B: 12
C: 6
D: 7

finish it

A: Menaced (fulled), hot, cold, giant whacking, scared the animals
B: none
C: hot, cold, thwackity thwack
D: hot soak and hang

what would you make with it?

A: an everyday sweater that would felt as I wore it and get more and more comfortable
B: wonderful for child/ baby things
C: sweater
D: cable/texture anything

Name
Totally Loaded Batt

Brand
Terra Bella Spun
Fiber
content

everything

Put up
batt
Color

all

Sugg. Retail Price
$17 for 3oz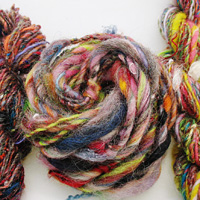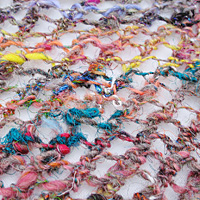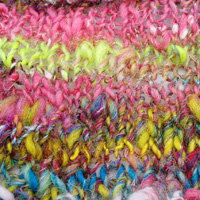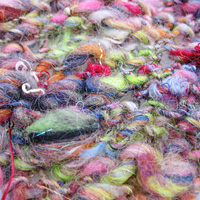 how does it feel?
1= pot scrubber;
5= baby's bum
how much predrafting was needed?
1= a ton – it was basically felt;
5= none – just sat & spun

how did it spin?
how did it knit?
did the fiber behave as you expected it would?
1= not at all; 5= precisely


A: with such strong colors in the batt , I was surprised how muted it turned out
B: --
C: this was my first try at thick and thin puffs on purpose. I followed Jacey Boggs' Sit & Spin dvd & it was smooth sailing

describe it in one word

A: interesting
B: scrabulated
C: puff-tastic

how did you...

spin it

A: as it came off the batt, give and take, thick and thin
B: worsted
C: stripped the batt and predrafted some, then spun thick and thin puffs a la Jacey Boggs

ply it

A: 2 ply
B: single
C: single

WPI

A: 14
B: 6
C: 4

finish it

A: hot, cold, thwackity thwack
B: wet and whack
C: hot soak & dried under slight tension

what would you make with it?

A: scarf or trim
B: top of hat or trim
C: loosely knit short pullover