Inspiration – The Yarn Whisperer
Or – Are You Down with FSP? Yeah, you know me.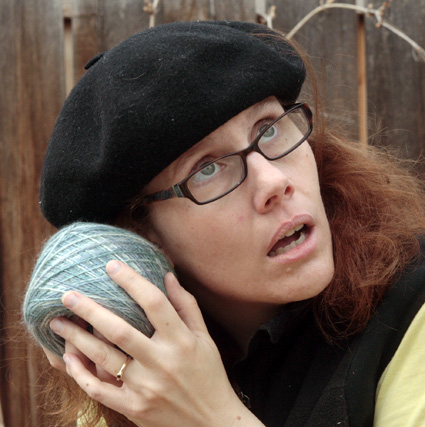 Recently in a knitting forum I encountered a knitter who called themselves a "yarn whisperer" – one with the distinctive ability to listen to, feel, smell and connect with the yarn – letting it tell you what it wants to be.
Often we get an itch for a new project – but it sort of stalls there. Or, if you are like me, you find the most amazing unique thing ever at a Sheep and Wool Festival or who-knows-where. It's beautiful, dazzling, seductive, and you have absolutely no idea what you will do with it one day. But, you do know you are taking it home with you.
A lot of knitters start out with great gusto, go to the yarn shop, look at the books and magazine and then when they see something they like, that's it. That sweater in that color – you cannot go further with it. You assemble the exact amount of the exact yarn called for in the exact color and go home to replicate what is in the photo. There's nothing wrong with this process.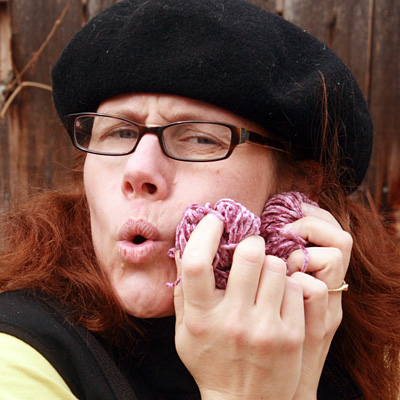 My mediation teacher gave the instruction many times that if we relinquish our preconceptions, we can create an open space for inspiration. In other words, have an open mind and anything can happen. We can hang out with the yarn/fiber/crazy color in an open-minded place where any and all things are possible, and the yarn may, in fact, talk. I've heard it a few times myself.
So, if while you are on your way to the required-color yarn for the project on page 56 and that magical handpaint catches your eye, maybe you don't keep walking. Instead, this is where you can start listening, and touching, looking, smelling and feeling. Let the material play with your senses and let your mind quiet down. As the chatter clears, you may find that your sense perceptions become heightened and much more available. It may take a big of getting used to. Allowing the space to clear and then stepping into it may be uncomfortable at first. Then, maybe a little less so. Then it can get a bit thrilling, and then inspiration is everywhere and the dance begins.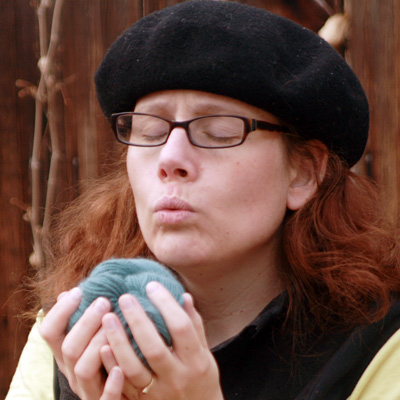 Quietly, gently, [dare I say, like a whisper] from the empty space that hosts our inspiration, ideas form. "The softness of this yarn would be wonderful for a baby." Or perhaps, "the crazy multicolor of this handpaint is perfect for a faux Fair Isle project." There's a clarity to the idea that may be surprising. Keep dancing!
So, please think about these things next time some sexy yarn or breathtaking color winks at you. Rather than continuing to whatever you might usually do, stop for a minute. Clear you mind, and find that sense of spaciousness and playfulness.
Here are a few things to contemplate as you step inside your inspiration. If you wish to try this as an exercise, choose one of these contemplations. Go to the LYS with a sense of adventure, calm your mind, find your open space, and jump in with the contemplation in the back of your mind. It is not a question that needs to be answered, it is just a companion for your Fiber-Sensory Perception (FSP). Have a great time, knit hard, knit soft, and as always, let me know how it went.
How do you usually relate with your yarn - touch taste smell sound (yes, remember the whispering?)


What gets the juices flowing? What inspires you to start a new project?
A season, person, love, baby, boredom, addiction, etc?


Is fiber a visceral experience for you? Tactile, visual, audible, etc.


Make a gentle effort to explore the fullness of sensory perceptions while exploring inspiration with your material.


Consider breaking your personal habitual pattern and yarn selection process.


"Genuine Inspiration is not particularly dramatic. It is very ordinary."
-Chogyam Trungpa
A little note from Tara: Do you have a suggestion for this Mindful Knitting column? Is there a question you would like to ask or a topic you might like to explore? Please let me know. Email your suggestions and thoughts to me.