Work two slippers alike.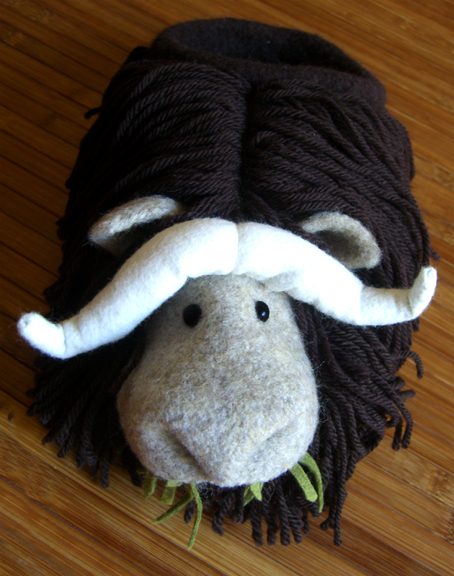 Slipper body


With larger circular needles, holding yarn doubled, using a cable cast on, cast on 40 stitches. Join for working in the round, being careful not to twist. Place marker to indicate beginning of the row – this is the center back.

Working with yarn doubled, knit first 20 stitches, and place second marker to mark center front. Knit to end of round.

Knit 6 more rounds.

Round 8: Roll over top and pick up one cast-on stitch and knit it together with first stitch on left needle. Pick up second cast on stitch and knit together with second stitch on left needle. Continue, picking up cast on stitches and knitting together until all stitches are used up - this creates the rolled cuff of the slipper.

Round 9: K all sts.
Round 10: K30, k 10 sts with scrap yarn.
Round 11: K10 with scrap yarn. Slip all 20 sts worked with the scrap yarn back to the left needle and knit them again in MC. Knit to end of round.

The scrap yarn will later be removed and those stitches will become the heel.

Continue to knit until piece measures 4.5[7.25, 8.5] inches from scrap yarn.

Next round: Remove stitch marker from beginning of round. K10, pm, k10, slip center front marker, k10, pm. This last marker now marks the beginning of round.

Decrease for toe as follows, starting at the new beginning of the round:
Round 1: K2tog, k to two stitches before first marker, ssk; slip marker, k to two stitches before center front marker, k2tog, slip marker, ssk; k to end of round.
Round 2: Knit.
Round 3: As per round 1 32 stitches remain.
Round 4: Knit.
Round 4: decrease as in round 1. 28 stitches remain.
Continue decreasing every other row, switching to dpns when necessary, until 16 stitches remain.

Use Kitchener stitch to close toe.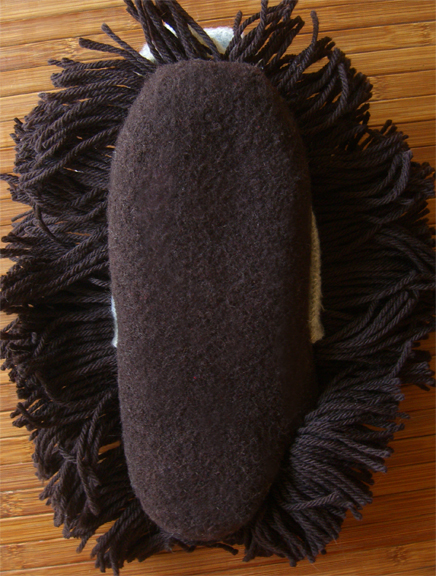 Heel
Using larger dpns, pick up rows of stitches above and below waste yarn- 40 st. Divide sts so that you've got 10 on each needle. Snip waste yarn and remove to open heel. Attach MC yarn (holding two strands together) and knit as follows:

Round 1: Knit.

Round 2: SSK, knit to end of needle one. Knit to the last two stitches on needle 2, k2tog. SSK, knit to the end of needle three. Knit to last 2 stitches of needle 4, K2tog. 36 stitches remain.

Round 3: Knit.

Round 4: Decrease as in

round

2. 32 stitches remain.

Continue decreasing every other round until 16 stitches remain. Use Kitchener stitch to close heel.

Once you have knitted both slippers, felt them. Check slippers carefully during felting to make sure that they do not over-felt. Try on as needed to ensure a good fit.

Head – Work One
Using smaller needles and oatmeal yarn held singly, cast on 45 stitches. Knit stockinette stitch for 30 inches. Bind off. Felt until piece measures 20 inches long by 5.5 inches wide. After felting you may wish to remove extra fuzz with a sweater stone or razor. Ironing your felted piece will also help to achieve a nice smooth look.

Using diagram as a guide, cut two head pieces, two chins and four ears. If pieces aren't exact, that is fine - it will give your oxen personality.

Assembling head:
Fold head piece in half lengthwise so that the two corners marked "A" touch. Slip stitch seam closed starting at "A" and working toward "B".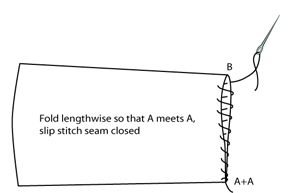 After seam is closed, fold down "B" point to meet "A" and stitch in place-this forms the nose.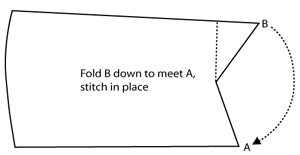 Fold triangular ear pieces in half, and stitch to head, using diagram for placement.
Place head piece on top of slipper so that nose overhangs end of slipper by about 1 inch. Back of head will extend all of the way or almost all of the way to the slipper cuff. Stitch back of head to top of slipper near cuff, trimming if necessary. Do not stitch down front or sides of head- you will do this after you add the chin.
Fold chin piece in half so that letter "C" matches letter "C". Slip stitch seam closed, working from "C" to letter "D". Stitch chin sides to inside sides of musk ox head. Stuff inside of head with fiberfill to hold shape, and stitch sides to slipper.