Feature: Get Warped. Free weaving tutorial using singles yarn by rigid-heddle loom expert Liz Gipson
Get Warped
Get Warped: The Singles Life
"You can't weave with singles" is something I hear from time to time, but it's just not true. I'm so passionate about this subject that I'm going to write about it twice. This column is devoted to tips for using commercially available singles, and the Winter 2016 column will be a special issue for handspinners, for they have magical powers to create energy that can be transferred to woven cloth.
A singles yarn is a single strand of twisted fiber. You hear them referred to as a "single" or as "singles". Both are technically correct and the "s" doesn't always connote a plural. Plied yarns are made from one or more singles. Hence they can also be called "one-ply" or "single-ply". "Ply" here is used as a noun, meaning "a single thickness of yarn", not as a verb meaning "to twist together".
Singles retain the character of the fiber from which they are made, impart softness, and show off color in unique ways. Most singles will develop a halo over time as a few of the fibers work their way loose from the twist. This gives projects made from singles a soft look. Singles are a nice way to use wools that are on the long, strong side of the spectrum, such as mohair, Romney, and Lincoln.
These yarns often demonstrate a phenomenon called "tracking" in woven cloth. Tracking is when plain weave cloth develops diagonal ridges. These ridges are caused when the yarn skews in the direction of the twist. The overall cloth doesn't skew due to the nature of the woven grid, just sections within the cloth. Tracking is hard to predict. When it occurs, it gives the cloth a twill-like look and adds to its character. In the photo below, the yarn in the swatch on the left demonstrates a higher degree of tracking than the swatch on the right.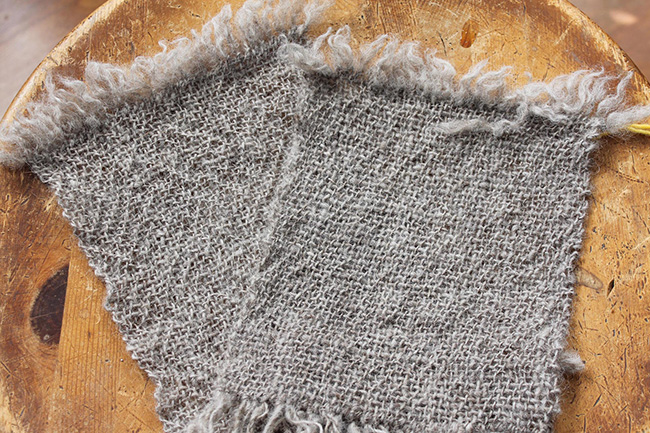 Singles offer some unique finishing options. Depending on how much twist there is in your singles, the fringes may naturally twist together in the opposite direction of the twist—in effect, plying themselves! If washed vigorously, the ends puff up. I often use knotted fringe to finish off my singles, giving them a vigorous wash, then trimming the fringes short, forming little puff baubles at the ends of my work, like you see below.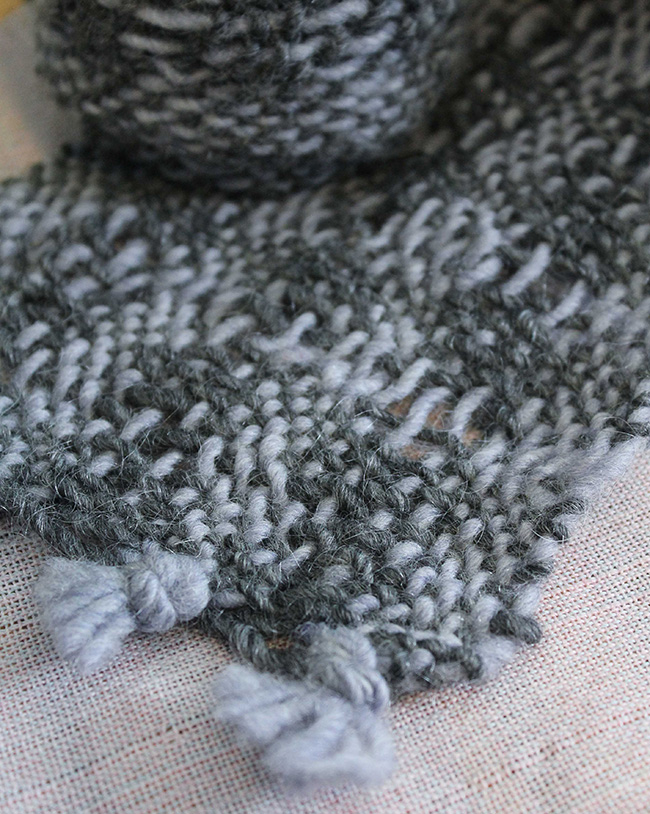 Singles are not as strong, nor as hardwearing, as plied yarn. I use them primarily in accessory projects such as cowls, scarves, hats, shawls, and mitts.
Construction
The same yarn-building rules apply to singles as for all other yarn types. You have to match appropriate fiber type to yarn construction method and marry that to the way the yarn will be used. You can't expect a fine wool like Merino to hold up when spun into a bulky, slubbed, or thick-and-thin yarn, but it can certainly become a dreamy, fine, laceweight single that will weave up beautifully. A longer-stapled wool with a bit more body can make a softly textured singles slub yarn that lends character to your project.
The two yarns used in this column's project are prime examples. The Skinny Single speckle-dyed yarn from Hedgehog Fibres has a beautiful base of finely spun Merino yarn. Manos Clasica is handspun in Uruguay from Corridale wool. Corridale is a cross of Merino and Lincoln Longwool. These sheep produce a medium-fine wool with a long staple length that, while soft to the touch, has enough tooth to hold up as well as a singles-textured yarn. The added benefit of being kettle-dyed and exposing the yarn to steam, is that it ever-so-slightly felts, giving this yarn its incredible depth of color, imparting strength, and giving it a unique look when it is worked up.
Tips for Weaving with Singles
Test for strength. This test is exactly what you would do with any other warp yarn. See my previous column on Selecting Warp Yarn – and this video on how to perform the pinch and pull test. The video demonstrates the strength and weakness of a variety of singles and plied yarns.
Check for abrasion resistance. Singles are more prone to shredding than plied yarns. To test for abrasion resistance, take a length of yarn and rub it back and forth on the edge of a table and notice what happens. You should see a slight halo develop. This is what will happen when you weave with this yarn. A light halo is fine, however, if the yarn shreds or fiber starts sloughing off, this yarn isn't a good choice for warp.
Use a low-profile shuttle. Because the yarn is only twisted in one direction, it is easy to untwist the yarn if you rub it repeatedly in the opposite direction of the twist. Consider using a boat shuttle for fine to medium weight yarns. The smooth shuttle will glide over the warp without rubbing it. For bulky yarns, use a stick shuttle longer than your warp width and take advantage of the sides by winding the yarn in a figure eight along the edge. This will allow you to pack more weft on the shuttle while keeping the shuttle profile low.

Advance often. Because of the effect passing the shuttle back and forth has on the yarn, you want to advance often to frequently change the area where the shuttle rubs on the warp.
Be mindful of your selvedges. When placing the weft, I have a tendency to pinch and twist the base of my weft angle. The pinch is a good practice to make sure you have a nice crisp turn, but the twist can cause problems. I'm a spinner and I use this little twist to keep the drafting triangle open – it's just habit. I have had many spinners in my classes who are wondering what they are doing to shred their selvedges. Almost always, they are untwisting their yarns inadvertently.
Now that I have been waxing poetic about the beauty of singles, I'll offer up a project to highlight their beauty. This project also brings our pick-up lessons full circle, by showing you how to mix and match warp and weft floats (warp floats were covered in Spring + Summer 2016 and weft floats in First Fall 2016). This cowl takes advantage of both the front and back of the cloth and highlights the speckle-dyed, fine singles and the textured kettle-dyed bulky wool.