Rain, Rain, Go Away, a free knitting pattern from Knitty.com. Free knitting pattern for a colorwork hat with an umbrella motif.
INTRODUCTION
Rain, Rain, Go Away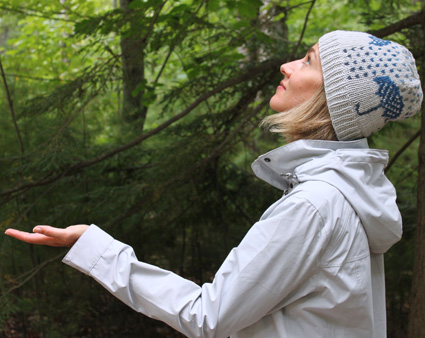 I actually like rainy days. I really do. But sometimes those rainy days interfere with enjoying the lovely outdoors. Especially when you just want to go outside for a walk or enjoy the warmth of the sun. Those are the days when I just want to say "Rain, rain. Go away! Come again another day."

This hat features a fun, easy and whimsical stranded umbrella and rain motif. I chose rainy colors: shades of blue that transition from dark to light on a background of pale gray.

model: Laura Reinbach

photos: Greg Reinbach
SIZE
Child/Teen[Adult S, Adult L]
To fit head sizes 18[21, 23] inches/ 46[54, 59] cm. Shown in size Adult S.
FINISHED MEASUREMENTS
Circumference: 16[18.5, 21.5] inches/ 40.5[47, 54.5] cm
Length: 8[9, 9.25] inches/ 20.5[23, 23.5] cm
MATERIALS
Yarn
Quince & Co Lark [100% wool; 134 yards/122m per 50 gram skein]; color:


[MC] Frost; 1 skein


[CC1] Fjord; 1 skein, 15[20, 25] yds used


[CC2] River; 1 skein, 1 5[20, 25] yds used


[CC3] Delft; 1 skein, 10[15, 20] yds used

Recommended needle size
[always use a needle size that gives you the gauge listed below - every knitter's gauge is unique]


1 16-inch US #6/4mm circular needle


1 16-inch US #8/5mm circular needle


1 set US #8/5mm needles for small circumference

Notions


stitch marker


yarn needle
GAUGE
18 sts and 24 rounds = 4 inches/10cm in stranded colorwork on larger needles, after blocking
PATTERN NOTES
[Knitty's list of standard abbreviations and techniques can be found here.]
When knitting with two colors at the same time, make sure you spread out the stitches on the right hand needle before changing colors. That will help keep your knitting from becoming too tight and puckering.
When you work the umbrella handle section of the chart you will have some long floats to deal with. You may choose to secure your floats on the WS, but if you are using high contrast colors like I used then the floats might peek through on the RS. My choice was to leave the floats long (longest is 11 sts, except for Round 2, on which see the note below) as they are unlikely to get caught on anything since this is a hat.
On Rounds 4, 6, 8, 10 and 12, the round is worked only in MC, but to continue the handle the CC1 stitch is slipped (purlwise). In Round 2 however, to make the curve of the handle, you do have to work with both colors. In this case, you absolutely need to secure the float to keep your work even and avoid puckering of the fabric. To do this, secure/wrap your floats every 4-5 sts in the raindrop section as they will blend right in and in the plain section, on either side of the handle, you may choose to continue securing your floats in the same manner as the raindrop section or just keep the long floats.
A good tutorial on working stranded colourwork can be found here.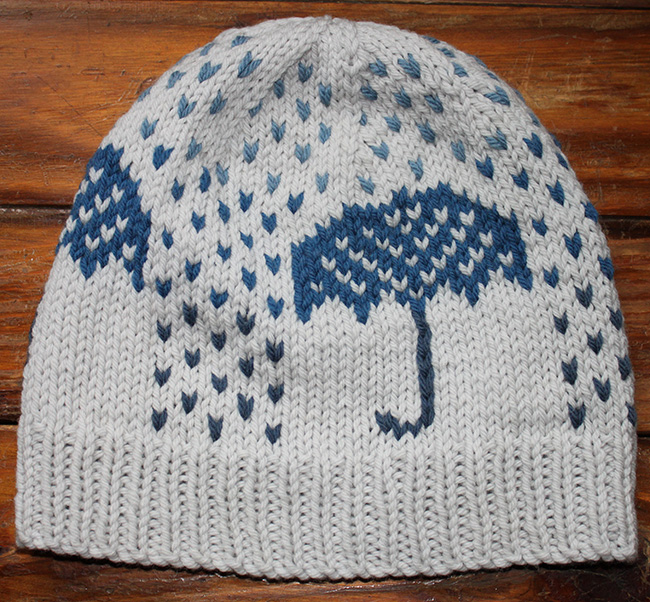 CHARTS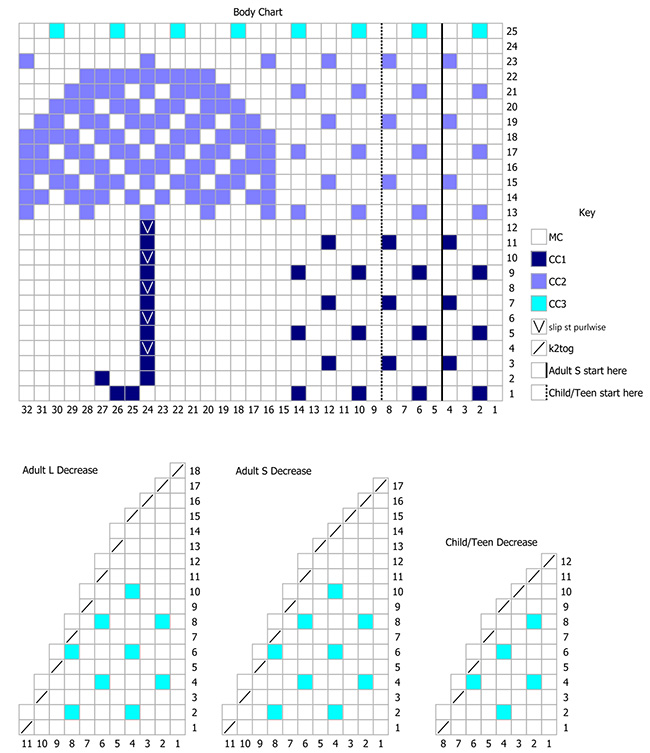 DIRECTIONS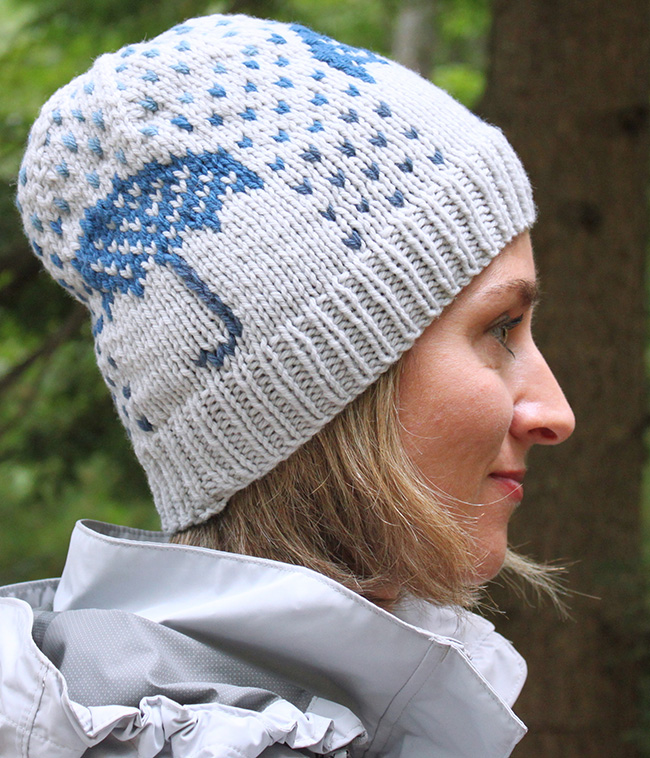 Brim
With smaller needles and MC, CO 72[84, 96] sts. Place marker and join for working in the rnd.
Ribbing round: [K1, p1] around.
Work ribbing as set for 2 inches/5 cm.
Body
Change to larger circular needles and k 1 rnd.
Next round: Work Body Chart three times around, starting with stitch 9[5, 1] .
See Pattern Notes for details on the stranding.
Work as set until chart is complete.
Crown Decrease
Decrease round: Work appropriate size decrease chart 8[7, 8] times around.
Work as set until chart is complete. 8[7, 8] sts rem.
Cut yarn and pull through final sts to secure.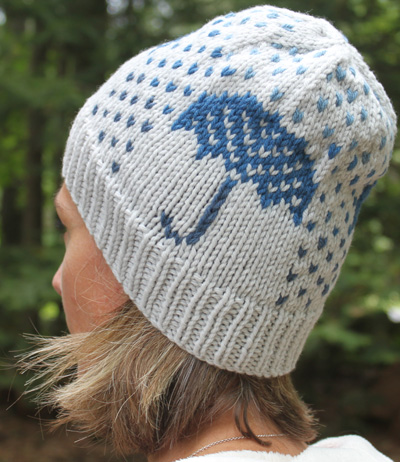 FINISHING
Block and weave in ends.
ABOUT THE DESIGNER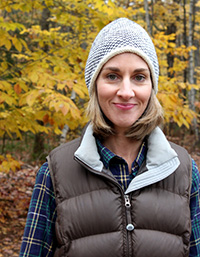 Laura is a native Floridian who now resides in a small town in Maine with her husband and four boys. Although she may complain of the cold from time to time, she is very grateful to wear her knitted items most of the year. She really enjoys this creative outlet that designing provides.
Find more of her work here.
Pattern & images © 2016 Laura Reinbach. Contact Laura