Feature: Cool stuff
Cool stuff
SR [Finished chest measurement for sweaters] = the smallest chest measurement to the largest chest measurement we could find in the book. There may be only one pattern with the smallest or largest size, but it's in there. Books are softcover unless noted otherwise. All prices USD unless noted.
When you click on an Amazon affiliate link below and make a purchase, you're supporting Knitty. We thank you!
Jump to... Crochet | Spinning | Other Crafty Things

Fresh (surprise!) reviews: July 2017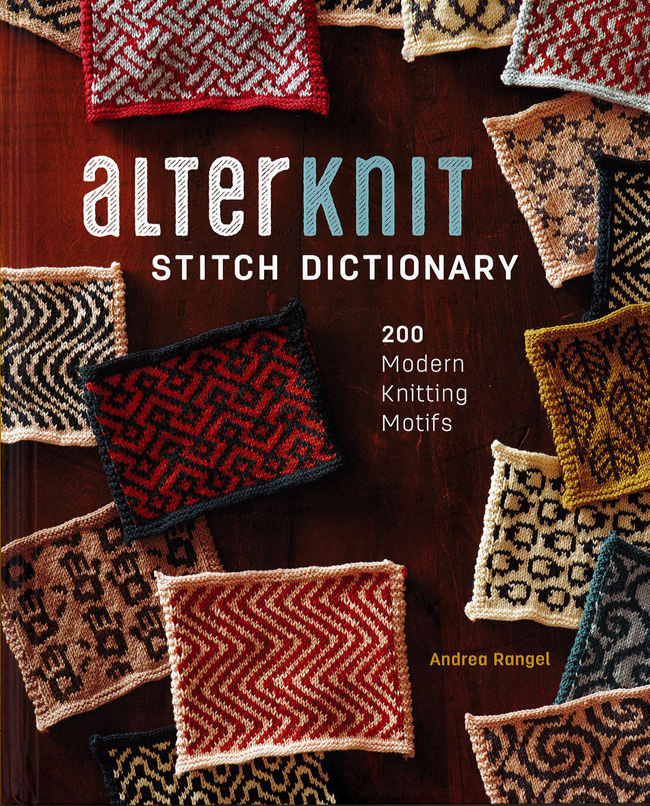 Alterknit Stitch Dictionary: 200 modern knitting motifs
by Andrea Rangel
Interweave
$26.99 hardcover
Buy now at Amazon
Andrea's book is a fabulous collection of 200 stitch patterns for stranded colorwork, with a decided sense of humor.
The designs are varied – some very traditional and classic, and broad range of fun, clever, modern and even silly ones. There are lots of very pleasing geometric patterns, many floral-inspired patterns – flowers and leaves and mushrooms and the like. And there's a truly fantastic selection of picture motifs: squirrels, sheep, monkeys, bicycles, aliens, hippos, dogs, chickens, zombies (yes, really!) and so on. The "masked bandit" (i.e. raccoon with garbage can) chart alone may be worth the price of the book. The presentation – so important in a stitch dictionary –  is great, with nice clear photos of swatches worked in well-chosen colors. (I'm surprised how often the swatch photos aren't very clear in stitch dictionaries.)  Everything is charted, of course.
The book has significant value beyond being just a stitch dictionary, too. There's a great tutorial section up front, covering all the key details is a clear and no-nonsense way: yarn and colour choice, how to hold yarns, and how to deal with floats. And the back of the book contains guidance on how to use the motifs in designs, and five patterns that use the motifs: hat, mittens, cowl, a pullover and a cardigan, with notes on how to change up the motifs to truly customize them. If you're a colorwork knitter, you will want this book.
KA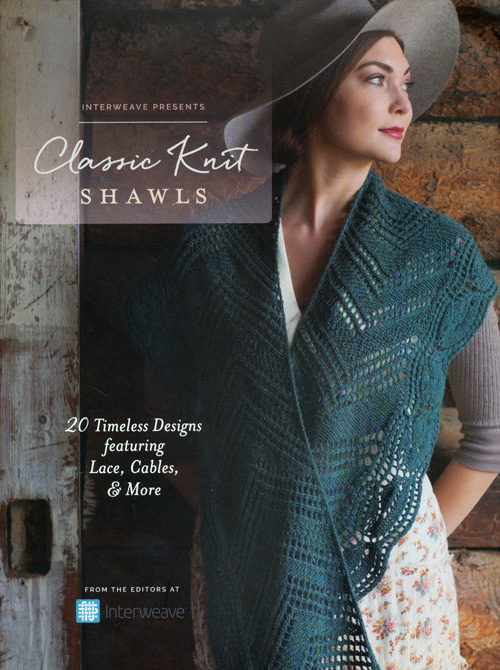 Interweave Presents Classic Knit Shawls: 20 Timeless Designs featuring Lace, Cables and More
Editors at Interweave
$22.99
Buy now at Amazon
This is one of those perfect-for-summer knitting books. It is full of shawls that may look familiar; they have all appeared in various Interweave magazines and books.
I am a sucker for these collections because while I may have the books and magazines the shawls were originally published in (though likely not) they always strike me differently gathered together with other shawls. Plus, where are those books and magazines...
I like having only shawls to pick from when I want to knit a shawl and this is a lovely collection. The patterns range from easy garter stitch shawls , like the Ennid Laceweight Shawl by Lucinda Guy to have-to-pay-attention to charts shawls like the beautiful Trillium Shawl by Manda Shah. There are shawls that you can wrap your whole self in like the Junius Shaped Shawl by Corrina Ferguson (60"x36") and ones that will just keep your shoulders toasty like the Ship That Shawl by Meg Burcl (48"x 10 1/2"). There's lots of lace, some knit wide open like the Wheeled Lace shawl by Kristin Omdhal some knit closer different lace patterns like Ilme's Autumn Triangle by Nancy Bush. There are a few beads and a little bit of color scattered in the patterns too. It's a book I like to imagine myself disappearing to a cabin on a lake with, along with a giant stash of yarn and knitting shawl after shawl.
JM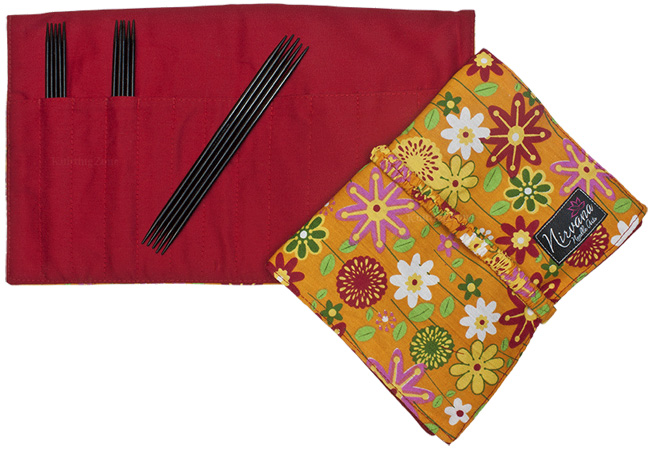 6" Ebony Double Pointed Needles with 7" Needle and Hook case
Individual sizes/lengths available here
Nirvana Needle Arts
$66

buy now via Hiya-Hiya
As a frequent traveller and an avowed fan of DPNs for sock knitting, I was very pleased to hear about Nirvana Needles' Ebony DPNs.
They do also make bamboo needles, but it's the ebony ones that are most exciting. Although metal knitting needles are permitted for air travel, you're at the mercy of the staff working the security checkpoint, and many knitters report mixed results trying to travel with metal ones. Because of that, I generally choose wood or bamboo needles for air travel. At sock sizes, these needles often feel fragile and the bamboo ones in particular can be prone to splintering and splitting at the tips. The hardness of ebony wood provide a gratifying strength and resilience to the needles, meaning I'm significantly less worried about breaking them. They're also able to hold a sharper tip than many other non-metal needles, which I enjoy very much. They are more 'frictiony' than metal needles, but they're definitely smoother and faster than bamboo, which I enjoyed.
Available in both 6 and 8 inch lengths, they come in a good range of sizes – US #1 to 9/2.25mm to 5.5mm, including the often-overlooked but vitally important US #1.5/2.5mm. The Sock Gift set comes with three sizes of needles: US #1, 2 and 3 (2.25mm, 2.75mm and 3.25mm), in a nice fabric case with slots for plenty of other needles. I will confess to being a little disappointed that my size of preference (2.5mm) isn't in the set, but that may or may not be an issue for you.
The price point is higher than many other needles, but this is a high-quality product that should last you a long time. If you're loyal to one particular size, you'll likely want to start with just that one package, but a multi-size set is always a nice thing to have!
KA
---
Knitting with wooden needles makes my heart sing. They are warm in my hands from the moment I pick them up. I may have squealed when I saw this set (which includes 5 double pointed needles in US sizes 1, 2, and 3). The case is made from happy, flowery fabric and lined in bright red (there are several different fabrics to choose from). There's a flap to keep the needles in place and an elastic band to ensure nothing falls out and plenty of space to add to the collection.
 
So, they're gorgeous…but how do they work? Beautifully. Aside from the warmth, they have just enough give to keep my hands from getting tired. I can imagine after years of use, they will fit in my hands with a slight curve to them. No splitty needle tips here either. I raced along on a sock with no split stitches or half-caught yarn. The soft finish slowed me down a bit, but again, after years of use, they will be shiny, a little slicker, and among my favorite needles.

CJK-I

Field Guide to Knitted Birds: Over 40 Handmade Projects to Liven Up Your Roost
by Arne & Carlos
Trafalgar Square Books
$24.95 Hardcover
Buy now at Amazon
The cover of this book is so freaking adorable, it's hard to resist the insides. Thankfully, you don't have to.
This book will help you knit birds that Arne & Carlos (that famous Norwegian duo) find in their own garden: chickadees, bullfinches, wagtails, buntings, titmouses, robins, blackbirds and my personal favorite, magpies. But since the birds all start with the same basic construction, the gentlemen have given us more than a nestful of options to customize each bird. Using duplicate stitch and a minimum of colorwork knitting, you can turn your bird into almost anything; instructions are given for Mexican-style embroidery motifs, flower patterns, abstracts and, of course, Norwegian sweater motifs. There are also instructions on how to use a variety of yarns, including cotton, so you can make these birds out of whatever you find in your stash. Beads, sequins and other embellishments can be used as well.
The inside front cover shows the entire flock, which makes browsing easy. The basic bird pattern starts the book, followed by how to create little wire legs, stuff the bird and make it ready for any further customizations. Then each decorative option is laid out, with a corresponding chart to knit or stitch the customizations, and the alterations required to the basic pattern. The pictures are huge and the charts are brightly colored exactly as they'll look on the bird body. Don't miss the tea cozy on page 80, designed to match the Blue Tit.
AS
Vintage/Cypress Reversible Tote
by IMPWEARhome
20"w x 12"h x 6"d
24" straps
$39.99
Buy now at IMPWEARhome
Those who know me know I'm klutzy. I spill things. So having a bag that can resist my liquid magnetism (hehe) is a pretty great thing. These products from IMPWEARhome are just my style. The Reversible Tote is made from their own gorgeous lightweight laminated cotton (the lamination is water-based urethane) with a subtle matte finish. . Should you dip your bag in coffee, you can put it in the washer.
I love you, IMPWEARhome.
Sorry. Back to the review. The bags are lightweight, but strong. I've been using my test bag to carry around 3 huge and heavy balls of ticking yarn (I'm making a rug). The thing is solid and there's no worry about it breaking. The straps are strong, and I like the drawstring closure, which keeps the stuff I want inside inside. I particularly like the print I got to choose -- the vintage print has a whole bunch of really pretty motifs on it, including my favorite, a very lovely rooster. The reverse print is bright and cheerful and I love the colors. I could show the vintage side one day, the Cypress side another. Oh, and there's a key clip inside, too, which you could use for one of their pouches, if you'd like. The only enemy of this fabric seems to be extended exposure to UV light...so don't leave it outside, or on the dashboard of your car.
IMPWEARhome makes a whole line of products, including aprons, totes, zippered pouches (about the size of an average pencil case), and more. And if you like their fabric, they sell it by the yard, too.
I like.
AS

Knitting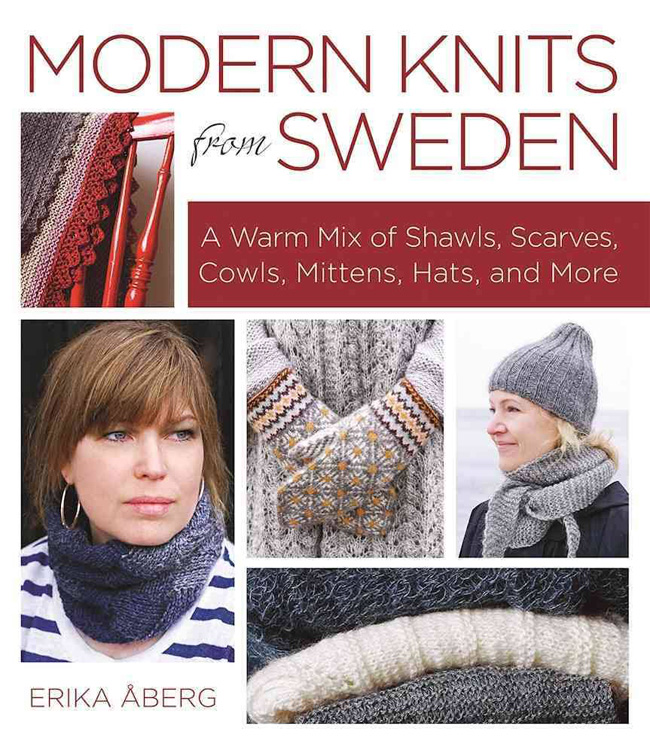 Modern Knits from Sweden: A Warm Mix of Shawls, Scarves, Cowls, Mittens, Hats and More
by Erika Aberg
Trafalgar Square Books
$ 21.95, hardcover
Buy now from Amazon

This is a book of 20 wearable accessories from Swedish designer Erika Aberg: scarves, shawls, cowls, hats and mitts. I was utterly charmed by this book. Erika clearly wears what she designs. I was ready to reach in the book and take every piece for my own wardrobe. There's simplicity in these design that is neither amateurish nor precious. They are patterns you can relax into. All of the stitch pattern are easy to memorize. They are the type of patterns I would knit more than once; it would be easy to customize changing the size or shape just a little. I will be making gifts from this book.
First on my needles will be the Garter Stitch Cowl with Wavy Edge, followed immediately (or maybe at the same time) by the Arrow Scarf.

JM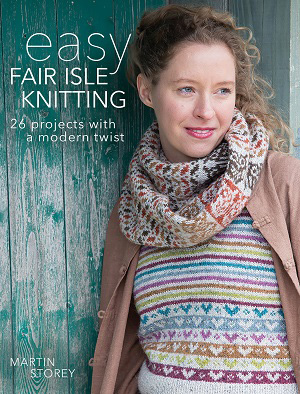 Easy Fair Isle Knitting: 26 Projects with a Modern Twist
by Martin Storey
Trafalgar Square Books
$24.95
SR= 32-42"

buy now at Amazon
If you like Fair Isle knitting, but sometimes find the small patterns more than you want to do, this is a great book for your knitting shelf. The motifs are larger with more space around them, some recall traditional motifs, but most have a more modern look. The colors, too, aren't the traditional colors you might think of for Fair Isle knitting and they aren't blended tonally. But the designs sing! This is definitely a different style of Fair Isle. Martin Storey's excellent and whimsical design sense makes these patterns, cowls, scarves, a vest, hats, pillows into something exciting and fun.

Hearts, owls, plaids , spots, boats, rabbits, sheep(!) and houses cavort on the knitwear. A lot of the motifs could easily be switched between projects with very little juggling. All of the book samples are knit in Rowan Felted Tweed (sigh) adding another layer to the traditional/not so traditional look of this book.
There is not one fussy thing about this book, just color and fun. This is the perfect colorwork to do while knitting with friends. You can even have a cocktail and not lose your way.
JM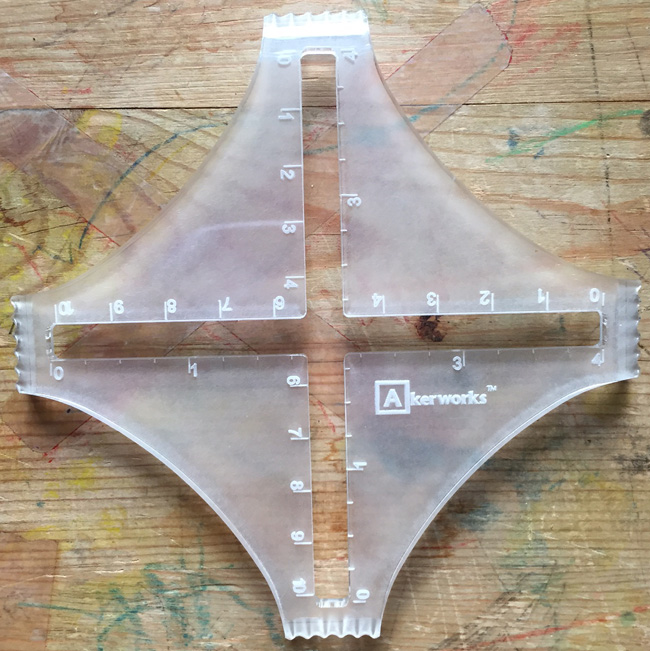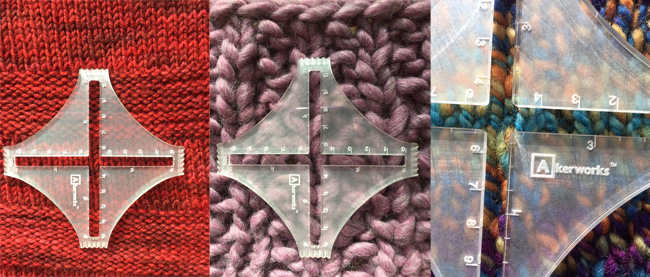 Swatch Gauge
by Akerworks
$16

buy now at Akerworks
This gauge swatch is genius. It's one of those things you don't realize how unperfect what you've been using is until you hold perfection in your hands.

This Swatch Gauge is clear and legible. It is easy to see both row and stitch count. It's also easy to see just how much a knitter might be cheating away from the recommended 4" swatch. The gauge measures 4x4".

There are slits in the middle both in row and stitch direction. I like this because I like to count by touching every stitch or row with my needle – I just see it better that way.
The Swatch Gauge has bitey little feet that hold it slightly above your knitting – so you can't cheat or accidentally smoosh your gauge. For hand spinners, in particular those who make puffy woolen yarns, you can measure without squashing the loft.
This is one of the smartest knitting tools to come out this year.

It's indespensible. Just buy one already!

JM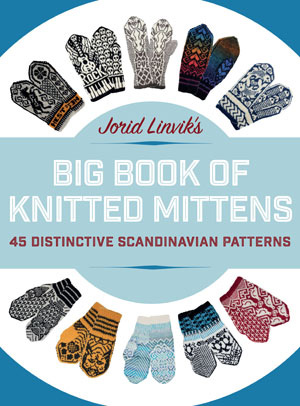 Big Book of Knitted Mittens: 45 Distinctive Scandinavian Patterns
Jorid Linvik
Trafalgar Square Books
$27.95, hardcover

buy now at Amazon
What is it about mittens? They are like the cupcake of knitting: whimsical, quick, fun and sometimes quite extravagant. We knit things and wear mittens with color combinations and motifs we're unlikely to put on a sweater.
This book is a happy book. It is an animal-filled hootenanny, where tigers, penguins, zebra, poodles, terriers, sheep, giraffes, cats and more cavort along side some more traditional-ish mitten motifs. You'll find hearts, knotwork, diamonds and speckles in there, and other fun motifs like an electric guitar. But it's the beasties that steal the show. They are full of personality, not the usual stiff renderings. The main motifs are surrounded by smaller patterns and the palms and thumbs are rarely left plain – some even boast additional motifs.
There is useful information at the beginning of the book on how to read the mitten patterns and tips to knit these mittens, like adjusting the size by changing the gauge. This isn't a book for a beginning knitter, but there are patterns that could be first-time colorwork projects.
Inspired and adventurous? The back of the book has charts and directions to design your own mittens.
This book is going to get a workout this winter. The shape isn't tricky and the different designs are enthralling. First up will be Mother Squirrel – the motif is a mama and her baby. I want to send a pair to my daughter for her first winter away at college (sniff).

JM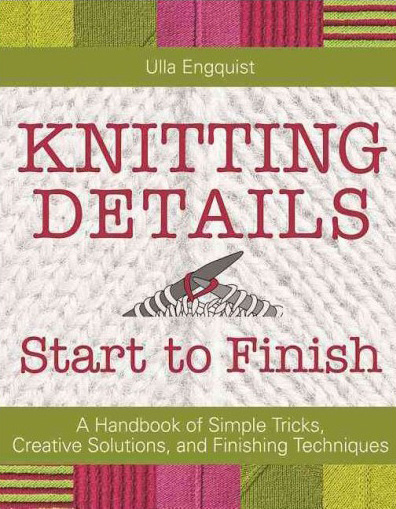 Knitting Details Start to Finish: A Handbook of Simple Tricks, Creative Solutions and Finishing Techniques
by Ulla Engquist
Trafalgar Square Books
$24.95, hardcover

buy now at Amazon
Detail is the key to this book. If you like to see as well as read how knitting techniques work and appear, take a look at this book.
Are you curious about cast-on? Not just which cast-on is stretchy, but what makes it that way and what bind off to pair it with? What about edge stitches? Why should you use a different edge stitch for edges that will be joined and edges that won't be joined? And would you like to see large photos of swatches shows several different methods on swatches?

This kind of deep dive into knitting technique runs through this whole book.

Lots of samples, words, drawings, and photos, and in some swatches, she brilliantly carries along carries a contrasting sewing thread so you can see exactly what going on in the stitches.
This book covers the intricacies of casting on, binding off, edge stitches, ribbing, edges for various parts of garments, increases, decreases, Kitchener stitch, shoulders, necklines, setting-in sleeves, short rows, knitting in the round and stranded knitting. Plus there are quick tips sprinkled throughout the book.

If you like to learn and think about different ways of improving the details of your knitting, add this book to your library.

JM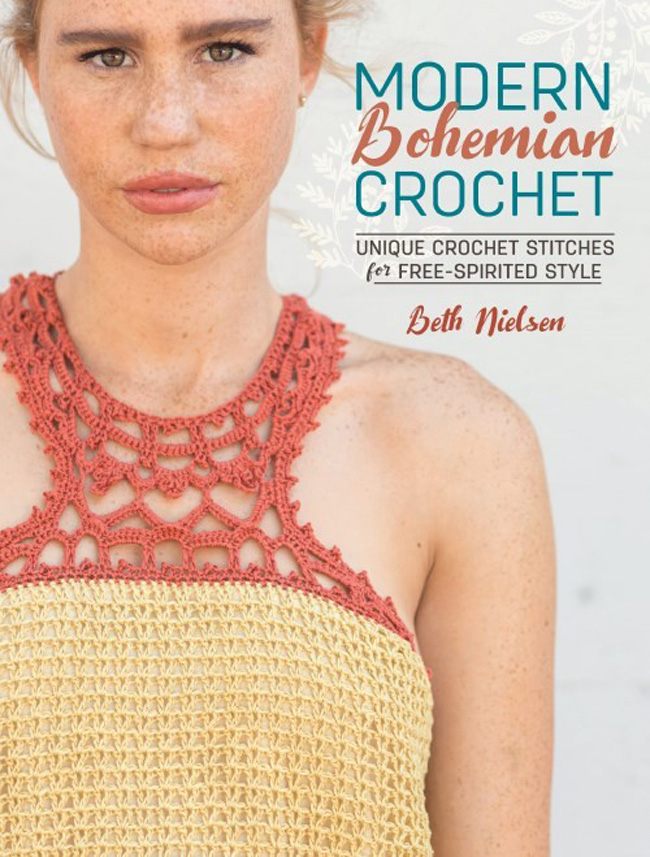 Modern Bohemian Crochet: Unique Crochet Stitches for Free-Spirited Style
by Beth Nielsen
Interweave
SR=32-55"

buy now at Amazon
At the words bohemian and free-spirited, an image probably popped into your head. No matter your reaction to that image, there is something for most every style in Modern Bohemian Crochet.
Why? Neilsen's approach to crochet and crochet patterns provides lessons that will help the crocheter no matter their personal clothing style. She encourages the reader to make modifications, to alter a pattern to fit different body shapes, to trust one's instincts, and most importantly: to believe in the magic and power of blocking. The designs are simple and sophisticated, a combination begging for modification. Your clothing choices might run toward classic and understated, but your approach to working patterns can embrace the free-spirited bohemian style.
Divided into four sections which correspond to the seasonal cycle of the year, the crocheter is presented with a range of techniques, yarns, and designs. With different colour choices for several designs, this reviewer believes they could fit a wide range of styles.
Choose from tunisian colorwork, hairpin lace, motifs, textured stitches, and more. With this variety of options, you can create a range of garments and accessories cardigans, belts, hats, bags, even a skirt.
Layout schematics for motif pieces and stitch diagram (charts) are included. This book uses US crochet terminology.

PSG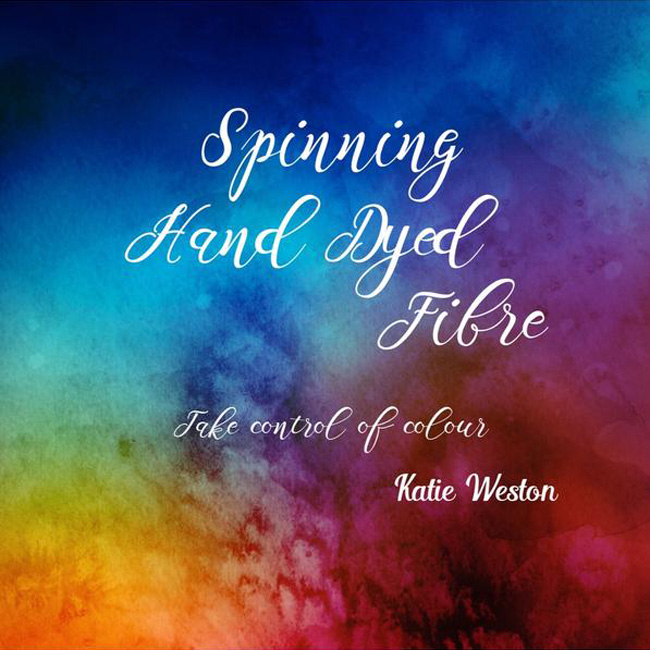 Spinning Hand Dyed Fibre: Take Control of Colour
by Katie Weston
$11.60

buy now at Hilltop Cloud
This is a little book with a lot of color. Katie Weston, owner and dyer at Hilltop Cloud, knows quite a bit about color and fiber. A seasoned dyer and spinner, she takes the knowledge she's gained over the years spinning hand-dyed fiber and packs it into this 29-page book.
She shows sample after sample of fiber and handspun yarn, detailing how she spun the yarn and what happens in the knitted fabric.
She talks about predrafting, fractal spinning, combo drafting, plying with naturals, solids and other dyed fiber, and has the samples to back it all up.
If you are a fan of hand-dyed fiber, if you have a stash of dyed braids languishing, or if you need more education on your color spinning journey, this is a lovely book to have on hand. Also check out Katie's fiber, it's beautiful!

JM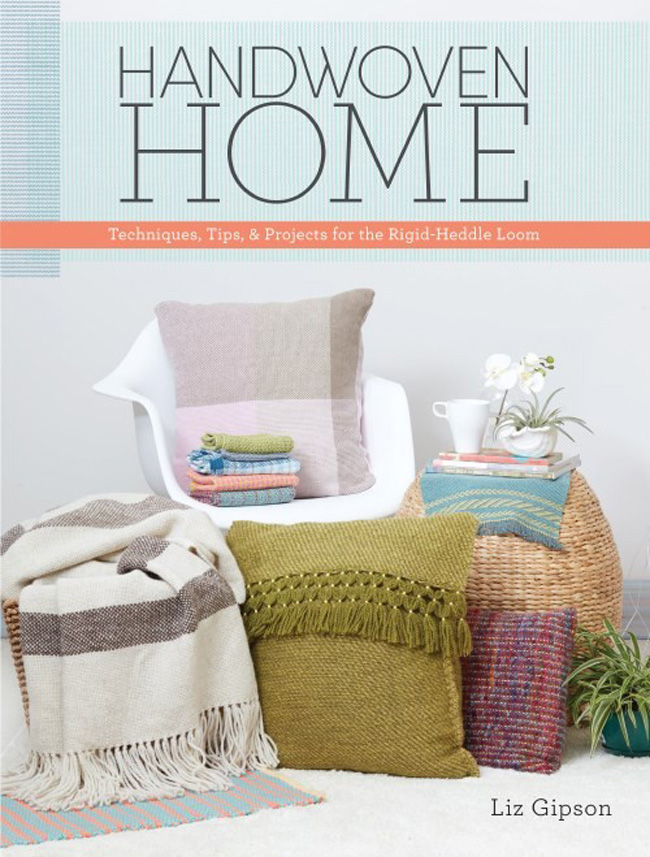 Handwoven Home: Weaving Techniques, Tips and Projects for the Rigid-Heddle Loom
by Liz Gipson
Interweave
$26.99
buy now at Amazon
I'm just getting back into weaving after a long hiatus. I've never wanted to weave anything for my house since picking a shuttle up again, until I read this book.
The patterns are classic and beautiful, with a little texture and a little color. There are a lot of little things to keep a weaver interested in these patterns and they are easy to customize.
The secret Liz Gipson has is to say, "here are some cool things for your house; let's weave!" and then she teaches you a whole bunch of things about weaving you didn't know and poof! you're a better weaver.
My favorite part of the book is near the front, from pages 20-33. Where most books have the typical 'here is how you weave' no matter the level of the book, these pages are stuffed with tips to make your weaving better. Things you wouldn't know to even ask until you became a more skilled weaver, but Liz gives you the shortcuts in just a few pages. Those last few pages are about reading a pattern, and it's one of the clearest explanations of reading a pattern and a draft that I've read.
This book assumes you know the basics and teaches technique that is indispensible to a weaver. In those beginning pages are things that you might not learn or figure out until you've been weaving for a while, but Liz makes your weaving richer by giving them to you now.
Now I have to figure out how I'm going to fit all of those pillows, towels and other cozy house goodies in a crafting schedule.
JM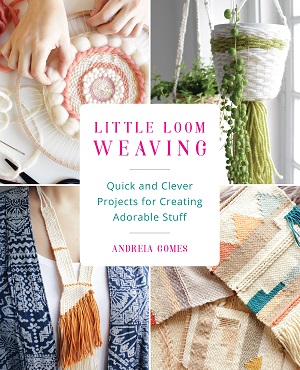 Little Loom Weaving: Quick and Clever Projects for Creating Adorable Stuff
by Andreia Gomes
Ulysses Press
$16.95

buy now at
I love a book that gets right to the point.
Andreia doesn't use many words to describe weaving on the very popular small looms, but they are the right words.
In Little Loom Weaving she sets you up teaching you how to build or buy your own small loom, warp it and choose your yarn. (Little looms are sample looms, inkle looms, frame looms, and zoom looms or peg looms.) Andreia teaches several styles of weaving, knots, loops, shapes, and ways to manage your edges. She tells you how to start your weaving, how to finish it and how to hang it.
She includes 15 simple projects that draw a new weaver through all of the skills she's put forth in her weaving basics.
Why do other authors need so many more words? The explanations are thorough, the directions and the photos clear and easy to see, the projects are cute. This might be the perfect little loom book for summer!
JM