Feature: Our Knitting Roots: a study of the contributions immigrants have made to North American knitting, by Donna Druchunas
INTRODUCTION
Our Knitting Roots
by Donna Druchunas
It may be difficult to look at a sock or mitten that you've made with your own hands and feel a connection to a group of people who seem strange or foreign to you. But as knitters and as humans, we owe it to ourselves and to each other to forge these unlikely connections. Making things by hand, after all, is an intimate human endeavor and we should use it not only to knit strings into socks or sweaters or shawls, but also to knit person to person, strangers into friends.
In Harry Potter and the Sorcerer's Stone, J.K. Rowling wrote, "There are some things you can't share without ending up liking each other, and knocking out a twelve-foot mountain troll is one of them."
Knitting is another.
This issue: Finding My Roots through Knitting
For most of my adult life, I have been on a journey of self remembrance. I call it "turning into myself." When I started knitting as an adult in my thirties, I was returning to a craft that I had learned from my grandmother when I was a little girl. This column is about how I knit my way through the last twenty-five years of my life, and I discovered that knitting connects me to my own past, my family, and to people from around the world—past, present, and future—who share a passion for making stitches out of string.
I read the book The Artist's Way by Julia Cameron in the late 1990s. I expected it to open the way for me to write about science or science fiction. Instead, it opened the way for me to knit and explore my world and my own internal landscape through color and texture and pattern.
I started knitting sweaters because my grandmother had mostly knit sweaters. But I soon discovered a world of mittens, scarves, socks, and shawls in the books at my local yarn shop. Over the years, I've been obsessed with each of these types of projects, and each has led me into different explorations through research, travel, and hundreds of pages of writing recorded in my journals and thousands of stitches captured in my finished projects. If a picture is worth a thousand words, how much more a mitten, a sock, a sweater, or a shawl? In each project I've made or designed, I've captured a part of my life and a collection of the thoughts and feelings that flowed through me as I made the object.
This column will be about two things: knitting and roots. All of my inspiration for my projects and designs springs from my roots, bringing nutrients from the soil—the rich world around me—into my stem, leaves, flowers, and seeds. Knitting allows life and love, joy and sorrow, and inspiration to flow through me, and knitting lets me release those things into the world.
I hope my words and projects will entice you to will plant your own seed and begin to grow your own garden, sustained by the roots you discover through your own knitting.
What Roots?
If you're cut off from your roots, you can't grow. But that doesn't mean we need to have our original roots (our biological family, original home town, etc.). We can grow new roots or be grafted onto a new tree.
As a child, your taproot may be your family (by birth or adoption), but that seedling taproot may become less important or even shrivel up after it's purpose is served and you can grow another set of roots that are more extensive, more nourishing, and longer lasting. Even more drastic, you may find yourself cut off from your genetic roots through adoption, death, or just not getting along with the people who share your DNA. But that isn't what makes someone rootless.
Rootlessness is caused by disconnecting from the things you love, the things that interest you, and the things that bring you joy. Even if you never see your family again, even if you friends are far away and you rarely or never speak, these people are still part of who you are. But beyond the people that we know, or once knew, personally, there are other people, as well as places, things, and ideas that form our roots.
None of us need remain rootless, even if we are far away from our genetic relatives or if the people we have loved most are far away or dead and gone. We can claim and reclaim the things that we have loved. We can find joy in memories and hopes. We can delve into renewed and new interests. Groups of knitters—like the Knitty Community, Ravelry groups, and local Guilds—are places where we can grow new roots or be grafted onto an existing tree so we can begin to grow again.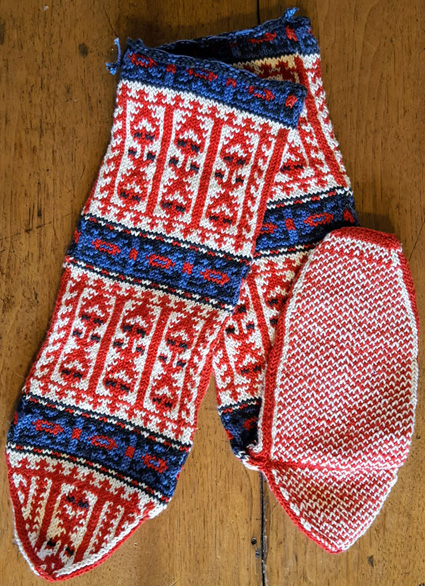 Finding Knitting's Roots
Knitting was brought to the USA by immigrants. To appreciate knitting is to appreciate the contributions of immigrants. When you knit a project, share information about the people, history, and culture represented in the techniques and patterns you make. Knitting was brought to the USA by immigrants. To appreciate knitting is to appreciate the contributions of immigrants. Talk about this when you teach or take knitting classes about traditional and ethnic knitting. Write about it in forums on Ravelry and in comments on blogs and social media. If you don't know much about the culture or history of the people who originated the style of knitting you are exploring, do some research. It will make your knitting experience much richer.
We'll start where knitting started—in the Middle East. And we'll begin with socks, the oldest known knitted items.
To understand another person, it is said, you must walk a mile in their shoes. Well, what goes inside shoes if not socks?
As a knitter, I have begun taking this to heart, and every time I knit a pair of socks to warm my toes, I take the opportunity to learn more about the stitches, patterns, and techniques I am using. And I take it one step further, and learn about the people who originally created the beautiful socks that inspire me. In America, after all, all knitting came with immigrants. Some of those immigrants may have looked a lot like me. Some may have looked a lot like you. Others may have borne little resemblance to us. But they brought the craft that we love to our shores.
Every pair of socks or mittens, every shawl or scarf, and every sweater is a picture of history, culture, life, and politics. One small handmade item can hold the hopes and dreams of yesterday, today, and tomorrow, as we use traditional techniques and vintage patterns to create todays comforts to pass on to tomorrow's knitters, researchers, and readers.
So, let's get started. My Back to the Beginning socks will help you get started or continue on your own journey of discovery. Let's use our knitting as a way to spread love and understanding among ourselves and  into the wider world. Every sock we knit can say, "I am with you!"
Socks featured are traditional socks from the Middle East. Private collection of Donna Druchunas.
Back to the Beginning a free knitting pattern from Knitty.com. Free knitting pattern for a Middle-East-inspired colorwork sock.
INTRODUCTION
Back to the Beginning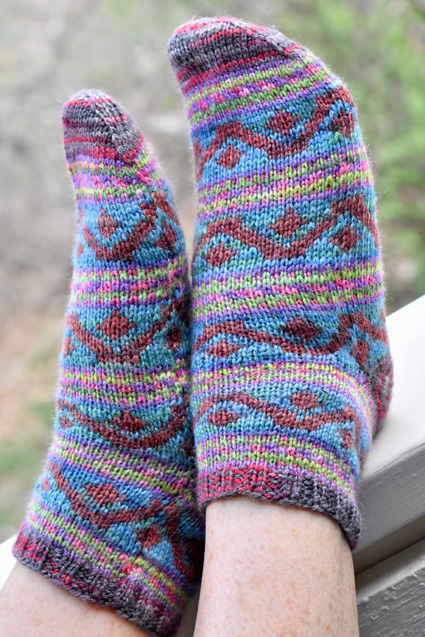 by Donna Druchunas

These toe-up socks are a tribute to the early knitters who invented and developed our beloved craft in the Middle East. Like so many things we often take for granted (the wheel, geometric art, the magnetic compass, many surgical instruments, algebra, and the number zero among them), knitting was born in the Cradle of Civilization.
In the Middle East and the Ottoman Empire, knitters traditionally made toe-up socks that were often looser fitting and thicker than the socks made in northern Europe. These socks were often worn under leather sandals that were less form-fitting than the shoes worn in colder climates to the north. Knit with elaborate colorwork, the socks were also often less stretchy as well. The leg length varied from short anklets and mid-calf socks to knee-highs. The toe was started with a small rectangle or a two-sided cast on, which allowed the knitter to begin knitting in the round immediately at the tip of the toe. The foot was worked straight with no shaping, and in most cases the heel was added after the foot and leg were finished. There was no calf shaping and knee-high sock legs were sometimes covered with layers of felt to serve as a type of boot leg. Garters made from ribbons tied on below the knee held up the un-shaped socks. Because the shoes were less fitted, many of these socks were more like what we would consider slipper socks today. In fact, the socks were worn indoors as slippers and in some areas, two pairs of socks were worn together: an inner undyed sock with stockinette stitch on the foot and lace or cables on the leg would be worn inside a larger colorwork slipper sock that served as a house shoe when leather slippers were removed at the door upon entering the house. The sole of these outer slipper socks would be patterned as beautifully as the rest of the sock.
Let's celebrate the birth of knitting and the contributions of the Arab world to our daily life as we knit these socks together.

photos: Dominic Cotignola, Susan Santos
FINISHED MEASUREMENTS
Circumference: 7[8, 9] inches/19[21, 22.5]cm
Foot Length: Adjustable to fit
Note: Choose the size closest to your actual foot measurement – stranded colorwork doesn't have a lot of stretch.
MATERIALS
Yarn
ModeKnit Yarns ModeSock [60% superwash merino, 30% bamboo, 10% nylon, 96 yds/88m per 25g mini-skein];
1 mini skein set in 211B Colors:


A: Old Fashioned Villain (red/gray/black)


B: Straighten Your Knocker (brown)


C: Bristol South Pond (teal)


D: Sherlock's Kitchen (green)


E: A Study in Pink (pink)


F: Mary's Maids (purple)

Recommended needle size
[always use a needle size that gives you the gauge listed below - every knitter's gauge is unique]


US #3/3.25mm needles for small circumference in the round: DPNs, 1 long circular or 2 short circulars

Notions


scrap yarn to hold heel stitches


yarn needle
GAUGE
32 sts/36 rounds = 4 inches/10 cm in stranded colorwork, after blocking
PATTERN NOTES
[Knitty's list of standard abbreviations and techniques can be found here.]
Directions and tips for stranded colorwork (Fair Isle) can be found here.
Instructions for Judy's Magic Cast On can be found here.
Instructions for grafting using Kitchener Stitch can be found here.
Video instructions for Russian Grafting can be found here.
DIRECTIONS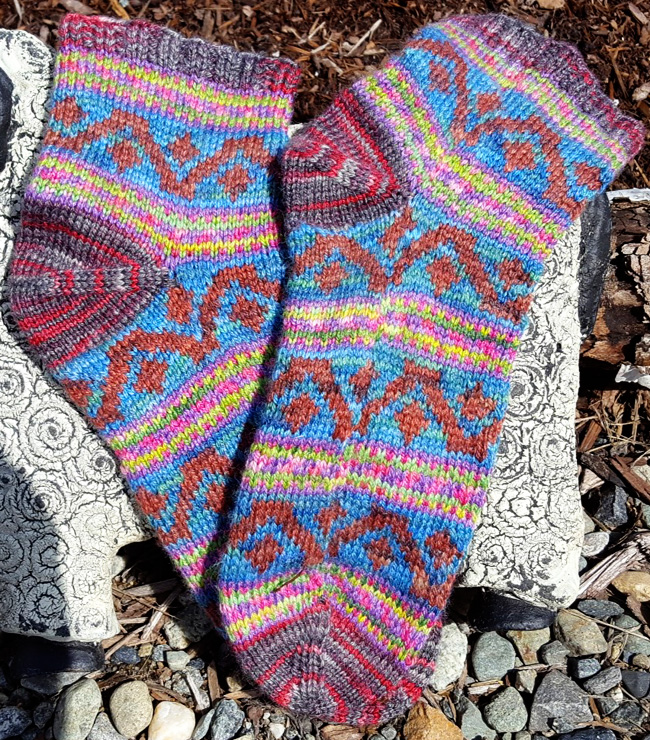 With A, use Judy's Magic cast on and CO 10 sts – 5 on each side. Distribute sts across needles as you prefer and join for working in the round.
Toe
Toe round: Work appropriate size Toe chart twice around.
Work as set through round 13[15, 17] for increases— 56[64, 72] sts. Note that on the final increase round, only one increase is worked per side.
Foot
Continue to work even in charted pattern until foot measures 1.75[2, 2.25] / 4.5[5, 5.5] cm inches short of desired foot length. (It is easier to work the heel opening on a solid rnd.)
Heel Opening
Next round (left sock): Work the first half of the sts with scrap yarn, slide them back onto the left ndl, then work them again as charted. Work the second half of the rnd normally.
Next round (right sock): Work the first half of the rnd normally. Work the second half of the sts with scrap yarn, slide them back onto the left ndl, then work them again as charted.
Leg
If you haven't already hit that point, continue even until you have completed Chart rnd 60[72, 75] . Repeat chart rnds 43-60[54-72, 57-75] once more.
NOTE: For a longer leg, you can repeat these rows again. Note that if you're working size L, this may require additional yarn in colors B and C.
Cuff
Cut all yarns but A.
Knit 1 rnd.
Ribbing round: [K2, p2] around.
Work ribbing as set for .5 inch/1.5 cm, or desired length.
BO as follows: K1, *p1, insert left needle into front of these two sts (as if to SSK) and k them together, k1, insert left needle into front of these two sts (as if to SSK) and k them together; rep from * until all sts are bound off. Cut yarn and pull through final st to secure.
Heel
Return stitches above and below the scrap yarn on needles. Remove scrap yarn.
Join A at the start of the upper (leg-side) sts. This is the start of the round.
Knit around heel, picking up and knitting 2 sts at each "corner". 60[68, 76] sts.
Place marker or arrange sts to divide the top and bottom half of the heel, at the center point of the round.
Knit 5 rounds.
Dec round: K1, ssk, k to 3 sts before center, k2tog, k1; k1, ssk, k to 3 sts before end of round, k2tog, k1. 4 sts decreased.
Repeat Dec round 10[12, 14] more times, until 16 sts rem total.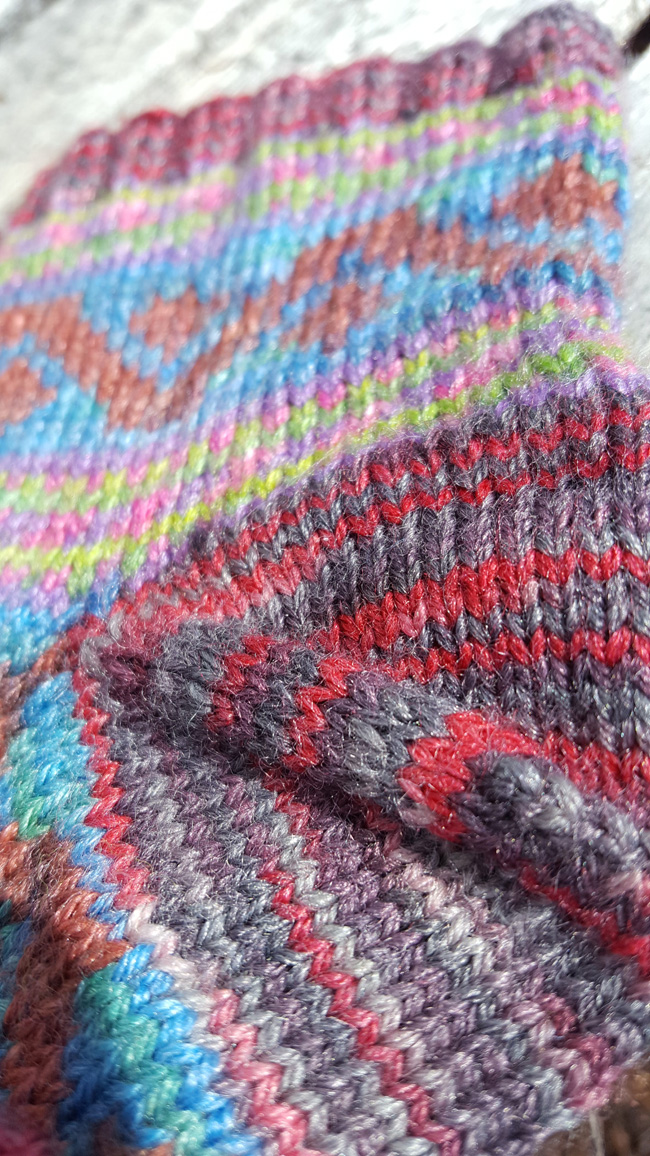 FINISHING
Close heel with Kitchener stitch or Russian grafting.
Weave in ends.
Wash and dry flat to block.
ABOUT THE DESIGNER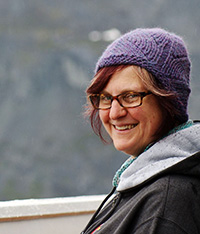 Donna Druchunas is obsessed with her family history and the history of knitting. In addition to writing this column about Our Knitting Roots, she is also running a book club for knitters who want learn to appreciate the people, places, and cultures behind the stitches of their knitting projects. She is the author of many knitting books including her newest titles: How to Knit Socks that Fit and Lithuanian Knitting: Continuing Traditions. Donna has taught knitting workshops in the United States, Canada, and Europe and she has five knitting classes on Craftsy.

Her newest project is opening a small local yarn shop in rural Vermont where lives she with her husband, mother, three cats and a long-haired Chihuahua. Visit Donna's website.
Text, pattern & images © 2017 Donna Druchunas. Contact Donna