What the World Needs Now, a free knitting pattern from Knitty.com. Free knitting pattern for a delicate pair of wire earrings with single-stitches in a rainbow.
INTRODUCTION
What the World Needs Now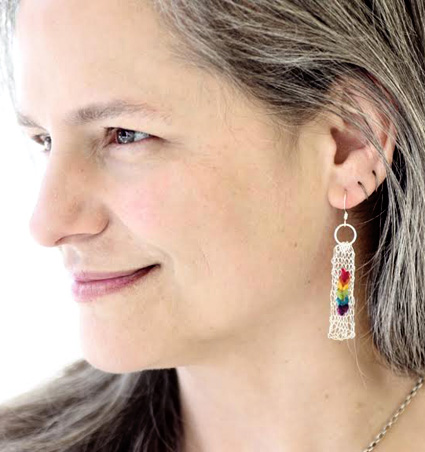 I believe in love. I believe in equality. I believe that - if we work hard at it and open our minds to possibilities - we have the capacity to come together through our love of making. In the end, we are all much more similar than we are different. These earrings are a wee reminder that love comes in all colors, shapes, sizes, genders and orientations. Go out there and love someone.
The honorarium for this pattern was donated to the ACLU.

model: Romi Hill

photos: Clint Holeman
FINISHED MEASUREMENTS
Total length: 2.5 inches/6.5 cm
Length of knitted piece after being folded over jump ring: 1.75 inches/4.5 cm
Width: .5 inch/1.25 cm
MATERIALS
Yarn
Miss Babs Yummy 2-ply Toes [100% superwash merino wool; 133 yards per 1.3oz skein];


Violaceous; 1 skein


Marine; 1 skein


Ghoulish; 1 skein


Squash Blossom; 1 skein


Zest; 1 skein


Floyd; 1 skein
Note: This project uses an exquisite set of mini-skeins of rainbow-colored yarns. You could also dig in your stash for remnants, or treat yourself to the Miss Babs Rainbow 2.0 set and knit one of these with the leftovers.


Artistic Wire 32-gauge wire [silver-plated copper; 30 yd per spool]; Non-Tarnish Silver; 1 spool

Recommended needle size
[always use a needle size that gives you the gauge listed below - every knitter's gauge is unique]


US #0/2mm metal needles for working flat – we recommend using shorter DPNs, but any needle will work

Notions


10mm jump rings


earring wires


super-glue


yarn needle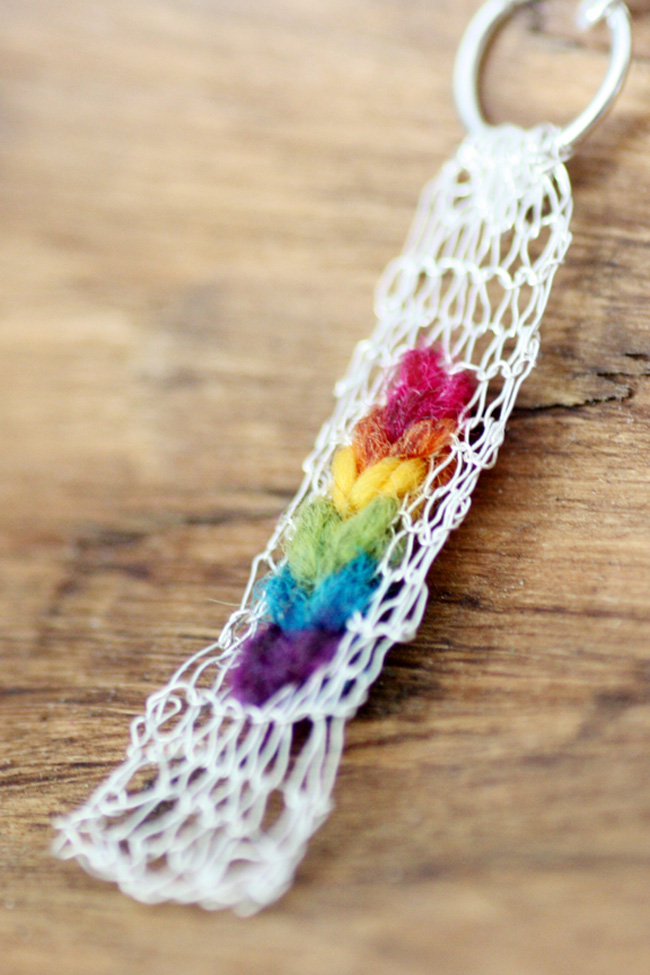 GAUGE
If it looks good, it's good.
PATTERN NOTES
[Knitty's list of standard abbreviations and techniques can be found here.]
Lark's Head Knot: There's a photo guide here.
Construction Notes:
To knit successfully with wire, be sure not to pull the wire too tight. Using metal double-pointed needles is suggested, as wood can develop grooves as the wire passes over it. Knit with the stitch at the very tip and then push the needle all the way into the stitch so that the knitting is not too tight. After each row, pull the stitches down and away from the needle to straighten out your piece. I call this "finger blocking" and it makes knitting with wire a much easier and more pleasurable experience.
DIRECTIONS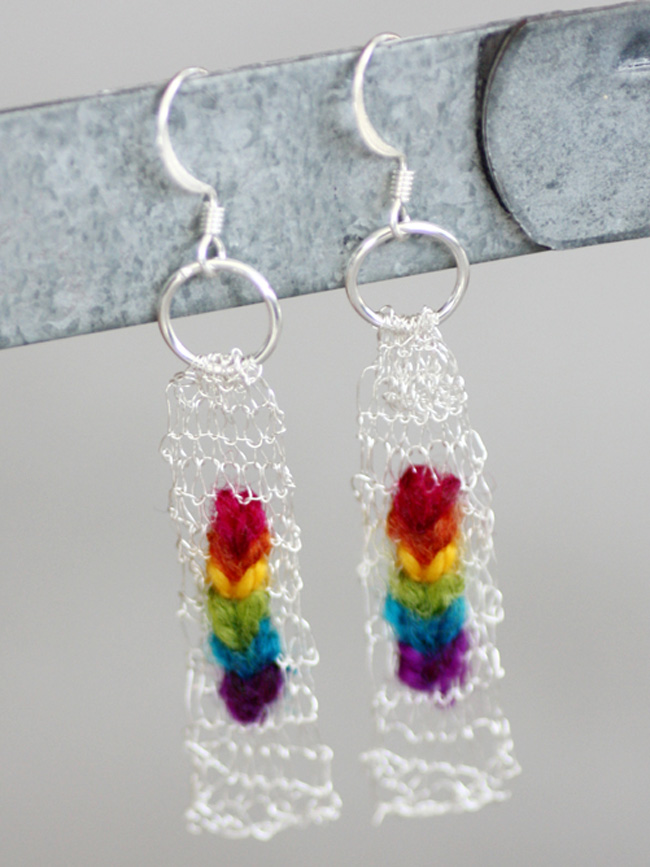 Earring (make 2)
CO 7 sts, beginning with a lark's head knot and continuing with the backward loop method.
Work 15 rows in garter stitch, making sure to pull wire down and into shape (finger block) after each row.
Row 16: K2tog-tbl, k3, k2tog. 5 sts.
Row 17: Knit.
Row 18: K2tog-tbl, k1, k2tog. 3 sts.
Cut wire, leaving 4-inch tail.
Thread wire through live stitches and pull tight. Insert end into large jump ring and fold tab over to back. Using wire tail, secure end of knitted piece to itself by weaving tail in and out. Secure wire.
Using duplicate stitch, and beginning half an inch from the bottom of knitted wire piece, sew knit stitch "hearts" in the order of violet on bottom, blue, green, yellow, orange, and red on top. Use superglue to stabilize ends on wrong size, and then trim ends as flat as possible.
FINISHING
Attach each jump ring to an earring wire. Stabilize the bottoms of your earrings further by twisting wire in and out of edge and pulling tight. Clip loose ends.
ABOUT THE DESIGNER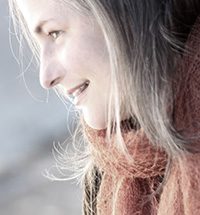 Romi Hill lives on the eastern slope of the Sierra Nevada mountains in Northern Nevada, where the high desert nights are cool and the air is clear and crisp. A lifelong crafter and knitter, she is inspired by the natural surroundings in her corner of the world, and her designs have an organic flow. She specializes in lace of all weights, and you can see her full pattern collection on Ravelry. Romi's lace book from Interweave Press: "New Lace Knitting" was published in September 2015 and features timeless patterns for garments and accessories. Her Elements of Style: Knit & Crochet Jewelry with Wire, Fiber, Felt & Beads is a classic of the genre.
She loves dark chocolate with chili peppers, and she's a sucker for a great pair of cowboy boots.
Pattern & images © 2017 Romi Hill. Contact Romi