Ombre Stripe Shawl, a free knitting pattern from Knitty.com. Free knitting pattern for a DETAILS HERE.
INTRODUCTION
Ombre Stripe Shawl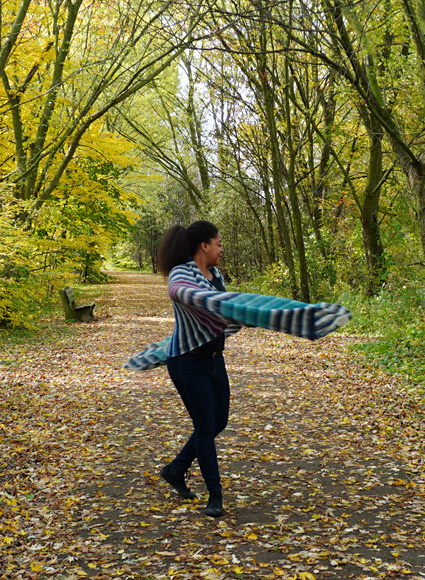 by Kaffe Fassett

This beautiful wrap, designed by Kaffe Fassett, uses the candy of the yarn world: Kidsilk Haze. Riotous color is Fassett's trademark, and in this simple-yet-striking striped wrap, a generous assortment of colors is arranged to dramatic effect.
The wrap is a generous size, big enough to wrap multiple times around a neck or lushly around your shoulders. Knitting it will be half the treat.

model: Marisha Alexander 

photos: Amy Singer
FINISHED MEASUREMENTS
Width: 35.5 inches/ 90 cm
Length: 105.5 inches/ 268 cm
MATERIALS
Yarn
Rowan Kidsilk Haze [75% Kid Mohair, 25% Silk; 229 yd/210 m per .875 oz/25 g ball];


[Yarn A] 642 Ghost; 2 balls


[Yarn B] 590 Pearl; 2 balls


[Yarn C] 605 Smoke; 2 balls


[Yarn D] 632 Hurricane; 2 balls


[Yarn E] 666 Alahambra; 1 ball


[Yarn F] 682 Trance; 1 ball


[Yarn G] 671 Peacock; 1 ball


[Yarn H] 653 Shadow; 1 ball


[Yarn I] 600 Dewberry; 1 ball


[Yarn J] 674 Bark; 1 ball


[Yarn K] 641 Blackcurrant; 1 ball


[Yarn L] 685 Laguna; 1 ball


[Yarn M] 660 Turkish Plum; 1 ball

Recommended needle size 

[always use a needle size that gives you the gauge listed below - every knitter's gauge is unique] 


US #8/5mm needles for working flat

Notions


yarn needle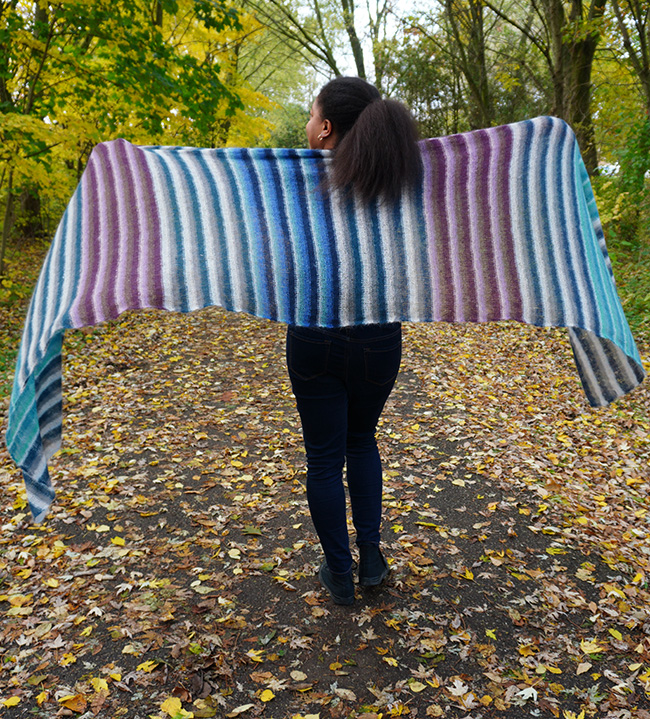 GAUGE
18 sts/23 rows = 4 inches /10 cm
PATTERN NOTES
[Knitty's list of standard abbreviations and techniques can be found here.]
STRIPE SEQUENCE:
Rows 1-2: Using Yarn A.
Rows 3-5: Using Yarn B.
Rows 6-9: Using Yarn C.
Rows 10-14: Using Yarn D.
Rows 15-56: Repeat Rows 1-14 three more times.
Rows 57-58: Using Yarn A.
Rows 59-61: Using Yarn E.
Rows 62-65: Using Yarn F.
Rows 66-70: Using Yarn G.
Rows 71-112: Repeat Rows 57-70 three more times.
Rows 113-168: Repeat Rows 1-56.
Rows 169-170: Using Yarn H.
Rows 171-173: Using Yarn I.
Rows 174-177: Using Yarn J.
Rows 178-182: Using Yarn K.
Rows 183-224: Repeat Rows 169-182 three more times.
Rows 225-280: Repeat Rows 1-56.
Rows 281-282: Using Yarn A.
Rows 283-285: Using Yarn F.
Rows 286-289: Using Yarn L.
Rows 290-294: Using Yarn M.
Rows 295-336: Repeat Rows 281-294 three more times.
Rows 337-392: Repeat Rows 1-56.
Rows 393-448: Repeat Rows 169-224.
Rows 449-560: Repeat Rows 1-112.
Rows 561-616: Repeat Rows 1-56.
DIRECTIONS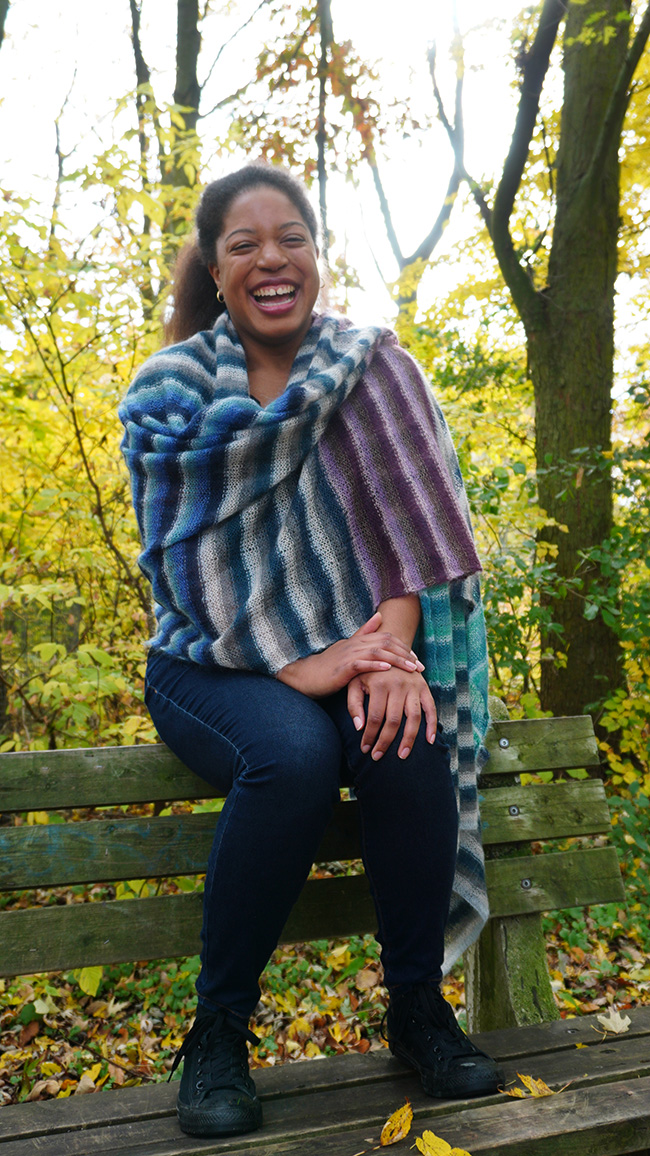 SHAWL
Using yarn A, cast on 162 sts.
Beg with Row 1 of Stripe Sequence, continue to work Stripe Sequence throughout, at the same time working stitch pattern as follows:
Rows 1-2: Knit.
Row 3 [RS]: Knit.
Row 4 [WS]: K2, purl to last 2 sts, K2.
Rows 3-4 establish the pattern.
Cont in patt and Stripe Sequence until Row 614 of Stripe Sequence has been completed.
Rows 615-616: Knit using Yarn D.
Bind off.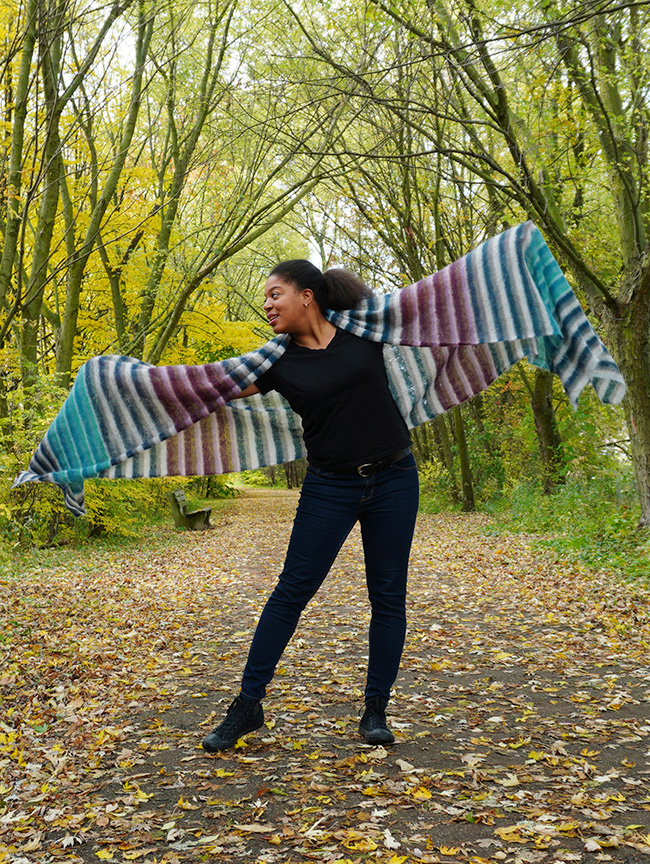 FINISHING
Weave in ends. Pin to size. Dampen and let dry.
ABOUT THE DESIGNER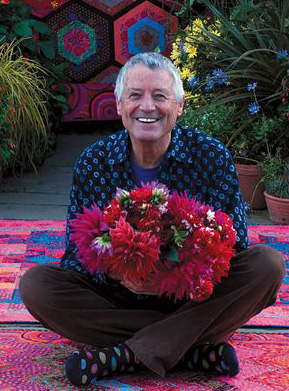 Kaffe Fassett has dedicated the last 50 years of his life to the world of Knitting, Needlepoint and Patchwork, promoting these crafts through his own work and encouraging others to find their own creativity. He has produced over 30 publications from 'how to books' to colour in design, and also tours internationally giving workshops, lectures and museum exhibitions.
Kaffe gives slide talks and workshops on Colour in design, which take him all over the world each year, allowing him to see how people use his fabrics and pick up inspiration. He teaches individuals all over the world to learn to work with colour in an instinctive way. Kaffe's unique sense of colour, drive to create, and his desire to encourage others, has led to his reputation as a guru in the world of colour and textiles.
His website is here.
Pattern & headshot © 2019 Kaffe Fassett. Pattern images © 2019 Amy Singer.