Switchcraft Fingerless Mitts, a free knitting pattern from Knitty.com. Free knitting pattern for a combination crochet/knit fingerless mittten.
INTRODUCTION
Switchcraft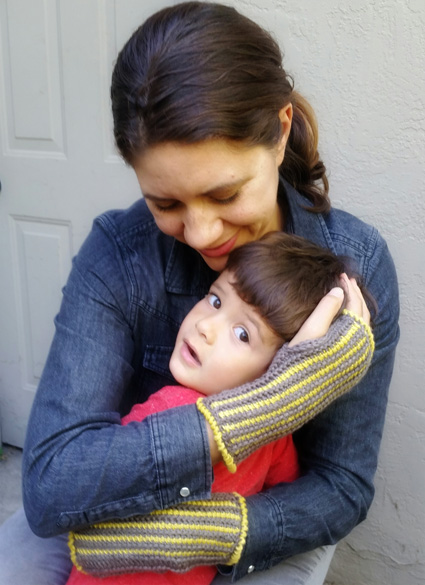 by Victoria Light

In school, I was pretty good at learning languages -- up to a point. Italian was fairly easy to pick up because I had studied Spanish; Spanish was fairly easy to pick up because I had studied French. Yet, I could not always keep them separate and I ended up mixing tongues. Fortunately, my amused listeners usually understood what I was trying to say. Similarly, this project owes its existence to my breadth of beginner skills. In these fingerless mitts, the "languages" of knitting, crochet, and their mutual cousin Tunisian all take part in the same lively conversation, using just the basic stitch of each craft. With a few exceptions, yarn is carried continuously throughout, even when swapping tools.
Knitty has featured the mixed genre concept before (the Plays Well Together columns). My innovations kick it up a notch, enmeshing techniques row by row. Experimenting with alternating knitting and crochet within a single project not only entertains me, it also helps me avoid repetitive stress injuries. (Think cross training for the hands!)
Worked in two colors of a hand-dyed, worsted weight merino, this project uses two sizes of crochet hook and one straight knitting needle. Don't know any Tunisian crochet? No worries -- the pattern will walk you through the steps of Simple stitch; you won't even need a special hook. The rest is just garter stitch and single crochet. Note that there is enough yarn to make a second pair of mitts in the opposite color scheme.
I hope that you enjoy pairing crochet and knitting as much as I do. Once you can "switch craft" with these three beginner stitches, other stitch patterns and fancier colorwork will be easy to learn, just like Italian via Spanish via French. Stay tuned for more!

model: Macelle Mahala

photos: Victoria Light
SIZE
Work to size required, adjustable for any hand.
FINISHED MEASUREMENTS
Length: 8 inches/20 cm
Circumference: Sample as shown is 8 inches/20 cm on a hand with an 8 in/20 cm circumference
MATERIALS
Yarn
Lorna's Laces Shepherd Worsted [100% superwash wool; 225 yd/206 m per 4 oz/113 g hank];


[MC] Pewter; 1 hank


[CC] Firefly; 1 hank

Recommended needle size
[always use a needle size that gives you the gauge listed below - every knitter's gauge is unique]


US # 7/4.5mm needles for working flat: straights are recommended, but you can use a short circular with a stopper on one end (you can use a rubber band)


1 US E/4/3.5mm crochet hook with a smooth, thin, straight handle


1 US H/8/5.0mm crochet hook with a smooth, thin, straight handle

Notions


yarn needle


rubber band or 2


scissors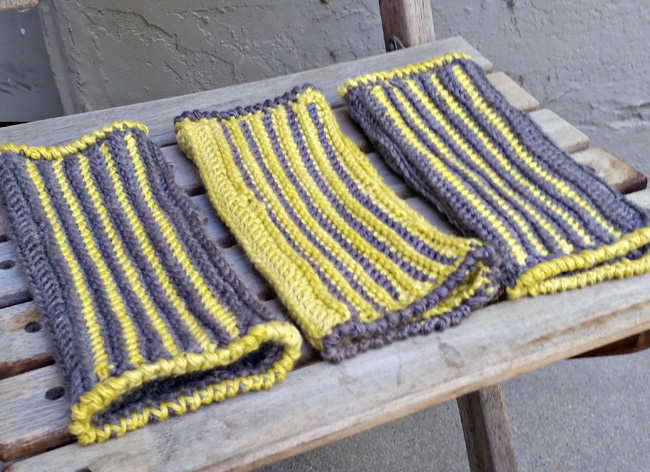 GAUGE
18 sts/34 rows = 4 inches/10 cm in garter stitch
18 sts/20 rows = 4 inches/10 cm in single crochet
18 sts/28 rows = 4 inches/10 cm in pattern stitch
PATTERN NOTES
[Knitty's list of standard abbreviations and techniques can be found here.]
Tip: Wrap a rubber band firmly around handle end of larger crochet hook to make a stopper.
Adjusting for a different size hand
To adjust for a different hand circumference, add or remove repeats of the striped section; one repeat is about half inch/1.25 cm wide. For a longer or shorter mitt length, cast on more or fewer stitches according to gauge.
BLO (Back Loop Only):
Insert tool through rear leg of next stitch.
Forward-Crawling Crab Stitch:
Put the hook through the fabric at the edge as you would do in standard single crochet. Yarn over hook and pull a loop through the fabric, giving both loops on the hook plenty of height. Twist the loops around each other by rotating the hook towards you and all the way around, then yarn over hook and pull through both loops. Right handers will be stitching right to left; left handers, left to right.
Slip stitch (Sl st) (UK single crochet): Insert hook into work, yarn over, pull the new loop through loop on hook. Used in this pattern for seaming.
Working Row 1:
Use larger hook like a knitting needle. Point hook away from you for ease in working.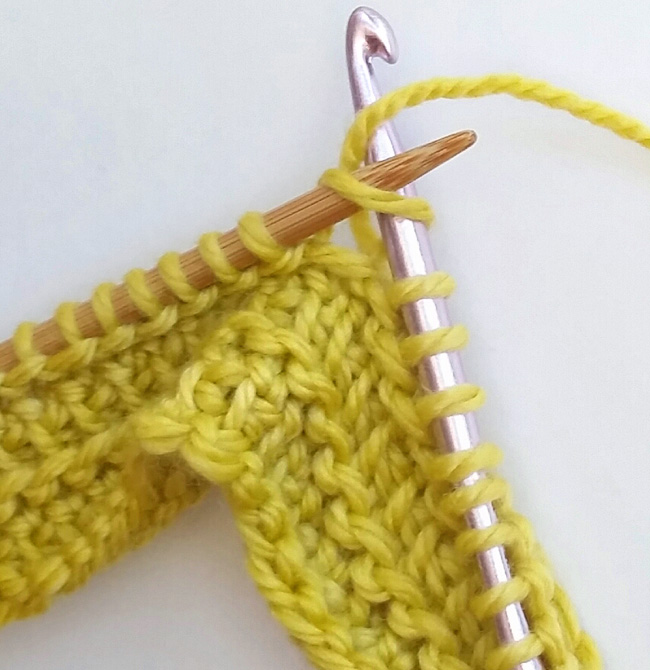 Working Row 2:
TRP (Tunisian Return Pass): Pull crochet hook from left to right, working each loop off hook. See photos for details. Pattern uses TRP as a method for transitioning from knitting to crochet.
Step 1: YO once and pull through 1 loop.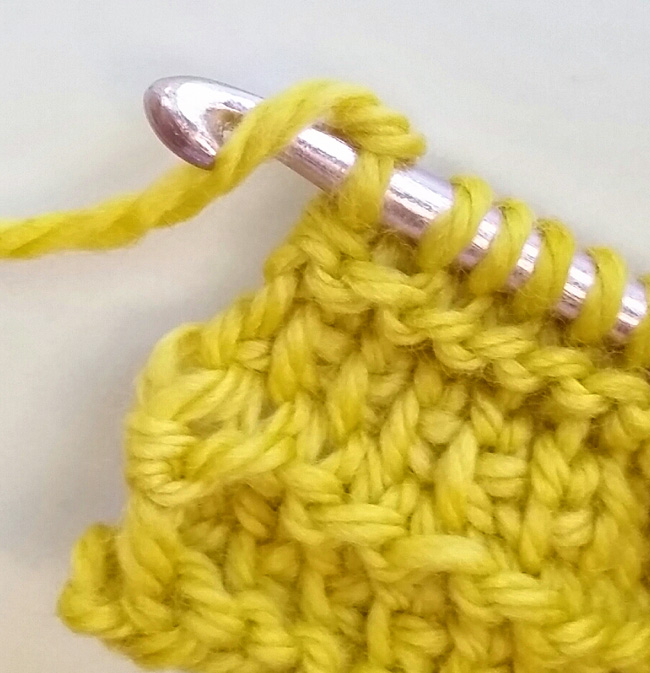 Step 2: YO and pull through 2 loops.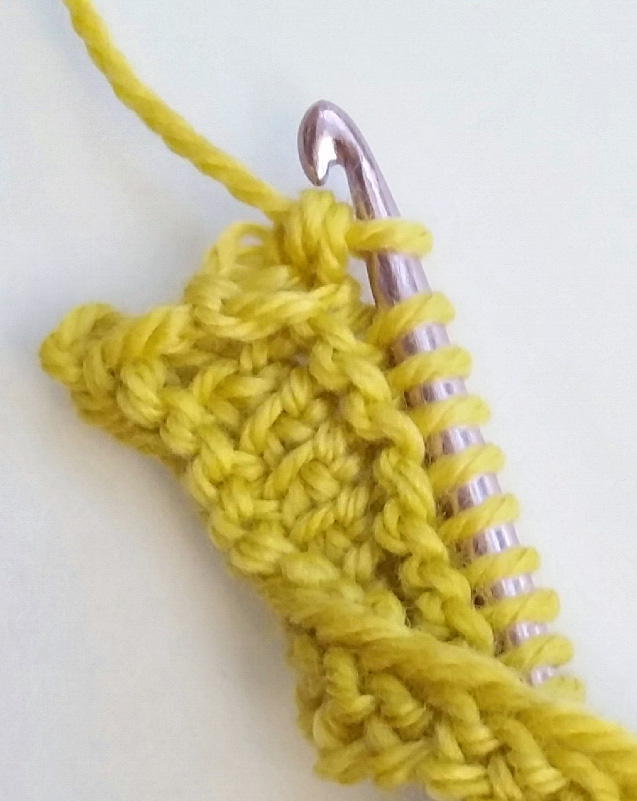 Step 3: Repeat Step 2 to end of row until 1 loop remains.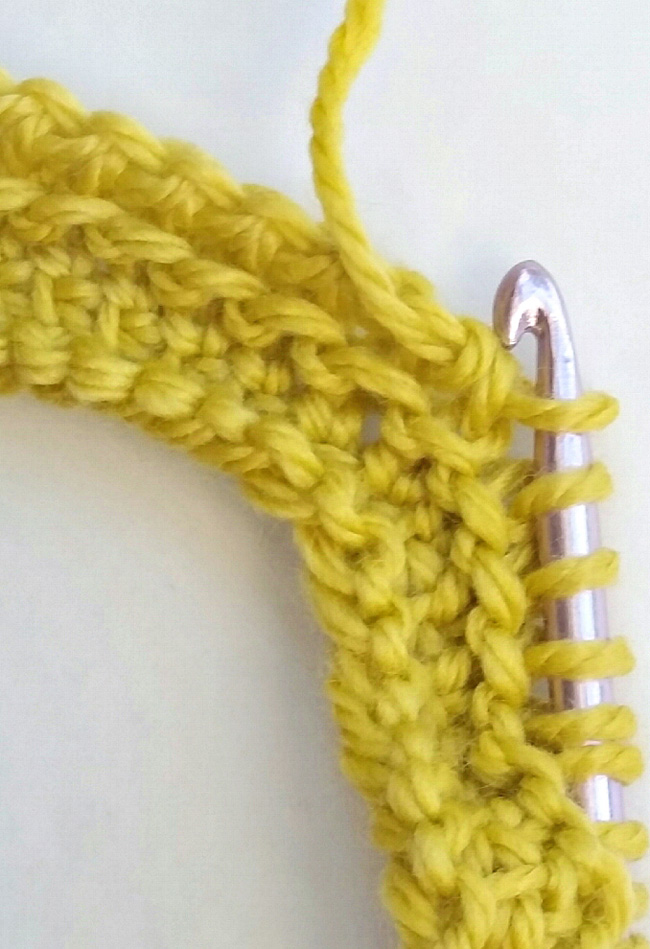 Step 4: Swap hooks.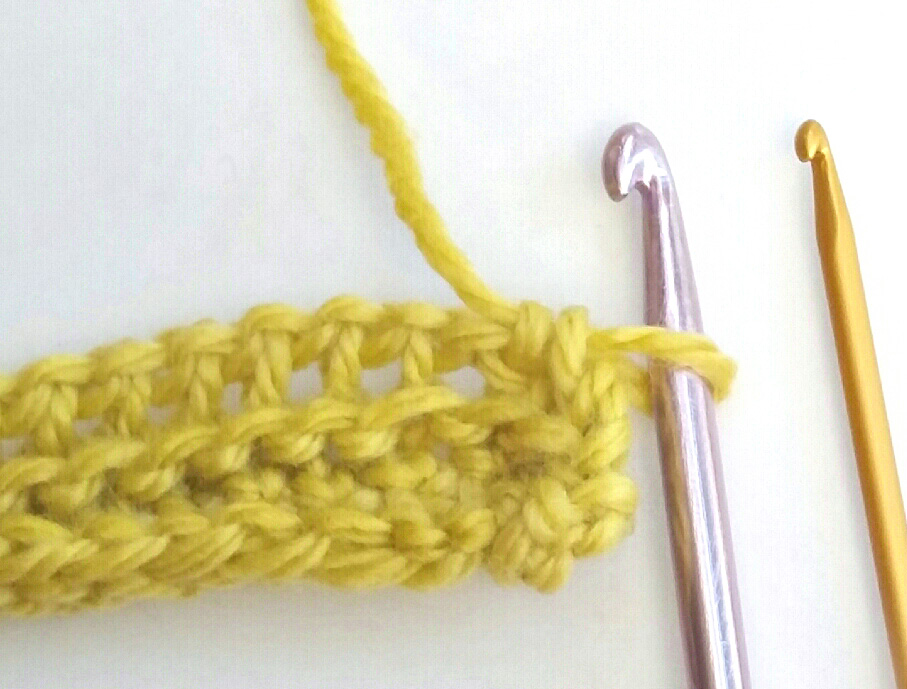 Step 5: With smaller hook, chain 1.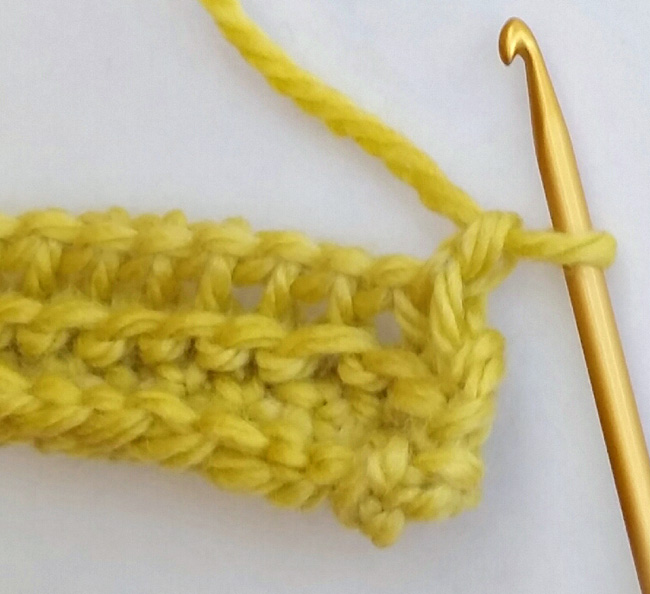 Working Row 3
Insert smaller hook into first vertical bar.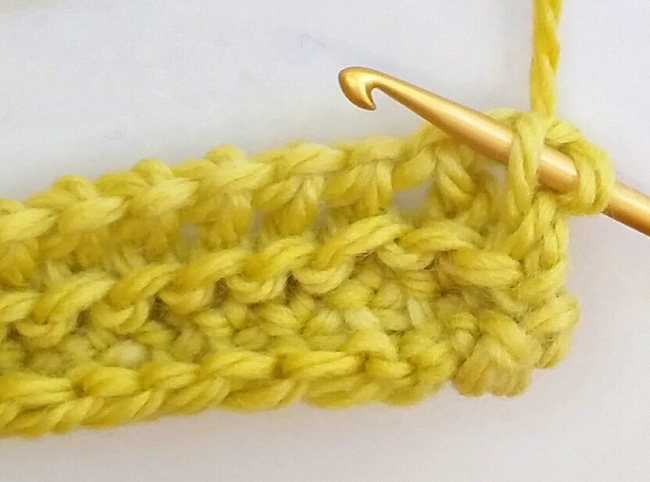 Sc to end of row.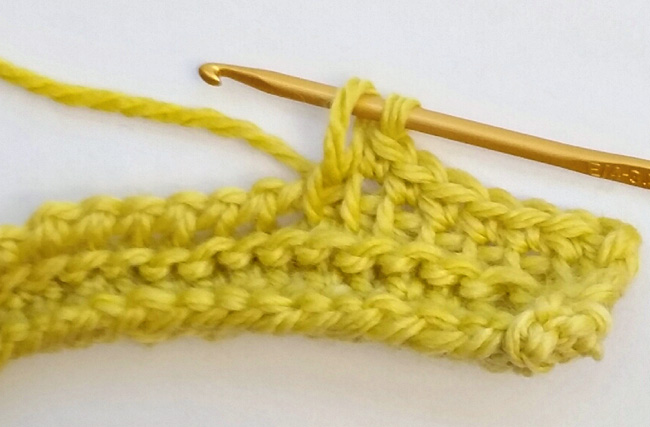 Working Row 4
Inserting knitting needle into back loop, pick up and knit 35 stitches.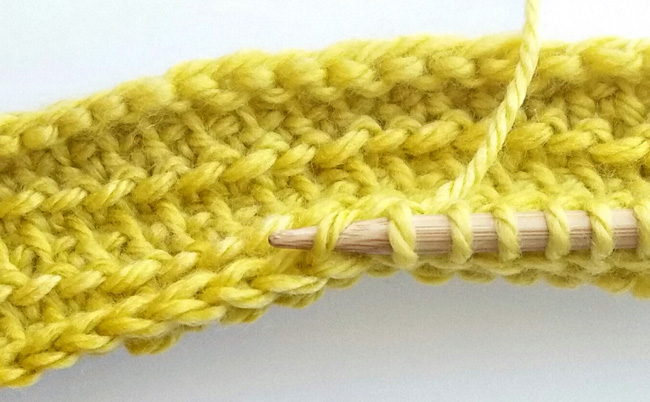 MODIFICATIONS FOR LEFT-HANDED CROCHETERS
Note: If you happen to knit left-handed (stitches move from right needle to left needle), follow the pattern instructions for righties, but using the tools the way you usually do. These specific modifications are meant only for standard knitters who crochet left-handed.
Row 1 is now a WS row. Work it with both needles, not one needle and one hook.
There is a transfer of stitches after Row 1 that is only for left-handers. (See below.)
Remove rubber band stopper before transferring stitches to hook.
Row 4 is now a RS row.
Follow directions for forward-crawling crab stitch exactly as written in the first list of Pattern Notes.
Row 1 [WS]: Use 2 needles to work row. Then transfer stitches from needle to larger hook by using the hook's handle end to slip stitches purlwise. The working yarn stays on the right. Move hook to left hand.
Rows 2-3 [RS]: As for right-handed version but working in opposite direction.
Row 4 [RS]: With knitting needle, PUK into front loop only, to end of row.
DIRECTIONS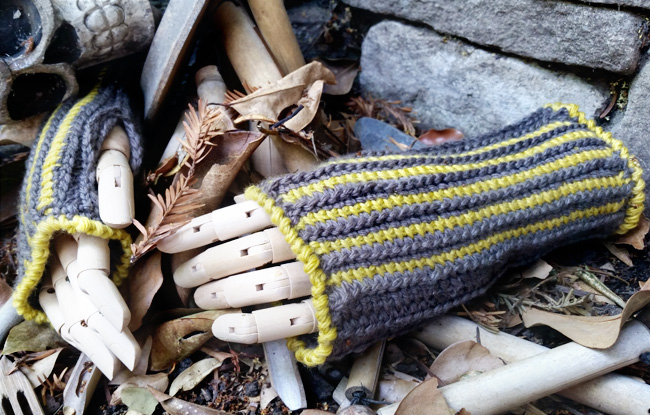 Palm, solid color side
Using long tail method, MC, and knitting needle, CO 36 sts.
Row 1 [RS]: Using larger hook, K to end of row.
Row 2 [RS]: TRP to end of row. Ch 1. Switch to smaller hook.
Row 3 [RS]: Using smaller hook, insert tip into first vertical bar of row below. Sc to end of row. Drop hook, putting rem loop onto knitting needle.
Row 4 [WS]: Inserting needle tip into BLO, PUK 35 sts. 36 sts on needle.
Repeat Rows 1-4 7 times more.
Back of hand, striped side:
Join CC.
With CC, work Rows 1-2. With MC Work Rows 3-4.
Repeat the last 4 rows 4 more times. Cut CC.
Work Rows 1-3 once more with MC. Fasten off final stitch.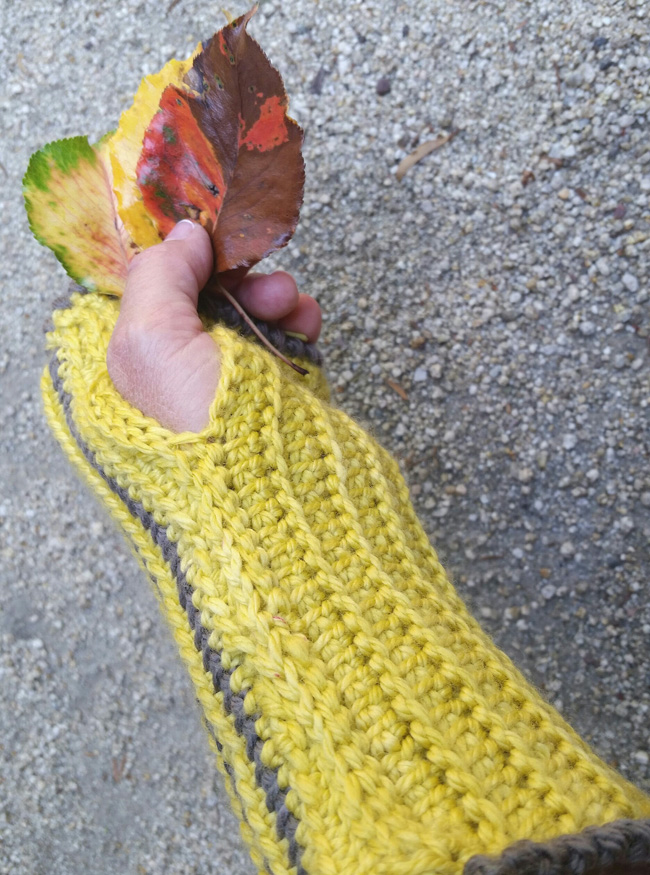 FINISHING
To block, wash and lay flat to dry.
Joining
Decide left or right for each mitt; you will need to rotate one of them 180 degrees. Fold the mitt lengthwise (matching long edges) with WS together. Using MC and larger hook, work Slip Stitch along edge by inserting hook into vertical bar on striped section and under both legs of CO edge stitch on plain (solid color) section, leave opening for thumbs as below:
Left Hand: Start at the wrist edge. Work 20 sl sts through both layers, 8 sl sts through striped layer only, 8 sl sts through both layers.
Right Hand: Start at the fingers' edge. Work 8 sl sts through both layers, 8 sl sts through striped layer only, 20 sts through both layers.
Borders – Work on both openings
On RS, starting near seam, use MC and smaller hook to sc 35 sts evenly along edge. Sl st once to join round. Fasten off and cut yarn.
With CC, and larger hook, use Forward-Crawling Crab stitch to work into the stitches of the previous row. Cut yarn.
Weave in ends.
ABOUT THE DESIGNER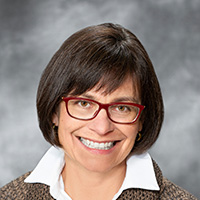 Victoria Light (Tory) has been knitting and crocheting for about 20 years, and teaching for 3. She earned her Knit Instructor Level 1 certification from Craft Yarn Council in 2017 and Crochet Instructor Level 1 in 2019. She will be leading a 3-hour class on her signature Switchcraft techniques at Knitters Day Out (KDO) in Harrisburg, PA this September. A book of Switchcraft patterns is scheduled to be published by Leisure Arts in 2020.
Tory can be found on Ravelry.
Pattern & images © 2019 Victoria Light.