Feature: Cool stuff
Cool stuff
SR [Finished chest measurement for sweaters] = the smallest chest measurement to the largest chest measurement we could find in the book. There may be only one pattern with the smallest or largest size, but it's in there. Books are softcover unless noted otherwise. All prices USD unless noted.
When you click on an Amazon affiliate link below and make a purchase, you're supporting Knitty. We thank you!
Jump to... Other Crafty Things

Surprise reviews, fresh from TNNA!
(July 2018)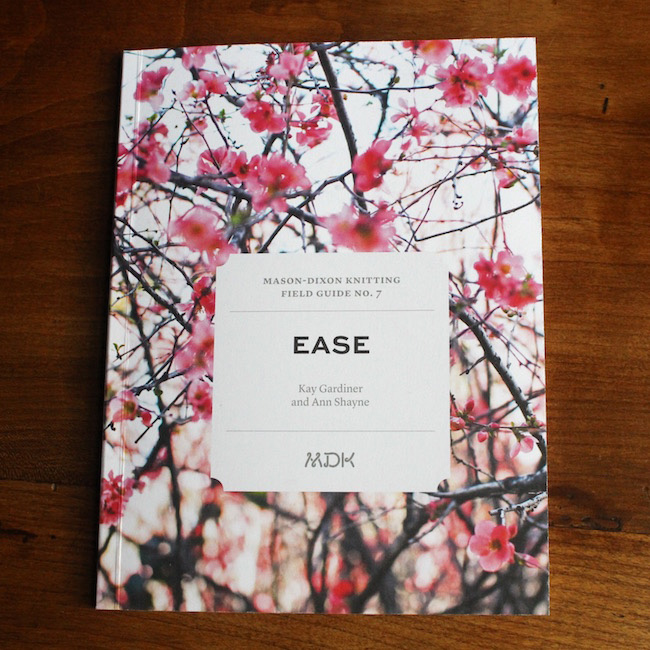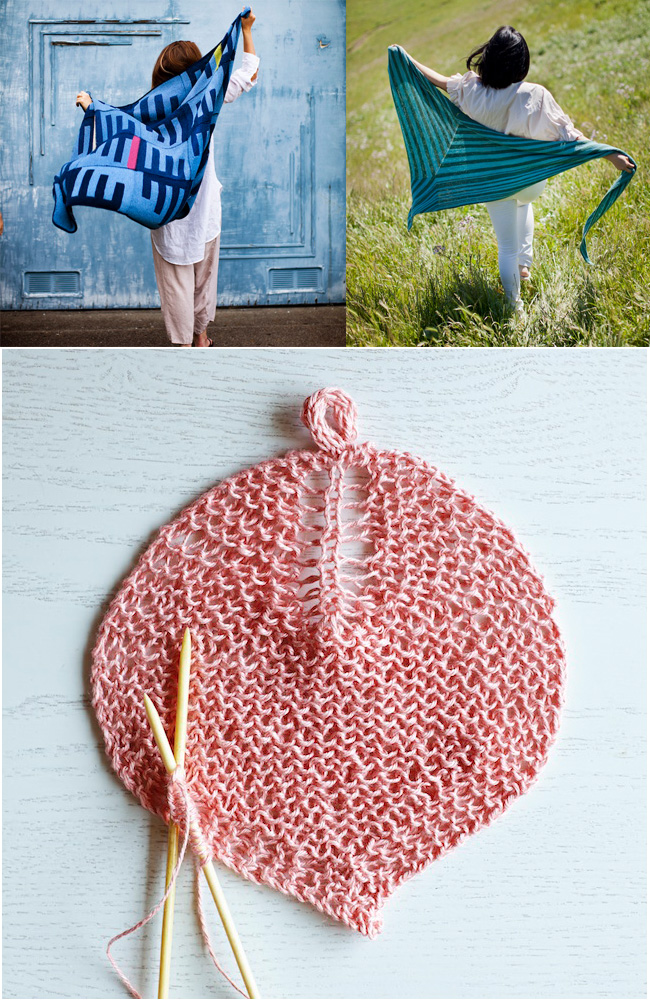 Mason-Dixon Knitting Field Guide No. 7: Ease
$9-$14.95
There is plenty of hot weather knitting time left in North America and this little book is the perfect companion. It's a collaboration between Ann & Kay of Mason-Dixon Knitting and Julia Farwell-Clay that brings you an easy breezy approach to summer knitting.
Julia designed four perfectly summer knits and paired them with delicious summer-worthy yarns. There is the Sea Breeze Cowl-Poncho knit from Sweater by Spud and Chloe with the perfect combination of drape and texture, and the Sail-Away Shawl a perfectly striped shawl knit from Sincere Sheep Cormo Sport, this one is my favorite in the book. The Picket Fence Afghan knit out of Rowan Orginal Denim that is rich in color and pattern with a no-ends-to-weave-in secret, and Bodhi Leaf Washcloth knit from Euroflax Linen Sport perfect for host and hostess gifts, round out the patterns.
All of the patterns are those kind of summer knits perfect for swinging in a hammock, straight ahead knitting with Julia's trademark twist to keep you interested and learning.

JM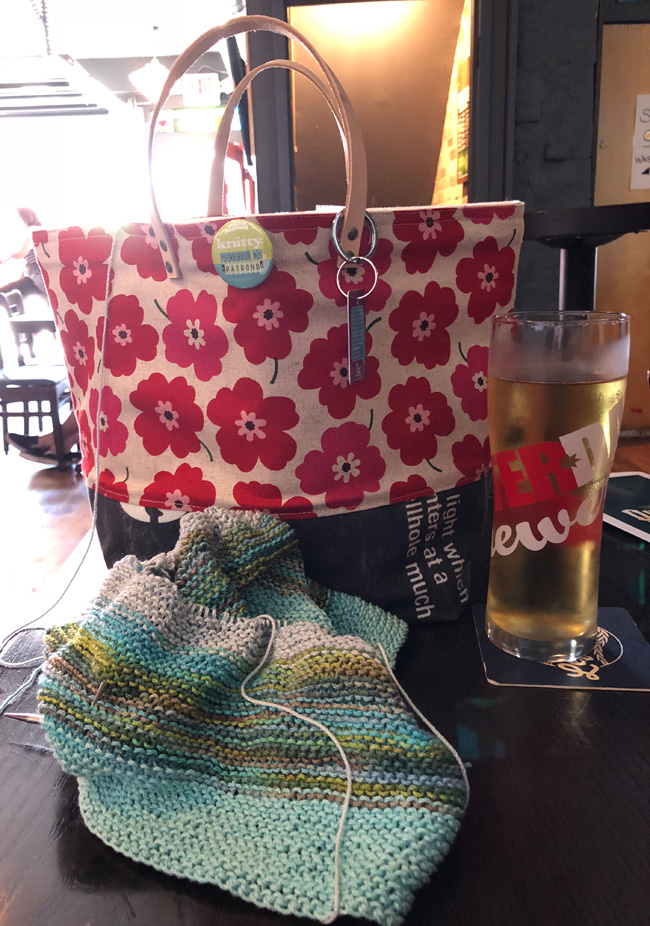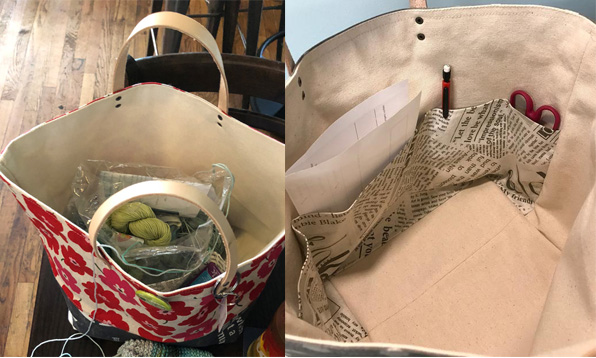 Bucket Bag
by 65 South
11" tall x 17" wide X 8" deep
MSRP: $95 as shown in Poppy Love with contrast bottom print.
Prints and patterns vary, and prices start at $50 for their smaller, simpler Canoe bag

We already know I love bags. I have quite a collection. This new one from 65 South, is stylish and elegant, and I'm proud to carry it. The first thing I did was put a Knitty button on it, and a bag tag with my contact info in case it gets left behind somewhere, because I don't want to lose this beautiful baby!
It stands up on its own, and is a very handy size. I'm currently knitting a small blanket, and as you can see, it holds the project and all the yarn fits easily inside. A sweater would fit, unless it was very bulky. I love the pockets on one wall of the inside of the bag. They hold everything I need including a crochet hook, spare needles, a notions kit and my pattern. I love the leather handles -- they're strong and comfortable to hold, and they're securely riveted to the bag. These bags are handmade in the US (Alabama, to be specific) and the finish and quality of workmanship makes them worth the price, in my opinion. Should you be so inclined, they'd serve nicely as purse and small project bag at the same time, if you like to combine.
This beautiful creation goes everywhere I do and will for a long time to come.

AS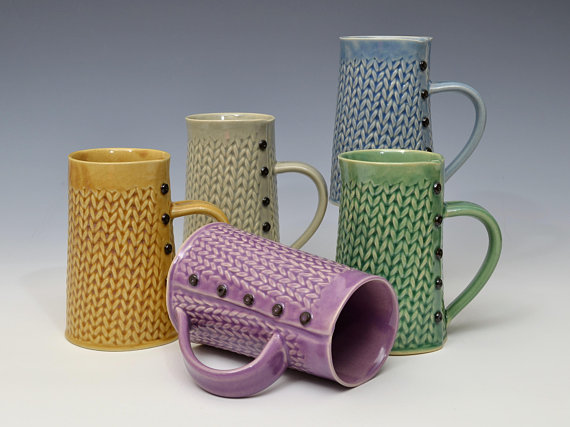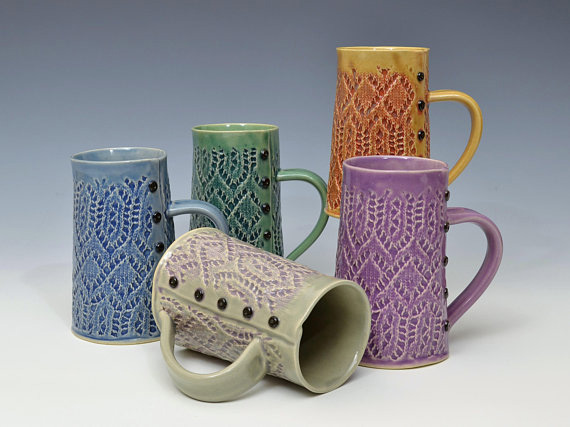 Jumbo Mug
by Creative with Clay
$54 (Knitted Mug)
$58 (Lace Knitted Mug)
This 20-ounce mug is a dream come true for this lazy spinner! I can have a giant hot or cold drink at my side in a beautiful handmade mug and not have to stop spinning for a refill.
There is beautiful attention to detail on the design. On the Knitted Mug design, you can see and feel the stitches three dimensionally. The Lace Knitted Mug is so detailed you can feel the texture and the stitches are so clear you could knit along with the design. The tonal glaze adds to the feeling that you could lift the lace right off of the mug.
The walls of this mug are thick, which keeps hot drinks warm and cold drinks cool, longer than most of my other ceramic mugs. The thick walls saved my mug the two times that I've dropped it, once on carpet and once on hardwood flooring – no cracks, chips or, breaks.
I love all of my Creative with Clay mugs, but (shh) I think this is my favorite.

JM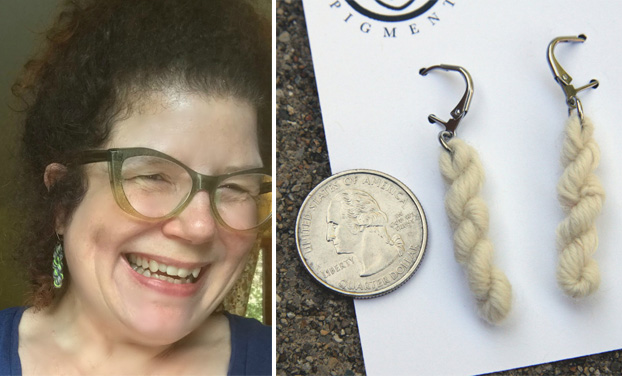 Oink Pigment Yarn Earrings
$14

These are so cute! You can get these earrings in any of the many colorways that Oink Pigment dyes. The tiny fingering-weight yarn skeins are approximately 1" long and are feather-light. The ear wires and posts are nickel-free, hypoallergenic surgical steel.
I get so many happy knitting comments when I wear them. Muggles mostly ask if I'm a knitter and if that's enough yarn to make something (it's not); knitters ask how many colors they come in.

When you're not wearing your earrings to proclaim your knitterly-ness to the world they are big and light enough to use as locking stitch markers or row minders.

JM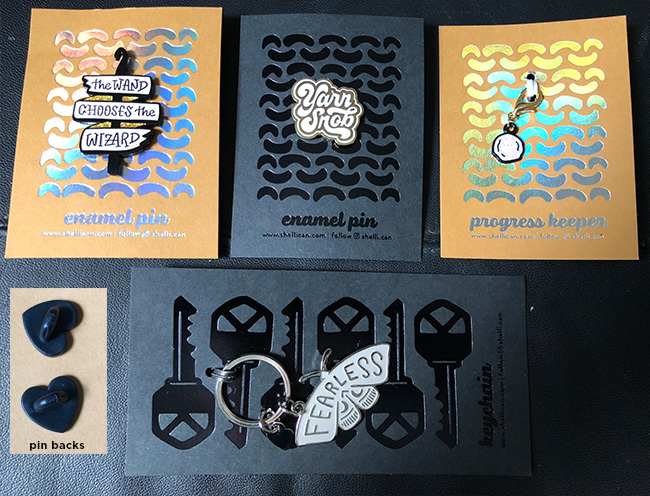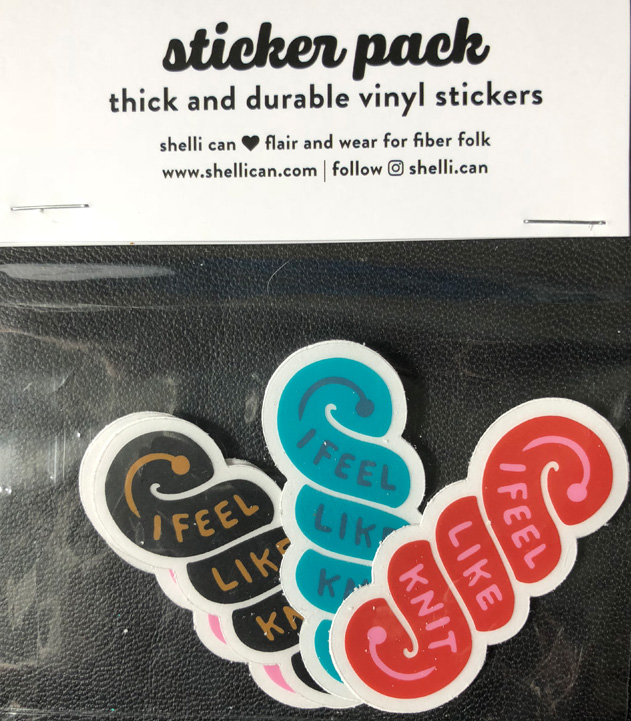 Enamel pins, progress keepers, keychains and stickers
by Shelli Can
$9-12
I am a sucker for bling, and I just love the aesthetic Shelli Can has going on. You can tell she's one of us and not faking it by the clever slogans she's come up with. She pairs them with really cute artwork (people are even asking to have her artwork tattooed on them. Not kidding!) and I'm not sure how anyone could resist this stuff. I certainly couldn't.
The enamel pins are well made, and backed with the heart-shaped clutch shown above...not the usual metal pin that would ruin any knitwear you'd pin it to. Smart. The progress keeper is currently helping me keep track of a center stitch to be decreased every other row on a garter stitch blanket, and it's glittery and cute. But it's also big enough that I feel it as I approach it (since I'm not looking down while knitting acres of garter stitch) so I don't miss the decrease!
The keychain I particularly love. It was meant, I think, to talk about being fearless in the face of clothing moths. I see it as a silk moth, and those guys are fearless as they work toward creating something beautiful. I dunno, it makes sense to me.
Finally, there's a pack of adorable "I feel like knit" stickers, and one's already on my laptop. She has others on her site, too. Check it out, if you're not browsing there already. Such well-made cuteness deserves our attention.

AS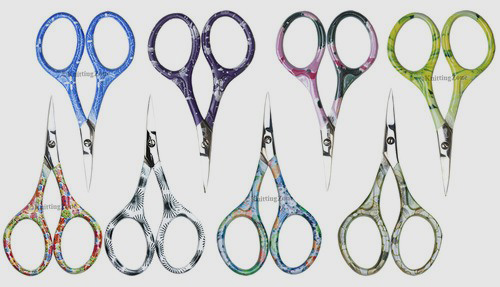 Craft Scissors
by Nirvana
$9-$9.50
These stainless steel scissors are easy to pack, sharp, and save me from knitting (and stitching) heartbreak.
See how the points curve up? That little detail has kept me from cutting through knitting and embroidery when I'm clipping ends.
They are 3.5" long and fit in most notion bags.
What's almost better than the knitting-protecting tips? They come in 15 different patterns and colors.

JM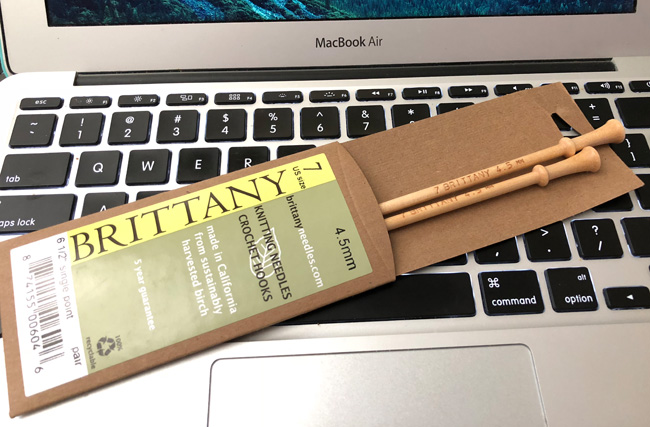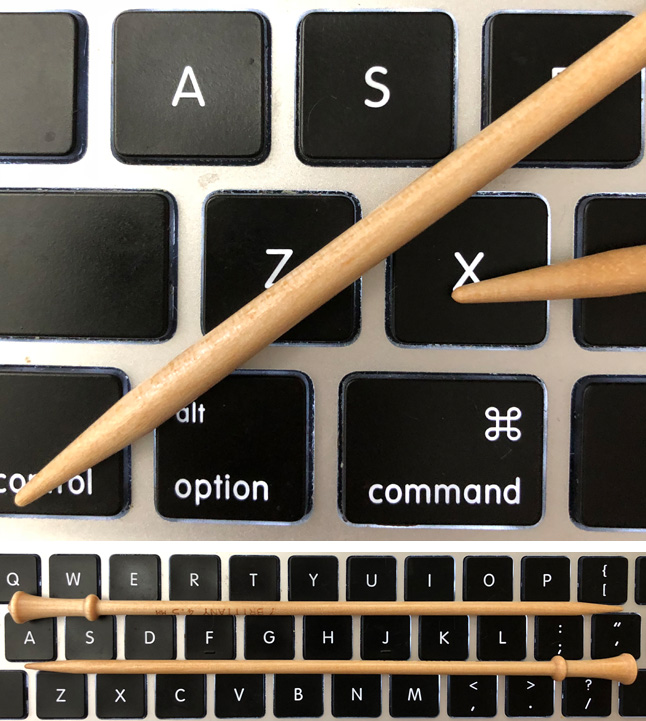 6.5" long straight needles
by Brittany Needles
$9.00/pr shown in size US 7/4.5mm
Do you know about Brittany needles? They make a gorgeous product and they're probably a huge company, right? Nope. They're a little mom-and-pop family run partnership in California (inherited from the previous generation of their family) and they make everything themselves. I particularly love watching their Instagram videos, like this one where you get to see Chris putting the final polish on a batch of needles, then testing them for smoothness in the most interesting way.
These particular babies are so new, they're not even on Brittany's website. They're simply gorgeous. The finish, like all Brittany needles, is smooth like glass, and the wood is beautiful to touch and to knit with. The points are pointy, but not stabby. And these new needles are intentionally short, perfect for knitting scarves. I'm a circular needle fan, but I love these for knitting short lengths. A cord would just get in the way here. They're light and have just the tiniest bit of give. Very comfortable on my hands. I also love that the size is deeply burned into each needle so you won't have to guess if you have the right size.
If you're not familiar with Brittany needles, put your hands on a pair the next time you're in a yarn shop and feel the quality.

AS

Knitting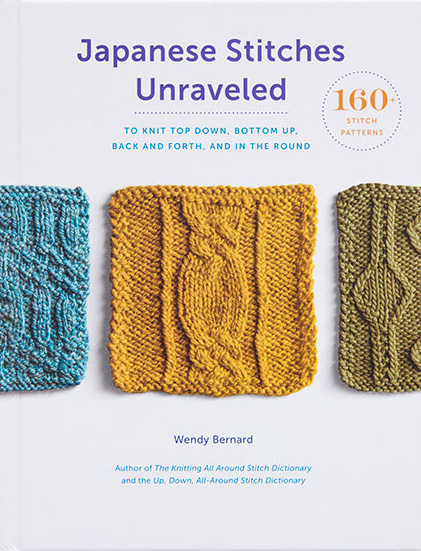 Japanese Stitches Unraveled: 160+ Stitch Patterns to Knit Top Down, Back and Forth, and In the Round
by Wendy Bernard
Abrams
$29.99, hardcover
Once again, Wendy Bernard saves knitters from doing math and rearranging stitch patterns to move in a direction different than bottom up. This time she dives into beloved and quirky Japanese stitch patterns. Like her other stitch dictionaries, she offers up stitch patterns charted and written out flat and in the round, with many complex patterns having both top down flat and in the round directions. The are a hefty 160 stitch patterns included in the book, divided into Knits & Purls, Ribs, Fancy & Twisted, Cables & Lace. There is a pattern at the end of each chapter that highlights a particular stitch pattern. At the end of the book, you'll find patterns for a blanket, a shrug and an oversized cowl that are written so a knitter can choose stitch patterns from the book and plug them into the design.
There are stitch patterns that are very short and some that are more than 30 rows per repeat. This is a great book to uses for dreaming and designing; it's stitch dictionary gold.

JM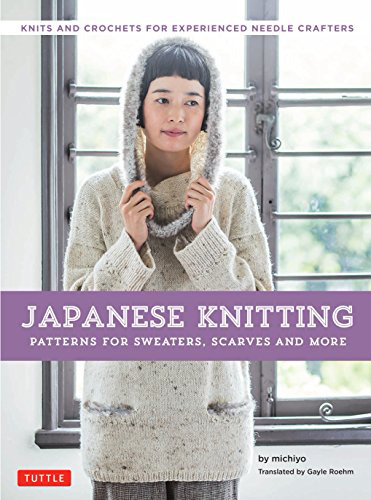 Japanese Knitting: Patterns for Sweaters, Scarves and More
by michiyo
Translated by Gayle Roehm
Tuttle Publishing
$16.99
SR=34-43"
Hooray! A Japanese project book translated into English! 23 knit and crochet projects by popular Japanese designer, michiyo, are a good first step into knitting and crocheting Japanese patterns.
This isn't a book for beginning knitters. Someone using this book should be in the range of an enthusiastic advanced beginner or an intermediate knitter. There is a feeling of figuring out a puzzle when working these patterns; some knitters love that, some get frustrated. Gayle Roehm does an excellent job of explaining how Japanese knitting patterns work, and how to knit from them.
There are 10 sweaters, a dress, shawls and neckwear, hats, mitt, the usual suspects of accessories, but with a fresh twist, an effortless style. The patterns combine design elements, stitches and techniques. There's a striking plain sweater with Fair Isle sleeves, a poncho that can be worn as a shrug, and a beautiful knitted dress.
The designs are original and inspiring. Thank you, Gayle Roehm, for cracking the Japanese pattern code and sharing it with us.

JM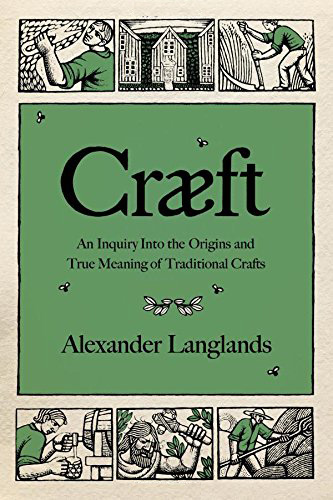 Craeft: An Inquiry into the Origins and True Meaning of Traditional Crafts
by Alexander Langlands
W.W. Norton & Company
$26.95, hardcover
Craeft is the personal journey of archeologist Alexander Langlands working through traditional crafts of the farm and home in Britain. Langlands worked for two BBC historic farm series: Victorian Farm and Edwardian Farm. He has experience and great esteem for the work his ancestors did to run their farms. His quest for knowledge isn't fulfilled by just studying artifacts and texts. In this book, he makes tools and objects in the same manner as his forefathers. He makes a scythe to cut straw; he makes a bee skep from the straw he grew. You get the idea. He digs deeply into crafting the tool or object. His stories are interesting and along the way he touches on archeology, history and his opinion on consumerist society. This is a thinking book, not a book to speed through.

The idea that rang with me is what the title alludes to, craeft, something beyond yet including the work and skill of the craft. It is the thinking that grows from doing a craft, if not to expertise, then beyond the casualness that permeates much craft work today.

The thinking and mindset that came from making things out of need not want, making things constantly or seasonally thinking through what would make it last longer, make it finer, more useful.

I think about this a lot while I speed through my crafts. I realize I like to spend time thinking things through, but I speed through the making. I don't take the time for my hands and mind to work together, to grow in craft and craeft.
I appreciate this book for giving me the time to absorb and reset my thinking and to give words to ideas that have flitted around my brain.
JM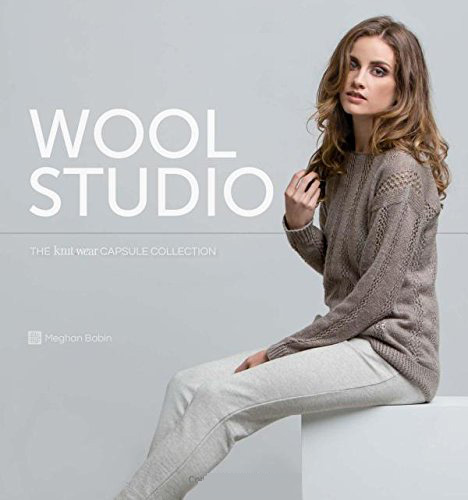 Wool Studio: The knit.wear Capsule Collection
by Meghan Babin
Interweave
$27.99, hardcover
SR: 35- 54"
Wool Studio is a print collection of the first two issues of the e-book collections of the same name.

The idea behind Wool Studio's simplicity in design is luxury. Simplicity in the hands of the skilled designers in this book makes these designs timeless instead of bland. The stupendously sexy yarns used don't hurt either.

16 of the 21 patterns in the book are garments, a refreshing change from many knitting books and magazines. The silhouettes are relaxed, with lots of dropped shoulders, but they're not sloppy. Almost all of the designs are knit in neutral colors with texture applied in stitch patterns, or imbued in the cloth with semi-solid yarns.

The Chatham Pullover, Bug Sur Pullover and Avila Tee are currently vying for a spot in my wardrobe.

JM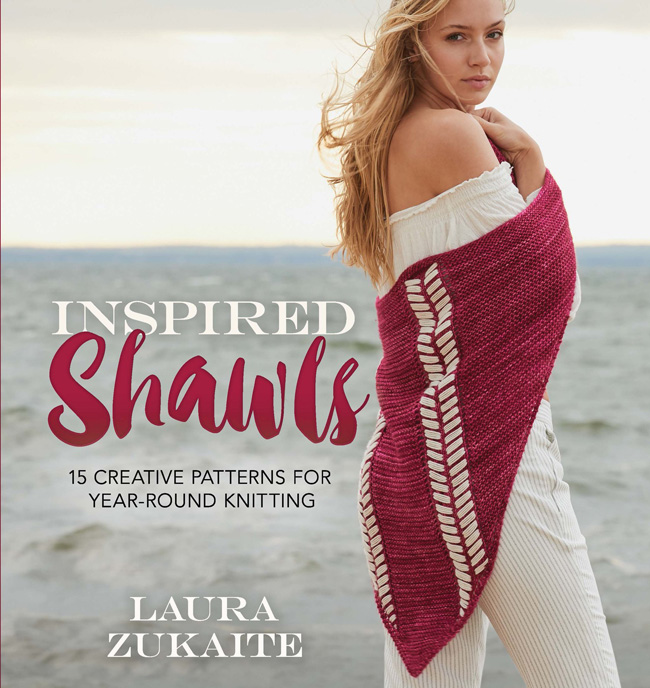 Inspired Shawls: 15 Creative Patterns for Year-Round Knitting
by Laura Zukaite
Dover Publications
$19.95

Inspired by traveling in South America, Laura Zukaite brings us 15 shawl designs that are full of texture and color.
Shawl shapes range from large and enveloping to just shoulder covering. Each shawl has an interesting design twist,: transparency, tassels, colorwork and embroidery, evocative of traditional South American textile design . All of these shawls could be worn in any season and would add boldness to your wardrobe.

JM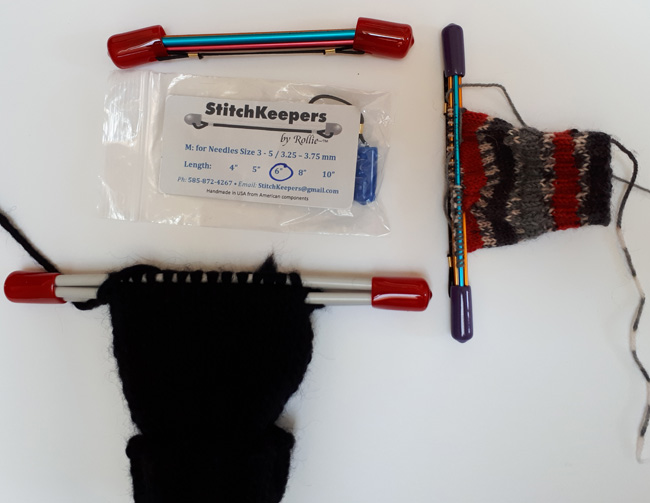 Stitchkeepers by Rollie
$6.50

I was introduced to StitchKeepers by Rollie on a recent visit to the Rochester Knitting Guild. Rollie, the originator of these clever things, is a long-time member of the guild.
StitchKeepers are immensely simple, but if you're a DPN user, you'll find them hugely helpful… two little plastic caps joined by an elastic thread. The caps slip onto the ends of the DPNs, protecting the points, keeping the needles snugly together, and ensuring you don't lose any stitches off your needles.
Perfect.
They come in three sizes – S, M, L for different sizes of needles, and five lengths – for 4 inch/15cm, 5 inch/12.5cm, 6 inch/15cm, 8 inch/20cm and 10 inch/25cm DPNs.
They're available through a number of online retailers, or contact StitchKeepers@gmail.com
KA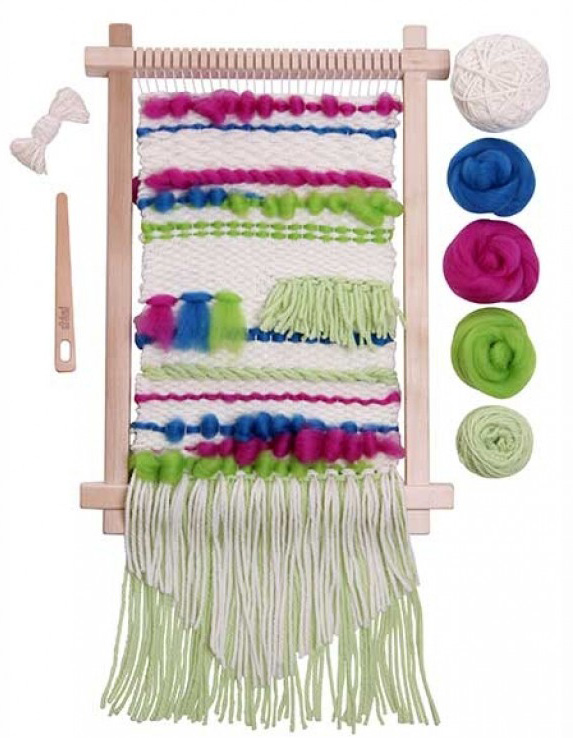 Weaving Starter Kit (find a retailer here)
Ashford
$77
Ashford's Weaving Starter Kit is a fun way to experiment with a textile craft. It's a small, easily assembled frame loom, nicely packaged with warp thread and some yarn and fiber for freeform and casual weaving experiments.

The instructions are a bit vague, and not really suitable for a weaving or textile novice. And sadly, the online videos offered didn't help, either. I had to do a bunch of research online to answer some fairly basic questions. However, once I got the questions answered, I was well on my way.
This kit contains everything I needed to play with some different types of weaving patterns and methods. There's a dowel included, if I wish to make a wall-hanging from my work. I genuinely enjoyed it, and playing with the kit absolutely whets my appetite to learn more about weaving.

As with all Ashford products, it's a well-made item, and will last you a lifetime. It would be an ideal way to introduce kids to weaving – as long as there's an experienced adult around to provide a bit of support and instruction –  or for adults to experiment and learn a little before investing in a larger and more expensive loom.

KA