Feature: Our Knitting Roots: a study of the contributions immigrants have made to North American knitting, by Donna Druchunas
INTRODUCTION
Our Knitting Roots
by Donna Druchunas
It may be difficult to look at a sock or mitten that you've made with your own hands and feel a connection to a group of people who seem strange or foreign to you. But as knitters and as humans, we owe it to ourselves and to each other to forge these unlikely connections. Making things by hand, after all, is an intimate human endeavor and we should use it not only to knit strings into socks or sweaters or shawls, but also to knit person to person, strangers into friends.
In Harry Potter and the Sorcerer's Stone, J.K. Rowling wrote, "There are some things you can't share without ending up liking each other, and knocking out a twelve-foot mountain troll is one of them."
Knitting is another.
---
This issue: Slipping Into the Past
What do you think of when you hear the word "slipper". What image comes to your mind? Do you see a special kind of sock? Perhaps you see a sock that only covers your foot, with no cuff. Or perhaps you see a sock with an especially long cuff that looks something like a boot. Do you see a pair of shoes to wear in the house? Are they made of cloth? Leather? Sheepskin?
Google's dictionary defines the word slipper like this:
slip·per; ˈslipər, noun
1. a comfortable slip-on shoe that is worn indoors.
2. a light slip-on shoe, especially one used for dancing.
The Minal Footwear company blog claims that there are five types of slippers:
Sandal slipper: a cushioned footwear with fabric or soft rubber soles and a few leather belts that goes across the foot.
Slip on: a fabric-made footwear, wherein the fabric surrounds the foot and only covers the toes and the top of the foot, heels exposed.
Closed back: basically a slip on covering the heel.
Moccasin: a footwear made of soft leather or synthetic material combined with hard rubber or leather for the sole.
Novelty: a footwear made of a very soft material and in a larger size further covering the entire foot.
This list is far from comprehensive.
Throughout history, slippers have conjured up different ideas and pictures in people's minds around the world. From my grandmothers slip-on house shoes and my own Minnetonka Moccasins, to the backless babouches of Turkey and knitted jorabs of Central Asia, the Middle East, and the Balkans, the variations are almost endless.
Although ancient shoes were often more like slippers than what we would recognize as shoes today, the first time "slipper" was mentioned in writing was when a 12th-century Chinese officer wrote about flip-flop type shoes he saw in the area that is now Vietnam. Perhaps unsurprisingly in a patriarchal world, slippers were worn often by concubines. Their delicate construction and lack of a solid sole were meant to inhibit the womens' movement outside of the harem and remove any possibility of escape.
Since then, slippers have been worn for many less nefarious reasons: to keep floors clean, because they're easy to put on and take off, because they are pretty when sitting cross-legged on the floor, and to keep one's feet comfortable and warm when at home. At times luxurious slippers were worn by the rich as a sign of social status, while at other times coarse or simple slippers have been the only shoes the poor could afford. today, in many cultures, slippers are provided at the entrance to every house and outdoor shoes are never worn inside.
Among the many kinds of indoor shoes and socks people have worn in different places and times are boudoir slippers, bedroom slippers, evening slippers, house shoes, bed socks, carriage slippers, and dancing slippers. Women's fancy high-heeled slip-on shoes, such as Cinderella's glass slipper and Dorothy's ruby slippers, are yet another category. There are even silk-lined, velvet slippers named after Prince Albert, Queen Victoria's husband, which were worn at black-tie dinner parties held in Downton-Abbey style homes when men would adjourn to the smoking lounge after the meal. Today these are known simply as smoking slippers.
I guess I've been obsessed with slippers for most of my life. I've always hated wearing shoes—indoors or outdoors—and have wanted something comfy on my feet year round. I wear knitted slippers or sheep-skin moccasins in winter (with boots for when I have to leave the house in bad weather), and I live in flip flops all summer. (Yes, flip-flops—worn at the beach or pool, in the house, or even out-and-about in tropical climates or in the heat of summer in temperate zones—can also be considered slippers. In Hawaii, this classic footwear is known as the slippah or rubber slipper).
A few of my favorite knitted slipper styles:
Bosnian Slipper Socks, which come in several different styles, and are also made in other countries in the Balkan region.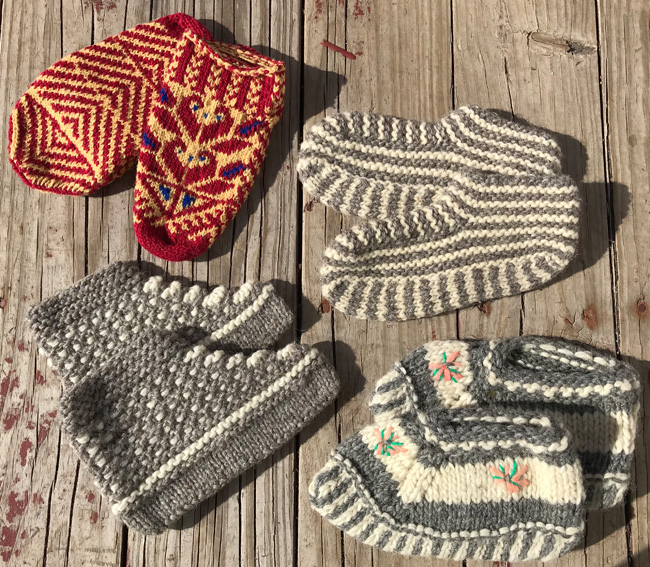 Bosnian Slipper Socks purchased on Etsy.
Jorabs, the traditional toe-up socks of Azerbaijan, Turkey, and other countries in Central Asia and the Middle East.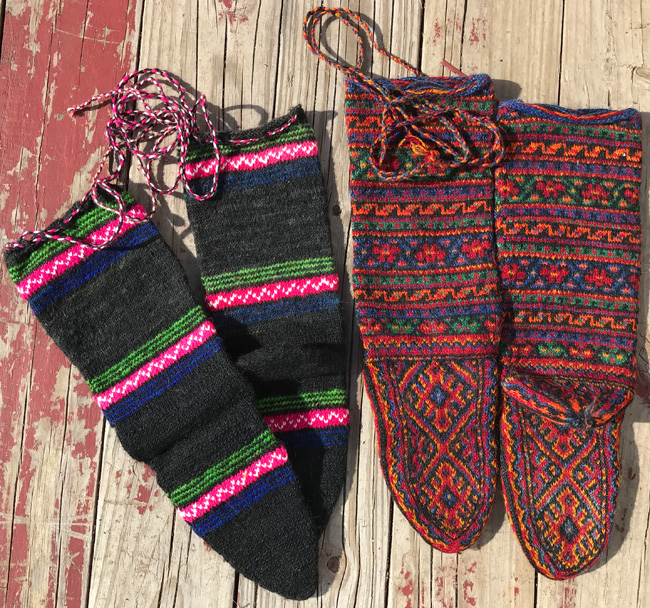 Jorabs given to me by fabulous knitting friends.
Iranian-style Slippers. This style is also popular in Azerbaijan, where I intend to go as soon as possible to meet the knitters of the Azerbaijani sock cooperative.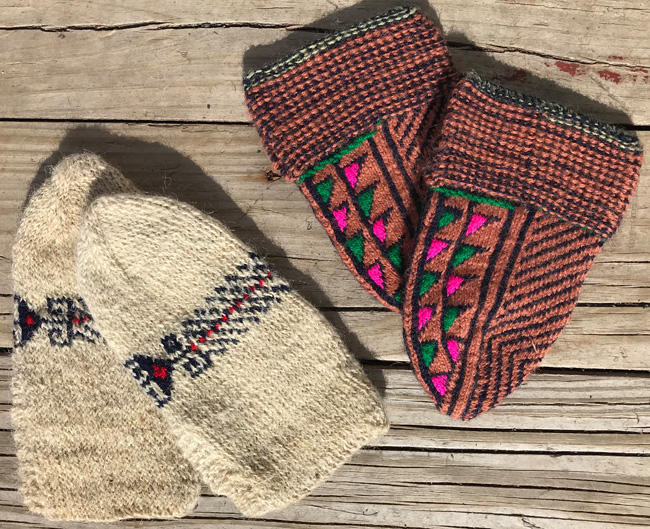 Iranian-sytle Slippers, so-called because I first discovered them when I purchased two pairs from an Iranian woman at a flea market.
Good Old-fashioned Easy Knitted Slippers, which are to me, an adaptation of the Iranian slipper.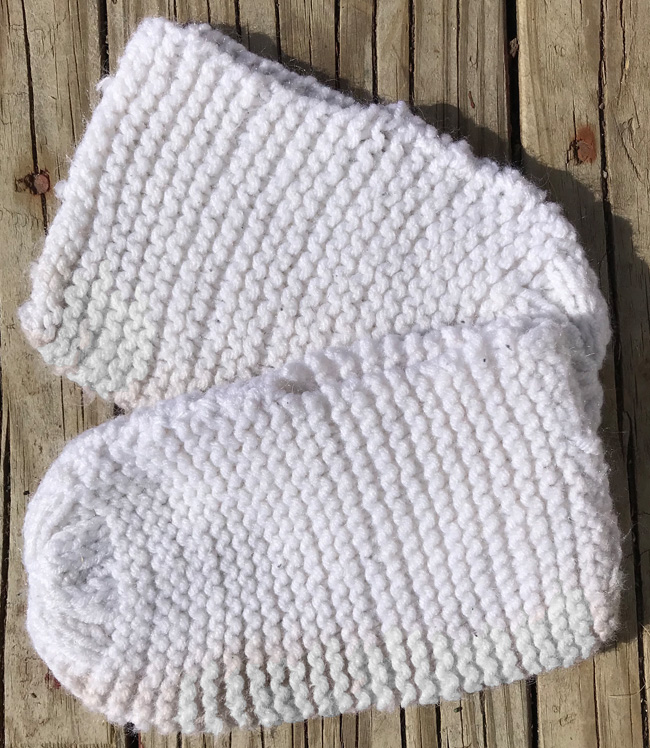 Easy Knitted Slippers made by Phebe Downs, a close family friend, in the 1970s.
I'm glad to know that I'm not alone in my love of slippers. These comfy shoe-sock-sandal-hybrids are a part of global history and are still popular around the world today.
Further Reading
INTRODUCTION
---
Shoe or Sock? That is the Question.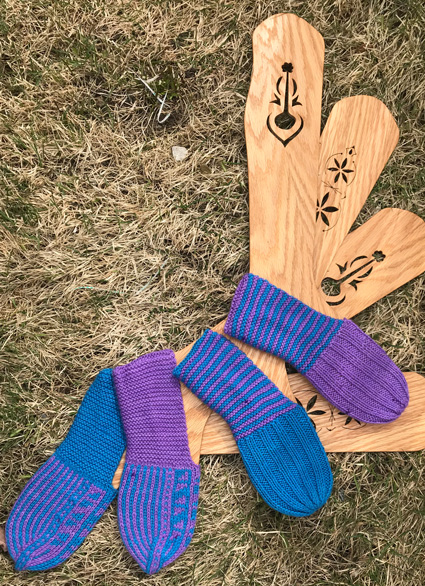 by Donna Druchunas


Ribbed Slippers [top right]




Colorwork Slippers [bottom left]
You know fall is coming when your toes start getting cold and you don't want to go barefoot even in the house. Slippers are the perfect project to kick off your fall knitting. They're fast to make, and then you'll have them to keep your feet warm while you start working on the rest of your fall and winter projects. There are two patterns included here:
The Colorwork Slippers are a historical style that I believe is one of the earliest knitting projects. They are traditionally made toe up, but I made this pattern starting at the back of the heel and working down to the tip of the toe. The heel is simple garter stitch and the foot is stockinette stitch with two-color patterning. Perhaps this design originated before purling was invented. We'll probably never know for sure.
The Ribbed Slippers are a basic version that's suitable for beginning knitters. This version has been included in knitting pattern books for as long as they've been published. It reminds me of the first half of the twentieth century when my grandmother always wore her "house shoes" when we were at home. They have the same basic shape as the traditional version but they're knit flat and you only use one color at a time. Stripes add a splash of interest to the heels and ribbing make the slippers so stretchy that you almost can't make the wrong size.

photos: Dominic Cotignola
SIZE
Women's S[M, L]
see Pattern Notes for sizing recommendations
FINISHED MEASUREMENTS
Ribbed Slippers
Circumference: 5[5.5, 6] inches/ 12.5[14, 15] cm, blocked
Length: 9[10, 11] inches/ 23[25, 28] cm, or to desired length
Colorwork Slippers
Circumference: 6[6.5, 7] inches/ 15[17, 18] cm, blocked

Length: 9[10, 11] inches/ 23[25, 28] cm, or to desired length
MATERIALS
Yarn
ModeKnit Yarns ModeWerk Worsted [100% Merino wool; 218yd/199m per 100g skein];


[Color 1] Lavender; 1 skein


[Color 2] Lyanna Blue; 1 skein
Note: Two pairs of slippers can be made with this amount of yarn.

Recommended needle size
[always use a needle size that gives you the gauge listed below - every knitter's gauge is unique]
Ribbed Slippers


US #4/3.5mm needles for working flat
Colorwork Slippers


US #4/3.5mm needles for working flat


US #6/4mm needles for small circumference in the round: DPNs, 1 long or 2 short circulars

Notions


yarn needle


stitch markers (for Colorwork Slippers only)
GAUGE
20 sts/28 rows = 4 inches/10 cm in single-color Stockinette stitch on US #7/4.5mm needles
23 sts/40 rows = 4 inches/10 cm in garter stitch on US #4/3.5mm needles
27 sts/24 rounds = 4 inches/10 cm in colorwork pattern on US #6/4mm needles (for Colorwork Slippers only)
Tip: Gauge is measured blocked. I suggest making a swatch and washing it with this yarn because the superwash wool opens up a bit when you wet it and my sample slippers both grew in size when I soaked them for blocking.
PATTERN NOTES
[Knitty's list of standard abbreviations and techniques can be found here.]
Choosing a size:
I like slippers to have negative ease so both of these pairs are designed to stretch to fit. For the Colowork Slippers, choose a size 1-2 inches smaller in circumference than your foot. The Ribbed Slippers are very stretchy - choose a size 2-3 inches smaller in circumference than your foot.

Technique:
CHARTS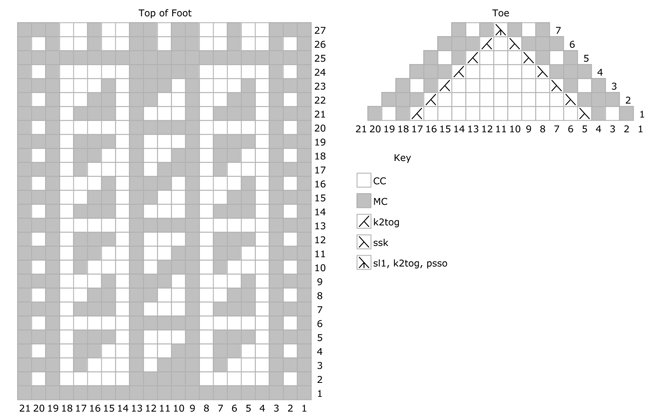 DIRECTIONS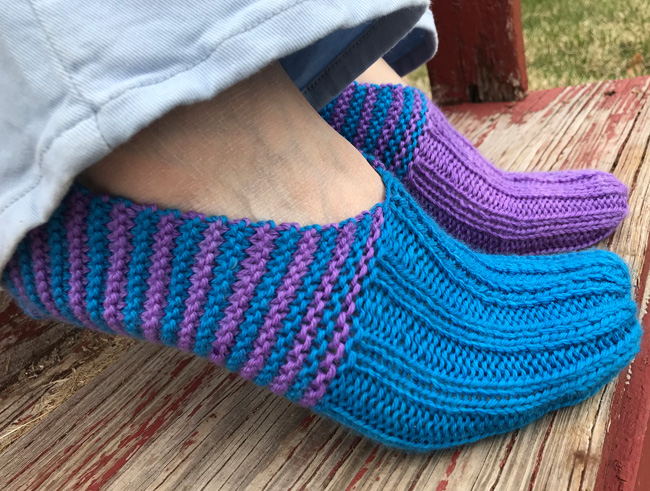 RIBBED SLIPPERS
Using needles for working flat, with MC and the long-tail method, CO 32[36, 40] sts, leaving an 8 inch/2ocm tail for sewing heel seam later.
Heel
Joining CC after first row rows, and continuing with both colors attached, work as follows:
Knit 2 rows MC, knit 2 rows CC.
Repeat this four-row pattern until you have worked 46[48, 50] rows total, ending with 2 rows MC.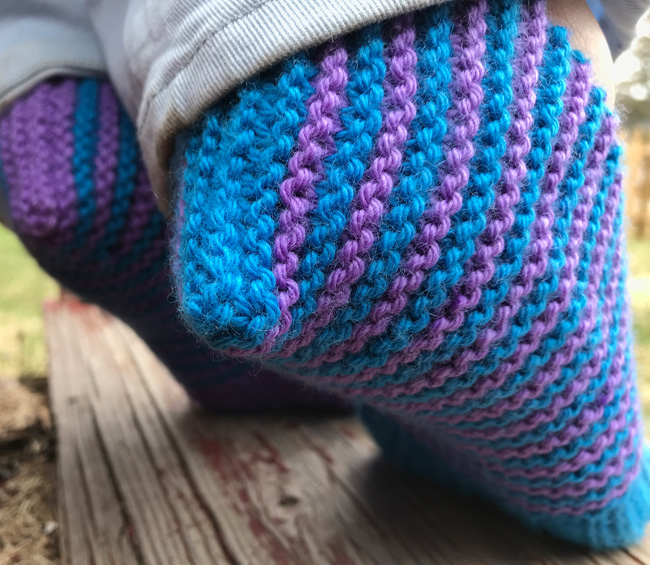 Foot
Cut CC and continue only in MC.
Row 1 [RS]: Kfb, knit across to last st, kfb. 34[38, 42] sts.
Row 2: Purl.
Row 3: [K2, p2] to last 2 sts, p2.
Row 4: [P2, k2] to last 2 sts, k2.
Rep Rows 3 and 4 until foot measures 8.5[9.5, 10.5] inches/ 22[24, 27] cm or .5 inch/1cm less than desired length.
Toe Shaping
Next row [RS]: [K2tog, p2] to last 2 sts, k2tog. 25[28, 31] sts.
Next row [WS]: [P1, k2tog] to last st, p1. 17[19, 21] sts.
Next row [RS]: K2tog across to last st, k1. 9[10, 11] sts.
Cut yarn leaving a 12 inches/30cm tail for sewing seam on top of foot. With tapestry needle, draw yarn through rem sts and gather together to fasten off.
COLORWORK SLIPPERS
Using needles for working flat, with MC and the long-tail method, CO 32[36, 40] sts, leaving a 6 inch/15cm tail for sewing heel seam later.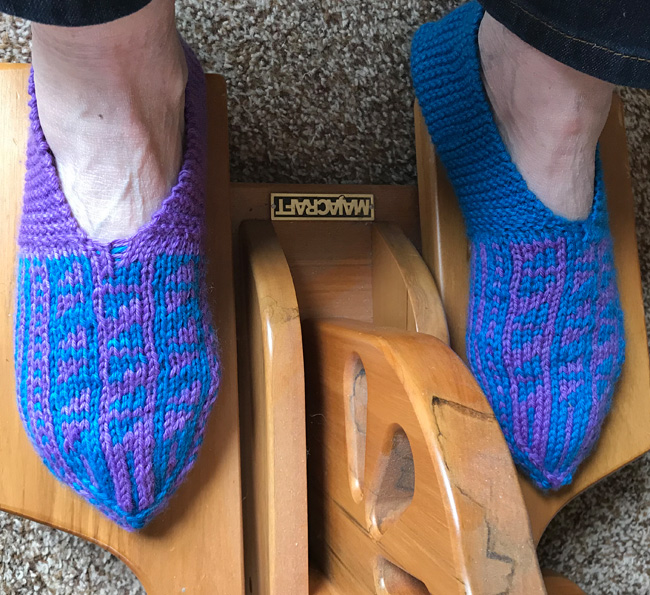 Heel
Work in garter stitch for 46[48, 50] rows.
Foot
Inc row, size S and L only [RS]: (K 4[-, 5] , m1) around. 40[-, 48] sts.
Inc row, size M only [RS]: (K4, m1, k5, m1) around. -[44, -] sts.
Change to needles for working in the round, and join to work in the round. Knit 11 sts past the join, pm. This is now the beginning of the round. Join CC.
Rnd 1: K1 CC, [k1 MC, k1 CC] across the first 19[23, 27] sts for sole, pm, then work Foot Chart over rem 21 sts for top of foot.

Continue in patts as set until all rows of foot chart have been completed.
Repeat Rows 26 and 27 until foot measures desired length to toe shaping or 1.5[1.75, 2] inches/ 4[4.5, 5] cm less than desired total length.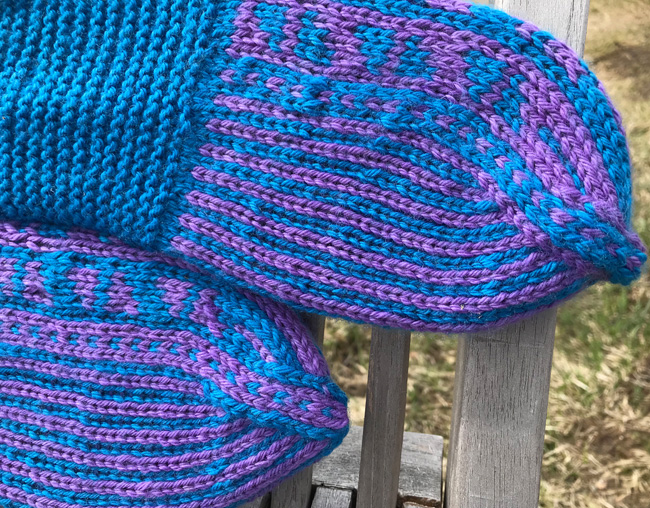 Toe Shaping
Dec rnd: SSK with CC, work in patt as set to 2 sts before marker, k2tog with CC, work as charted to end of rnd. 2 sts decreased.
Rep Dec rnd 1[3, 5] more times, until 15 sts rem between markers on sole. 36 sts total.
Next rnd: SSK CC, work in patts as set to 2 sts before marker, k2tog CC, work Toe Decrease Chart to end of rnd.
Repeat last rnd until row 6 of Toe Decrease Chart is complete. 3 sts rem on sole.
Final rnd: Sl, k2tog, pass slipped sts over, work row 7 of Toe Decrease Chart. 8 sts rem.
Cut both colors of yarn and with tapestry needle, draw tails through rem sts and gather together to fasten off. Pull tails to inside of slipper.
FINISHING
Ribbed Slippers:
Use ending tail to sew top of foot with Mattress stitch, working 1 st in from the edge. This will make the center of the top of the foot look like 2 knits together, matching the rest of the ribbing.
Both Slippers:
Fold the heel in half. Use CO tail to sew the back of the heel together with whip stitch.
Weave in ends. Wash and dry flat to block.
ABOUT THE DESIGNER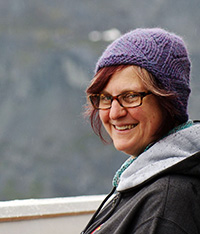 Donna Druchunas is obsessed with her family history and the history of knitting. In addition to writing this column about Our Knitting Roots, she is also running a book club for knitters who want learn to appreciate the people, places, and cultures behind the stitches of their knitting projects. She is the author of many knitting books including her newest titles: How to Knit Socks that Fit and The Art of Lithuanian Knitting . Donna has taught knitting workshops in the United States, Canada, and Europe and she has five knitting classes on Craftsy.

Her newest project is opening a small local yarn shop in rural Vermont where lives she with her husband, mother, three cats and a long-haired Chihuahua. Visit Donna's website.
Pattern & images © 2018 Donna Druchunas