Feature: Knittyspin
INTRODUCTION
Knittyspin
Combo Draft vs. Combo Spin: What's the Difference?

In my classes, I get a lot of questions about combination drafting and combination spin. They aren't the same thing, though. They both combine braids to make a cohesive and plentiful yarn for a bigger project like a sweater.
The first place I heard about combination drafting was from Felicia Lo of Sweet Georgia Yarn. Combination drafting is holding two or more strips of fiber together and drafting them like they are one fiber. A combo spin, which I heard about on the PassionKnit podcast, is combining various braids that are similar in color in the ply to create serious yardage that all goes together.
Spinners use both methods to help spin down their stash, to combine lots of single braids for a bigger project, and to mix colors in relatively stress-free way.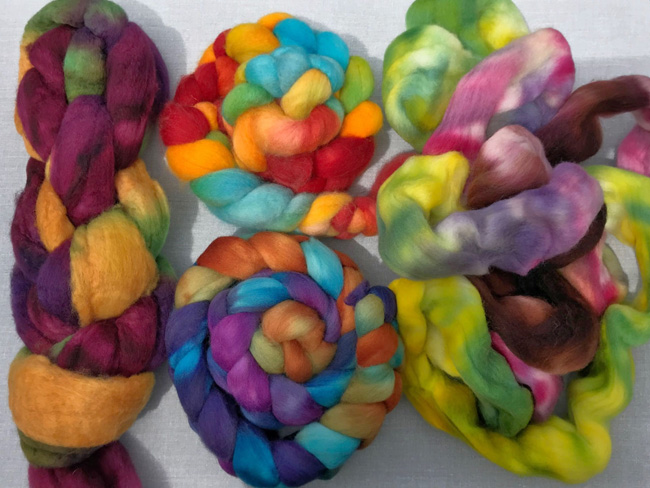 L to R: Frabjous Fiber, Cjko Designs (top), Into the Whirled (bottom), Hello Yarn
I know what they are and how they work, but I'd never compared them side-by-side, until now.

What's the difference between the two? Broadly, in a combo draft, two thin strips of different braids are drafted together into a single, and then plied with another combo-drafted single, combining colors in both single and ply.  Combo drafting can be done in any amount, for a scarf or for a sweater.
In a combo spin, used a lot for spinning a sweater quantity of yarn, a number of braids are chosen (8 is the number many people use), broken into chunks, spun in random color order and then plied with a similar single. Colors are shuffled from the original braid and combined in the ply.
For my samples, I took four braids and divided them in half length-wise. Half I set aside to become my combo-drafted sample and half I set aside to be my combo-spin sample. I chose a braid each from CJKoho Designs (BFL), Hello Yarn (Falkland), Into the Whirled (Falkland), and Frabjous Fibers (BFL).
How did I choose the braids?
When I choose braids for a combo draft, I keep one color similar-ish between braids. If they are in the same family I'm happy, like deep red and pale pink. Frankly I've been very happy with ones that have nothing in common, but that's a different article.

For a combo spin the braids chosen are usually more homogenous, mostly purples with maybe one or two braids for a contrast.
For this experiment I chose more for combo draft, more of a shakeup of color than sticking with a color theme. All the braids have a yellow/green that's similar.
Working with fibers or blends that are a similar staple length is easiest especially for combo draft, but I'm willing to do a little extra work to find that sweet drafting spot between breed or blends. When mixing breeds and blends, lovely textural things can happen. I like to add some BFL or silk to my mixes for a tiny bit of shine.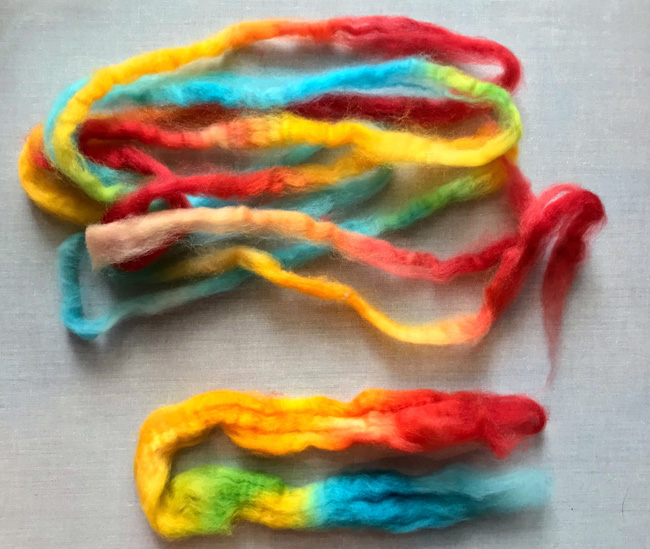 One division for combo drafting (top) and one division for combo spin (bottom)
Preparing the fiber to spin is very different between the two styles of spinning, and helps to give each style it's distinct look.
For a combo spin, a braid is divided into 16 pieces, eight times horizontally and one time vertically. This style of dividing breaks up the dye pattern of the original braid, and leaves each color chunk big, with the result that each color will have a long run in the yarn.
For a combo draft, each braid is divided only vertically, 16 or more times. The result is that the dyed color pattern remains intact, but each color will have a short run.
Because I'm working with less fiber for this experiment, I divided each type into 8 pieces, 32 pieces in all, 16 for each bobbin.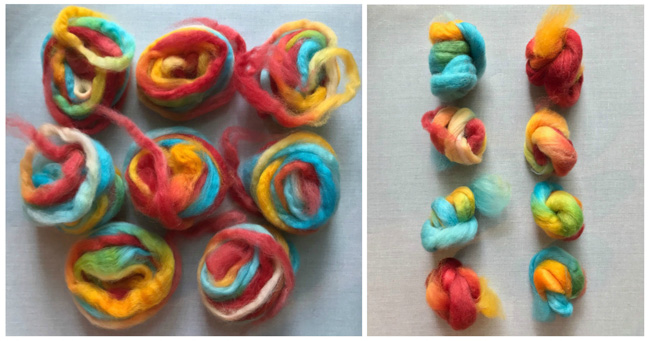 One braid divided for combo drafting (left) and combo spin (right)
Before I sat to spin each yarn, I set up nests for each bobbin. For the combo draft, I wound two randomly chosen strips together, and placed them into one of two bags (one for each ply). For the combo spin yarn, I wound four randomly chosen chunks together and placed them into one of two bags.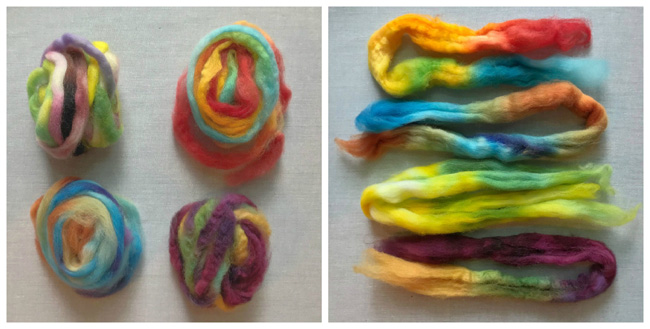 The four braids divided for combo draft (left) and combo spin (right)
Then I spun. For combo spinning the only tricky bits are joins. If you are unsure or don't have much practice in joins, this is a great type of spin to get practice.
For combo drafting, it takes a little practice to draft two pieces of fiber together. I like to work with pieces that are one finger wide for easy manipulation.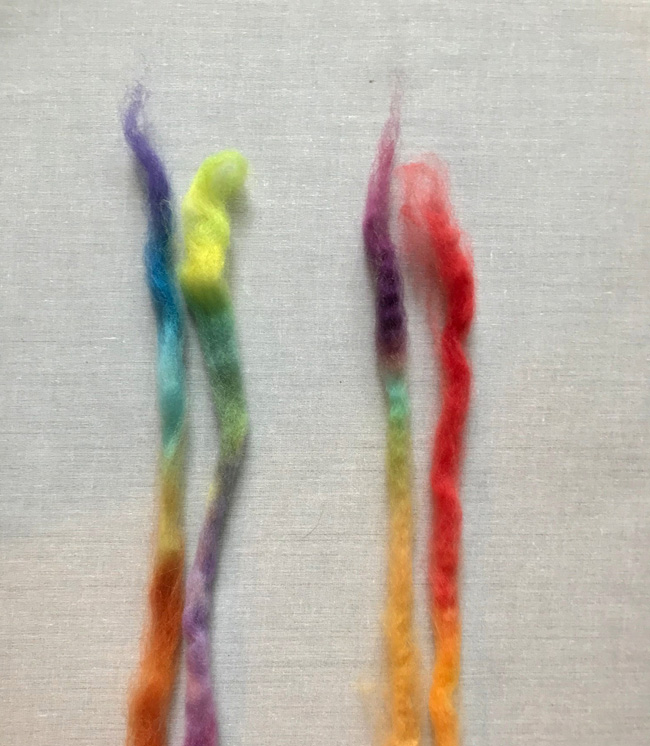 Two strips ready for combo drafting
If the fibers are different staples or just want to be feisty, I overlap the strips slightly and pre-draft all the way down the length to help the fiber catch and play nicely.
Even in the singles, I can see that these yarns are going to look very different. The combo spin singles is one clear color after another. The combo draft mixes color throughout the single, in a marl or barber pole.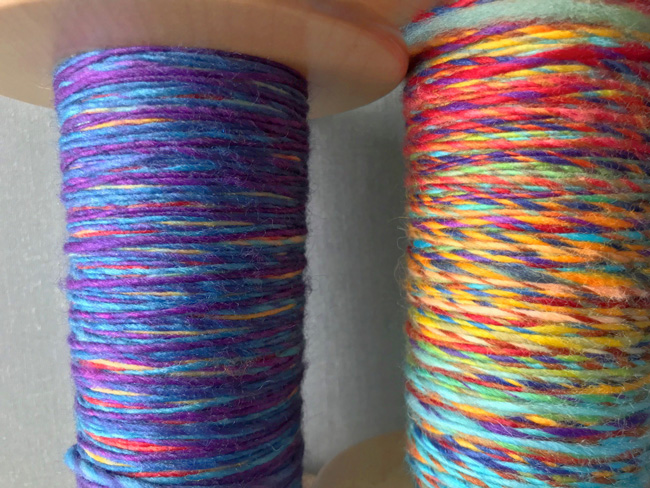 Singles on bobbins, combo spin (left) and combo draft (right)
In the ply, the colors layer. In combo spin, two colors at a time wrap around each other. In combo draft, it's as much as four colors interacting.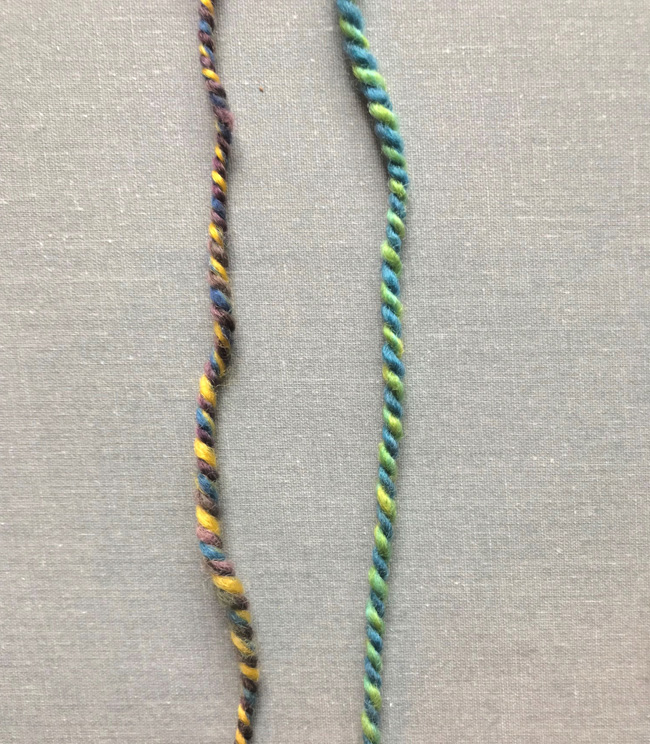 2-ply combo draft (left), combo spin (right)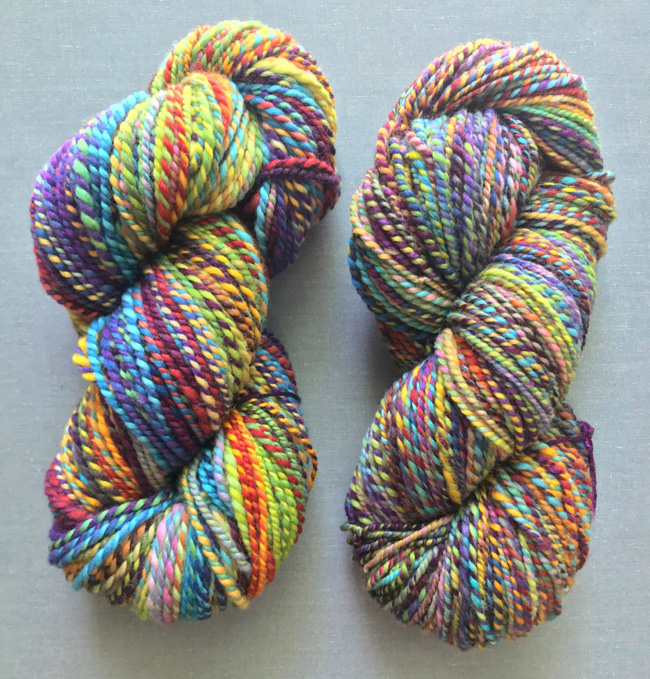 Finished skeins combo spin (left) and combo draft (right)
In knitting they both look great, but different in color interaction and visual feeling.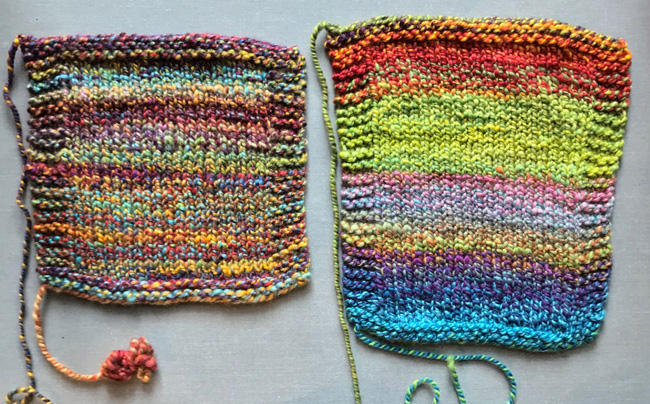 Combo draft (left) and combo spin (right)
The combo drafted swatch is speckles of color, because there are so many colors near each other. The overall look is darker than the combo spin swatch. In a combo drafted 2-ply yarn, there are four colors interacting and shifting.
When I un-ply the yarn you can see the marl in the individual plies that then come together into a double marl.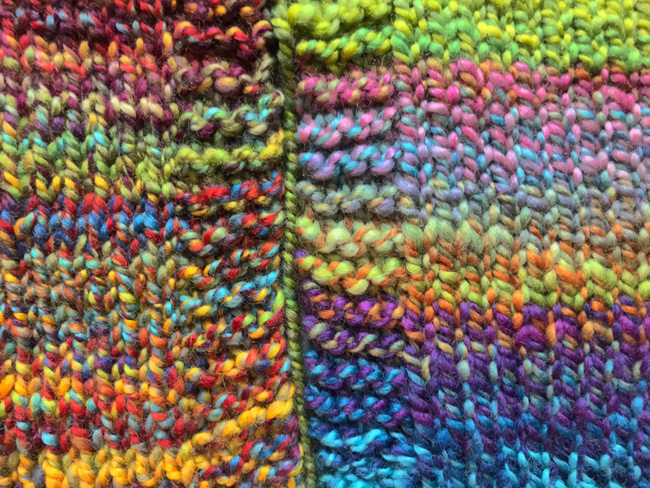 Combo draft (left) and combo spin (right)
The combo spin swatch has striping and the colors are brighter, because only two colors interact at a time, one in each ply. Colors match up more frequently, especially if you choose similarly colored braids, resulting in tonal matching in the ply and striping. I really want to keep knitting the combo spin yarn to see how the colors play out all the way through.
Neither way of spinning is better than the other, but spinners do have strong preferences. What really intrigues me is how well these two distinct-looking yarns would work together in a project because all of the colors used are the same.