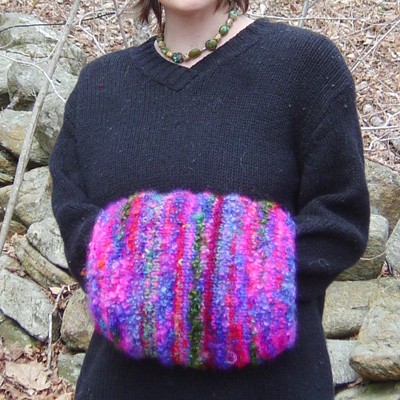 Pattern
Using two strands of CC held together, CO 40 sts. Place marker and join, being careful not to twist.
First Cuff:
Rounds 1-8: [K2, p2] to end.
Round 9: [K2, p1, pfb] to end. 50 sts.
Round 10: [K2, p3] to end. Break CC.
Muff Body:
Next Round: K all sts using 2 strands of MC yarn held together.
Continue in stockinette st, switching yarns every row (or as desired) as follows:
Switching yarns as you knit: For the most interesting effect, switch one yarn every row. For example, work the first row with one strand each of yarn A and yarn B, held together.
Cut yarn A, leaving a tail, and add a strand of yarn C, holding it together with the stand of yarn B already in use. Knit one round.
Cut yarn B, and add yarn D. Continue working in this way. You might find that some handpainted or variegated yarns can be worked for a couple of rows without changing. Do not forget to mix up the textures as you go. Think of the muff in two halves and balance the colors and textures on either side.
When work measures 11 inches from beginning of Muff Body, break MC.
Second Cuff:
Round 1: Using two strands of CC held together, [k2, p3] to end.
Round 2: [K2, p1, p2tog] to end. 40 sts.

Round 3: [K2, p2] around.
Repeat Round 3 until work measures 10 inches from end of MC section.
BO all sts loosely and break yarn, leaving a 1-yard tail.

Striped Muff:
Work the muff as above, but instead of randomly switching yarns, plan and work a stripe pattern. Alternately, combine one solid and one self-striping yarn, for a more muted, tweedy effect.