Braineater, a free knitting pattern from Knitty.com. Free knitting pattern for a tentacled colorwork hat.
INTRODUCTION
Braineater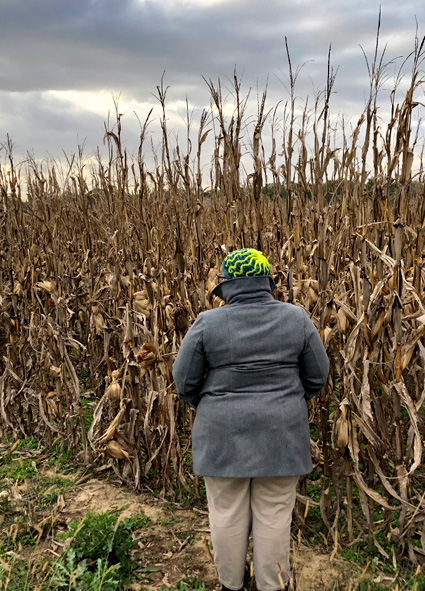 by Vi Caughran

Inspired by a fascination with cephalopods and the D&D monster mindflayer, this hat wraps you in tentacles that will hopefully keep you warm and leave your thoughts uneaten.
Malabrigo Rios is a soft merino yarn in gorgeous handyed colorways. The striping of the handpainted background color gives the look of rippling water with minimal effort. The hat is deep enough to easily cover your ears, and the stranded patterns make it nice and warm.
The colorwork pattern includes several places where CC is carried over more than 5 stitches. In these places, including at some changes between rounds, twist CC over MC at the midpoint to keep the floats between colors manageable and to even out the tension. This is especially important at transitions between two DPNs or circular needles.
Add plastic eyes for a cartoon look, or make the background color the same as your hair color to freak out the people behind you.

model: Kate Housman

photos: Vi Caughran
SIZE
Teen[Adult]
Will stretch to fit up to 21[24] inch/ 53[61] cm head circumference.
FINISHED MEASUREMENTS
Body of hat circumference: 18[20.5] inches/ 45.5[52] cm
Depth: 8.5 inches/21.5cm
MATERIALS
Yarn
Malabrigo Rios [100% superwash merino wool; 210 yd/192 m per 3.5 oz/100 g skein];


[MC] 855 Aguas; 1 skein


[CC] 011 Apple Green; 1 skein
This is enough yarn to knit one small and one large hat.

Recommended needle size
[always use a needle size that gives you the gauge listed below - every knitter's gauge is unique]


1 US #8/5 mm circular needle, 16 inch/40cm


US #8/5 mm needles for small circumference in the round: DPNs, 1 long circular or 2 short circulars as you prefer

Notions


Tapestry needle


Stitch marker
GAUGE
25 sts and 26 rounds to 4 inches/10 cm over stranded colorwork
22 sts and 26 rounds to 4 inches/10 cm in stocking stitch
PATTERN NOTES
[Knitty's list of standard abbreviations and techniques can be found here.]
Slipped Waves Stitch (worked in the round over a multiple of 5 sts)
Rnds 1 and 4: Knit.
Rnds 2 and 3: P1, sl1 wyif, p1, sl2 wyif.
Techniques:
CHARTS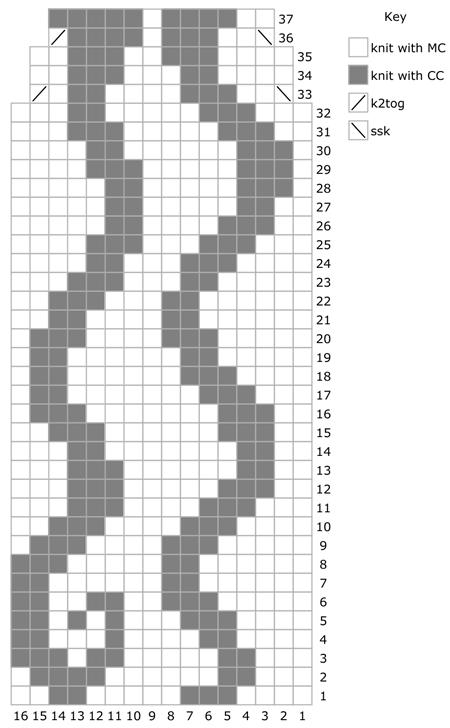 DIRECTIONS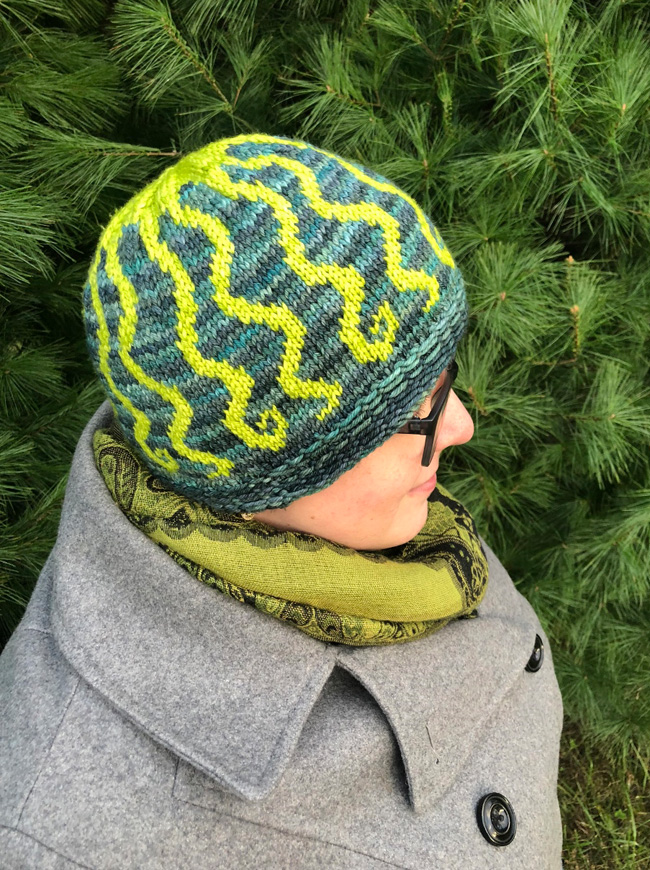 With MC and your preferred method, CO 100[115] sts, place marker and join for working in the round, being careful not to twist.
Cuff round: Work Slipped Waves pattern around.
Work until you have completed 12 rounds of the Slipped Waves pattern.
Next round, increase – first size only: (K8, m1) to last 4 sts, k to end. 112 sts.
Next round, increase – second size only: (K9, m1) to last 7 sts, k to end, m1. 128 sts.
Next round, establish chart: Work Chart 7[8] times around.
Work as set until chart is complete. 84[96] sts.
Break MC. K one round.
Crown
Large size only:
First decrease round: (K6, k2tog) around. 84 sts.
Following round: Knit.
Both sizes continue:
Decrease round 1: (K5, k2tog) around. 72 sts.
Decrease round 2: (K4, k2tog) around. 60 sts.
Decrease round 3: (K3, k2tog) around. 48 sts.
Decrease round 4: (K2, k2tog) around. 36 sts.
Decrease round 5: (K1, k2tog) around. 24 sts.
Decrease round 6: K2tog around. 12 sts.
Break yarn, leaving a 3 inch/7.5cm tail. Thread tail through remaining sts and fasten off securely.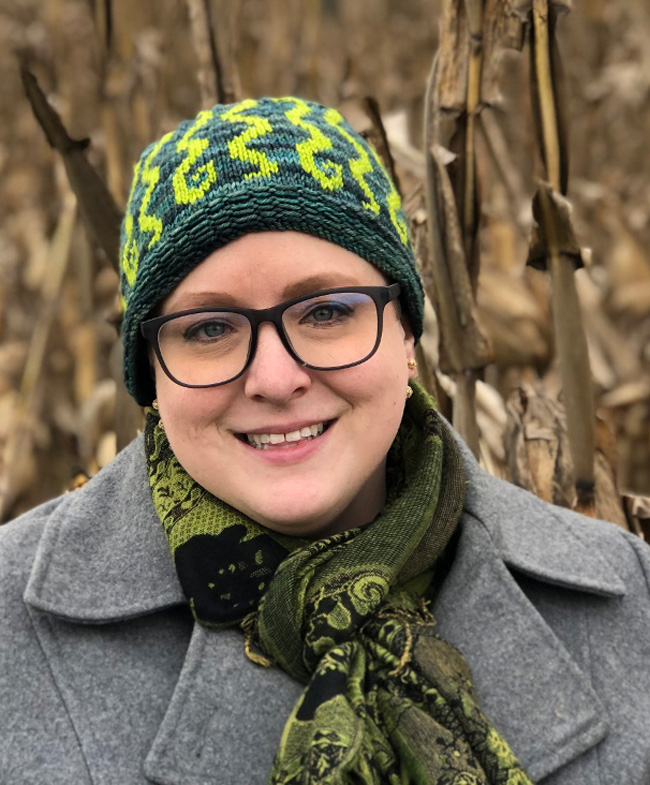 FINISHING
Weave in ends.
Block as desired, using a foam head, ball, or balloon of the appropriate size.
ABOUT THE DESIGNER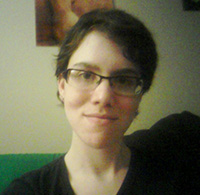 A writer and native of Toronto, Vi Caughran currently lives in Indianapolis with their girlfriend and a demanding cat. You can find them on Ravelry.
Pattern & images © 2018 Vi Caughran.