Glass Island, a free knitting pattern from Knitty.com. Free knitting pattern for a double-knit colorwork cowl.
INTRODUCTION
Glass Island

This colorful cowl is knitted in luxurious 100% baby alpaca and is double-sided to make a super thick and snuggly winter accessory – which is also reversible!
I first squished this yarn a year ago and totally fell in love with the two vibrant colors – a deep royal blue and bright yellow-green - wondering how I might be able to combine them. Fortunately, there were two Knitty patterns which inspired me. I really love the use of contrasting blue and yellow in a striking geometric design in the Urban tribe cowl. However, the technique used (back-to-back layers of stranded colorwork) could have resulted in too bulky a cowl using my chosen yarn, so it was the construction method of the Love actually is all around cowl, using double-knitting technique, which I preferred for producing a reversible design. I'm a big fan of this technique as it produces a beautifully smooth fabric and there is no reverse side to hide. The cowl also uses a two-color tubular cast-on and a Kitchener bind-off which gives a neat, stretchy, invisible edge.
I often see design inspiration in the patterns found in historic architecture. Glass Island is a reference to Murano, the home of Venetian glass. The particular geometric pattern in this cowl is based on part of a twelfth-century marble mosaic floor, located in the island's basilica of SS. Maria e Donato. On a recent trip to see the floor, I was like a child in a sweet shop on discovering that photography was permitted (which it hadn't been on my previous trip a few years ago) so I came away with a huge stash of photos!
The cowl really brightens up the neck of a winter coat, or looks great worn with a cosy sweater for snuggling up indoors. Roll on winter!

model + photos: Anna Pack
FINISHED MEASUREMENTS
Circumference: 25 inches/64cm
Height: 8 inches/20cm
MATERIALS
Yarn
Juniper Moon Farm Herriot [100% baby alpaca; 219 yd/200m per 3.5 oz/100 g skein];


[MC] Royal Heather; 1 skein


[CC] Golden Llama; 1 skein

Recommended needle size
[always use a needle size that gives you the gauge listed below - every knitter's gauge is unique]


1 US #6/4mm circular needle, 16 inch/40cm long

Notions


stitch markers


yarn needle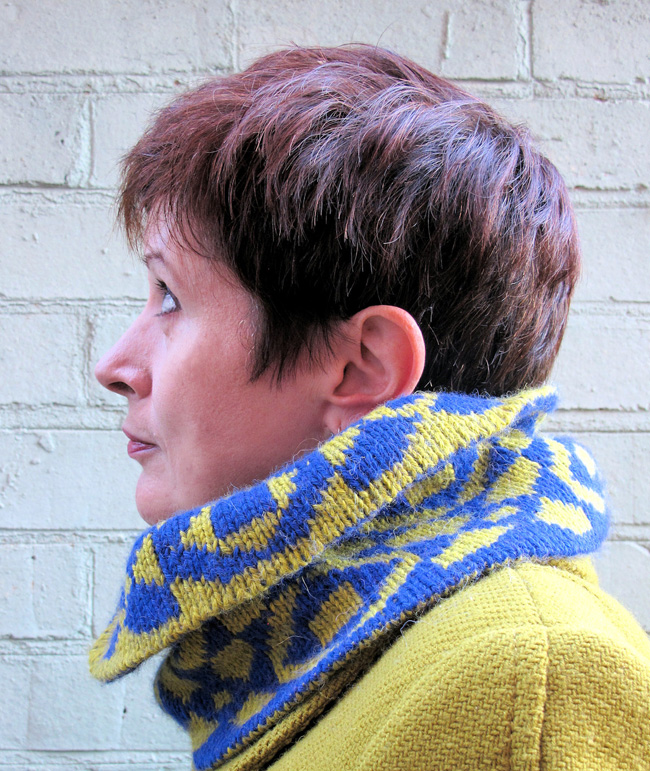 GAUGE
19 sts/25 rounds = 4 inches/10 cm in double knit stockinette stitch after blocking
20 sts/27 rounds = 4 inches/10 cm in standard stockinette
Note: Creating a swatch is highly recommended as gauge in double-knitting is often looser than that obtained over stockinette stitch or stranded colourwork. Adjust needle size if necessary to obtain desired gauge in order to produce a smooth and even fabric. Try to avoid a looser gauge than recommended. A tighter gauge than recommended is not necessarily a problem but will affect the finished dimensions of the cowl. For avoidance of doubt, the gauge given above is for stitches visible on one side of the cowl only.
PATTERN NOTES
[Knitty's list of standard abbreviations and techniques can be found here.]
Two color cast-on
A tubular two-color cast-on (also known as two-color Italian cast-on) is used for this cowl. A video tutorial can be found here. When casting on using this method, hold MC over your finger and CC over your thumb.
Double knitting
The pattern uses the double knitting technique, working with two strands of yarn throughout to produce two layers of stockinette back to back, with the reverse side of the cowl being the mirror image (in terms of color) of the front side.
Double knitting involves working pairs of stitches, using two colors. Holding both strands of yarn behind the work, the first stitch of each pair is worked as a knit stitch using one color. Bring both strands to the front of the work and purl the second stitch with the second color. The charted pattern only shows the front side of the work – for each stitch shown it is therefore necessary to knit that stitch in the given color then immediately work a purl stitch in the other color used for that round.
Holding both yarns in one hand, or one in each hand, is a matter of personal preference. If holding in one hand, it is useful to alternate the direction in which yarns are swapped to avoid the yarns becoming twisted.
One-needle Kitchener bind-off
The bind-off method used is based on Kitchener stitch to graft both sides of the cowl together. This requires a yarn needle in addition to the working circular needle. The first step involves a set-up round where the first stitch in each pair is slipped (with yarn at back of work) and the second stitch in each pair is purled using CC. Then, using a long tail of MC yarn (approximately 4 to 5 times the circumference of the cowl) and a yarn needle, the two sides are grafted together using Kitchener stitch. Usually grafting is performed after moving alternate stitches to a second knitting needle, however this is not essential, as shown in this video tutorial.
CHARTS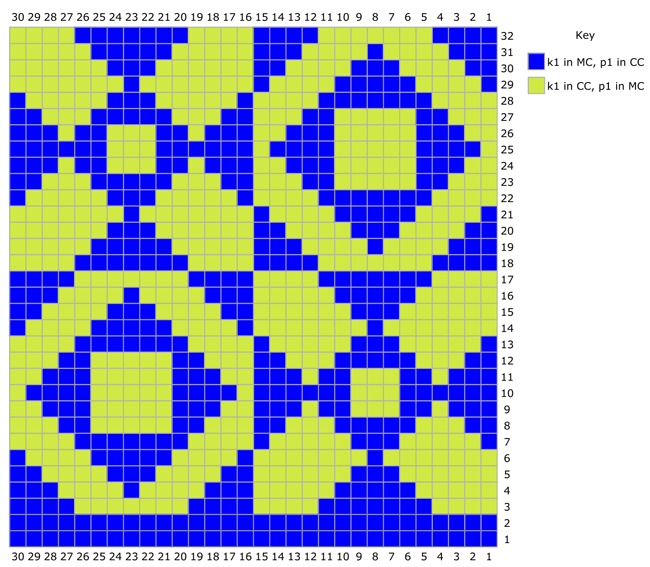 DIRECTIONS
Cast on
With circular needle and MC and CC, cast on 240 stitches – 120 pairs – using the two-color cast-on method described above. It may help to place a marker after every 60 stitches (30 pairs) between each pattern repeat. After all stitches are cast on, place a different color marker to indicate the end of the round. Join to work in the round, removing the initial slip knot from the needle and taking care not to twist stitches around needle.
Establish pattern
Round 1 [RS]: Using double knitting technique and MC & CC, work the 30-pair st rep of Round 1 of chart 4 times around.
Work as set until you have completed Round 32 of the chart.
Work Rounds 3-17 of chart again, and work Rounds 1-2 once more.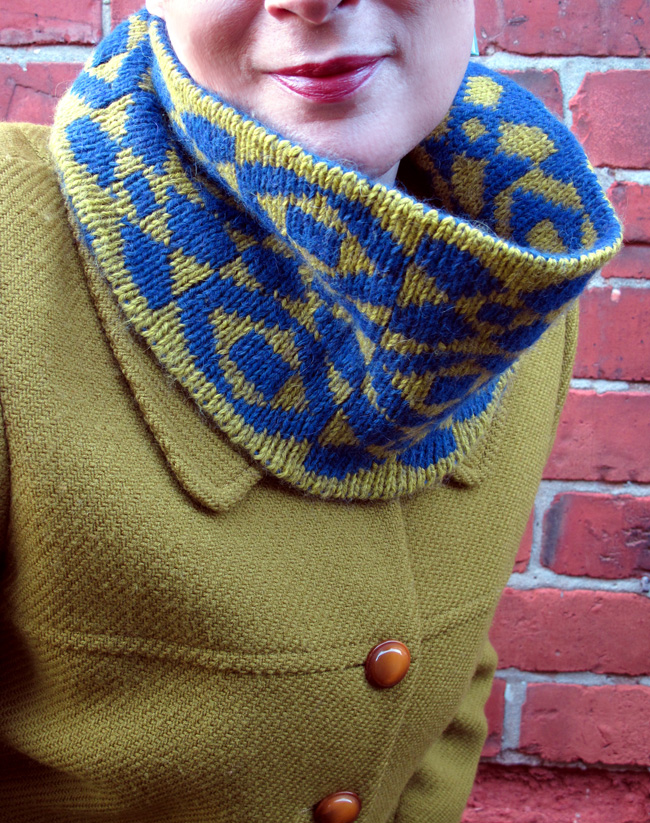 FINISHING
Using CC and the one-needle Kitchener bind-off, work a set-up round as described above. Break or cut CC, leaving a tail for weaving in. Using MC and yarn needle, graft the two sides of the cowl together as described above.
Undo the original slip knot from the cast-on edge and weave in all ends between the two layers of fabric, ensuring invisible from both sides. Block to the given dimensions.
ABOUT THE DESIGNER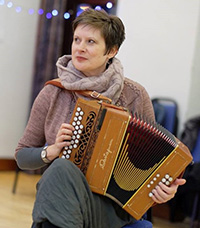 Anna started knitting scarves and jumpers for her dolls around age 7. After many years of knitting as an adult, she discovered the joy of inventing her own designs using the many wonderful yarns which are now available. A busy full-time career did not allow enough time for her creative pursuits (which also include music – she's an accordionist amongst other things!) so she now works part time to allow more space for the other things she loves doing – which include designing knitting patterns.
Find out more at skeinreaction.com.
Pattern & images © 2018 Anna Pack.