Programmer's Headgear, a free knitting pattern from Knitty.com. Free knitting pattern for a DETAILS HERE.
INTRODUCTION
Programmer's Headgear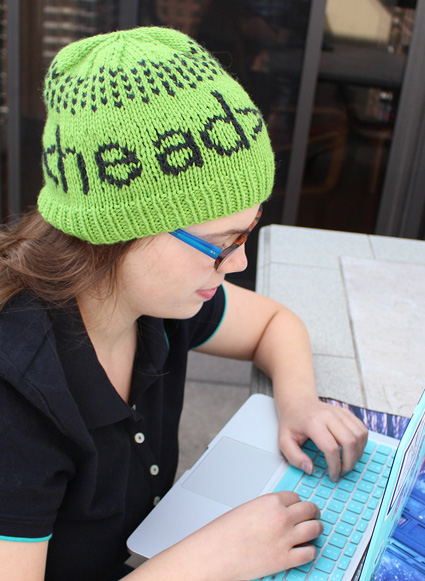 by Merri Fromm

Sitting in front of a computer screen, a programmer wants to have a little style. And in the winter, a little warmth. Why not show a little humor as well, and a reminder to help your fellow coders with their work? Meant to be worn for your next Hackathon, or just to get out from behind your laptop with friends.
Knit in easy colorwork and a simple pattern, this hat is quick and will be done in no time. A perfect first colorwork project. This is a "beanie" style hat, choose a hat size that is a little smaller than the intended head.

model: Tamara Nelson-Fromm

photos: Merri Fromm
SIZE
XS[S, M, L, XL]
Shown on model in size S (MC pink is x-small, MC green is small, MC blue is medium)
Choose a size with 1–3 inches/2.5–8 cm of negative ease in the body circumference.
FINISHED MEASUREMENTS
Circumference at brim: 15[16, 17, 18, 19] inches/ 38[40.5, 43, 45.5, 48.5] cm unstretched
Circumference at body: 16[17.5, 19, 20.5, 22] inches/ 40.5[44.5, 48, 52, 56] cm unstretched
Depth: 8[8, 8.75, 8.75, 8.75] inches/ 20.5[20.5, 22, 22, 22] cm
MATERIALS
Pink version (in size x-small):


[MC] Brown Sheep Lamb's Pride Worsted [85% wool, 15% mohair; 190 yd/173 m per 4 oz/113 g skein]; color: M-38 Lotus Pink; 1 skein


[CC] Cascade 220 Worsted [100% Peruvian Highland Wool, 220 yd/ 200 m per 3.5 oz/100 g skein] color 7827 Goldenrod; 1 skein

Green version (in size small):
Cascade 220 Worsted [100% Peruvian Highland Wool; 220 yd/200 m per 100g skein];


[MC] 8903 Primavera; 1 skein


[CC] 4002 Jet; 1 skein

Blue version (in size medium):
Cascade 220 Worsted [100% Peruvian Highland Wool; 220 yd/200 m per 100g skein];


[MC] 9485 Kentucky Blue; 1 skein


[CC] 8903 Primavera; 1 skein

Recommended needle size
[always use a needle size that gives you the gauge listed below - every knitter's gauge is unique]


1 16-inch/40cm US #6/4mm circular needle


1 16-inch/40cm US #8/5mm circular needle


1 set US #8/5mm needles for small circumference in the round

Notions


yarn needle


11[12, 13, , ] stitch markers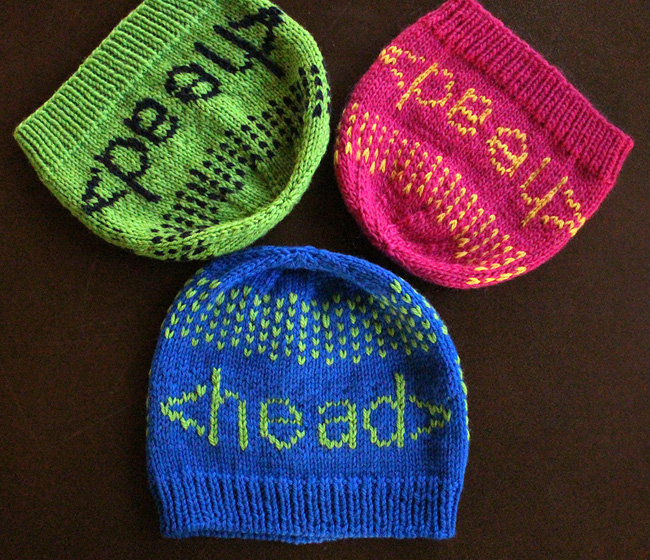 GAUGE
20 sts/23 rounds = 4 inches/10 cm in stranded colourwork
PATTERN NOTES
[Knitty's list of standard abbreviations and techniques can be found here.]
Directions and tips for stranded colorwork (Fair Isle) can be found here and here.
Trapping Long Floats
When working a stranded pattern, you knit with one color and carry the other color across the back of the work—the yarn that is being carried is called a float. You'll never want to float the non-working yarn across the back for more than 5 stitches (about 1 inch/2.5 cm at this gauge).
However, if there are sections that require the non-working yarn to be carried farther you can shorten the floats, while maintaining good tension, by "trapping" these long floats to the wrong side of the work.
This chart has some unusually long floats — this tutorial is useful to help you manage them, so that your fabric doesn't tighten up or pucker.
Try to not catch the floats between the same two stitches on subsequent rows or you may produce an unintended vertical "line" where the float color pops through. When it comes to trapping floats, more often (meaning every 3 to 5 stitches) is preferable.
Check Pattern
Round 1: [K3 with MC, K1 with CC] around.
Round 2: [K1 with MC, K1 with CC, K2 with MC] around.
Technques:
CHARTS

DIRECTIONS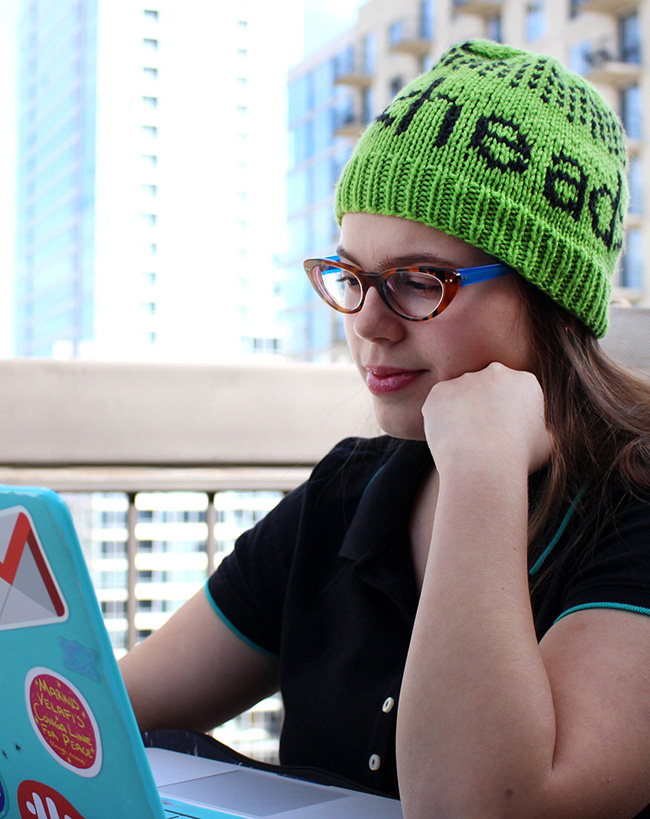 Using smaller needles, MC and Tubular method, CO 80[88, 96, 104, 112] sts. Join to work in the round and place a beginning of round marker, being careful not to twist your work.
Brim
Ribbing round: [K1, p1] around.
Work ribbing as set for 10 rows, or until piece measures 1.75 inches/4.5 cm from the cast-on edge.
Body
Change to larger needles and knit 5[5, 7, 7, 7] rounds.
Pattern round: Work Header Chart across 44 sts, work Check Pattern to end of round.
Work as set until Header Chart is complete.
Knit 4 rounds even in MC.
Next round: Work Check Pattern around.
Work until you have completed 7[7, 9, 9, 9] rounds of Check Pattern.
Next round: Continue working Check Pattern and place markers every 8 sts. There will be 10[11, 12, 13, 14] markers, including the one at the start of round.
Crown
Decrease round: With MC, [K to 2 sts before marker, k2tog] around. 10[11, 12, 13, 14] sts decreased.
Following round: Knit.
Note: As hat gets too small to work on circular needle, change to small-circumference method.
Repeat the last 2 rounds 6 more times 10[11, 12, 13, 14] sts rem.
Cut yarn leaving a 12 inch/30cm tail, thread onto yarn needle, run through remaining live sts twice and pull tight to close.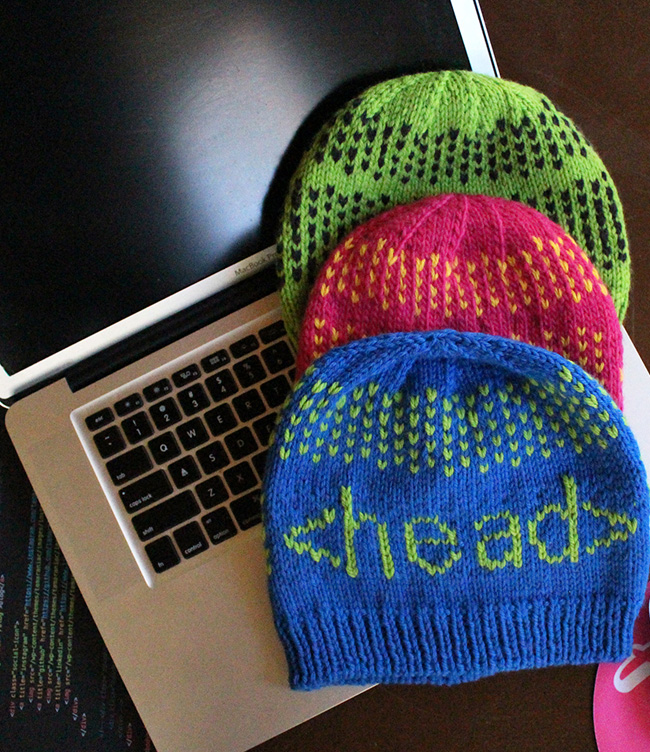 FINISHING
Weave in ends. Soak and block.
ABOUT THE DESIGNER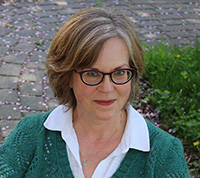 Merri lives in St. Paul, Minnesota, where she designs hand knits while also working as a graphic designer and instructor.
You'll find more of her work here and on Ravelry.
Pattern & images © 2018 Merri Fromm.