Spinal Twist, a free knitting pattern from Knitty.com. Free knitting pattern for a spiral-stitch cowl that uses handspun or commercial yarn.
INTRODUCTION
Spinal Twist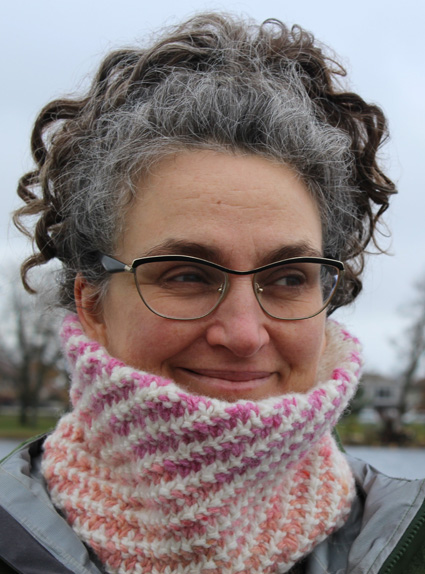 Our spinal column is made up of 33 interlocking bones that form a flexible, protective casing around the spinal cord linking our brain to our body, processing physical sensations and organizing movement. The spinal twist holds a central place in yoga practice. The spine is held straight and the body twists, squeezing and massaging the muscles along the spine. There are many variants of spinal twists in yoga but they all work to unite the mind and body and promote the unimpeded flow of prana (life force) throughout the body.
The Spinal Twist cowl celebrates the vertebrae and the twisting pose that brings unity and vigor to the body. It is deep and warm, a double layer of knitting buffering the wearer's spine from the cold winds of deep fall and winter. It layers twist upon twist, twisted fiber transformed into vertebrae spiraling around the spine, encircling it with the warmth and protection.
The cowl starts with a provisional cast on and half the stockinette lining is worked before the Vertabrae stitch pattern begins to twist around the cowl. The second half of the lining is then worked, the two ends of which are joined on the inside using Kitchener stitch.
The yarn was spun from Corriedale fleece from a local fiber farm in Victoria, Australia. These Corriedales are being bred for increased fineness and this fleece was next-to-the-skin soft. The Corriedale crimp is more open and robust than Merino however, providing loft, structure and durability to the spun yarn. The fiber was scoured at home and dyed with solar dyes in soft gelati shades of berry, orange and watermelon, then drumcarded into batts and spun with a worsted short draw into a bulky, bouncy yarn. The woolen preparation and worsted draft creates a smooth yarn that is light and airy. The main yarn was spun from an undyed batt from the same fleece. Singles were spun to 11 WPI. The finished yarn was lightly fulled in hot water and is 5 – 6 TPI and 6-7 WPI.

model: Isabella Torriero

photos: Rebecca Marsh
FINISHED MEASUREMENTS
Circumference: 24 inches/60cm
Depth: 6 inches/15cm
MATERIALS
Fiber
Cloverleaf Stud [100% Corriedale; raw fleece];


[MC] undyed; 3.5 ounces scoured


[CC] Earth Palette dyes: Bright Red, Rubine, Yellow; 1.75 ounces scoured

Finished Yarn:



Wraps per inch: 6-7


Ply: 2


Yardage used: [MC] 100 yards; [CC] 50 yards



Drafting method: short forward worsted draw

Commercial yarn alternative
Malabrigo Chunky [100% Merino; 100 yd/ 91 m per 100g skein]


[MC] 63 Natural; 1 skein


[CC] 34 Orchid; 1 skein

Recommended needle size
[always use a needle size that gives you the gauge listed below - every knitter's gauge is unique]


US #9/5.5mm 24 inch/60m circular needle

Notions


crochet hook US#9/5.5mm


waste yarn


second circular needle of the same or smaller size, for finishing
GAUGE
13 sts/20.5 rounds = 4 inches/10cm in stockinette stitch
PATTERN NOTES
[Knitty's list of standard abbreviations and techniques can be found here.]
The pattern is worked on a multiple of 4 stitches less 1, so that the pattern skews into a spiral.
If you're familiar with two-handed stranding, this can be useful in this pattern. Both yarns are held at the back; bring the MC to the front immediately before working the two stitches, and then take it to the back before working the CC stitches.
Vertebrae pattern:
All rounds: P2 with MC, k2 with CC.
Techniques:
DIRECTIONS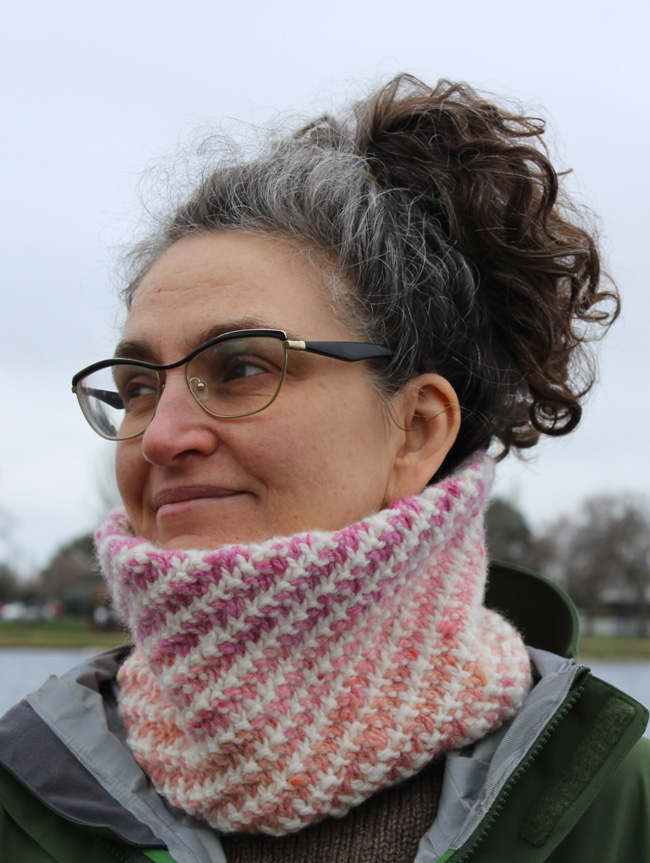 Using waste yarn and crochet hook and provisional method, CO 77 sts onto the circular needle. Join MC, knit across all stitches, place marker and join for working in the round.
Knit all rounds for 3 inches/7.5 cm.
Next round, establish pattern: Join CC and work Vertebrae pattern around. Note: the end of round will end one stitch short of a full repeat; continue in pattern without interruption around, ignoring the marker, until you have worked 6 inches in pattern. End at the marker, no matter where you are in the pattern.
Break off CC, and working only with MC, knit all rounds for 3 inches/7.5 cm, or until both ends of plain work almost touch each other after folding over to form inside lining.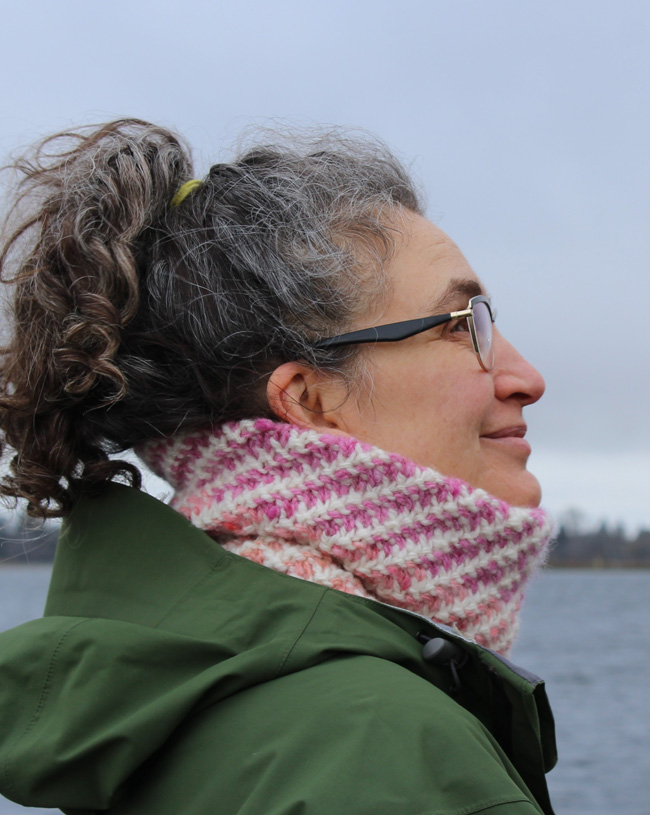 FINISHING
Unzip provisional cast on and slip stitches onto another circular needle. Using MC and wool needle, graft the two edges of lining together using Kitchener Stitch.
Handwash and lay flat to dry, and weave in ends, hiding them between the two layers of fabric.
ABOUT THE DESIGNER
Rebecca Marsh is a spinner and knitter living in Ballarat, Victoria, Australia. She is zealous about spinning from local fleece and meeting the farmers and sheep that produce them. She tries to explore as many different Victorian sheep breeds as possible. Her family tries to understand.
She shares her adventures here and on Instagram.
Pattern & images © 2018 Rebecca Marsh.