No-fuss Tufts Ear Warmer, a free knitting pattern from Knitty.com. Free knitting pattern for a DETAILS HERE.
INTRODUCTION
Tufts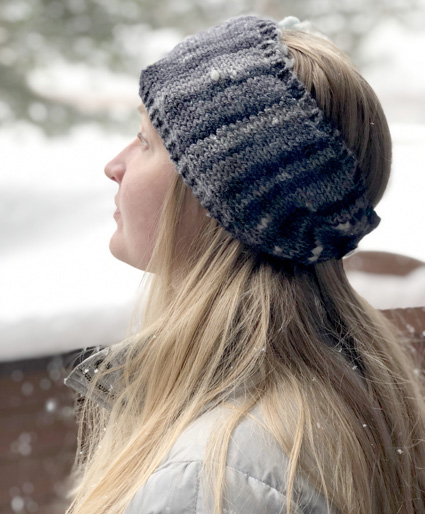 by Benjamin Krudwig

I love the look and feel of tufted (aka thrummed) projects. Cozy mittens, fluffy hats and cowls, but I find the process of tufting to be laborious, when I'd rather just knit. By adding in tufts of fiber to the spinning process, I was able to create a yarn that creates a tufted fabric when knit!
If you're not a spinner, you can place the tufts the conventional way as you knit along and get a similar result. Keep the placement random for the best effect.

model: Ariana Krudwig

photos: Benjamin Krudwig
SIZE
20[21, 22] inches Head Circumference
FINISHED MEASUREMENTS
Width: 5.5 inches/14cm
Length: 20[21, 23] inches/ 51[53.5, 58.5] cm
MATERIALS
Yarn
Fiber:


Frabjous Fibers Organic Polwarth Top; color: Potash; 2.5 oz


Frabjous Fibers BFL; color: Water Park; 0.5 oz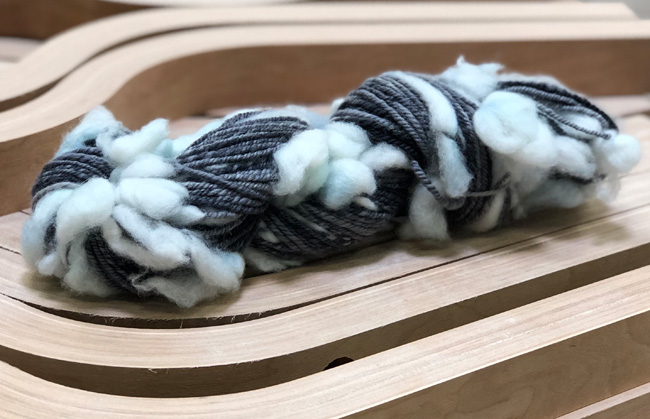 Finished yarn (shown above):


Wraps per inch:12


Ply: 3 (navajo) - tufts added at the plying stage


Yardage used: 75


YPP: 480


Drafting Method: worsted short forward draw

Commercial yarn alternative:


Blue Moon Fiber Arts Victoria [100% Wool; 661yds/604m per 226g skein]; color: Shadow


0.5 oz of wool fiber for tufting [BFL or Merino recommended]
Note: See Pattern Notes for instructions on how to make the tufts

Recommended needle size
[always use a needle size that gives you the gauge listed below - every knitter's gauge is unique]


US #6/4mm needles for working flat


US G/4mm crochet hook
Notions


two 0.75-inch/2cm buttons


yarn needle
GAUGE
18 sts/24 rows = 4 inches /10 cm in stockinette
PATTERN NOTES
[Knitty's list of standard abbreviations and techniques can be found here.]
This pattern uses knit and purl stitches, perfect for beginners. This pattern uses paired increases and decreases to achieve a more balanced look. When knitting, be sure to place the tufts so they fall to the wrong side of the piece.
To make the tufts, pull out 1/4 inch bundles of "staple-lengths" of fiber from the roving; don't twist or fold. Place the tufts into the plying yarn, with the middle of the tuft locked into the ply.
I used a Navajo ply method and captured bits of fluff in the crook where the yarns converged. While this doesn't give you a ton of control in the placement of tufts, it makes the process less fussy. I placed a staple length (5-6 inches/12.5-15.25cm) of fiber (approximately .25 inch bundle) every 12-18 inches/30.5-45.75cm.
Techniques:
DIRECTIONS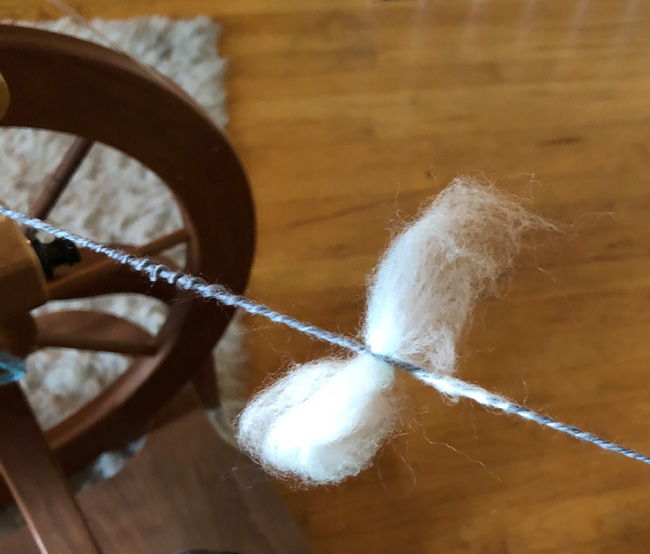 If using commercial yarn and tufts of fiber, place 1 tuft in every row worked, treating it as its own stitch, as follows: insert right needle into stitch, and holding yarn together with the tuft, knit the stitch. The best way to replicate the look of this headband is to place the tufts randomly.
Increases
Using your preferred method, CO 9 sts.
Row 1 [WS]: K3, p1, pm, p1, pm, p1, k3
Row 2 [RS]: Knit to marker, M1R, sm, k1, sm, M1L, knit to end. 2 sts increased.
Row 3: K3, p to last 3 sts, k3.
Repeat Rows 2-3 6 more times. 23 sts.
Body
Row 1 [RS]: Knit.
Row 2 [WS]: K3, p to last 3 sts, k3.
Work Rows 1-2 for 90[96, 112] rows, or until piece measures 17.25[18.25, 21] inches/ 44[46.5, 53.5] cm, ending with a WS row.
Decreases
Row 1 [RS]: Knit to 2 before marker, k2tog, sm, k1, sm, ssk, knit to end.
Row 2 [WS]: K3, purl to 3 from end, k3.
Repeat Rows 1-2 until 9 sts rem.
BO all sts, leaving a 10 inch/25.5cm tail.


FINISHING
Using a crochet hook, chain stitch your long tail to create a tie.
Weave in all ends, wash and lay flat to dry. Sew a button on each end. If you find some tufts in an annoying place, trim them after the wash.
ABOUT THE DESIGNER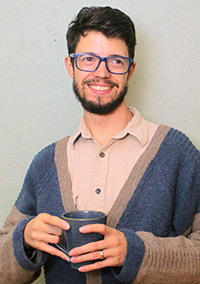 Benjamin Krudwig is a designer and fiber artist living in Colorado with his wife and two cats. He is drawn to nature, color, and all things fibery. His work can be seen in Spin-Off, Handwoven, Knitty, and other publications.
Find him online and on Instagram.
Pattern & images © 2018 Benjamin Krudwig.