When You Are Gone, a free knitting pattern from Knitty.com. Free knitting pattern for a slouchy colorwork hat.
INTRODUCTION
When You Are Gone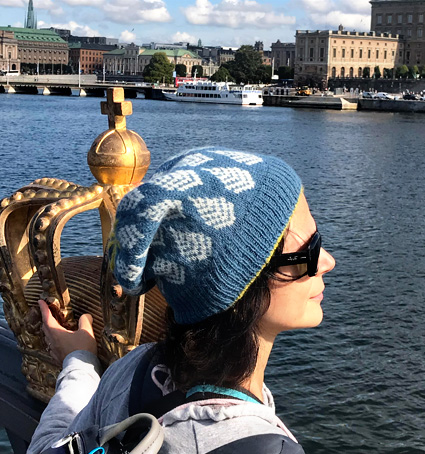 I often find myself in drafty places: I live on a lake not far from the Alps, where cold winds are common. Cold winds for me call for a warm hat to keep my ideas from freezing. Stranded hats provide for warmth and for that bit of color in a foggy day.
This pattern reminds me of white sails on Viking ships and the sun in a cloudy sky above them.
The motif is quite simple and suitable also as first stranded project.

model: Lorella Degan

photos: L. Del Puppo
FINISHED MEASUREMENTS
Circumference: 18.5[20, 21.5] inches/ 47[51, 55] cm
Depth: 10[10.5, 11] inches/ 25[26.5, 28] cm
The hat should stretcch to fit: choose a size with approximately 2 inches/5cm negative ease.
MATERIALS
Yarn
Drops Alpaca [100% alpaca; 183/167 yd/mt per 50g skein]; color:


[MC] Medium Petrol 6309; 1 skein


[CC1] Goldenrod 2923; 10g



[CC2] Drops Flora [100% alpaca; 230/210 yd/mt per 50g skein]; color: White 02; 10g.

Recommended needle size
[always use a needle size that gives you the gauge listed below - every knitter's gauge is unique]


US #2/2.75mm circular needle, 16 inches/40 cm


US #3/3.25mm circular needle, 16 inches/40 cm


US #5/3.75mm circular needle, 16 inches/40 cm


US #5/3.75mm needles for small circumference in the round: DPNs, 1 long circular or 2 short circulars, as you prefer

Notions


tapestry needle


stitch marker
GAUGE
28 sts/30 rounds = 4 inches/10 cm in stranded colorwork in the round using larger needles, after blocking
27 sts/31 rounds = 4 inches/10cm in stockinette stitch in the round, using larger needles, after blocking.
PATTERN NOTES
[Knitty's list of standard abbreviations and techniques can be found here.]
Be sure to make the strands of the unused color loose enough to keep the work from puckering. Remember to spread out the stitches on the RH every time you change color so that the tension stays consistent.
When working stranded colorwork, because the positions of the yarns are different, one yarn will produce a slightly larger stitch than the other (dominant yarn). We usually want the pattern color (in this pattern CC2) to be the dominant yarn.

Regardless of how you hold your yarns, the float of the Dominant Color should always be stranded below the Background Color (MC).

Floats should not be longer than 1 inch.

To trap longer floats cross CC2 and MC as follows: insert the RH needle into the next stitch, but don't wrap your working yarn around the needle yet.
Slide your RH needle underneath CC2, then wrap MC around your needle to knit the stitch.
Techniques:
CHARTS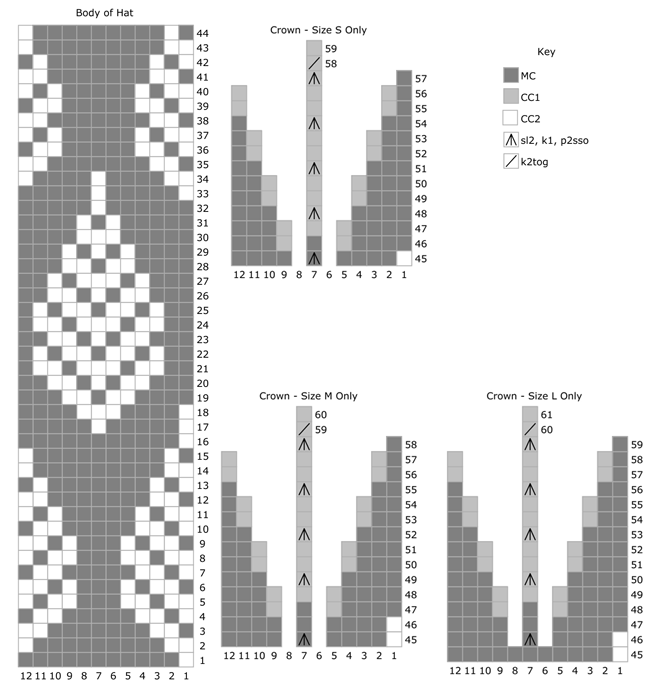 DIRECTIONS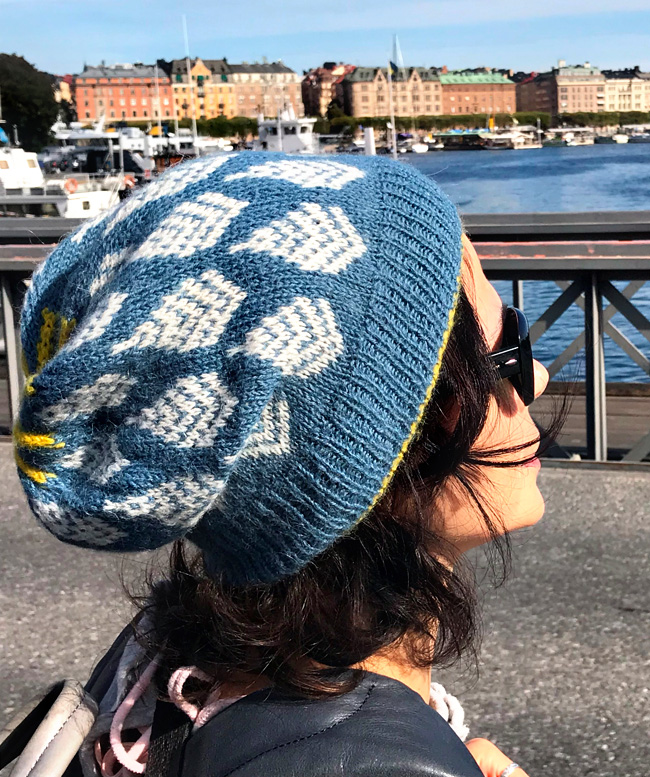 Brim
With CC1 and smaller circular needle, CO 120[128, 138] sts with the Tubular Cast On with Judy's Magic Cast on. See Pattern Notes for a link to a demonstration and explanation.
Round 1: [K1, sl 1 wyif] around.
Round 2: [Sl 1 wyib, p1] around.
Change to MC and repeat Rounds 1–2 2 more times.
Change to middle size circular needle.
Ribbing round: [K1, p1] around.
Work ribbing as set until piece is 2[2.5, 3] inches/ 5[6.5, 7.5] cm from lower edge.
Change to larger needles.
Next round, increase – sizes S & M only: (K 10[8, -] , m1) around. 132[144, -] sts.
Next round, increase – size L only: [(K8, m1) twice, k7, m1) around. 156 sts.
Knit one round.
Body of Hat
Join CC2.
Body round: Work Body Pattern Chart 11[12, 13] times around.
 Work as set until you have completed the chart.
Crown
Crown round: Work appropriate size Crown chart around, joining and cutting yarns as required.

Work as set until you have completed the chart. 11[12, 13] sts rem.
Break yarn, leaving an 8 inch/20cm tail. Using a tapestry needle, thread the yarn tail through the remaining stitches and gently cinch the top of the hat shut.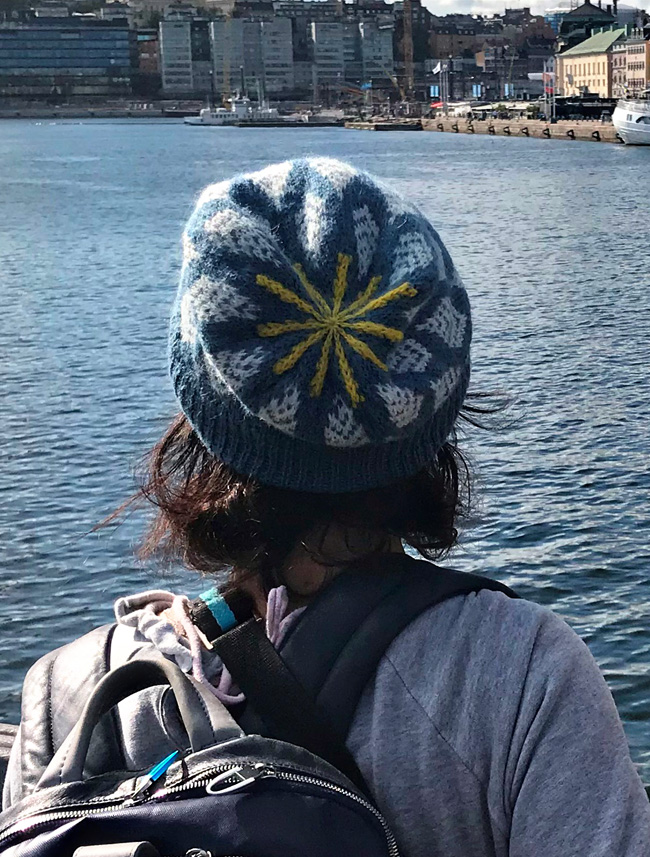 FINISHING
Weave in all ends.
A full wet-block is highly recommended for best results, as it will smooth the fabric.
Wet-block the hat as follows: soak it in lukewarm water for 20 minutes. Drain and squeeze as much water out of your piece as possible, being careful never to wring or twist the fabric.
Roll your hat in a towel and stomp on the towel roll to remove excess moisture. Remove the hat from the towel: it should feel damp but not saturated.
Shape your hat over a bowl approximately 7 inches/18cm in diameter, being careful not to stretch the brim. Flatten and smooth the crown before leaving the hat to air dry.
ABOUT THE DESIGNER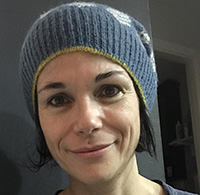 Lorella lives and knits on Lake Maggiore, Italy. She spends her (somehow scarce) free time knitting or thinking about what to knit next.
See more of her designs on Ravelry.
Pattern & images © 2018 Lorella Degan.