Feature: Cool stuff
Cool stuff
SR [Finished chest measurement for sweaters] = the smallest chest measurement to the largest chest measurement we could find in the book. There may be only one pattern with the smallest or largest size, but it's in there. Books are softcover unless noted otherwise. All prices USD unless noted.
NEW! Browse the whole list of books reviewed this issue at Bookshop which gives 10% of their profits to independent bookstores across the US, and a 10% commission to Knitty for every purchase.
If you're outside the US, we also provide links to purchase on Amazon, and they give us a commission when you purchase as well. Thank you for supporting Knitty!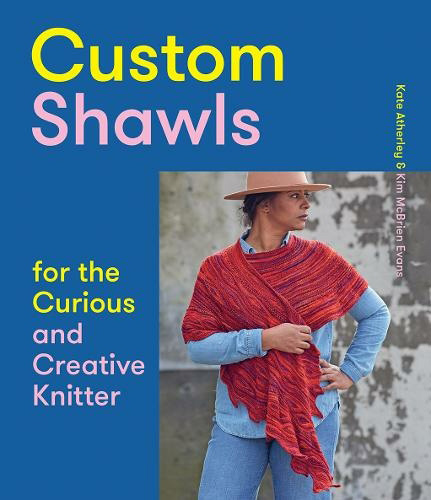 Custom Shawls for the Curious and Creative Knitter
by Kate Atherley and Kim McBrien Evans
Harry N Abrams
$27.50
I have to admit – when I first flipped through Custom Shawls for the Curious and Creative Knitter by Kate Atherley and Kim McBrien Evans, I was overwhelmed. The degree of detail contained is incredible. However, once you start to read it, you see that they are laying out an entire landscape of shawl-lishciousness. Think of it like a map of the shawl universe. Where do you want to go? Kate and Kim give you the directions to help get you to your destination.

There is something for everyone in this book. Seriously. Kate and Kim approach their knitting very differently, and this is another great aspect of this guide; Kate is analytical while Kim goes with the flow. This means that not only are there details and instructions that work with your usual approach but there are also invitations for you to move out of your comfort zone. In fact, the idea of play is woven throughout this book.

Kate and Kim have included 13 patterns, which cover a range of shapes and techniques, and they offer yarn substitution and alteration guidance, so if you want to just knit a shawl, you can go for it. They also offer suggestions on how to wear the shawls, which is not always obvious. From an exploration of different shawl shapes, to a breakdown of techniques, to choosing yarn and estimating yardage, to colour theory and more, Custom Shawls for the Curious and Creative Knitter is a comprehensive guide to shawls in all their glory.

CBM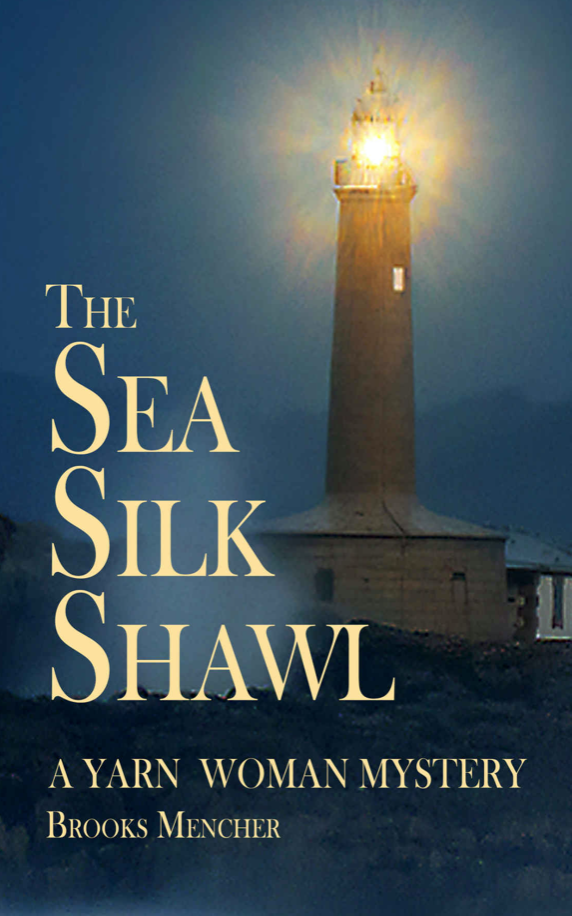 The Sea Silk Shawl: A Yarn Woman Mystery
by Brooks Mencher
Early Morning Press
$15.99
It's been a few years since we've heard from the Yarn Woman, but her latest mystery is worth the wait. Brooks Mencher writes a tight and twisty mystery, a style I suspect honed during his years writing and editing newspapers.
This time out Ruth (the Yarn Woman, forensic textile expert, and knitting book author) attempts a vacation at a small seaside northern California town. Of course she stumbles on a mystery – this one surrounds a cold case murder, drug smuggling and the rarest of fibers, sea silk.
Like earlier mysteries this isn't, gory but not a soft cozy either; it has the small town wickedness of Miss Marple, and the familiarity of Murder She Wrote, but with teeth. Yes, there is knitting in the book. It's an important plot point, and an important part of Ruth's character, but it doesn't take over like in so many other knitting mysteries.
This story has interesting atmosphere, fine detail, and interesting characters, with a bonus of the history, science and folklore of sea silk.
JM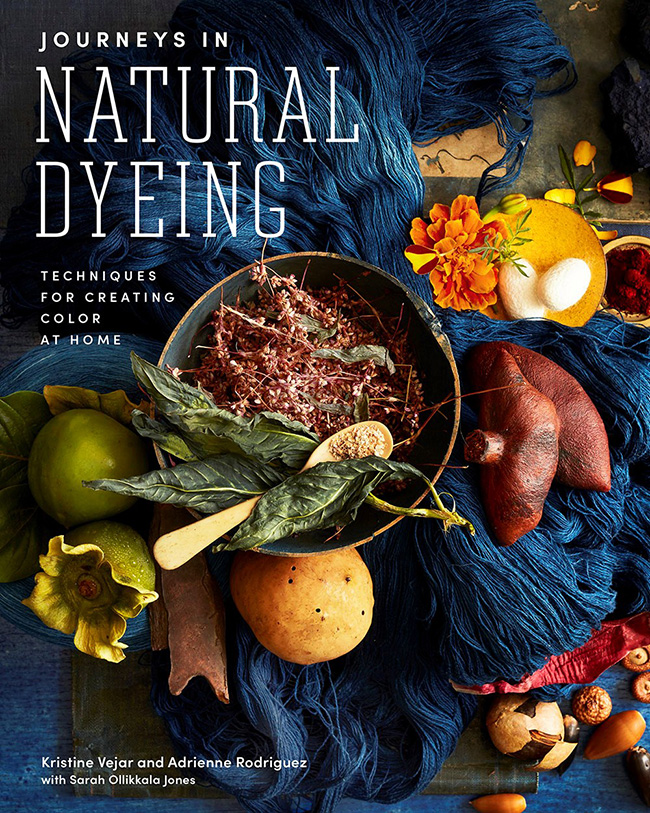 Journeys in Natural Dyeing: Techniques for Creative Color at Home
by Kristine Vejar, Adrienne Rodriguez with Sarah Ollikkala Jones
Abrams
$29.99, hardcover
I have been reading this book for weeks and I still feel like I have barely scratched the surface of what I can learn from it. The authors (also owners of A Verb for Keeping Warm in Oakland, California) traveled to Iceland, Mexico, Japan, and Indonesia to learn dye techniques at the hands of masters. Because they are already experts natural dyeing they were able to go deeper, in experience and thinking with their teachers. What they were able to bring home and translate into these techniques is quite rich and nuanced, and honors both the teachers and their cultures.
This book can be enjoyed on many levels, textile globetrotting stories, of dyers and textile cooperatives, of local plants, and intertwined communities. I'll admit after being home for 7 months, my first read-through was just the travel bits, and they were a balm. The stories are wonderfully atmospheric, both in writing and glorious image.
The chapter, Foundations in Natural Dyeing, at the back of the book is a basic natural dye primer, and could have been a book all on its own. An absolute natural dyeing beginner can learn best practices from this book.
The more dyeing techniques start with a palette inspired by each particular country, and lead to specific shade cards and the color details, how-tos on specific techniques like mushroom dyeing, gathering and dyeing with local materials, mordants, layered dyeing, and a satisfying amount of information and experimentation with indigo. There are 400 shades of color detailed in this book. Each section closes with projects using naturally dyed fabric and yarn. The colors, techniques and projects are all captured in detailed and abundant photography.
Journeys in Natural Dyeing is book that not only feeds the mind and hands, but also inspires and enriches creativity in the heart and soul.
JM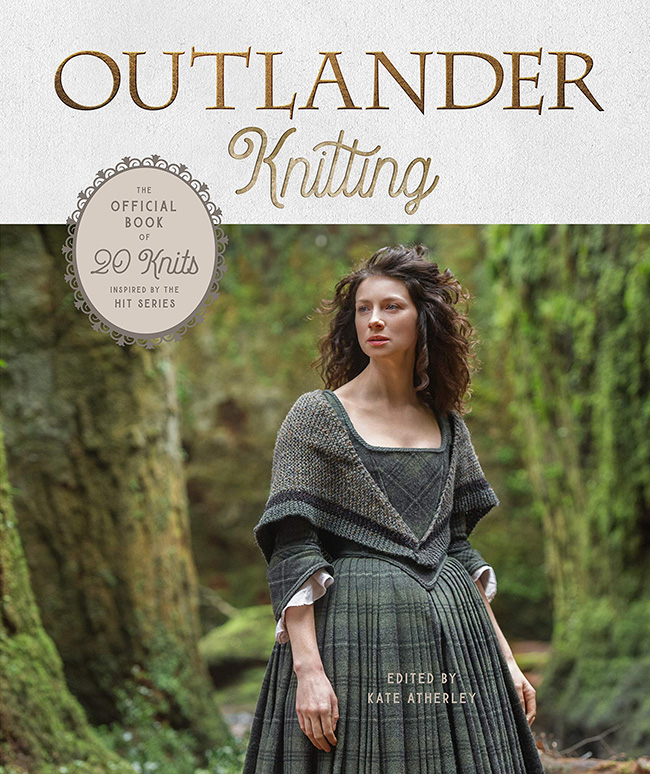 Outlander Knitting: The Official Book of 20 Knits Inspired by the Hit Series
Edited by Kate Atherley
Clarkson Potter
$24.99
SR=35-67"
When I was in grad school, I desperately cast about for reading for pleasure. A good friend suggested I read Outlander by Diana Gabaldon. I sped through it and at my first semester break, bought the next three books in the series. I had fallen in love with Jamie and Claire and could not get enough.
For those of you wanting to knit up something yummy, Outlander Knitting does not disappoint. This beautiful book includes patterns for garments and accessories you've seen on the show as well as photos of the cast in the original designs. It's a delight to wander through the book and see your favorites. Lots of accessory pieces like capes, shawls, arm-warmers, and socks that would look awesome on the Scottish man or woman of your dreams.
It doesn't stop with accessories. There are vests, cardigans, sweaters, and even blankets. Want Fair Isle? There's The Man I left Behind Vest (37.75–55 inch chest circumference). Looking for something to throw on when you need to leave the house and the fall temperatures are dropping? Try the luscious I Found Him Lace Cardigan (35–67.5 inch chest circumference). If I thought I could convince my spouse to wear it, I would cast on Jamie's Waistcoat this instant (35–51.25 inch chest circumference).
CK-I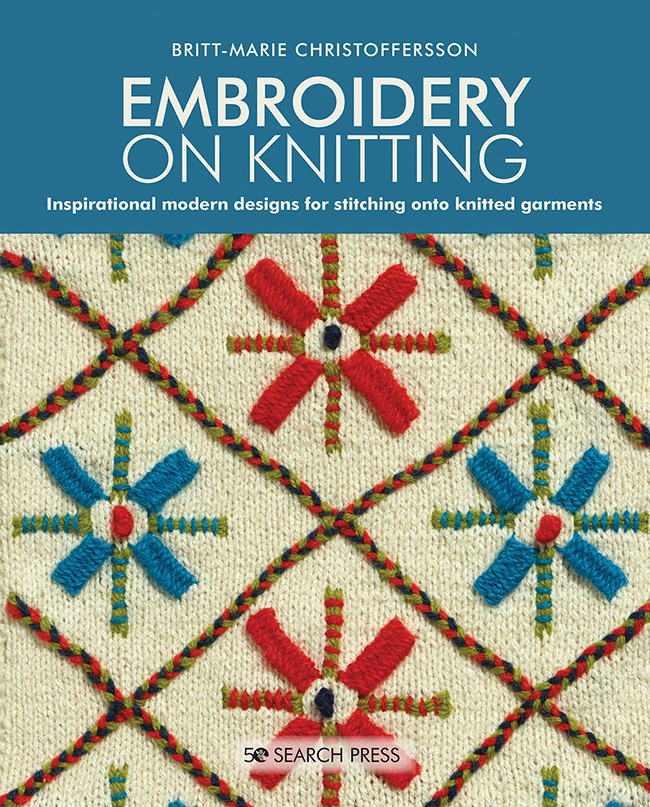 Embroidery on Knitting: Inspirational Modern Designs for Stitching onto Knitted Garments
by Britt-Marie Christoffersson
Search Press
$19.99
Wow, wow, wow! This book knocked my handknitted, but not embroidered (yet) socks off. Britt-Marie Christifferson has been using knitting as her design medium of choice since the late 1970s. Embroidery on Knitting is a portion of the third part of an ongoing design project, that stretch the idea of what can be done with design and knitting. There are more than more than 250 ideas for embroidering knitted fabric whittled down from 481.
This book is packed with creative jumping off points. There are only four written pages, about her on-going knitting project, how she works, her inspiration, and the materials she uses for her knitting and embroidery. The rest of the book are brief illustrations of stitch styles and enough inspiration to shift your thinking about embellishing knitting.
It has me reimagining knitting completely – the serotonin bomb of knitting stockinette or garter stitch followed by a creative foray into embellishing.
I'm going to start by using some of her ideas for mending. I have an men's LLBean wool cardigan that I have worn ragged. It has holes to mend and this book will help give it an overall boost in flavor.

JM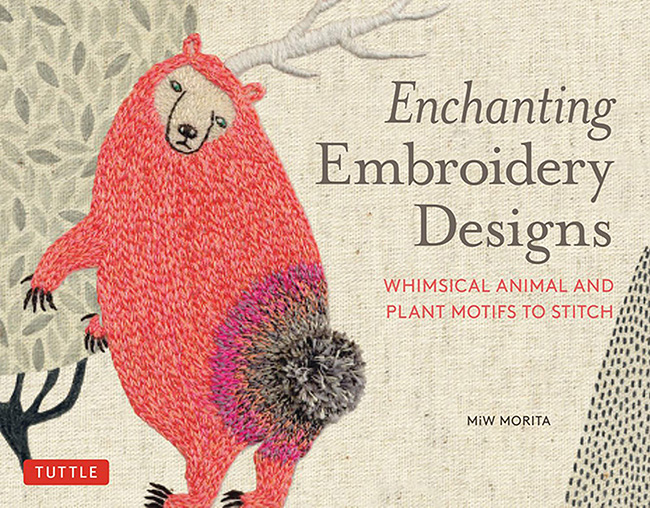 Enchanting Embroidery Designs: Whimsical Animal and Plant Motifs to Stitch
by MiW Morita
Tuttle Publishing
$14.99
The Japanese artist and graphic designer, MiW Morita, has given us a delightfully unique embroidery book. She has written 12 short tales/poems and illustrated each with a collection of embroidered creatures and things. The magical creatures frolic on illustrated backgrounds, giving the font half of the book the feeling of a children's picture book.
The back half of the book is all about the how-to. There is an excellent section on experimenting with stitches, combining thread colors and how the density of stitches and the color of the ground cloth affect the look of your piece. There are how-tos for stitches used in the book illustrated and with photographs big enough to really see how the stitch lies on the fabric. Almost all the diagrams for tracing are at size, and the instructions for color placement and stitch direction are crystal clear, which I really appreciate since I often get stuck in corners.
You can take a peek at her website to see more of her work.
JM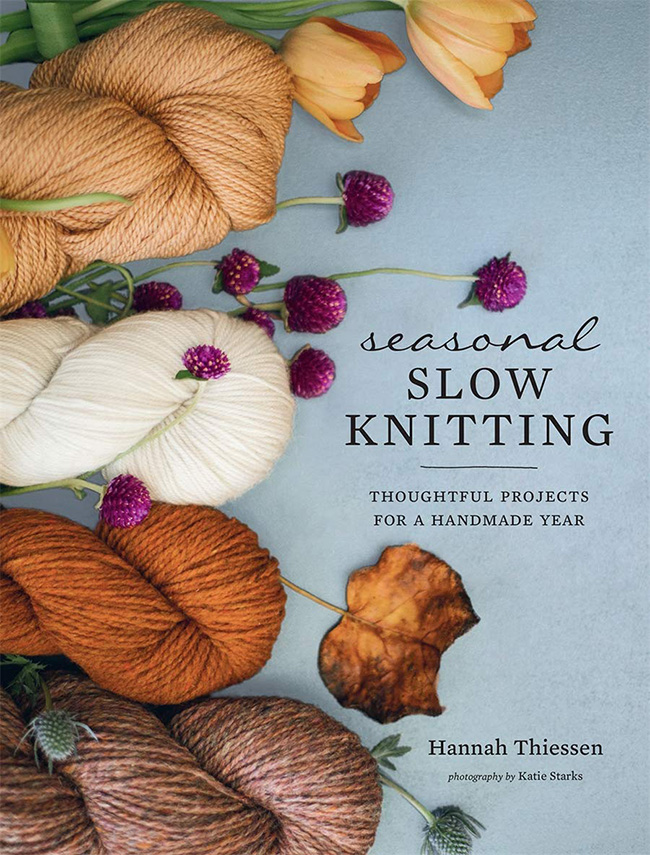 Seasonal Slow Knitting: Thoughtful projects for a Handmade Year
by Hannah Thiessen
Abrams
$29.99, hardcover
SR: 42-71"

Like the title suggests, there is more than knitting in Seasonal Slow Knitting. It's both a reflection on knitting as part of the seasonal cycle, and a choose your own adventure within a knitting lifestyle.
There are 11 knitting patterns – two sweaters, two baby blankets, a pair of socks, two cowls, a hat, mitts, a hot water bottle cover, and knitted sachets – tuned to the seasons. There are a host of other craft projects: making body oil, sewing a notions pouch, and natural dyeing.
Most of the book is essays and instruction on how knitting and fiber can enrich your life throughout the year.
JM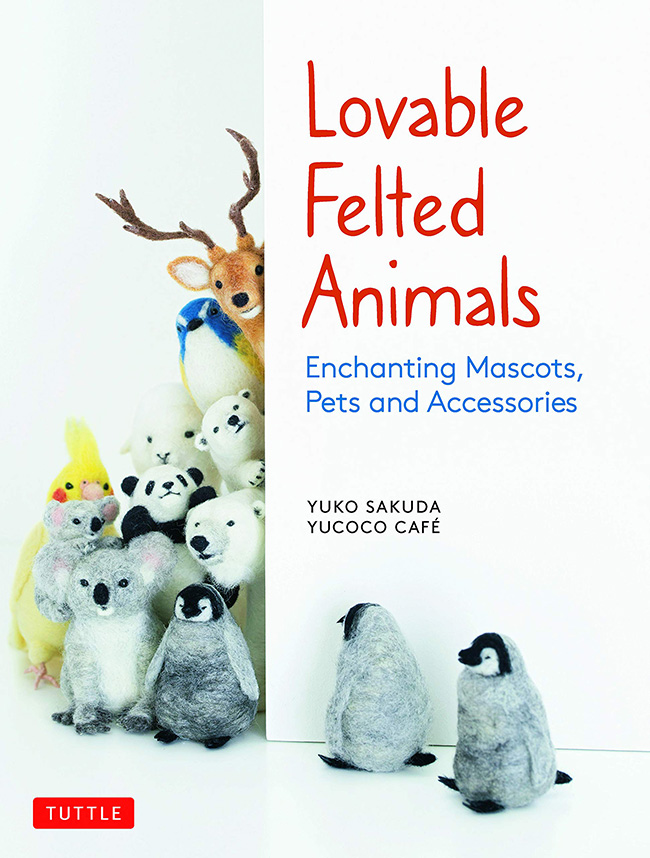 Lovable Felted Animals: Enchanting Mascots, Pets and Accessories
by Yuko Sakuda and Yucoco Café
Tuttle Publishing
$14.99
The animals in this book are so expressive and cute. There is quite a bit of detail for their small size. You have a choice of 43 projects of 3d animals you can hold in your hand or tuck in your pocket – both awake or sleeping – pins, pencil covers, pot cozies, portraits, trays and magnets.
Needle felting animals to be this adorable takes a lot of detailed work with shading. Each animal uses 4-6 colors. The directions for the animals and projects are comprehensive. The photos aren't large, but I'll take it given the amount of detail each series of photos has.
A great deal of thoughtfulness went into this book from the personality of the animals, to the variety of projects, to the photo description of every facet of construction.
JM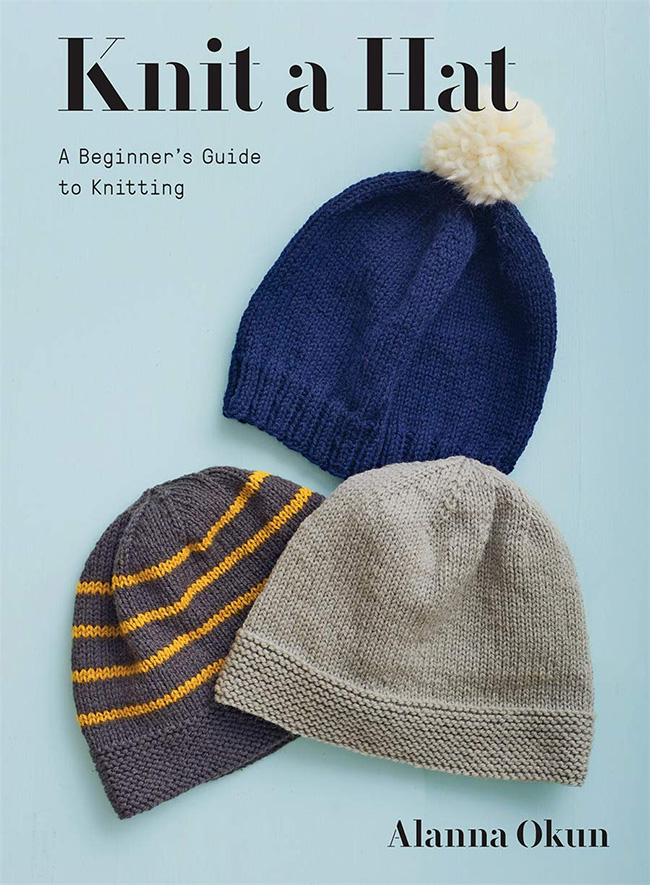 Knit a Hat: a beginner's guide to knitting
by Alanna Okun
Abrams
$16.99
A very good book for the most beginner of beginners that doesn't end with a scarf. The majority of the book is devoted to the knitting of the hat, in words and photos. Of course, there is talk about materials, how to cast on and bind off, knitting a swatch, and troubleshooting.
The whole feeling of the book, is one of "of course you can do it; you'll be making so many hats soon". The author projects her faith in the new knitter on every page, there's even a section on hat mods, for all those other hats they will knit.
This book along with a pair of needles and some yarn would make a great gift for that friend who has always wanted to knit, especially with if you are available for the inevitable questions.
JM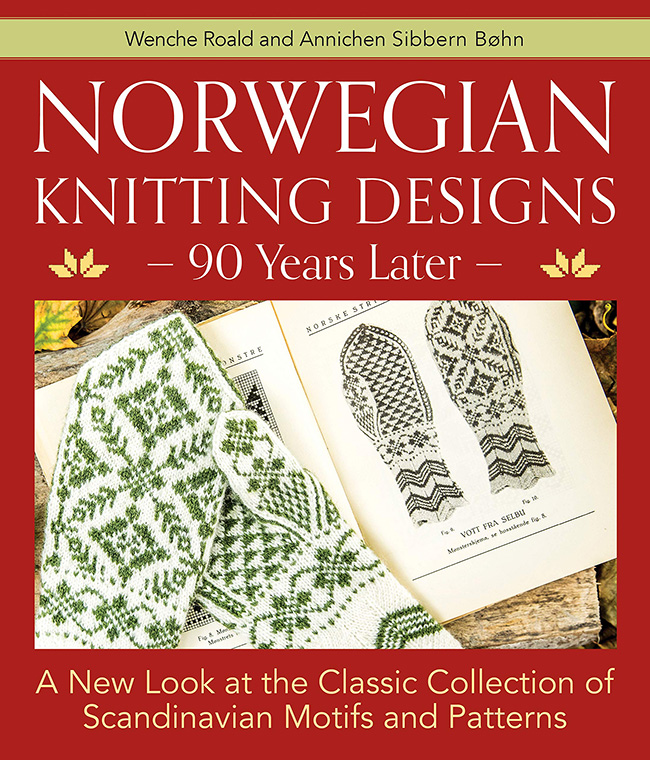 Norwegian Knitting Designs 90 Years Later: A New Look at the Classic Collection of Scandinavian Motifs and Patterns
by Wenche Roald and Annichen Sibbern Bohn
Trafalgar Square Books
$39.95, hardcover
SR= 33-50"
Norwegian Knitting Designs 90 Years Later is a celebration of a beloved knitting book published nearly a century ago, a book that has influenced anyone that has knit traditional Norwegian patterns. The original book is Norwegian Knitting Designs by Annichen Sibben Bohn. It was published in Norway in 1929, and in North America in 1952. It was a delightful surprise to find a translated facsimile of the original book tucked into a pocket in the back of this new book. The original book is packed with Norwegian knitting motifs that Ms Bohn collected from all over Norway including historic museums.
In this new undertaking Wenche Roald has interpreted these motifs into more than 30 patterns, sweaters (so many sweaters!) and accessories for adults and children. The motifs are timeless and Ms Roald has designed classic, wearable patterns that are modern, lovely, and interesting to knit without being too complex.
She also gives us an excellent portrait of Annichen Sibbern Bohn, how the original book came to be and how she made traditional Norwegian knitting popular.
The book itself is beautiful. The photos are clear and bright, the graphs are big enough to read without having to blow them up. The patterns are written clearly and given enough space to be able to follow them. It's one of those types of books that I'd like to step through the pages and hangout and knit for a bit.
JM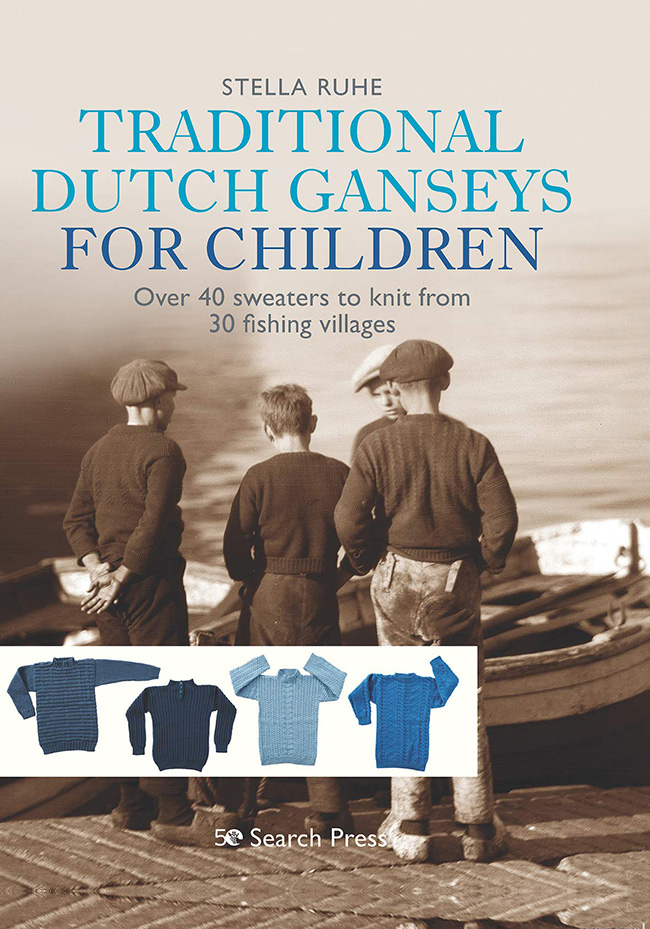 Traditional Dutch Ganseys for Children: Over 40 Sweaters to Knit from 30 Fishing Villages
by Stella Ruhe
Search Press
$29.95, hardcover
Like her previous two gansey books, Stella Ruhe has done exhaustive research into the gansey motifs and life lived by these fishing families in their villages. This book revolves around the boys and girls involved in the fishing industry. I am surprised at how many photos she's found and included. The history of these children is similar to the history of child labor in factories during the industrial revolution. I learned a lot. The histories of people and sweater designs are equally fascinating.
The 40 sweater patterns are based on one structure and there are many graphs to plug into the basic design. There are many photos of historic ganseys reknit in modern yarns, and that is where you can really see the stitch detail. The pattern graphs are smaller than I usually like, but they are printed in dark mode – dark background with white stitches on top, and I was surprised how really easy the stitches are to see even with a smaller chart.
I spent and entire weekend reading this cover to cover. Between the history, the myriad of photos and sweater designs, this is a fascinating book.

JM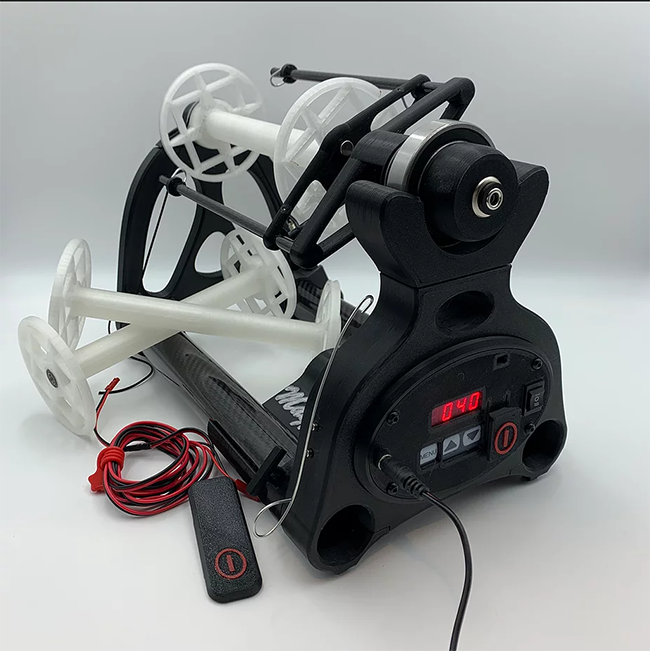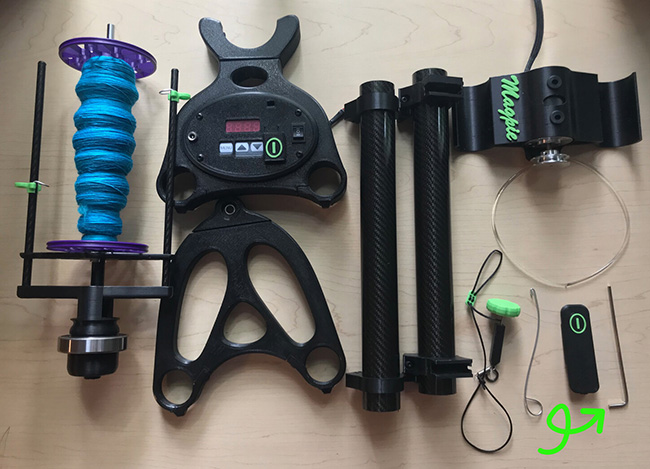 Magpie Electric Spinning Wheel
Daedelus Spinning Wheels
$1,300 for the standard head set up
$1,800 for the standard AND art yarn heads

The newest wheel in the Daedalus Spinning Wheels fleet is the Magpie. The Magpie is a large and versatile wheel.
Let's start with the size. When I said big I meant it – the body of the wheel is about 15" long and each standard bobbin is 8 1/2 inches long can hold 20 ounces of yarn. The size might be XL, but since a lot of it is made from carbon fibers and 3D printed plastic, it is light, weighing in at 4.5 pounds (without yarn).
Here's my favorite thing about the body of the Magpie, it comes apart to pack flat in less than 10 minutes.
The design that allows it to come apart easily, also allows another incredible versatility. It's so good, you might want to sit down: you can set this wheel up in either Scotch or Irish tension. And it's fine-tuned Scotch and Irish tension; I can set my take-up to barely there in Scotch and snatch-it-from-my-hands strong in Irish tension, and the whole range in between.
The Magpie has digital speed control housed in a digital speed control box that can be removed from the frame of the spinner to place within easy reach. The box comes with a switch to turn it into a foot pedal. The speed controls move up and down by 1%, and the slow start and stop can be calibrated to what start time is comfortable for you. I have mine set so it takes 30 seconds to get up to full speed and to come to a full stop.
The Magpie comes with a standard head and bobbins, or standard and art yarn head and bobbins. I have run my wheel through the paces with the standard head and will post another review for the art yarn head and bobbins (which are even bigger!).
The Magpie electric wheel is the spinning wheel that I needed the least 'getting to know you' time before I felt comfortable. It just works. And if something doesn't work for you the customer service is exceptional.
I have more detailed information about my experience with the Magpie on my blog.

JM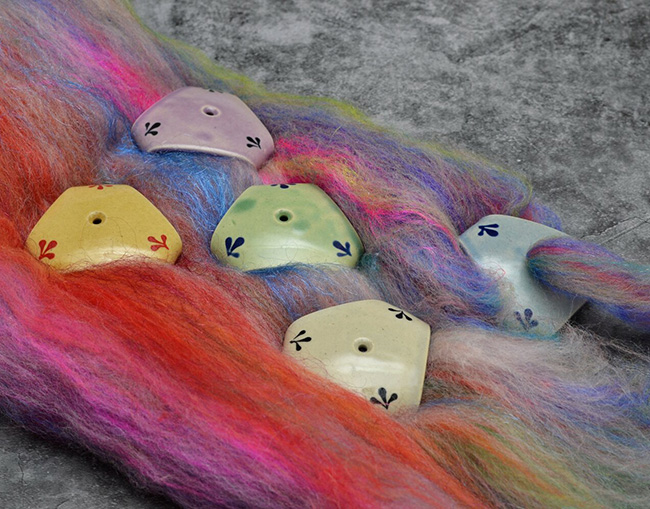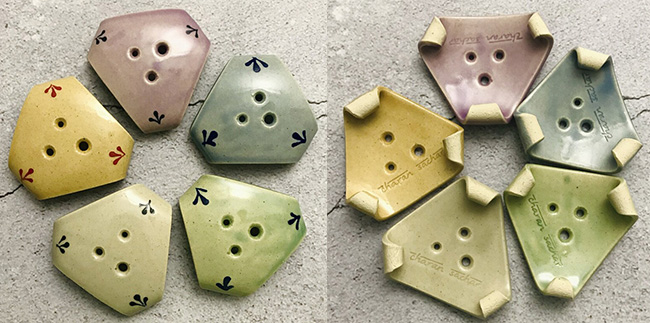 Creative with Clay
One-hole [shown at top] and three-hole [shown at bottom] Diz
$16 each

From the creative and busy mind and hands of Charan Sachar, comes a new spinning tool, that I won't part with. You might know Charan from the gorgeous fiber themed mugs that he makes, but he makes more than mugs.
A diz is tool used during the fiber preparation process to make fiber tidy before spinning. It can be used with combed or carded fibers. For me to use a diz it has to feel right.
This diz (I used the one-hole diz), is smooth, heavy and perfectly curved. The fiber I dizzed from my drum carder flowed smoothly and easily through the hole.
A lot of thought went into the designing of this diz. The first thing you'll notice is how beautiful it is. The paint, glaze and shape are elegant and graceful. As beautiful as it is, it works wonderfully too, from the sizing and smoothness of the hole(s), the curve, all theway down to the fact that the bottom of the 'feet' aren't glazed, so it won't slide across the table as you work.

JM