Feature: Knittyspin
INTRODUCTION
Knittyspin
4-Ply Yarns: Smooth and Textured

What do you think of when I say 4-ply yarn? Something round and smooth, strong with great stitch definition? It's what I think of too, made by holding four plies under the same tension and plying them together in the opposite direction that the singles were spun.
But what happens if you break the four plied into two 2-ply yarns?
I am a huge fan of texture, and textured yarns, but most of the time these days I don't want to go all the way to art yarn. I'm a fan of cable ply yarn – two 2-ply yarns, plied in different directions, that creates lots of texture. I write a column for Modern Daily Knitting about the construction of commercial yarns. It lets me be nosy and pick things apart, and it really scratches an itch for me.
One yarn I wrote about recently was Nua from Stolen Stitches. It was an airy 4-ply yarn. It wasn't woolen spun, but I didn't guess the construction until I unraveled a strand – two 2-ply yarns, all plied in the same direction. I got curious about these three different plies and wanted to see them side-by-side and knitted.
All three of the 4-ply yarns shown below are durable and strong, but each has a unique appearance and knits up quite differently.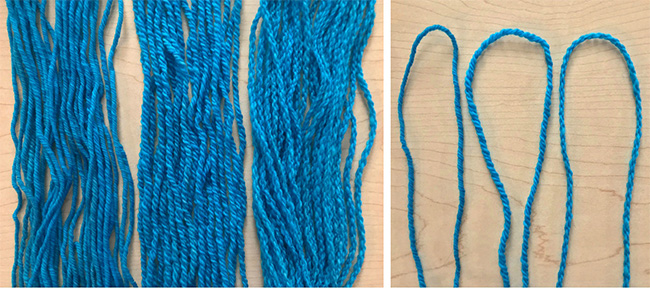 Left to right, regular 4-ply, 2+2 4-ply, and cable ply
I spun four ounces of Falkland onto one bobbin, and divided the singles onto 12 bobbins (four bobbins each for three yarns). I used the same singles for each yarn, so I could focus on the structure without wondering how much a different size or different fiber contributed to a different look or feel. I plied each to what I consider balanced. I did not measure twist angles (have you met me?).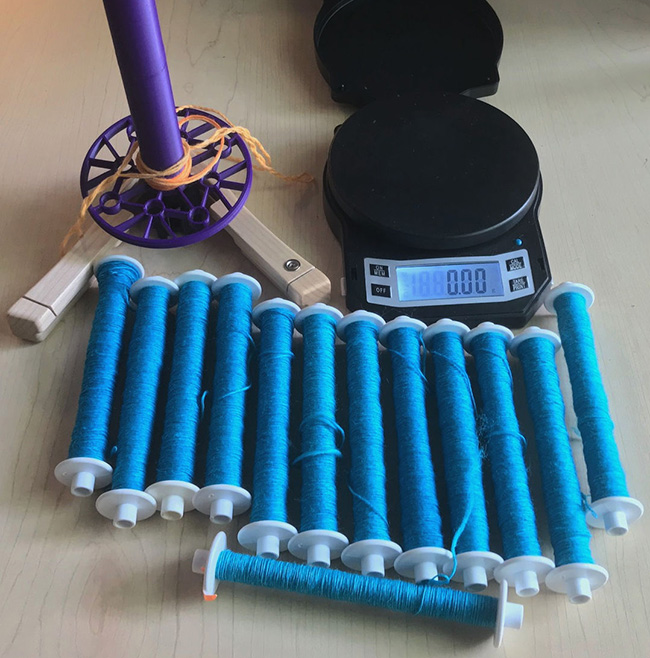 12 plus an extra bobbin of singles to be plied
Just looking at the yarn, I can see how different the different styles of plying make the yarn. All three yarns are round, the standard 4-ply is smooth, the 2+2 ply looks more open – the plies are pushing away rather than locking in, and the cable is very textured, nearly sculptural.


Left to right, regular 4-ply, 2+2 4-ply, and cable ply
Knitted, the differences are still there, but would be harder to notice if they weren't side by side. The standard 4-ply is smooth and has good stitch definition; the Vs are crispy. The 2x2 ply has a busier surface; the individual stitches look like they are blooming, opening up. This is this yarn doing what 2-ply yarns do, the plies pushing away from each other. The cable ply is busier still and has real texture to the surface. What I can't show you is how different each swatch feels. Both the standard and cable ply are dense swatches, with the cable having a bit more squish. The 2x2 ply is lighter, and really springy – quite a different feel from the other two.
I know you're thinking, "how are those yarns constructed? Can you untwist them for me?" Of course!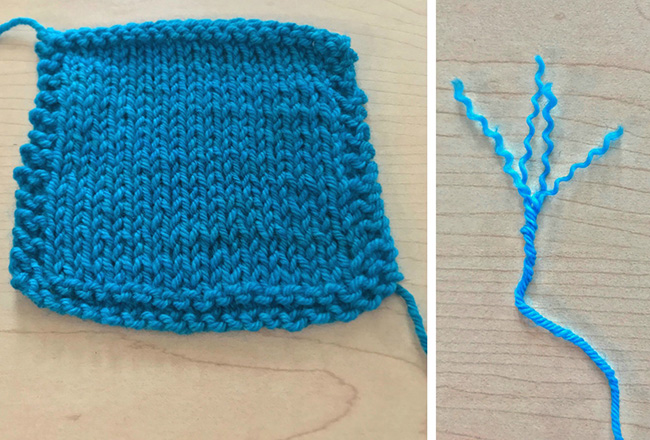 4-ply swatch and an unplied strand
Here's the standard 4-ply yarn and swatch. I shot all of the swatches at a bit of an angle so you can see the stitches a little better. All of the strands are plied under the same tension and in the same direction. The plies are able to snuggle together to makes a smooth strand.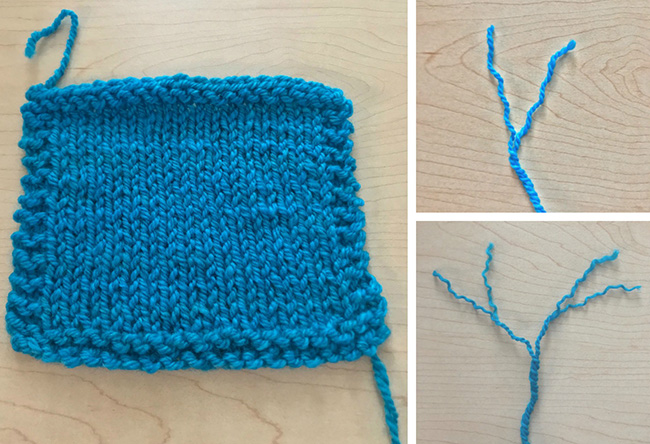 2+2 4-ply swatch and an unplied strand
The 2+2 ply needs a light touch. This yarn is plied in two layers, and there are two 2-ply yarns. Each of the layers are plied in the same direction. It ends up being a loftier 4-ply since the plies are rolling out, away from each other.
I still need to work on my plying consistency with this yarn, but I really like the outcome. The first plies need to be very light, since the second ply will be going in the same direction, both uniting and tightening the two original 2-ply yarns.

2+2 ply first ply bobbins
The first ply I barely plied. I was visually aiming for a yarn that I would split with a knitting needle if I knit with it. For the second ply, I experimented a bit with the amount of twist (and want to do more samples). I thought my ply would be more than a standard 4-ply, and it ended up close, but a little less. I didn't want to squeeze the extra air out of those initial plies. What I did change was the amount of tension holding the two 2-plys. I felt like I had more control with more tension than a standard ply. The plies don't quite nestle neatly into each other like a standard 4-ply, so the surface of the yarn has a bit of texture.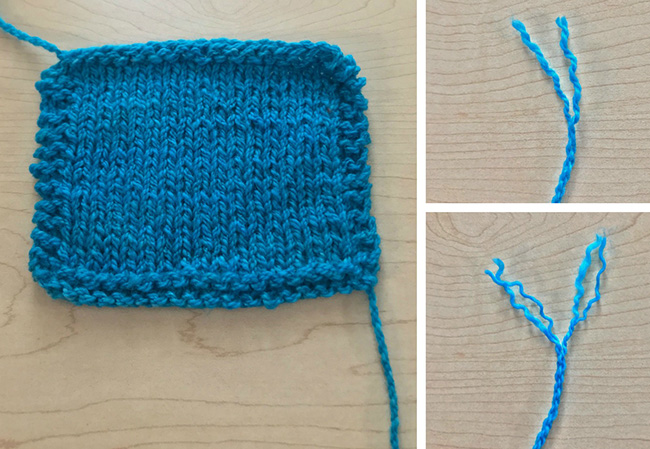 Cable ply swatch and an unplied strand
Cable ply yarns are magic. They make yarn so beautiful I'd rather look at it than knit with it. This is also a two-layer yarn, with a shift in direction in the second plying. The first set of 2-ply yarns need to be tight, since the second ply is in the reverse direction and undoes some of that first ply. I aim for double the amount of ply than I would for a yarn I would call balanced.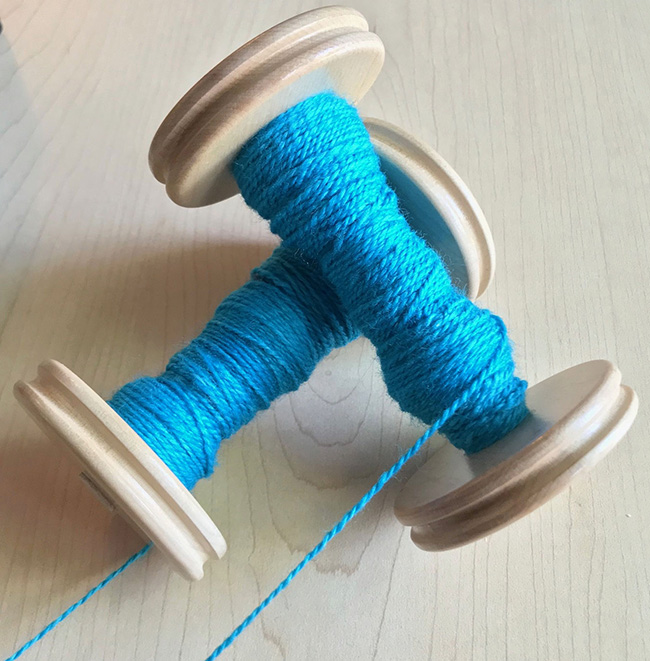 Cable ply first ply bobbins
To make it easy on myself (and to have to pay the least amount of attention), I ply to make a balanced yarn, then take the bobbin off my wheel, pop it on my lazy kate and add more ply twist in the same direction. This works so much better for me than trying to determine what 'double the amount' of twist is the first time around. If you have an e-spinner, you can easily figure that double twist, set it, forget it and ply away.
Once I have done this for both 2-plys, I ply the 2-ply yarns together in the opposite direction, the direction I spun my initial singles. But lightly. You'll want to check your yarn regularly until you figure out your rhythm. It doesn't take much twist to get the cable to pop, and too much twist will flatten it.
Remember when you check, if the second ply is correct, you need to release the tension on the yarn. I almost always check by pulling an amount off of the bobbin.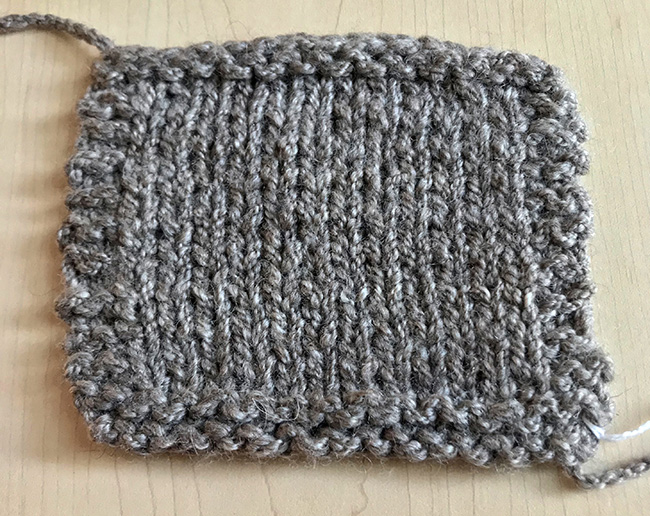 chunkier cable ply swatch
Here's a photo of a chunkier cable-ply swatch, I think it shows the texture a little better.
The next time you need a 4-ply yarn for durability you might consider one of these other 4-ply structures. I'm off to fine tune my 2x2 ply!