Fairlan, a free knitting pattern from Knitty.com. Free knitting pattern for a zig-zag patterned wrap or scarf with a fringe created by steeking.
INTRODUCTION
Fiarlán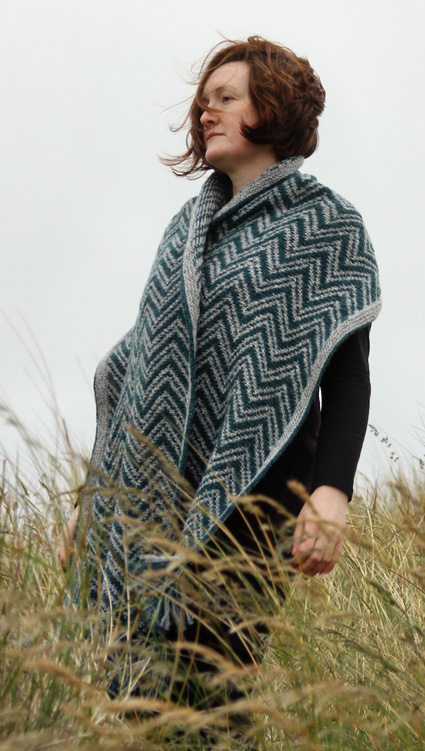 by Eimear Earley

Fiarlán (pronounced 'fear-LAWN', Irish for 'zig zag') provides an introduction to cutting steeks, intended to help you chop your knitting without fear!
The pattern, offered in both scarf and wrap sizes, begins by casting on lengthways using a provisional cast on with waste yarn. A garter stitch border is worked flat, before joining in the round to work the simple stranded colorwork motif and steek stitches. Then a second garter stitch border is worked flat, before finishing with an i-cord bind off. Next the provisional cast on is unpicked, and also finished with an i-cord bind off. Then the steek is cut and unravelled to form a knotted fringe.
The simple stranded colorwork chevron pattern is inspired by my love of the surface decoration on old things. Simple forms like chevrons, dots and spirals are used by so many cultures, in different contexts, on different materials in different times and places around the globe.
Looking at artefacts found within Ireland (my home country), chevrons appear in many variations on many different artefacts found here.
They appear as tiny incisions on delicate gold objects, like the Coggalbeg hoard dated 2300–2000 BC. Carved onto stones used to build Newgrange around 3200 BC. On ceramic funerary pots dated 1900–1300 BC.
Given the investment of time and work required to create the objects listed above, it's obvious that these artifacts and structures were of enormous significance to the society who made them.
We like to believe that the surface markings, engravings and carvings have significant meanings, possibly referring to gods and goddesses, life and the afterlife for example, but the truth is we just don't know. We make assumptions and guesses based on our own knowledge, beliefs and practises, but have no idea of the values and beliefs of the people who lived at that time.
What if these designs were created for purely aesthetic reasons? Why not create and admire art for its own sake, instead of getting ourselves tangled up interpreting and guessing at symbolism?
What if craftspeople went to all that effort just because they liked the look of it?

model: Eimear Earley

photos: Tom Cunningham, Eimear Earley
FINISHED MEASUREMENTS
Width: 9[17] inches / 23[44] cm
Length: 69[78] inches/ 175[198] cm (excluding fringes)
MATERIALS
Yarn
Studio Donegal DWSC [100% wool; 218yd/200m per 100g skein];

Scarf (shown below):


[MC] 3750 Grey; 2 skeins


[CC] 3045 Pink; 1 skein

Wrap (shown above):


[MC] 3750 Grey; 3 skeins


[CC] 3637 Teal; 3 skeins
Yarn Characteristics: The wool fibre content and woollen spun structure of Studio Donegal DSWC means it blooms beautifully on blocking, and has a grippy texture. If you're looking for a substitute, look for something with similar texture and fibre content.

Recommended needle size
[always use a needle size that gives you the gauge listed below - every knitter's gauge is unique]


US #9/5.5mm circular needle, 40-48 inches/100-120 cm long


US #6/4mm circular needle, 40-48 inches/100-120 cm long

Notions


crochet hook: exact size is not critical - approximately US C-E/2.75 - 3.5 mm


waste yarn: 10 yds/10m. I suggest sock yarn because it is durable, finer than the project yarn, and can be unpicked easily


stitch markers


stitch holder or waste yarn


yarn needle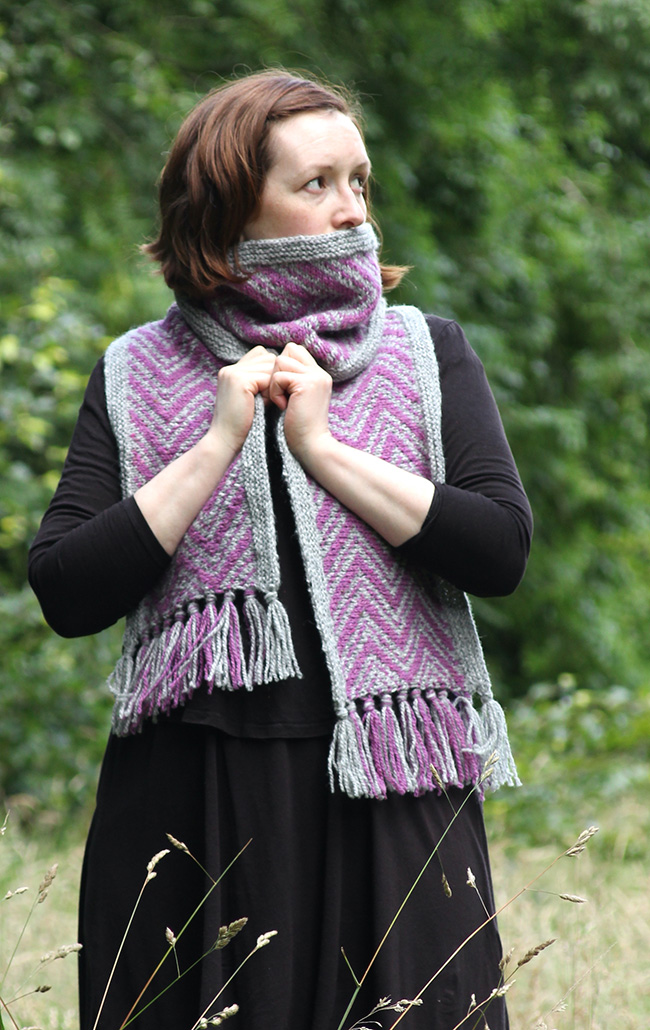 GAUGE
18 sts/40 rows = 4 inches/10 cm in garter stitch using smaller needle.
18 sts/22 rounds = 4 inches/10 cm in stranded colorwork pattern using larger needle.
20 sts/26 rows = 4 inches/10 cm in stocking stitch
PATTERN NOTES
[Knitty's list of standard abbreviations and techniques can be found here.]
Provisional Cast On: tutorial here
Note: If you prefer, you can begin with an I cord cast on instead of the provisional method. Begin with a cable or knitted cast on for 12 steek stitches, i-cord cast on for 316[348] sts, and cable or knitted cast on for 12 steek stitches.
Cable Cast on: tutorial here
Joining yarns:
Do not join a new skein of yarn in the steek stitches section; this will result in a short strand or knot in the fringe.
New skeins can be joined just before or after steek stitches, with long ends tied into the knotted fringes.
CHARTS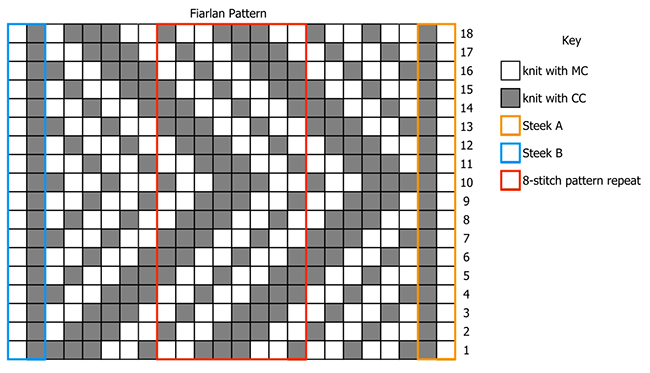 DIRECTIONS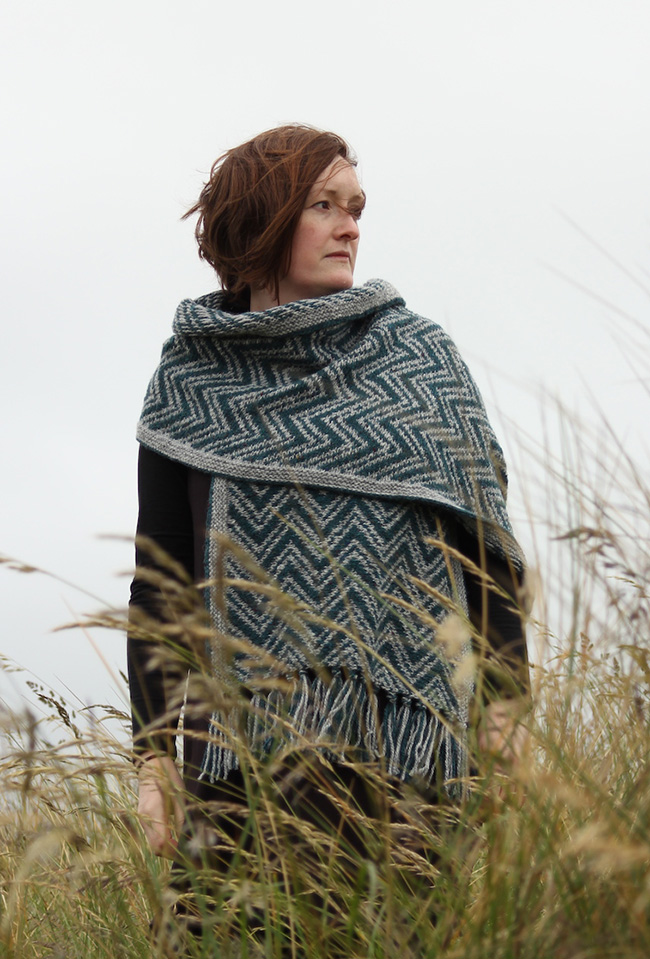 Cast on and Garter Stitch Border
Using waste yarn and smaller needles, and crochet provisional cast on method, cast on 340[372] sts.
Join MC and work garter stitch border:
Knit 8 rows.
Marker set-up row [RS]: K12, pm, k to last 12 sts, pm, k12.
Do not turn work after last row.
Colorwork panel
Change to larger needle.
Round 1: Join CC, work steek pattern A to first marker, work motif round 1 to second marker, repeating motif where indicated, work steek pattern B to end.
At this point, place marker for working in the round and join.
Continue working in the round as set until Fiarlan Pattern rounds 1-18 have been worked 2[4] times.
Scarf only: Work Round 1 one more time.
Wrap only: Work Rounds 1-10 one more time.
Break CC.
Garter Stitch Border

Change to smaller needle, and knit one round.
Do not turn work. Remove marker from beginning of round.
Knit 8 rows, beginning with a RS row.
I-cord Edging
Scarf shown uses MC for i-cord border.
Wrap shown uses CC for i-cord border.
**Slip 12 steek sts to stitch holder or scrap yarn, remove marker.

Beginning with a tail of approximately 7 inches / 17 cm, work i-cord bind off over sts between markers as follows:
Cable cast on 2 sts.
*K1, K2tog tbl, slip sts to left hand needle. Rep from * to marker. Break yarn leaving a tail approximately 7 inches / 17 cm long. Draw yarn through 2 i-cord sts.
Remove marker and place second set of steek stitches on stitch holder or waste yarn.
Returning to cast-on edge, remove provisional cast-on yarn and slip live stitches onto smaller needle.
Repeat steps from **.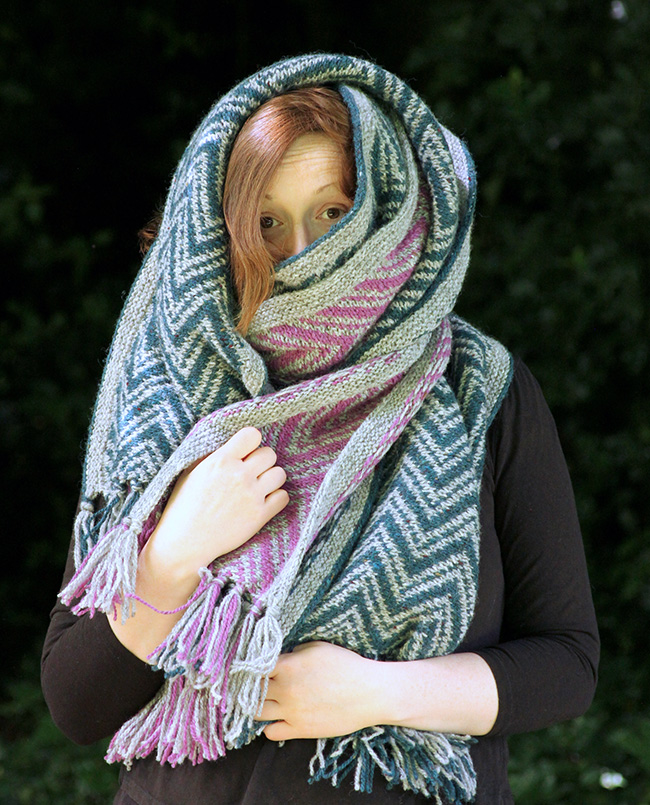 FINISHING
Cut the steek as follows: using sharp scissors, snip between first and last stitches of the rounds, taking care to cut through all strands of yarn.
Remove steek stitch holder or waste yarn, and unravel, pulling the cut ends of yarn to undo one row of stitches at a time.
Add extra fringe strands at the i-cord corners: cut 8 pieces of yarn, approximately 14 inches / 34 cm each. Thread two pieces of yarn through the last stitches of each i-cord, and pull the strands through until all ends are even.
Block by soaking in warm water with wool-suitable detergent. Squeeze out excess water by gently rolling in a towel. Smooth out, right side down, on to a flat surface, ensuring edges are straight, and pinning into place if necessary. Smooth out fringe strands flat.
Allow to dry fully before removing pins.
Weave in ends.
Divide fringe into groups of approximately 10 strands of yarn and tie in an overhand knot. If desired, extra strands can be added for a fuller fringe.
There may be variation in the numbers of strands due to joining new skeins or adding extra strands for fuller fringes. Spread unequal numbers of strands over 3 or 4 knots instead of having one very large or very small knot.
The wrap should have approximately 110 strands (11 knots of 10 strands each).
The scarf should have approximately 67 strands (4 knots of 10 strands each and 3 knots of 9 strands each).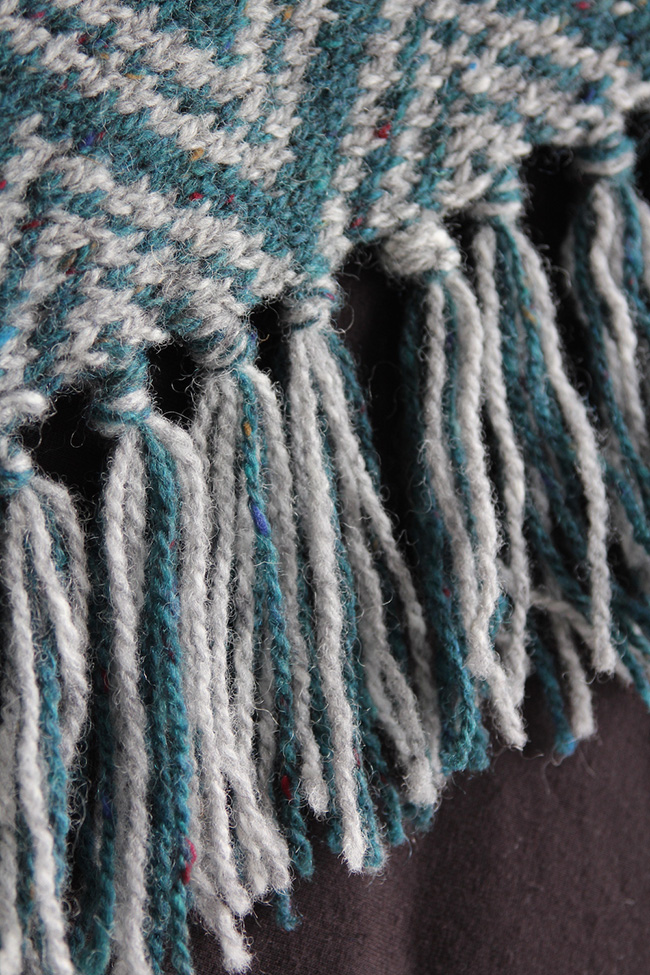 ABOUT THE DESIGNER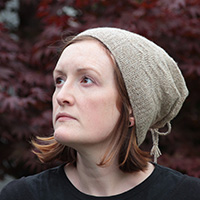 Eimear Earley lives in Dublin, Ireland, with two small humans and a supportive spouse. Eimear originally learned to knit as a school child, dabbling with leftovers of yarn and absolutely no concept of gauge or ease during her teenage years. After spending her student years playing with molten glass, she now gets her creative kicks from knitting and spinning wool – much more practical pursuits. Eimear loves to reinterpret old Irish things into modern knitwear, from ancient gold artefacts to less ancient cable knitting.
She also likes to drink an awful lot of tea. Eimear can be found on Instagramand Ravelry, and her website.
Pattern & images © 2020 Eimear Earley.