Hotspot, a free knitting pattern from Knitty.com. Free knitting pattern for a DETAILS HERE.
INTRODUCTION
Hotspot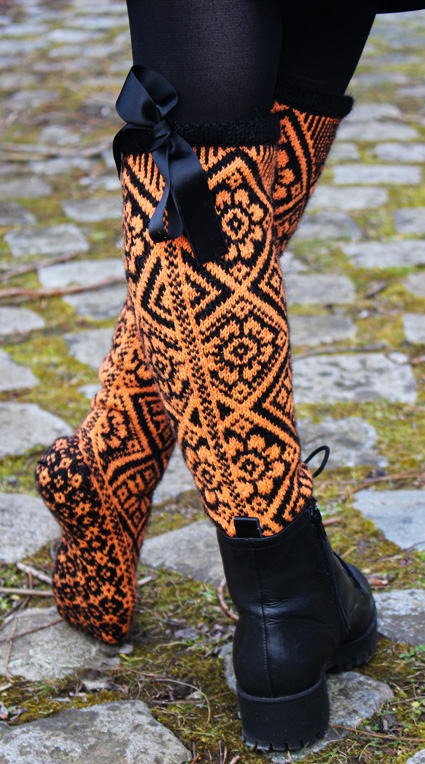 by Olga Radchuk

These socks are worked toe up and dedicated to those who never know whether they have enough yarn to finish the project properly.

Knitting socks can be tricky if you hate yarn leftovers as much as I do. I have been looking for a sock pattern that would allow me to avoid increasing my leftover stash for quite a long time, so long that I decided to design such a pattern myself. You can knit them ankle-high or knee-high, depending on how much yarn you have (or simply knit until you get bored).
This pattern keeps not only your hands busy, but your mind as well. In the end, though, these socks will be the hotspot of your cozy wardrobe, at least for the coming winter.

photos: Sergey Tukaiev
SIZE
Women's S[M, L]
shown in size M
FINISHED MEASUREMENTS
Foot Circumference around the ball: 8.75[9, 9.25] ins / 22.5[23, 24] cm
Foot Length: adjustable to fit
Calf Circumference: 13.75[14.5, 15] ins / 35[36.5, 38] cm
Leg Length: adjustable to fit
Choose the size that is approximately 0.5 ins/1-1.25cm less than actual calf circumference.
MATERIALS
Yarn


[MC] Lana Grossa Meilenweit Merino Uni [80% Merino, 20% Nylon; 459yd/420m per 3.5 oz/100 g skein]; color: 2012 Black; 1[1, 2] skeins


[CC] Lana Grossa Meilenweit Fashion Neon [80% Merino, 20% Nylon; 459yd/420m per 3.5 oz/100 g skein]; color: 1002 Orange; 1[1, 2] skeins


Recommended needle size
[always use a needle size that gives you the gauge listed below - every knitter's gauge is unique]


US #1.5/2.5mm needles for small circumference in the round: traditional or flexible DPNs, 1 long circular for magic loop, 2 shorter circulars

Notions


a small length of waste yarn


ribbon 1.75yd/1.6m, appr. 1 in/2.5cm wide


safety pin to thread the ribbon through the cuff


yarn needle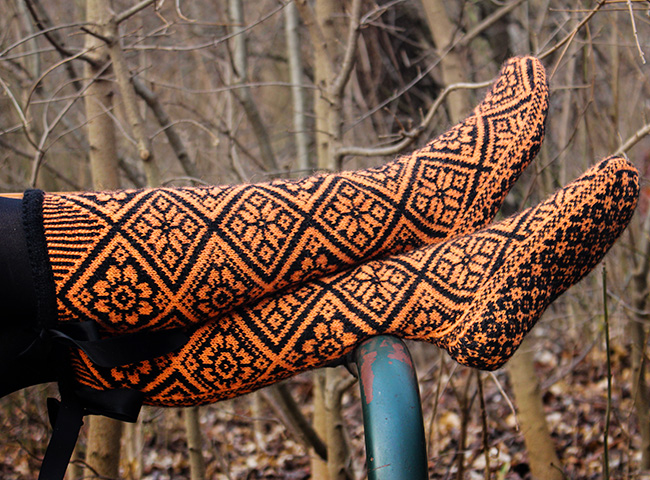 GAUGE
35 sts/32 rounds = 4 inches/10 cm in leg pattern stitch
PATTERN NOTES
[Knitty's list of standard abbreviations and techniques can be found here.]
This project uses a provisional cast on. Use your preferred provisional cast on technique; directions for one technique may be found here.
M1: Use your preferred make 1 increase – M1R, M1L or the backwards loop make one.
CDD: Slip 2 sts knitwise together, knit 1, then pass 2 slipped sts over. 2 sts decreased.
SSP: Slip the next 2 sts, one-by-one, knitwise; return them to the left needle in their new positions and then purl them together through the back loop. 1 st decreased.
This project uses Shadow Short rows, but you can easily substitute the German method.
DIRECTIONS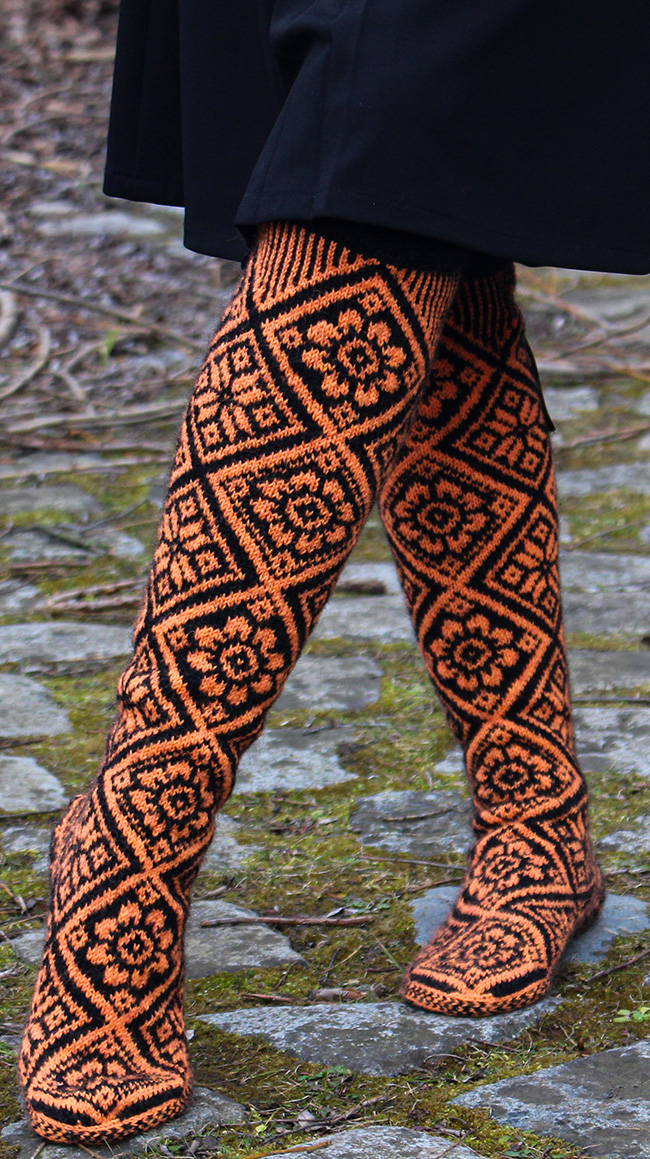 Toe
Using a provisional method, and waste yarn, CO 7 sts. Join both MC and CC and work Toe chart, starting and ending with a RS row. Do not turn at the end of the row.
This will be one side of the border that runs along the foot of the sock and separates the sole from the upper part of the sock.
Pick up and knit 9 stitches along the left side of the piece: 3 stitches in MC, 3 stitches in CC, 3 stitches in MC. With a new needle, work across the provisionally CO sts, removing the yarn as you go: [1 st in CC, 1 st in MC] twice, 1 st in CC. Continuing, pick up and knit 9 sts along the other side of the piece, as before: 3 stitches in MC, 3 stitches in CC, 3 stitches in MC.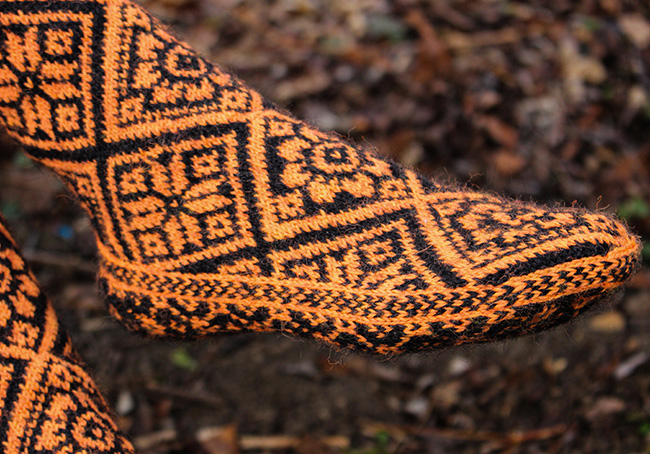 Distribute sts across needles as you prefer and join for working in the round.
Foot
Work Toe and Sole chart across first 16 sts, and Instep and Gusset chart across rem 9. 28 sts after Round 1 worked.
Work as set until Instep and Gusset chart is complete, repeating the 10 rows of the Sole pattern as required. 39[41, 45] sts on sole, 65[69, 75] sts on instep.
Heel Turn
Follow chart 2 for your size.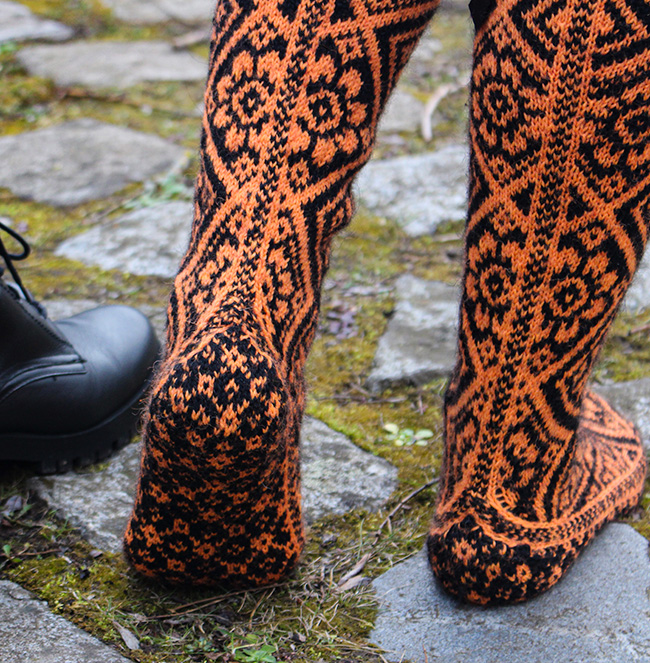 Leg
Follow chart 3 for your size.
Picot Cuff
Cut MC, complete with CC.
Round 1: K to end of row.
Round 2, make eyelets for ribbon: K4, yo, k2tog, knit to the last 2 stitches, k2tog, yo.
Round 3-6: K.
Round 7: [Yo, k2tog] around. This is the picot edge row.
Rounds 8-13: K.
Fold the cuff at the eyelet round, towards the inside. Cut the yarn, leaving an approximately 12 inch/30cm tail, and sew live stitches to the stitches of the first round of the Cuff.
Thread your ribbon into the holes in the Cuff.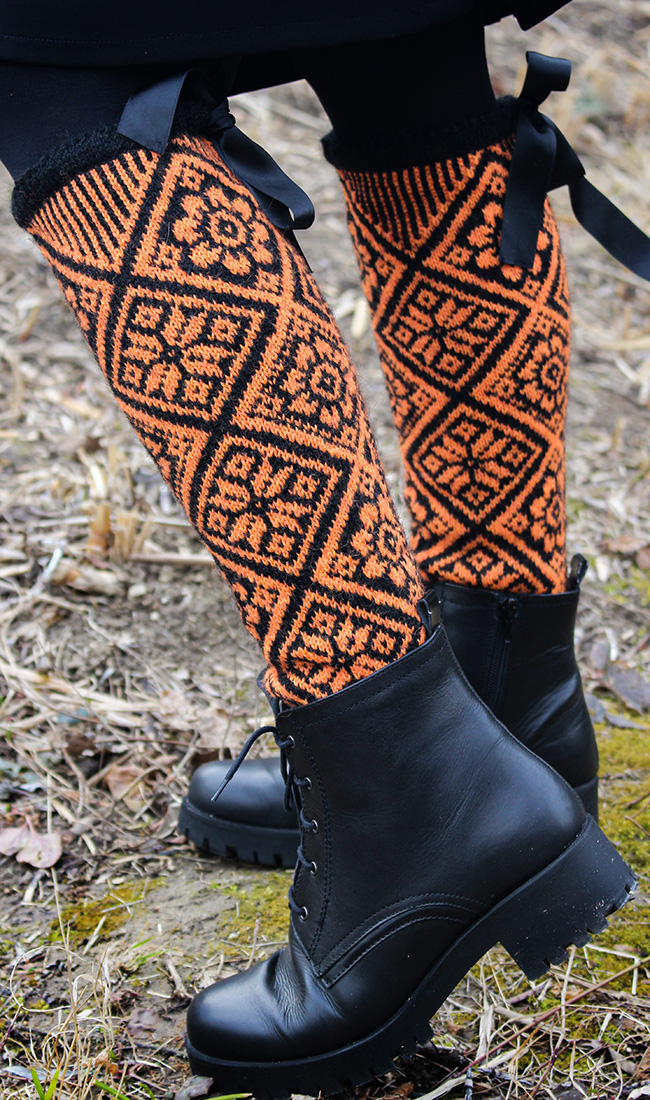 FINISHING
Wash to block, and weave in ends.
ABOUT THE DESIGNER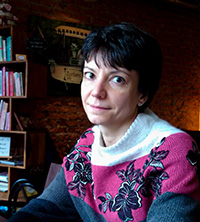 Olga Radchuk is not a designer. She simply needs to get the stuff out of her head from time to time, otherwise it would explode. After a while, though, new stuff sneaks in and everything starts over. One of the most important things for her is a constant exchange of ideas in the world that works like the natural water cycle. As Terry Pratchett once wrote: "Inspirations sleet through the universe continuously. Their destination, as if they cared, is the right mind in the right place at the right time." (Men at Arms, 2013 )
Pattern & images © 2020 Olga Radchuk.